Published on
June 19, 2015
Category
Features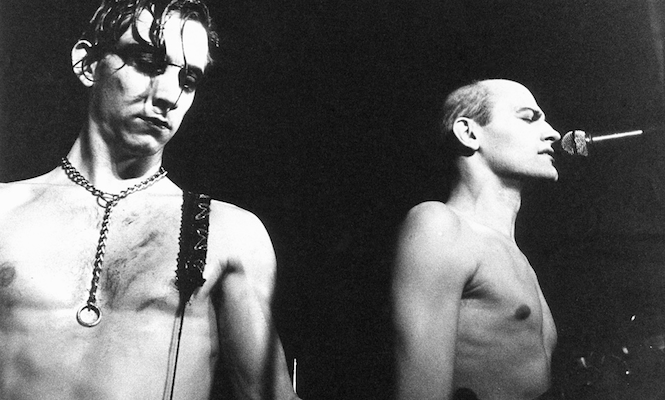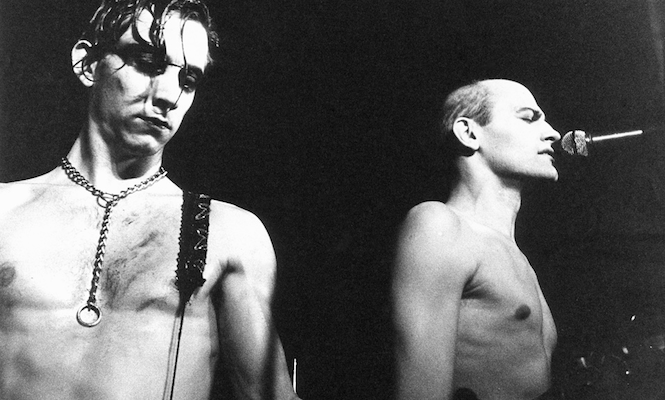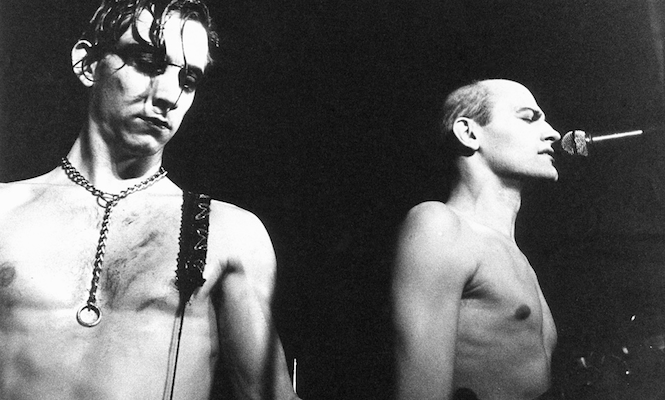 Early '80s Germany wasn't all about Kraftwerk and Can. Bubbling up from the urban underground was a new strain of punk-infused new wave known as Neue Deutsche Welle, a movement co-opted by mainstream influence as quickly as it had emerged.
Digging deep to unearth its early DIY-synth pioneers, Dark Entries' Josh Cheon introduces 10 essential 7″s from a forgotten, fertile scene.
Where krautrock had made waves across the world, Neue Deutsche Welle was a much more national affair, it's reputation defined by the speed at which it was transformed from underground movement to mainstream phenomenon, ultimately remembered for acts like Ideal and Nena. More second wave than new wave, Nena's 1983 anti-war song '99 Luftballons' has since become one of the country's most ubiquitous pop anthems, a hit in its own right (translated into English no less), but an awful long way removed from the DIY roots of the genre that shared its name. In the following year, Neue Deutsche Welle flooded the market and then receded, a Euro-pop aberration and over-manufactured, washed-up shadow of its former self.
At its source however, early Neue Deutsche Welle was a fertile and energetic incarnation of British punk and new wave, re-imagined in the squatted houses of St Pauli on cut price synths and shoddy mics, the German language lending a Teutonic darkness to the sound. While Einstürzende Neubauten In Berlin were among the few to succeed in making the jump to wider acclaim without compromising on attitude, many of the artists behind the first Neue Deutsch Welle disappeared without a trace.
Now, with their recent reissue of German post-punk outfit No More's 1982 mini-album A Rose Is A Rose shedding new light on the scene's early vibrancy, we asked Dark Entries' Josh Cheon to introduce 10 crucial 7″ singles released between 1980 and 1982 that capture movement at its most fertile.
---
Words: Josh Cheon
---
In the late 70s, Alfred Hilsberg, a music journalist for the magazine Sounds, coined the genre term, "Neue Deutsche Welle".
He was describing the attitude and sound of Hamburg's music scene in his article, "Neue Deutsche Welle – Aus grauer Städte Mauern" (German New Wave – From Gray City Walls). There were so many innovative artists pushing boundaries and experimenting with cheap synthesizers and drum machines against saxophones, guitars and whatever else they could find, make or borrow, including household appliances.
You can listen to all ten tracks in this playlist or individually as you read.
---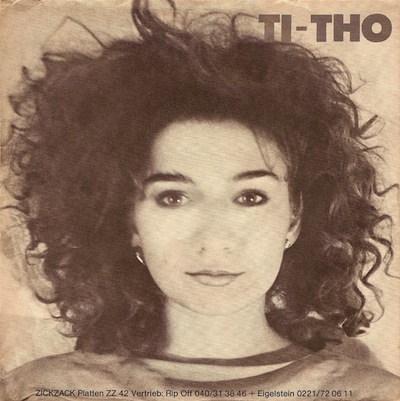 Ti-Tho
Traumtänzer
(Zickzack, 1982)
One of my favorite singles from the Ziczack label based of out Hamburg released in 1982 from this boy/girl duo. The A-side is an upbeat circus ride of a song that features a jerky synthesizer line and what sounds like an accordion. But the B-side wins with deranged pulses and bratty vocals from singer Christina.
---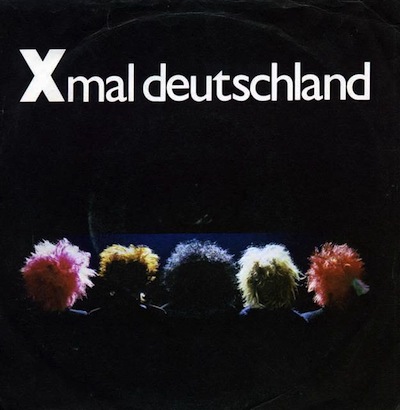 Xmal Deutschland
Schwarze Welt
(Zickzack, 1981)
Debut single released in 1981 featuring heavy use of synthesizers that would become less prominent in their future recordings 4AD. The b-side has 2 short songs, "Die Wolken" slows the pace ushering you to an Arctic atmosphere and "Großstadtindianer" is more playful with rudimentary Casio keyboard solos.
---
Mania D.
Track 4
(Monogam, 1980)
Only release from all-female four piece from Berlin released in 1980 with bouncy bass and saxophone, merging New Wave and Post Punk with elements of free jazz. Members would go on to form Malaria!, Liaisons Dangereuses, Einstürzende Neubauten and Die Krupps.
---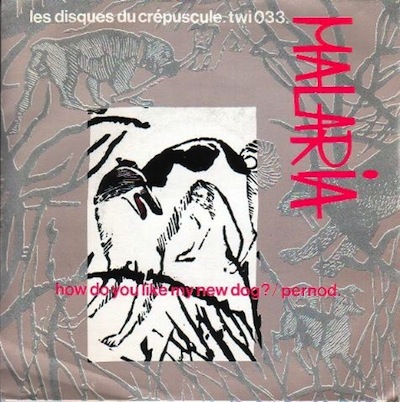 Malaria
How Do You Like My New Dog? / Pernod
(Les Disques Du Crépuscule, 1981)
Post-Mania D. debut single from all girl post-punk group released in 1981. Slow drums transport the listener to the dark underground tunnels of Berlin crawling for air and light. Bettina Köster's angry deep vocals grab hold as the synthesizer ads to the madness halfway through the song, anger growing and the saxophones unfurls in short jab attack style. The b-side offers up a no-wave off kilter rhythmic instrumental.
---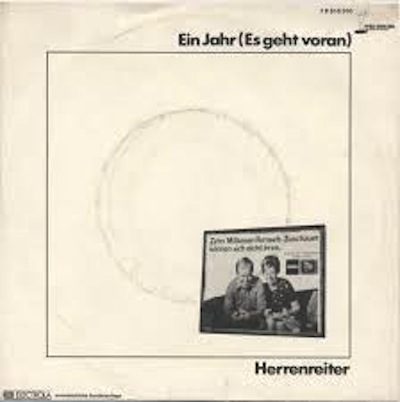 Fehlfarben
Ein Jahr (Es Geht Voran) / Herrenreiter
(Welt-Rekord, 1981)
One of the first German post punk I remember hearing as a teenager thanks to the crucial compilation New Wave Class-X that I scored on South Street in Philadelphia when I worked a Metropolis Records during the summers. The perfect blend of call and response vocals with slick disco bass lines from Düsseldorf's answer to Gang of Four or PIL released in 1982.
---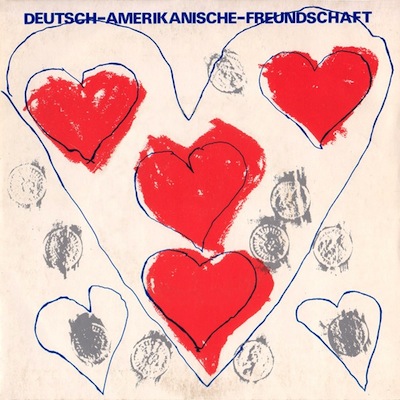 Deutsch-Amerikanische-Freundschaft
Kebabträume / Gewalt
(Mute, 1980)
I remembering buying my first DAF album at Rebel Rebel on Bleecker Street in New York because of the Gabi Delgado's hairy sweaty chest on the cover. Thankfully the music matched the imagery, and the NME noticed too, calling their sound "slimy, steamy sex music". This was their debut single after signing to Mute Records in 1981 and contains the basic template of all DAF songs, Görl's robotic drums and Degado's visceral vocals.
---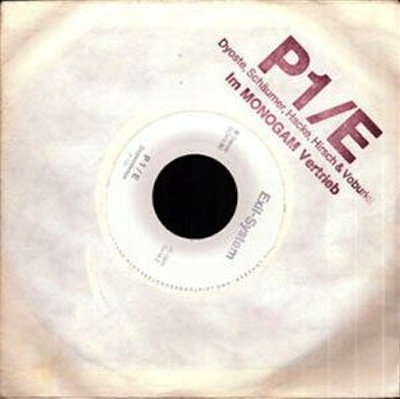 P1/E
Dependence / 49 Second Romance
(Exil-System, 1980)
Another case of loving the B-side a little bit more than the A-side. I first heard this song on the very necessary Berlin Super 80 compilation the documents the rich music scene of Berlin the early 1980s. I was hooked, maybe its the catchy lyrics in English telling you to dance. The A-side is fantastic and continues the bare bones style drum machine with simple repetitive romantic lyrics.
---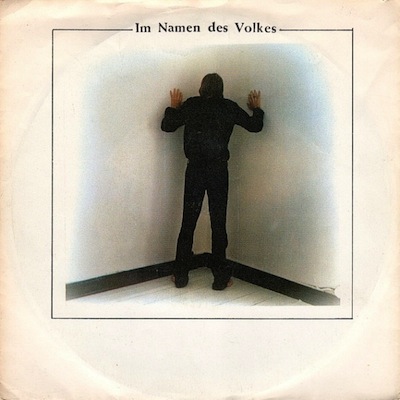 Im Namen Des Volkes
Ich War Da, Leergebrannt
(Konnekschen, 1980)
Short lived solo project from musician Matthias Schuster (member of Gesterfahrer, Bal Pare). Alienated synthesizer atmospheres of the Cold War with drum sounds triggered by the ARP Odyssey. Reissues by NLW in 2007 with bonus tracks that are just as good.
---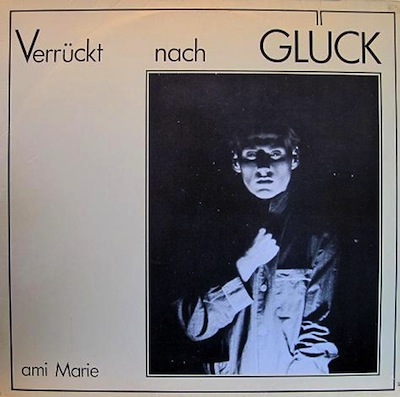 ami Marie
Spiel Mit Mir / Wir Sind Zufrieden
(Ariola, 1981)
80s'-era Kraftwerk sounds from a mysterious musician from Munich. The entire album is just as gorgeous, full of vocoded voices and robotic rhythms released in 1981.
---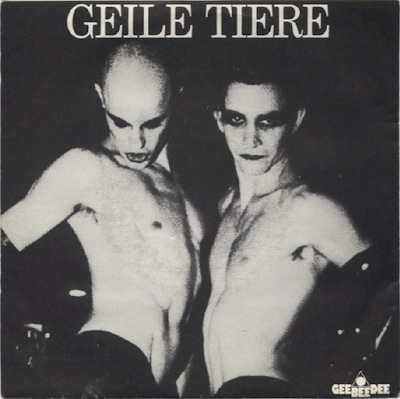 Geile Tiere
Geile Tiere / Ausbildung
(GeeBeeDee, 1982)
Their name translates to "Horny Animals" in English. Formed in 1979, this electronic punk performance art group played with sexual imagery and explicit homoerotic themes. Known for their wild shows, which you can hear in their first single as the chanting builds so do the industrial buzzes and beeps.
---
No More's A Rose Is A Rose is out now on Dark Entries. Click here for more information and to explore their latest releases.