Published on
July 31, 2019
Category
Features
Whether through their layered productions or sampled visuals, Stereolab have always subverted a myriad of influences into something intoxicating and fresh. In the midst of an extensive reissue campaign, John Foster looks back at the band's cut-and-paste visual identity.
"We always set out to make records that we would want to own," explains manager Martin Pike, who formed the Duophonic Ultra High Frequency Disks record label with Stereolab's Tim Gane and Laetitia Sadler. "We always thought in terms of vinyl, because, as record collectors, that was the format we all loved dearly. We would design everything around how the LP would look, no matter what."
Stereolab emerged into the design world of the early '90s, entrenched in the debate around young upstart designers pushing aside the slick conventions of the '80s and instead appropriating imagery from other sources for reinvention in a new context. The band's early releases were dominated by a quirky drawing they referred to as "Cliff", a cartoon entitled 'The Deadly Finger' by Antonholz Portman, which had appeared in an underground Swiss newspaper in early 1970. As an avid record collector, Tim Gane brought his crate digging sensibilities to every aspect of the Stereolab aesthetic.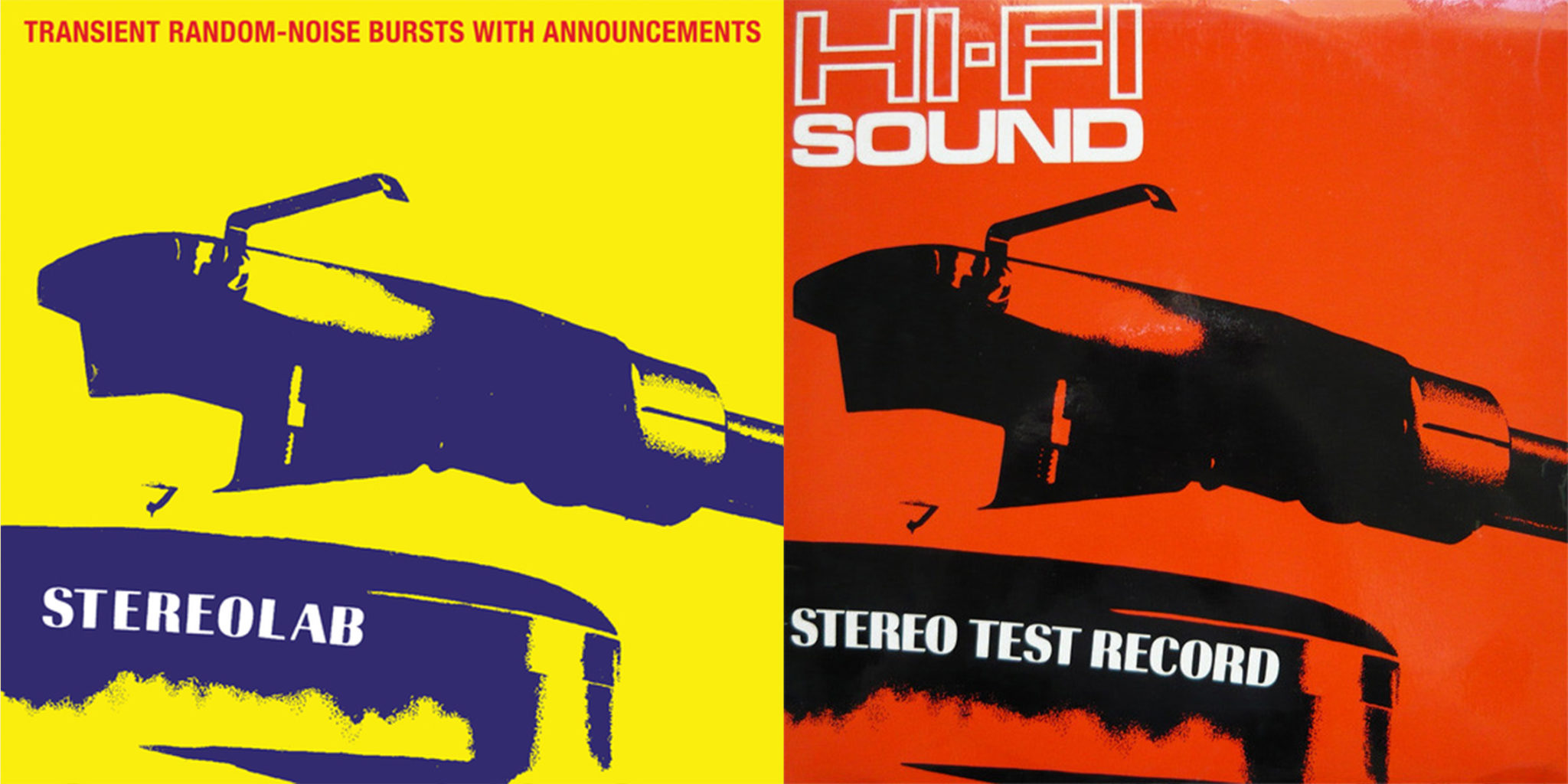 This cut-and-paste mode of working would continue, as Stereolab directly referenced their love of second hand records in album titles and lifted graphic sources. The 1969 stereo equipment test record issued by Hi-Fi Sound magazine would inspire Transient Random-Noise Bursts With Announcements, while the series of "stereophonic demonstration discs" on Vanguard influenced not only the group's name, but also The Groop Played "Space Age Batchelor Pad Music". Both albums were released in 1993 and highlighted the band's bold, off-centre sensibility for colour, to which they would stay true throughout their career.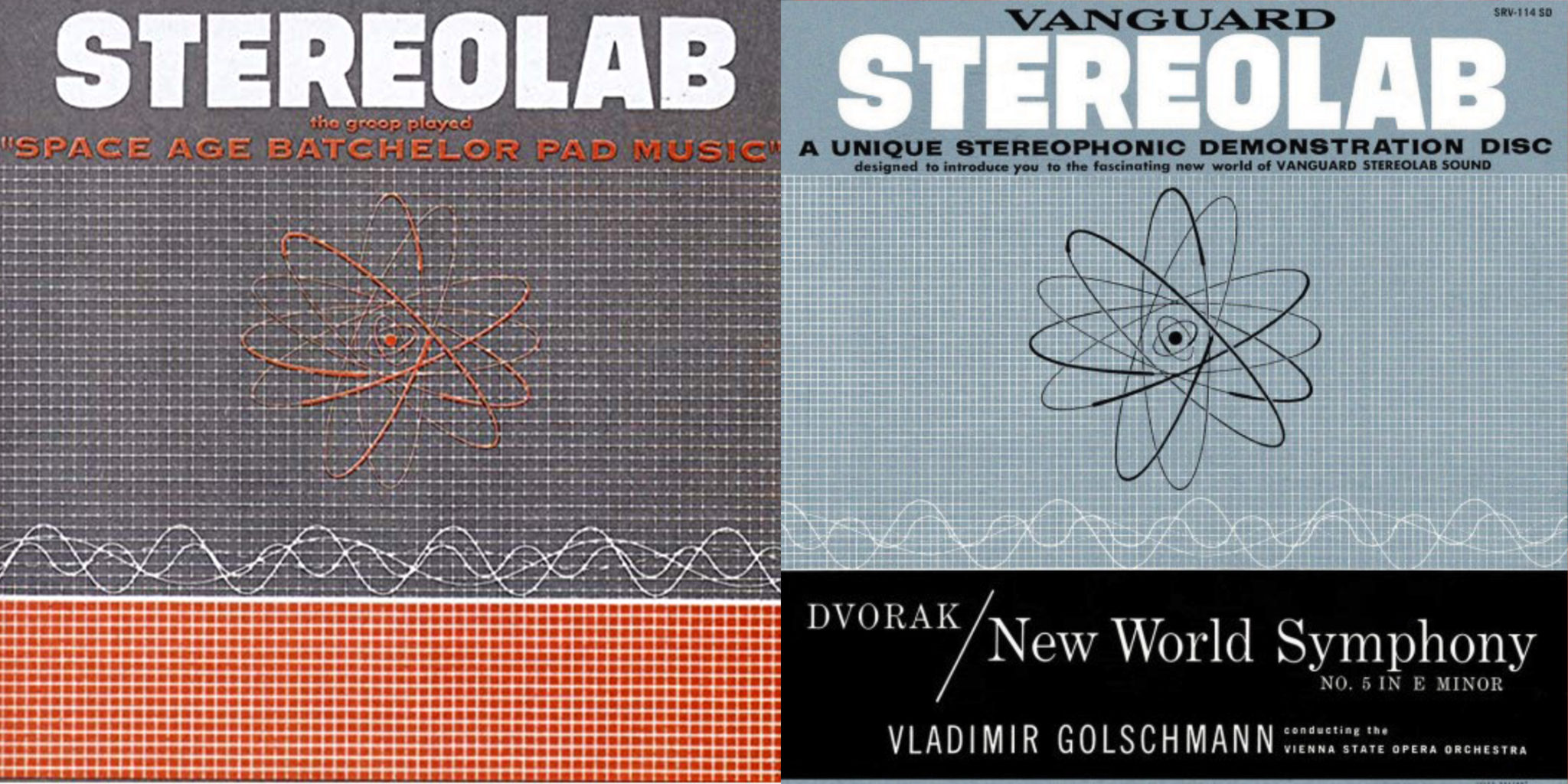 While Gane seemed set on carrying out this theme until the charity shops ran out of records to plunder, a new perspective was added to the process for the following album, Mars Audiac Quintet, with the introduction of Andy Hoople and Dan Holliday on layout and printing duties. "Honestly, they were the only people in our scene with access to a computer and the knowledge of how to use the design programs," Pike says. Peter Morris' fish eye image would be the only Stereolab cover to feature a photo, and marked the band's transition to being signed by a major U.S. label. New budgets meant that "when Tim had a strong idea of what he wanted for our first bespoke cover, we could hire in a synthesizer and a photographer to make it happen," Pike explains.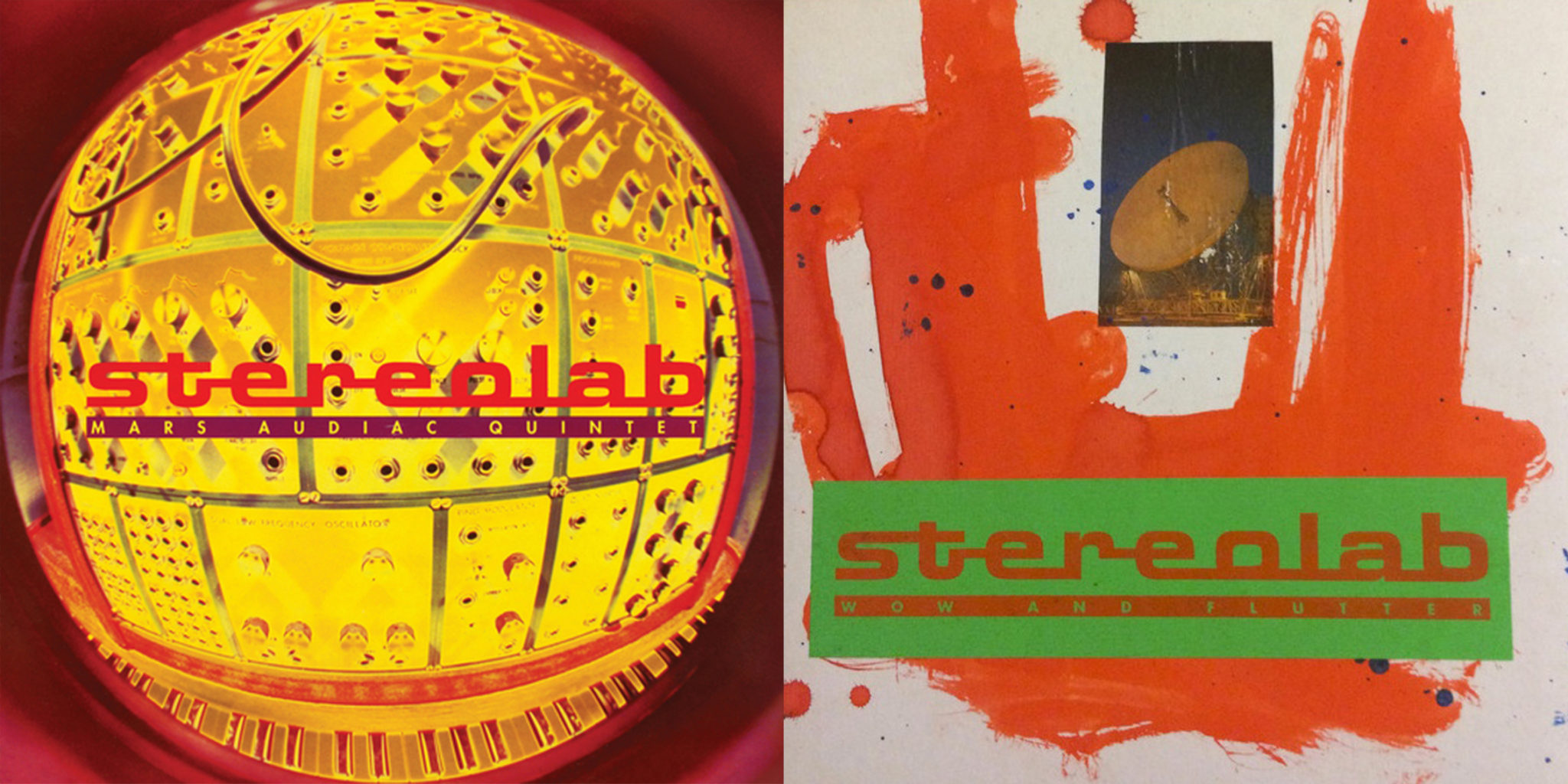 However, no amount of gloss on the album cover front could remove Stereolab from their DIY roots, as the band individually painted, hand glued and assembled 3,000 sleeves for the album's 'Wow and Flutter' single in 1994. "We have always put a lot of love and attention into the product, no matter what amount of physical exhaustion that might entail later," Pike adds.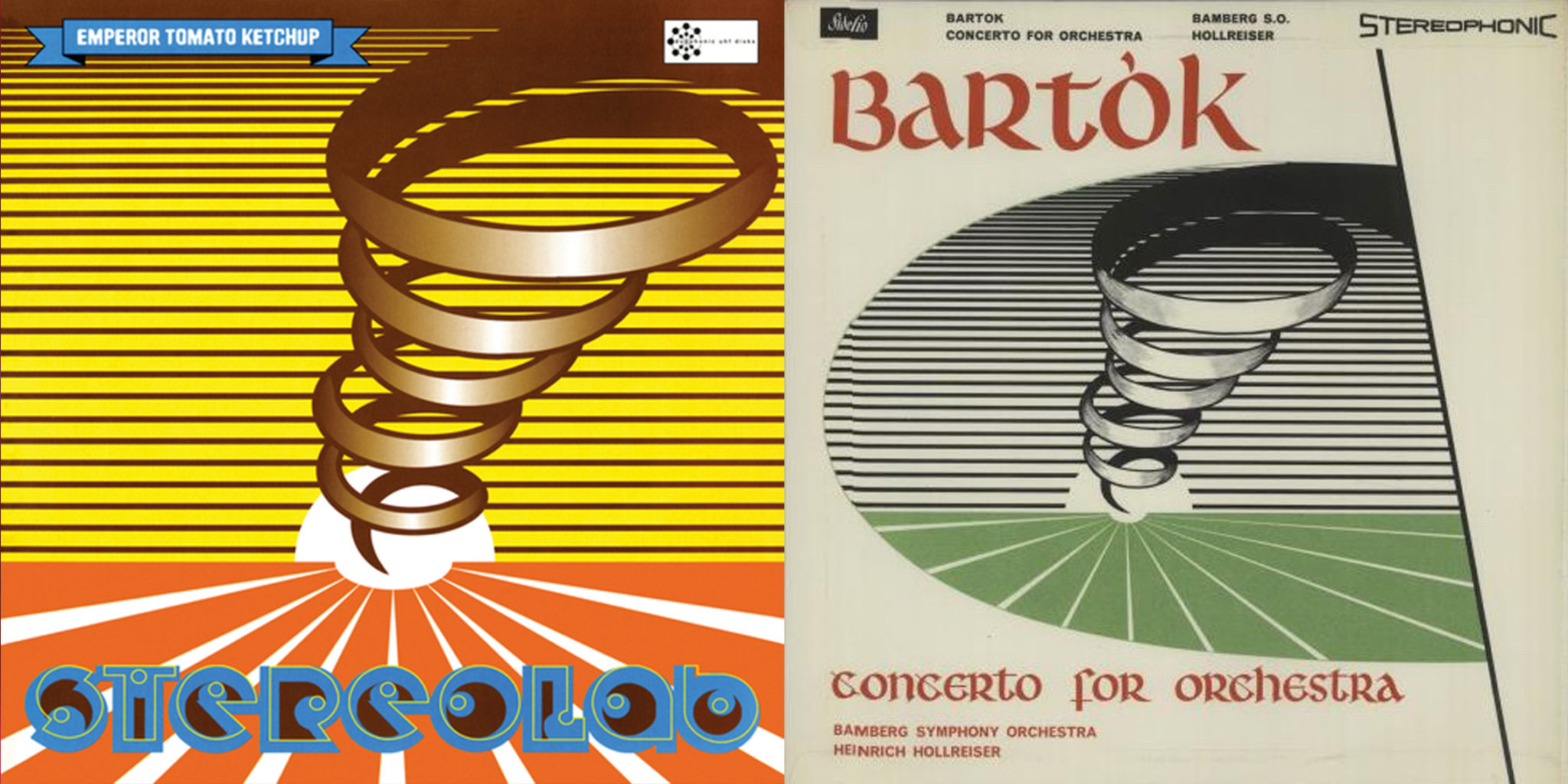 Two years later, 1996's Emperor Tomato Ketchup marked a swift return to the appropriation game, with its swirling central image inspired by the Bartok Concerto for Orchestra album sleeve. Having discovered the record, Gane entrusted Hoople to assemble his vision, and further flesh out the colour palette.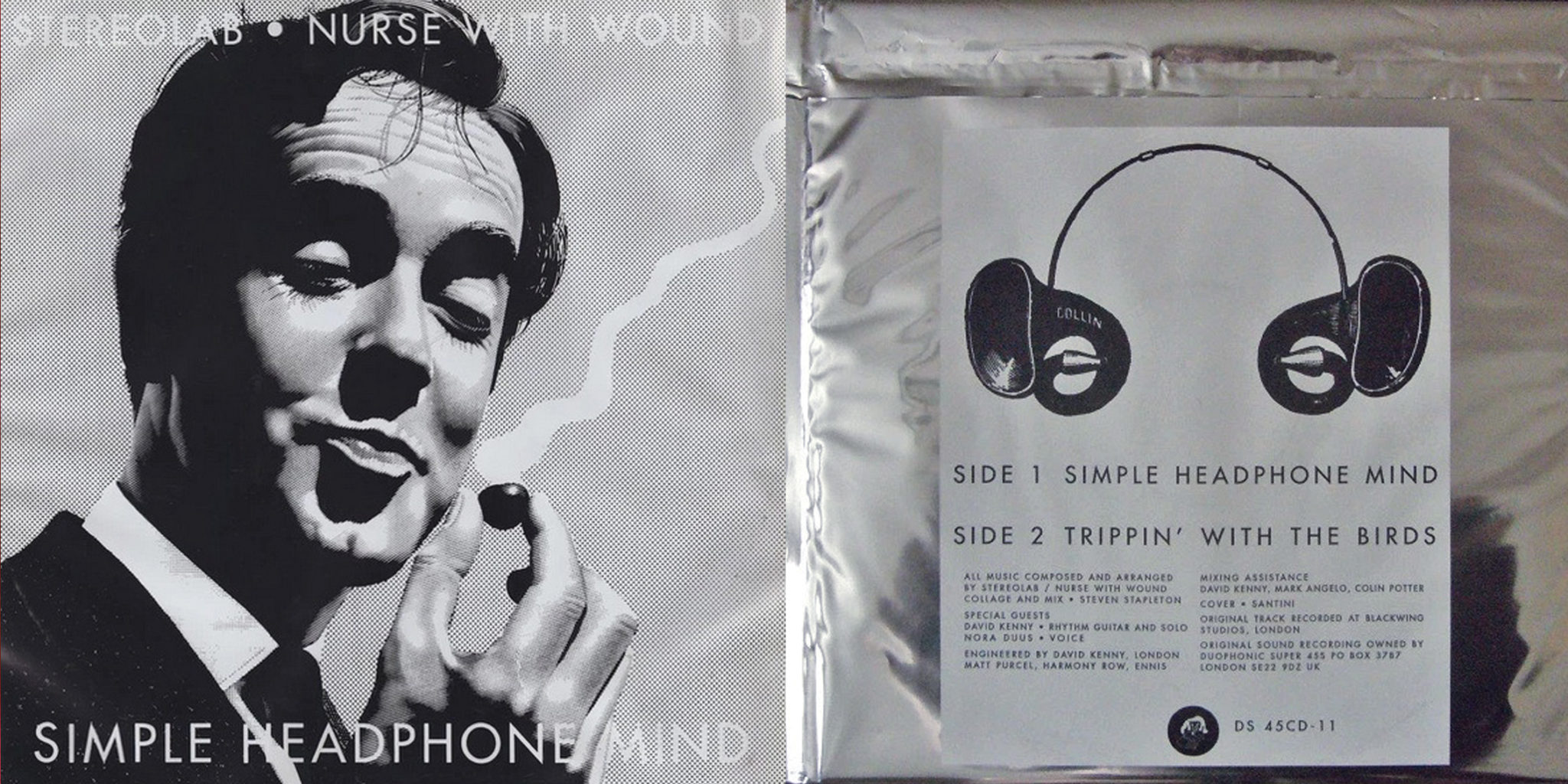 The following year, the band embarked on a sprawling collaboration with Nurse With Wound that produced the 12" packaging that Gane holds closest to his heart. Simple Headphone Mind was printed on a mirrored bag with artwork by Babs Santini (Steve Stapleton of Nurse With Wound). The inspiration, Pike admits, was "a piece of junk mail from Audi that arrived in this mirrored bag, which we tracked back to the company that manufactured them."
At the time, Pike had also begun managing the band Broadcast, putting out early releases on Duophonic. Impressed by Julien House's sleeve designs for the band, House was invited to take on Stereolab's sleeves too. A keen student of the same graphic eras as the band, House's influences gravitated towards the rougher edges, which would give him one of the most distinctive voices in sleeve design.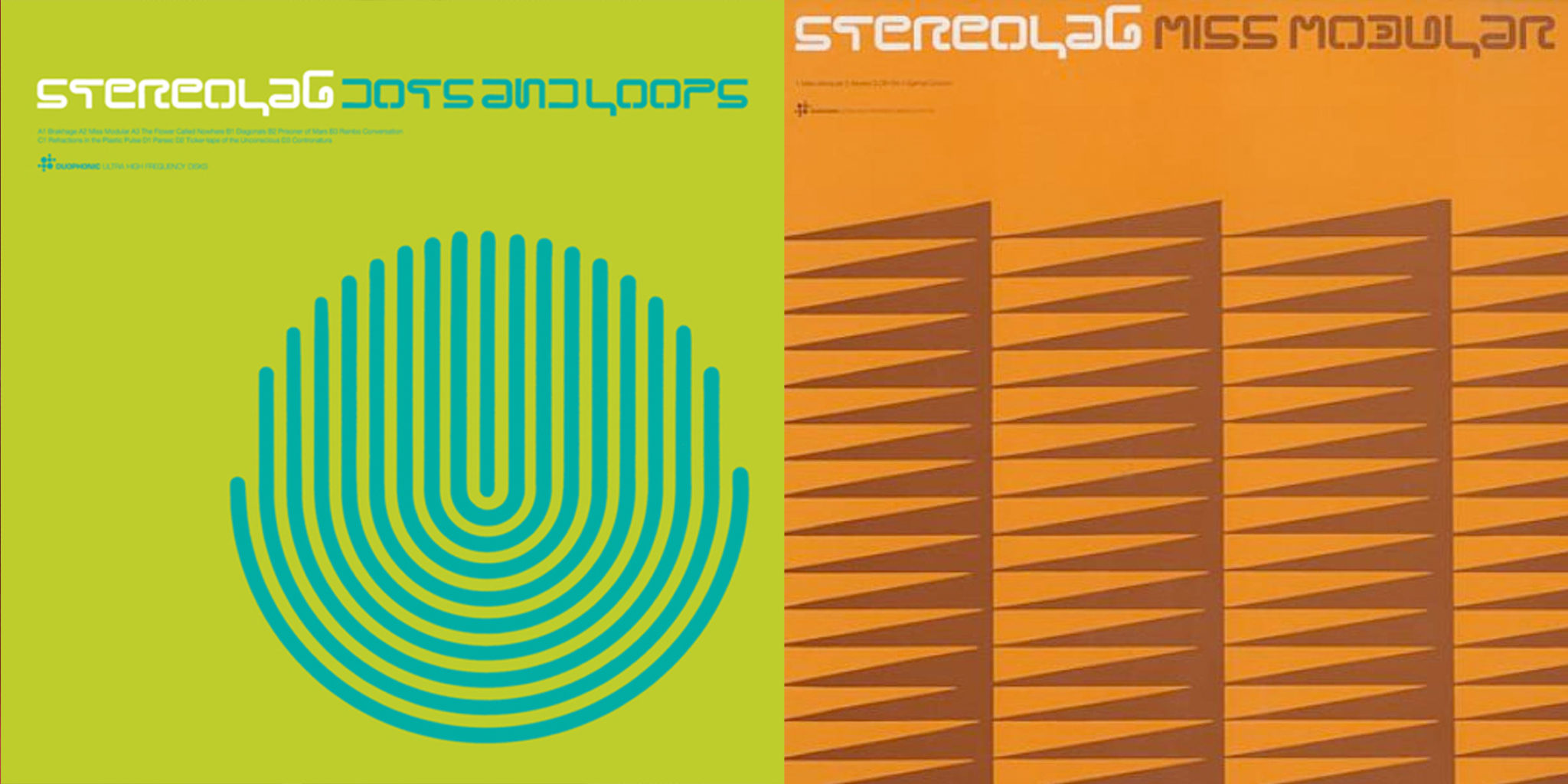 Converging with the band for 1997's Dots And Loops, the artwork was what Pike describes as "even more collaborative than anything we had done before." In short, Gane would bring in the source material and House would use it as a jumping off point.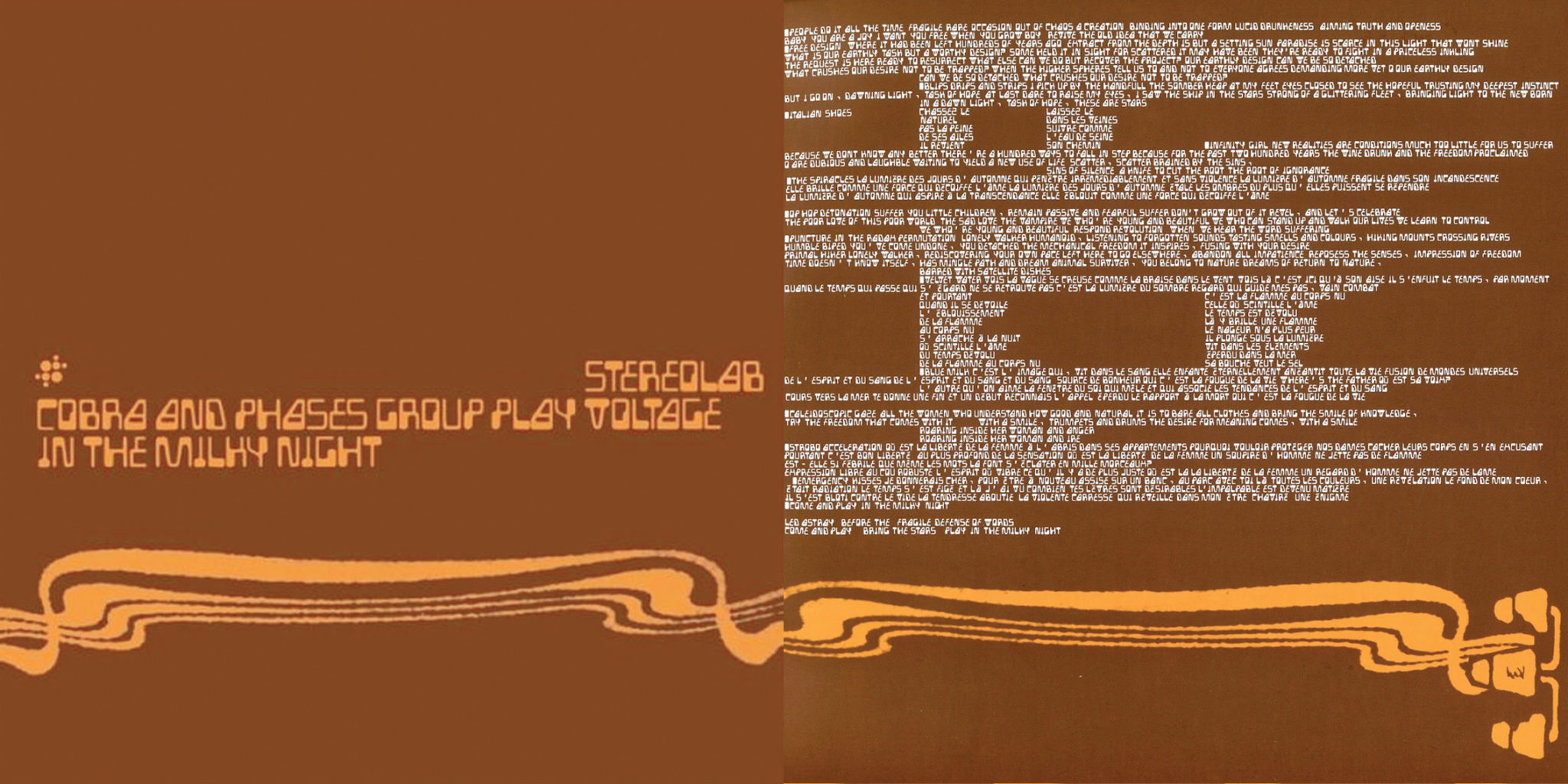 By the time Cobra And Phases Group Play Voltage In The Milky Night was released in 1999, House was adding dense typography and digital manipulation to the images he was being given. While the palette may have been subdued, there was always a sense of the playfulness that was to follow.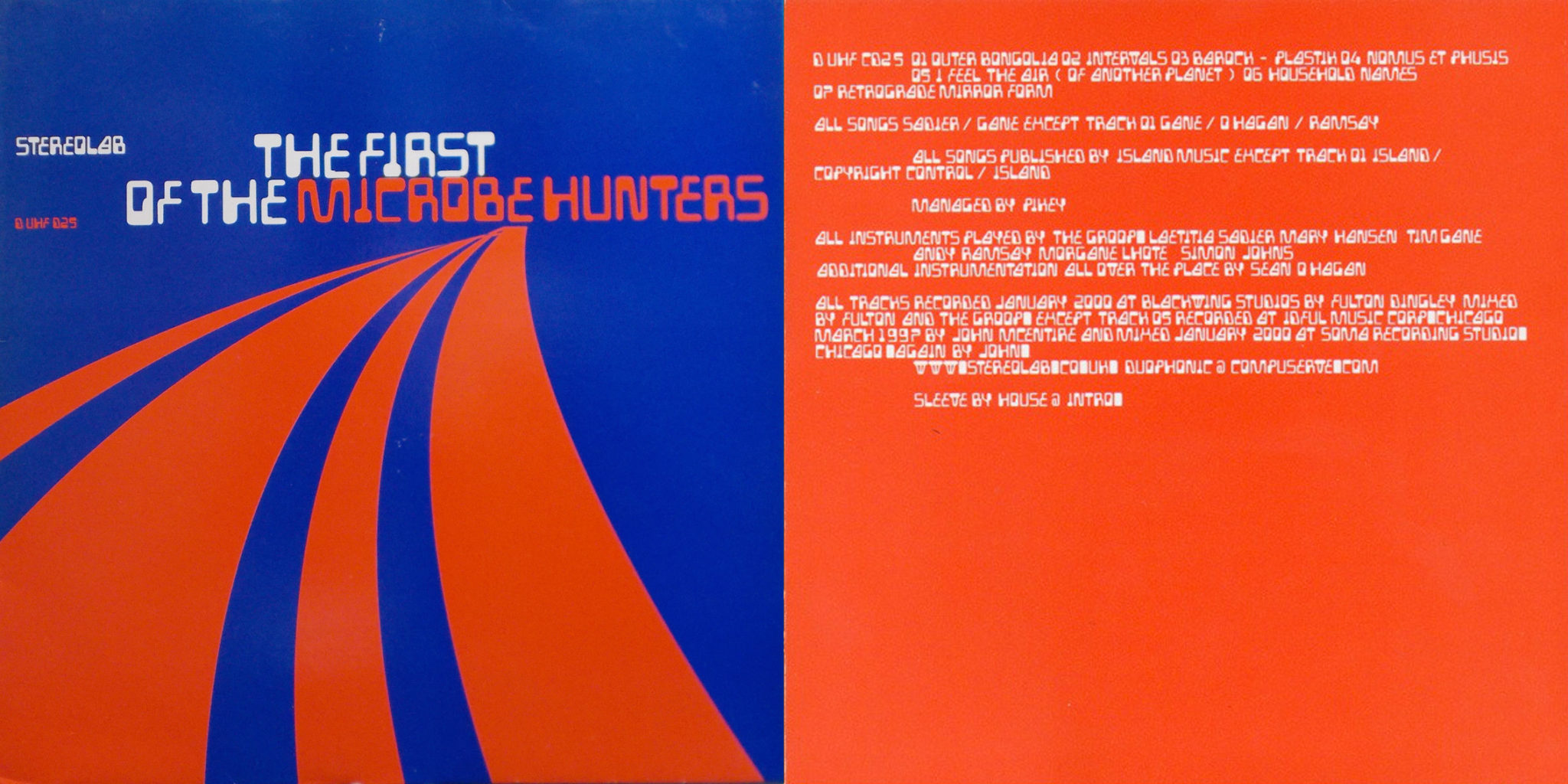 Released in 2000, The First Of The Microbe Hunters was bold in both graphic elements and colour, and served as the final transitional album, visually speaking, before House unleashed the full extent of his ability with collage, and hand-crafted typography.
Arriving in a sheen of shocking pink, 2001's Sound-Dust saw Gane put forward the poster for Roman Polanski's film Cul-de-Sac by Polish designer/illustrator Andrezej Onegin Dabrowski, with the skull, embedded below the oceanside castle, as the foundation for the finished piece. The album cover which emerged was united by House's hand-crafted type and typically rough edges. The band would also go on to create a Hessian bound version, locating a bookbinder in East London to complete the screen-printed and numbered editions. Gane has said it remains his favourite piece of Stereolab album packaging.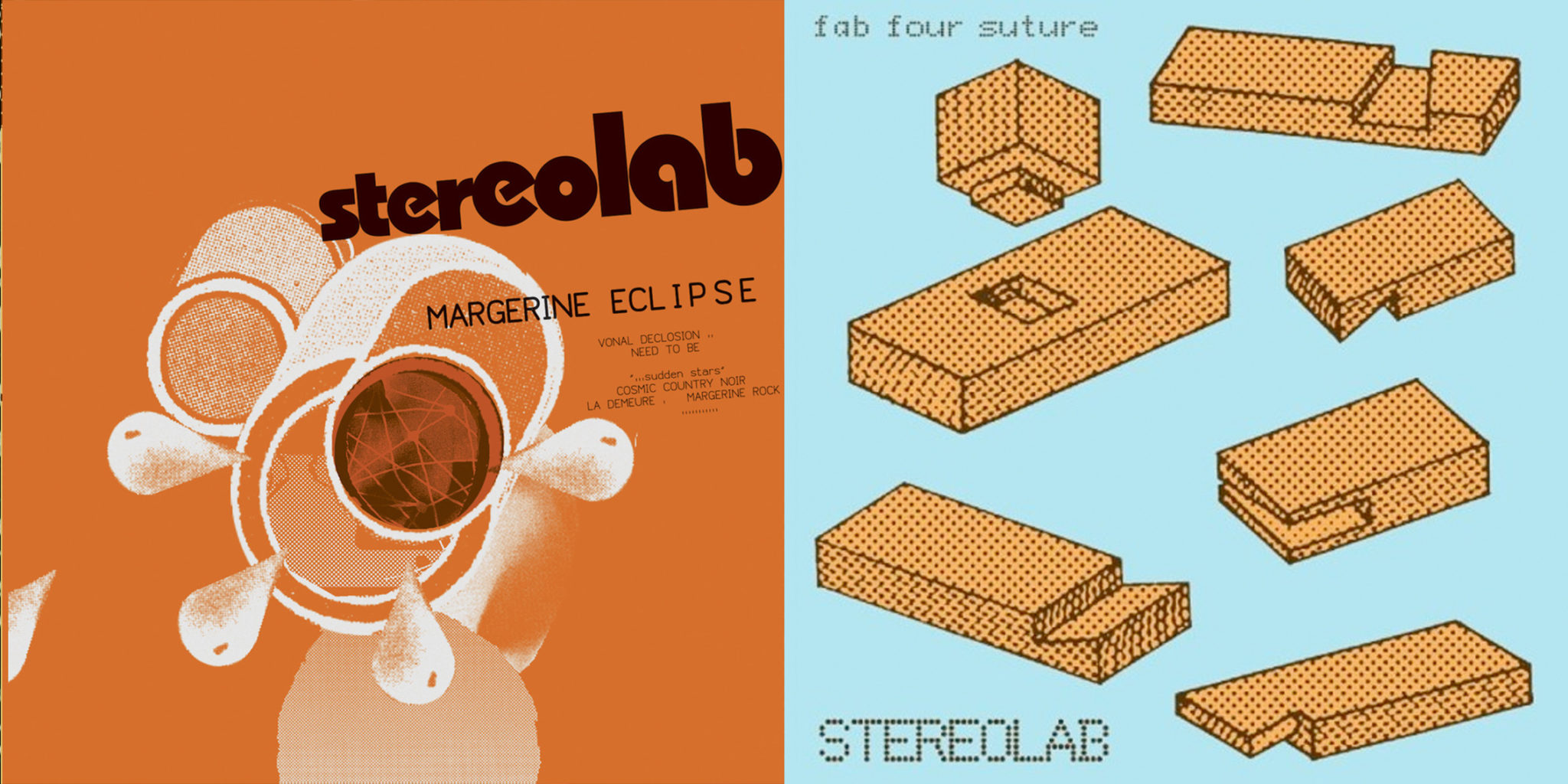 That process would continue through the funky, cinematic look of Margerine Eclipse and the instruction manual feel of Fab Four Suture, culminating in the colour explosion of Chemical Chords, released on 4AD in 2008, which would see House send the group off with a bang on their final album.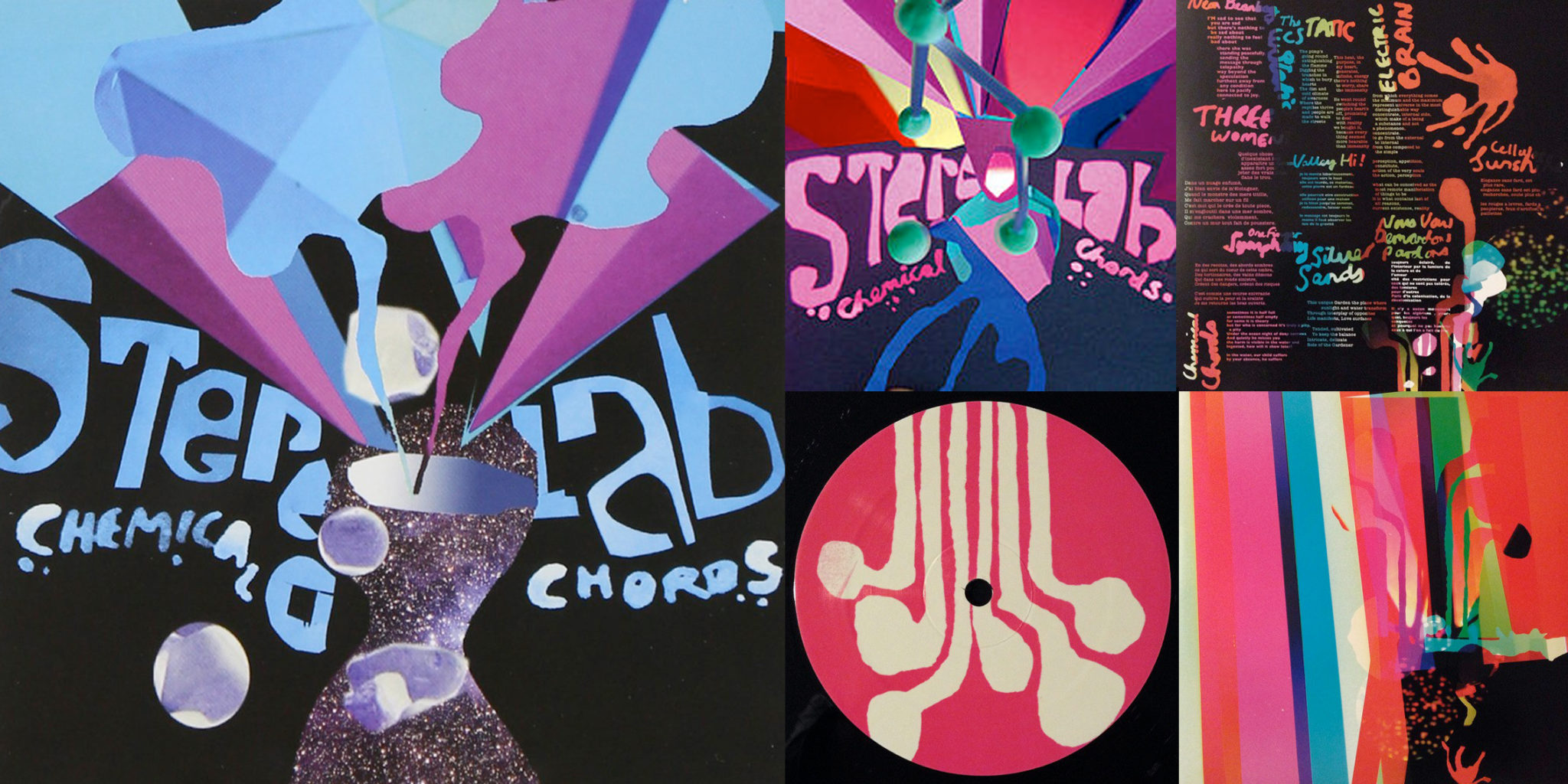 Returning over ten years since that final studio album, the wave of reissues take their inspiration from the Emperor Tomato Ketchup packaging, but add a pocket to the gatefold so that a third LP can be inserted. Posters have been included, and lyrics filled in by Sadier, alongside Gane's liner notes.
In true Stereolab tradition, the limited edition versions use old master tapes to form obi strips, which Pike hand cut, numbered, stamped and glued. Scratch-off cards have also been inserted, where you might find "Cliff" staring back at you when the dust clears. It seems like things have come full circle from the days when Pike was helping assemble those first copies of the Stereolab's Super 45 EP in his father's garage.