Published on
March 8, 2016
Category
Features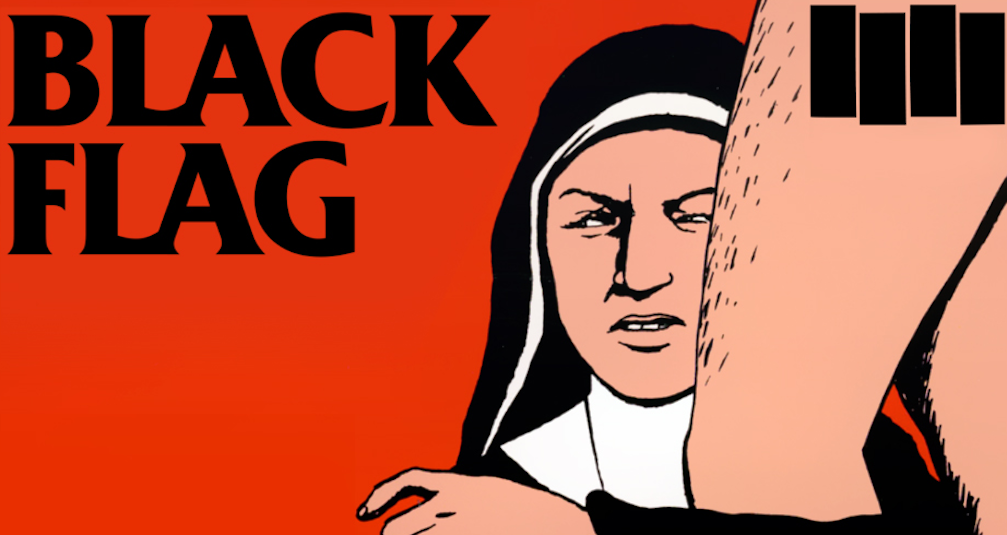 What the Ramones and Sex Pistols were to punk, Black Flag was to hardcore. Steven Blush, author of American Hardcore: A Tribal History, explains how the band captured the nihilistic spirit of American teens in 10 essential records.
---
Words: Steven Blush
---
Black Flag was the most important underground American rock band of the late 20th Century. The first full-fledged DIY punk group did not come from New York City or glitzy Hollywood, but from the sterile LA suburbs of Hermosa Beach, CA. The band's early '80s tours created the American hardcore movement. Their label SST Records — launching not just Flag but Minutemen, Hüsker Dü, Meat Puppets, and Sonic Youth — set the mold for every indie rock label since.
Black Flag was as prolific as it was short-lived — this supernova's final crash-and-burn coming in the summer of 1986. They came to loath the new conformist subculture of raging thrash skinheads they helped to create, and defiantly rebelled by growing their hair and playing long jams like their heroes Black Sabbath and the Grateful Dead.
Not all Black Flag's recordings stand up to today's definition of lo/hi fidelity. Having seen them perform over 20 times, this writer can attest to most of their musical greatness. Here are ten of their records that have stood the test of time.
Listen to the complete playlist below and scroll down to check out the records individually.
---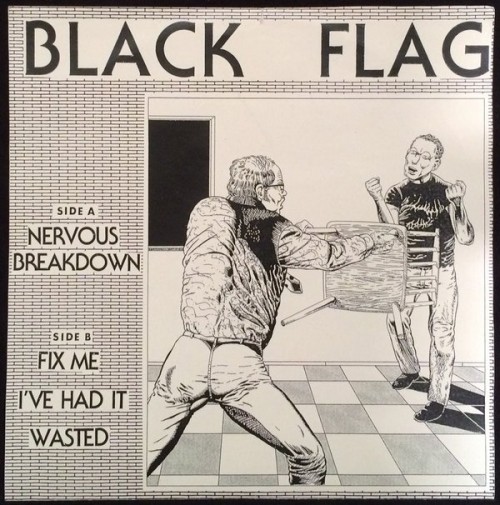 Black Flag
'Nervous Breakdown' 7"
(SST, 1979)
The band's debut four-song single — 'Nervous Breakdown', 'Fix Me', 'I've Had It' and 'Wasted' — personified suburban boredom and misplaced aggression. Things did not pan out in Black Flag for original singer Keith Morris, a proto-hesher whose dad ran a rod-and-reel shop on the Hermosa Pier (Flag members later derided him as "Johnny Bob Goldstein"). But don't feel bad: Morris made his mark as the lead vocalist of the seminal American Hardcore band Circle Jerks, and most recently in the group Off!
---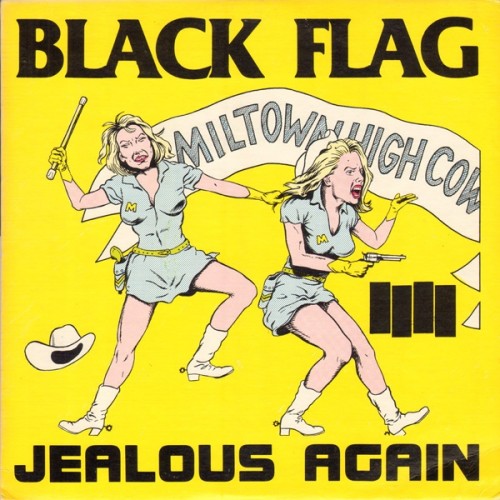 Black Flag
'Jealous Again' 12"
(SST, 1980)
Ron Reyes was Black Flag's second singer, briefly during their The Decline of Western Civilization period. In many ways, he was the original face of Black Flag, as Penelope Spheeris' cult film came out during the pre-MTV rock-video era. The EP's five-songs-in-six-minutes became the core of the band's live shows: 'Jealous Again', 'Revenge', 'White Minority', 'No Values' and 'You Bet We've Got Something Personal Against You!' Easily their ridiculously overrated producer Spot's most to-the-point recording.
---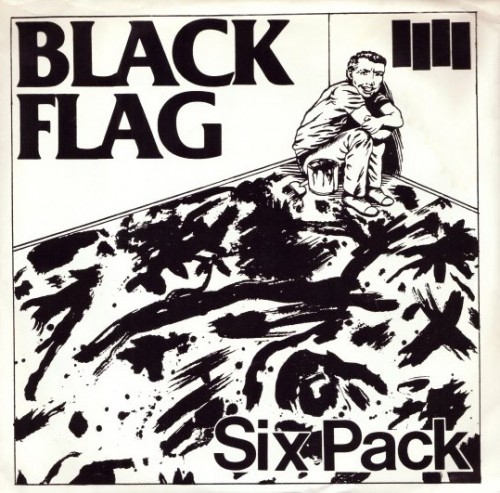 Black Flag
'Six Pack' 7"
(SST, 1981)
Dez Cadena, the Newark. NJ-bred son of famed Savoy label jazz producer Ozzie Cadena, was the band's frontman before Rollins. And what the gangly 20-something lacked in muscle, he more than made up for with moxie. In this ode to alcohol later cut by Rollins, the song doesn't end with Hank's straight-ish line, What do they know about partying or anything else? Dez's original stammered: Fuck it, make it a case! Nuff said. And don't forget the two B-side standouts: 'I've Heard It Before' and 'American Waste'.
---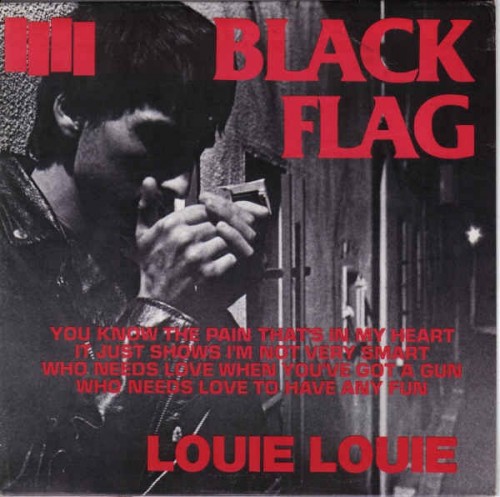 Black Flag
'Louie Louie' 7"
(Posh Boy, 1981)
Yes, the Richard Berry-Kingsmen classic deconstructed, by the great Dez Cadena, with lines like, You know the pain that's in my heart / It just shows I'm not very smart. The band always performed that song last because, like ritual, everyone in the crowd knew that was the time to step up and wreck the stage. 'Louie Louie' (b/w 'Damaged 1') and the Ron Reyes take on 'No Values' for the 1981 Rodney on the ROQ comp — both for Robbie Fields' prolific Posh Boy label — were Black Flag's only recordings not on SST.
---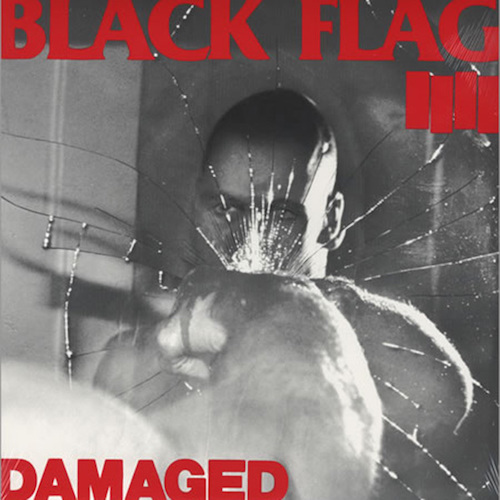 Black Flag
Damaged
(SST, 1981)
Perhaps no album jacket better defined its inner content. Edward Colver's cover photo of Henry Rollins punching a pane of glass aptly depicted the sounds between the grooves. From the opening riffs of 'Rise Above' to that five minutes of mayhem of 'Thirsty & Miserable' into 'Police Story' to side-two drones such as 'Damaged II', 'Room 13' and 'Padded Cell', Damaged came to define the future of punk, hardcore, alt, grunge, thrash, doom, stoner and whatnot. This record is why Rollins is beyond reproach.
---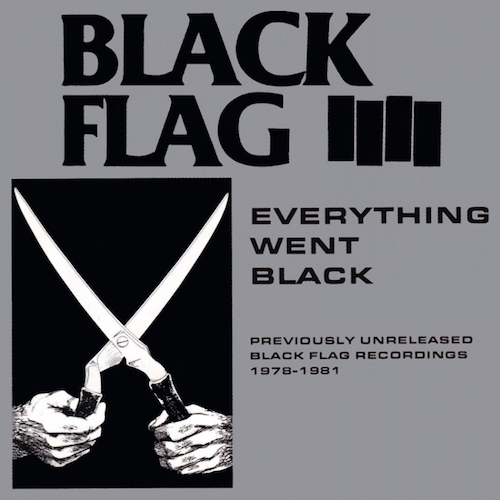 Black Flag
Everything Went Black
(SST, 1982)
Almost everything that went on around Black Flag was intense. For a spell in 1983, they were barred from touring and recording due to a suit with MCA over a failed distribution deal. To service their hungry fanbase, the band issued a two-LP set that included demos of songs with their first three frontmen ("1978-1981"). The record with no mention of "Black Flag" and their infamous Raymond Pettibon "four bars" logo obscured, resulted in Greg Ginn and Chuck Dukowski serving jail time, before the case got dismissed.
---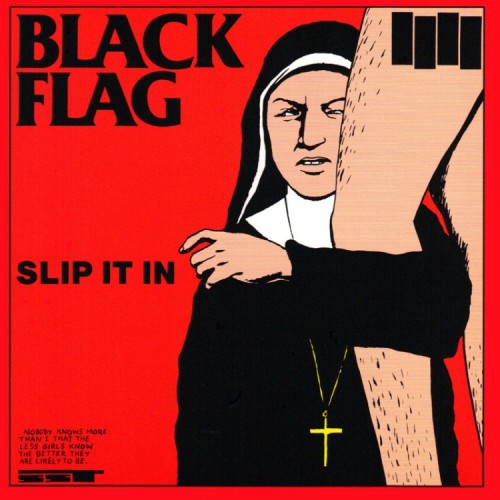 Black Flag
Slip It In
(SST, 1984)
My War and Slip It In came out within months of each other, the result of the group's unbreakable will and relentless rehearsals/recordings while under injunction. This so-not-PC album featured a young Suzi Gardner of L7 cooing sexualized lyrics, and cringe-worthy Pettibon cover art. The six-minute grinders on both albums were more than just attempts to piss off the punkers; it was also because they just wanted to rock — which they did with an aplomb equal parts Raw Power-era Stooges and Mob Rules-gen Sabbath.
---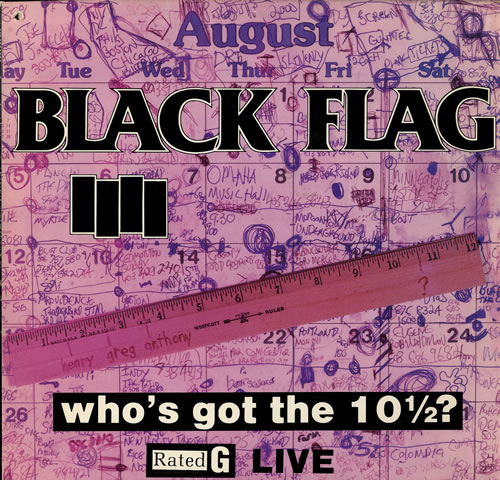 Black Flag
Who's Got The 10½?
(SST, 1986)
The best live punk album of all time (other than Heartbreakers' Live At Max's Kansas City) was recorded live at The Starry Night in Portland, Oregon in late 1985. This recording displays a hot band firing on all cylinders, blasting out the best songs on each of their latter-era releases, not just My War and Slip It In but Loose Nut and In My Head. In the end, this extended-jam, hetero-dick-joke, replete with a wooden ruler on the front cover, measures up as disconcerting, given Rollins' future career orientation.
---
Black Flag
The Process Of Weeding Out EP
(SST, 1985)
Black Flag's final F-U to the punk scene, and the beginning of the end of the band. This abrasive four-song instrumental EP featured two nine-minute-plus punk/rock jams — the title track and 'Your Last Affront' — and no Henry Rollins. Not sure who the target market was, but this Greg Ginn-Kira Roessler-Bill Stevenson monster-piece — it's title a double entendre for marijuana celebration and an ixnay to their lead singer — oozes a clear-the-room classic on par with John Cage '4:33' or Yoko Ono Fly.
---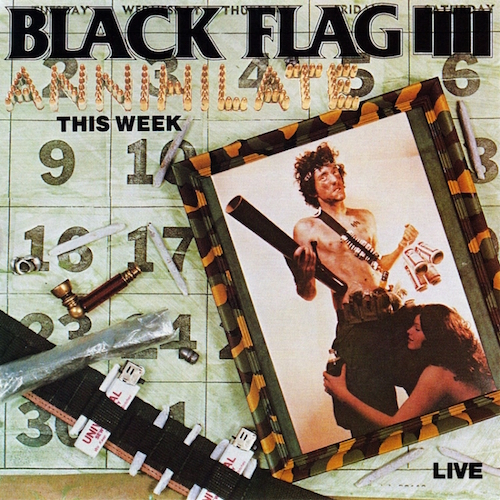 Black Flag
'Annihilate This Week' 12"
(SST, 1987)
Listen / Buy
Black Flag's last great recording. This three-song EP of tuneage off 1985's Loose Nut — starring a cover photo of SST insider Jordan Schwartz dressed as a Rambo type, armed to the teeth with a six of Bud, a bamboo bong, and ammo belt o' joints — is a must-have for any true rock vinyl collector. The sounds on wax do not disappoint, with Rollins in full aggro mode, and some of Greg Ginn's greatest all-time riffage, straight outta ZZ Top Tejas. As we used to say in New York: You either get it, or you don't!
---