Published on
September 29, 2015
Category
Features
With all the transgressive flair you'd expect of downtown NYC in the '70s and '80s, Stash Records made its name pulling together racy sex and drugs themed compilations. Cult and incredibly rare, the comps spawned a sideline in Sun Ra-inspired cosmic and spiritual jazz that culminated in the release of a seminal Miles Davis record. Chris May digs through the catalogue of criminally under-appreciated label Stash records.
---
Words: Chris May
---
Stash Records was founded by the Brooklyn-based jazz and reefer connoisseur Bernie Brightman in 1976. The sale of the family's handbag business had left Brightman with enough money to close his real estate agency and open a record label.
Brightman's first release was Reefer Songs, a compilation of pro-marijuana discs from the 1920s and 1930s, made by big names such as Cab Calloway and Chick Webb and more obscure but no less wonderful artists such as the Harlem Hamfats and Cee Pee Johnson. The album was a niche hit and Brightman followed it up with other transgressive, themed compilations sourced from the same era, most of them about weed or sex (straight and gay, freely given and paid for).
If Really the Blues, the candid 1946 autobiography of the self-professed "white negro" clarinettist and weed dealer-to-the-stars, Mezz Mezzrow, was ever filmed, the tracks on Reefer Songs – and follow-ups such as Tea Pad Songs and Weed: A Rare Batch – would make the perfect soundtrack.
There were only so many period reefer-songs available for Brightman to reissue, and at the close of the 1970s, when he had pretty much run out of material, he broadened Stash's catalogue into a relatively unremarkable collection of bop reissues and mainstream jazz. In 1988, however, the label released three newly-recorded albums – by Khan Jamal, Kamal Abdul Alim, and the Microscopic Septet – which contain some of the best-realised cosmic jazz, soul jazz, and New York Downtown jazz of the period.
Stash petered out in the mid 1990s and Bernie Brightman died in 2003, aged 82.
Here are 10 of the best Stash albums, released between 1976 and 1990. NB: Some of these records are so rare, you can't hear them online. We've compiled a playlist of those you can above, or you can listen individually you scroll.
---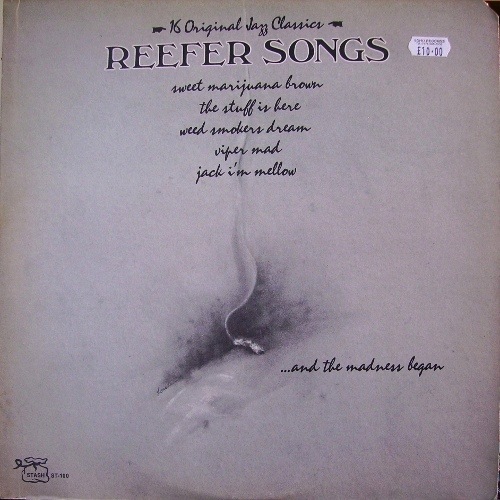 Various
Reefer Songs
(Stash LP, 1976)
Cannabis prohibition in the US began in the 1920s, when laws criminalising its possession were introduced in around a dozen states. By the late 1930s, the clamp-down had gone coast to coast, the result of legislative panic induced by sensationalist news stories and the 1936 movie Reefer Madness. Stash's debut release collects 15 once-heard, never-forgotten jazz and blues singles celebrating reefer, originally released between 1932 – 38. Standouts include Cab Calloway's 'The Man from Harlem,' Don Redman's 'Reefer Man,' Hamfat Ham & the Harlem Hamfats's 'Weed Smokers Dream,' Andy Kirk & His Twelve Clouds of Joy's 'All The Jive Is Gone,' Georgia White's 'The Stuff Is Here,' Bob Howard's 'If You're a Viper' and Trixie Smith's 'Jack, I'm Mellow.' Joie de vivre abounds. Harry The Hipster Gibson's 1944 speed-freak opus, 'Who Put the Benzedrine In Mrs Murphy's Ovaltine?,' is added for good measure.
---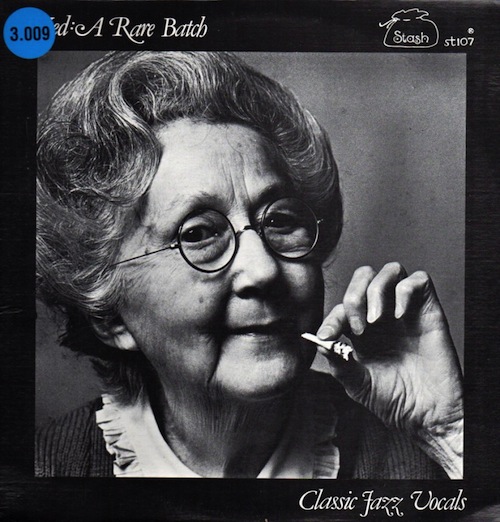 Various
Weed: A Rare Batch
(Stash LP, 1977)
Reefer Songs was a hit with a new generation of weed lovers – the first pressing sold out in a few months – and over the next two years Stash released more albums in the same vein, notably Tea Pad Songs Vol. 1 and Vol. 2 and Weed: A Rare Batch. Choice tracks on the last include Chick Webb's 'When I Get Low I Get High,' Tampa Red's 'I'm Gonna Get High,' Oscar's Chicago Swingers's 'Try Some of That,' Julia Lee & Her Boy Friends's 'The Spinach Song (I Didn't Like It the First Time),' Blue Steele's 'All Mugged Up' and Lucille Bogan's 'Pot Hound Blues.' Another album, 1976's Pipe, Spoon, Pot & Jug, broadened the pharmaceutical focus to include songs about opium and cocaine, both widely if illegally used in the 1930s.
---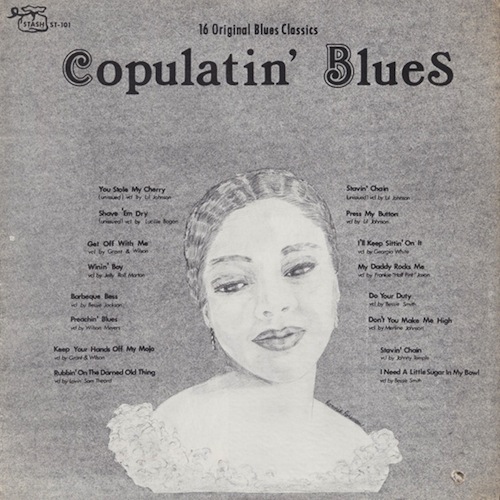 Various
Copulatin' Blues
(Stash LP, 1976)
Stash's second release was a collection of blues discs from the 1930s dealing with sex. Some of the lyrics are as explicit as those requiring Parental Advisory warning stickers today. Highlights include Bessie Smith's 'Do Your Duty' and 'I Need a Little Sugar In My Bowl,' Lil Johnson's 'Press My Button (Ring My Bell),' Lucille Bogan's 'Shave 'Em Dry' and Georgia White's 'I'll Keep Sittin' On It (If I Can't Sell It.)' How did the singers get away with these songs in the 1930s? Largely because they were African Americans making records for their peers, and so were off the radar of most establishment censors.
---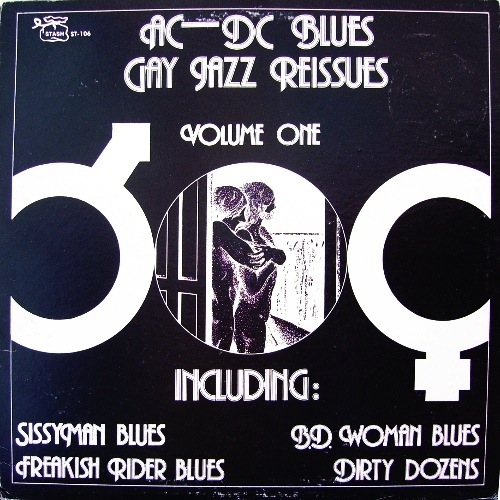 Various
AC-DC Blues
(Stash LP, 1977)
With AC-DC Blues, Stash ramped up the sexual transgression. The songs, originally released between 1927 and 1936, are about gay people and gay sex. Some are sympathetic, some are simply observational, none – contemporary terminology notwithstanding – are judgemental. In 1935's 'B.D. Woman's Blues,' Bessie Jackson voices her admiration for butch women (the B.D.s or bull dykes of the song title): "Comin' a time, B.D. women, they ain't gonna need no men….they can lay their jive like a natural man." In 1927's 'Foolish Man Blues,' however, Bessie Smith, famous during her lifetime for taking female as well as male lovers, says that she prefers her women to be femme (and her men to be masculine): "There's two things got me puzzled, two things I can't stand. A mannish actin' woman and a skippin' twistin' woman actin' man." There are three versions of 'Sissy Man Blues' – by Connie Mclean, Kokomo Arnold and George Noble – in which the singer declares that if he can't get a woman, a "sissy man" will do.
---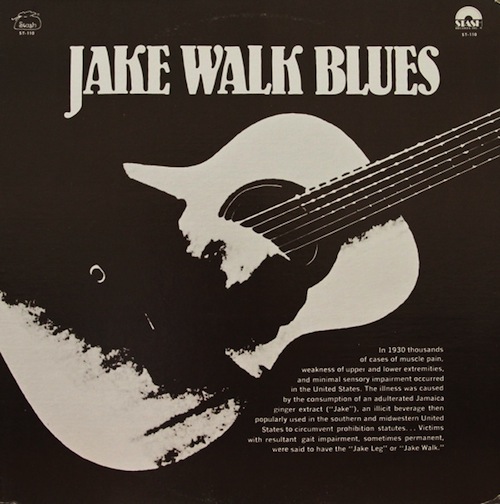 Various
Jake Walk Blues
(Stash LP, 1977)
Jake Walk Blues focuses on the American jake epidemic of 1929-31. Jake was the street name for a patent medicine developed in the 1890s, an extract of Jamaican ginger diffused in a 70% solution of ethyl alcohol. As a "medicine" it remained legal during Prohibition, and was drunk by the bottle by poor people in southern states until the ethyl's side effects – temporary or permament impairment of the use of the legs – became apparent. The 15 blues and country tracks on the album, recorded contemporaneously, have titles such as 'Jake Walk Blues,' 'Jake Liquor Blues,' 'Jake Bottle Blues' and 'Jake Leg Wobble.' Apart from Gene Autry, most of the artists are today forgotten footnotes in history, like the jake epidemic itself.
---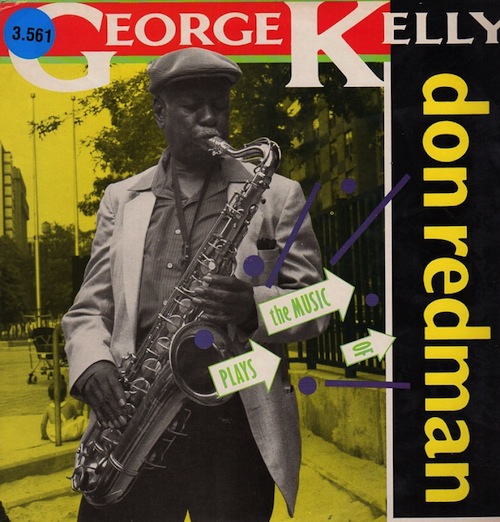 George Kelly
Plays the Music of Don Redman
(Stash LP, 1984)
There's an elliptical reefer connection to this tribute to swing-era composer and arranger Don Redman – in addition to his 'Reefer Man' on Stash's debut album, Redman was the composer of the sublime instrumental 'Chant of the Weed,' which is included here (there's another outstanding version on Miles Davis collaborator Gil Evans's 1959 Pacific Jazz album, Great Jazz Standards). Kelly, 70 years old when he recorded Plays the Music of Don Redman, was previously a member of the historically important bands Jay McShann's Orchestra (Charlie Parker's alma mater) and the Savoy Sultans. Here he leads a feisty sextet featuring trumpeter Glenn Zottola, guitarist Bucky Pizzarelli and pianist Richard Wyands, anchored by bassist George Duvivier and drummer Butch Miles.
---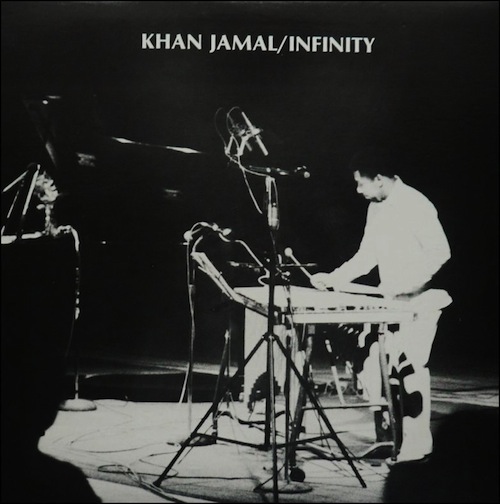 Khan Jamal
Infinity
(Stash LP, 1988)
During the late 1980s, Stash's original identity became lost in a programme of solid but unremarkable mainstream jazz. But in 1988, the label released three contemporary albums of great individuality. Vibraphone and marimba player Khan Jamal's Infinity is in the tradition pioneered by Sun Ra, Pharoah Sanders and Alice Coltrane and is comparable to anything recorded by those masters and mistress of astral jazz. In the late 1960s, Jamal was a member of the Cosmic Forces, a band which included several of Ra's former musicians, before forming the Sounds of Liberation with saxophonist and flautist Byard Lancaster. On Infinity, he leads a drums- and percussion-rich sextet again featuring Lancaster. The album was first released on Jamal's own label Con'brio in 1984 (and more recently, though only on CD, on his Jambrio label).
---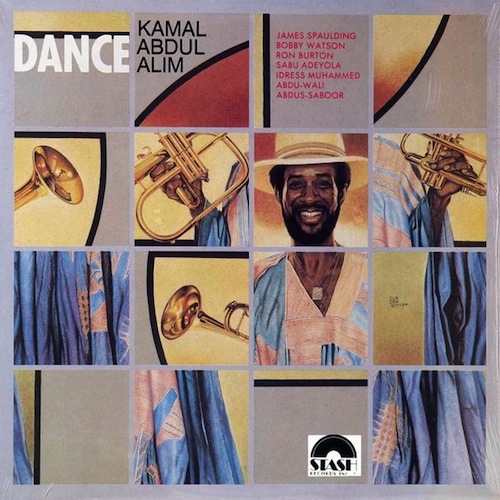 Kamal Abdul Alim
Dance
(Stash LP, 1988)
Kamal Abdul Alim's soul-jazz chef d'oeuvre, Dance, has the trumpet and flugelhorn player fronting a deep-pocket septet which includes saxophonist James Spaulding, ex-Rahsaan Roland Kirk pianist Rahn Burton, guitarist Abdul Wali and drummer Idris Muhammad. Saxophonist Bobby Watson is added on two tracks. More earth-bound than Khan Jamal's Infinity – if, that is, you don't subscribe to George Clinton's aphorism "free your ass and your mind will follow" – the virtuoso musicianship never gets in the way of the funk. On reissue in 1993, the album was recredited to Kamal & The Brothers.
---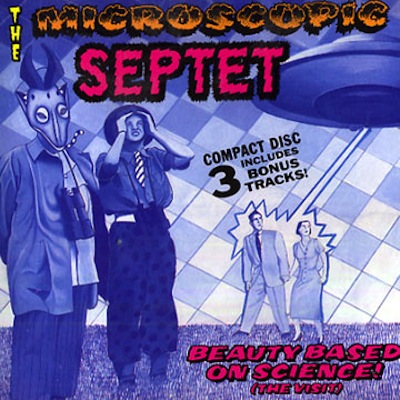 The Microscopic Septet
Beauty Based on Science!
(Stash LP, 1988)
The third 1988 nugget, Beauty Based on Science! was the fourth album by New York Downtown jazz-pranksters the Microscopic Septet (founding alto saxophonist, John Zorn), a kind of post-punk version of the Art Ensemble of Chicago. Part experimental, part archival, part political and part comical, Beauty Based on Science!, the last album the band released during their first incarnation, is a good-humoured whiff of grapeshot directed at the jazz police of the era.
---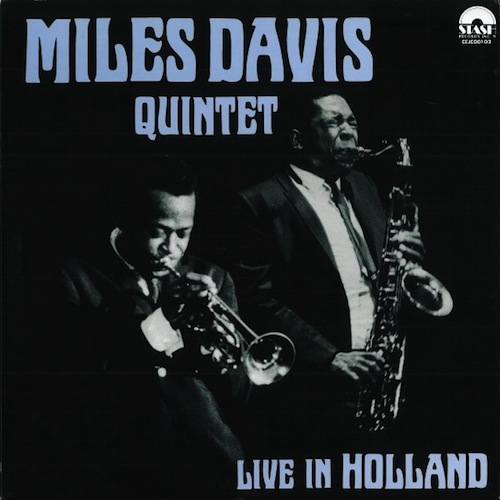 Miles Davis Quintet
Live in Holland
(Stash LP, 1990)
This 1960 concert recording of the Miles Davis Quintet makes a strong near-swansong for Stash. Recorded in The Hague a few months after the release of Davis' game-changing modal-jazz album Kind of Blue, it features the Kind of Blue lineup without alto saxophonist Cannonball Adderley and alternate pianist Bill Evans – Davis, tenor saxophonist John Coltrane, pianist Wynton Kelly, bassist Paul Chambers and drummer Jimmy Cobb. Tracks are 'So What' (the opener on Kind of Blue), Thelonious Monk and Cootie Williams's ''Round Midnight,' 'On Green Dolphin Street' (the opener on '58 Sessions), and 'Walkin',' the tune with which some observers maintain Davis launched hard-bop in 1954.