Published on
November 25, 2020
Category
Features
Top-tier sonics.
Advancing to the next price bracket of stereo amplifiers, also commonly referred to as "integrated amplifiers", can be daunting, and the question of "is it even worth it" may linger. For the audiophile enthusiast, your system is only as good as the amplifier you have your turntable and speakers connected to. This means that even if you already have a very good turntable and high-end speakers, not having the proper stereo amplifier can limit the full extent of quality you're getting out of your listening experience.
Moving into the "high-end" price bracket for each respective piece your sound system plays an important role. Components like RCA cables, external phono pre-amplifiers, needles, turntable, speakers, etc are all crucial, and require great attention to detail. Your stereo amplifier acts as the main hub for all of this, so it's arguably the most important since everything is going to be connected to it.
When deciding what stereo amplifier is right for you, factors that play pivotal roles in deciding the right budget and mid-range amplifiers still hold true. You want to make sure that the features included fit your needs. Bluetooth capabilities, digital inputs,AM/FM receiver, built-in phono preamp etc, are the type of questions you should be asking yourself when trying to make a decision for a stereo amp.
You also want to make sure that your amp is powerful enough for you to power your passive speakers.
With high-end stereo amplifiers, you are also getting more attention to detail in build quality, as well as the components within. These come together to give you clear, accurate, and precise sound quality that is distortion and interference-free.
In this guide, we pick eight of our favorite high-end amplifiers.
NB: Amplifiers range form £999 – £6400
---

Arcam SA20
Price: £999
Pros: Built-in MM pre-amplifier
Cons: Dated looking design
Verdict: Arcam utilizes its years of hi-fi experience to deliver amplifier that's straightforward and easy to use.
The Arcam SA20 is a 90W per channel, integrated amplifier that gets the job done. With 4 analogue inputs, 3 digital inputs, and a built-in phono input, all of your devices should be covered. Class G amplification technology is also used in this amplifier, meaning a combination of Class A's tech for low-level signal processing is there but the amplifier is also able to draw more power when needed. This in turn gives you an efficient and diverse listening experience, no matter what type of genre of music you're listening to.
---

Hegel H95
Price: £1500
Pros: High quality DAC, minimal design, 6 digital inputs
Cons: No built-in phono pre-amplifier
Verdict: Hegel offers a tight package with its 2 x 60 W integrated amplifier that is able to easily switch between your vinyl system, and your digital audio units, without any noticeable decrease in sound quality.
The H95 is a modern integrated amplifier that makes sure that all of your analogue and digital audio sources are covered. It includes 2 RCA analog inputs, 6 digital inputs, a line out, and a headphone output. A high-quality Hegel made DAC (digital to audio converter) system makes sure that your streaming and digital audio units sound just as good as your turntable. Hegel's Soundengie 2 tech is also included to get rid of unwanted frequencies and distortion.
---

NAD M10
Price: £2199
Pros: Compact, High quality DAC, voice control, 2 analogue inputs
Cons: No headphone output, no phono pre-amplifier
Verdict: The M10 is a stereo amp ready for the modern era, lots of digital inputs, along with 2 analog inputs, are all brought together into a compact intuitive design.
The NAD M10 is modern, compact, and powerful. This 100W, 32BIT DAC included, integrated model is an amplifier that is ready for the future. While it offers BluOS – an advanced multi-room network streaming operating system – voice control options, airplay, and digital inputs, it doesn't neglect your vinyl set-up as a result. Two analogue inputs are built-in, as well as a pair of pre-outs. At 100w continuous, or 160w into 8ohms, or 300w into 4ohms, you'll have a tonne of power for your speakers to get a loud, full sound.
---

Marantz Model 30
Price: £2700
Pros: Ton of analog inputs, timeless design, headphone out, treble and bass control on front
Cons: No digital inputs
Verdict: The model 30 carries Marantz's 65 years of experience with a badge of honor. Highly recommended for anyone looking for an amplifier to power their vinyl-focused system.
Marantz is known for its amplifiers – attention to detail, sound quality, and style are all things one can expect from this brand, and the Model 30 is no exception. Built to last for generations, not only does the Model 30 have a timeless look, high-quality components are seen throughout this unit. A custom-built circuit board, simplified signal path, and an input impedance selector all come together to give you a crisp and vintage-feeling listening experience. The Model 30 is also musically tuned to Marantz's 65-years of audio experience quality.
---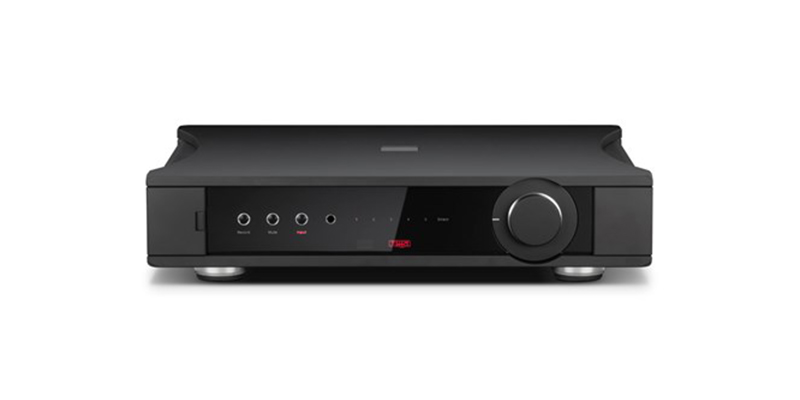 REGA AETHOS
Price: £2999
Pros: Headphone out, strong build quality, 5 analogue inputs
Cons: Menus are not intuitive, no built-in preamplifier
Verdict: While some may find the Aethos design to clunky, its surprisingly strong build is matched by its ability to deliver top notch quality of sound.
Rega Aethos is straightforward but mighty. What the Aethos lacks in design points it gains in what's under the hood. Headphone out, five analog line-level inputs, and a preamp out are all included, and the Aethos offers this while operating at 156 W per channel into 6ohms. The amplifier offers transparent and neutral sound, best suited for those who want a full sonics with minimal audio distortion.
---

PS Audio Stellar Strata
Price: £2999
Pros: 5 digital inputs, 3 analogue inputs
Cons: No built-in phono stage
Verdict: This 150W per channel amplifier has a headphone amplifier, built in DAC, streaming capabilities and integrated Wi-Fi, making it future proof, but also equipped enough to run your turntable thanks to is analogue inputs.
The Stellar Strata may seem like a relatively basic, straight to the point amplifier at a quickly glance. However, a closer look will reveal that it's a feature-packed, modern amplifier that can keep up with any system. It includes high-quality streaming capabilities, integrated Wi-Fi, a headphone amplifier, a built-in DAC, a mobile app to control everything, and a class A balanced analog pre-amplifier. it's also 150 Watts per channel.
---

Cambridge Audio Edge A
Price: £5499
Pros: Pre-amplifier out, high quality bluetooth capabilities
Cons: No built in phono stage
Verdict: The Audio Edge A is a well designed, and minimal amp, that's versatile enough to meet the needs of your vinyl system, home theater, or streaming devices.
Cambridge Audio's Edge packs minimal straightforward design with a punch. Trials and tribulations went into constructing this amplifier, every component was tested by ear, resulting in a highly tailored, refined musical experience. It is this attention to detail that gives you clear, accurate sound that utilises an innovative, bias voltage system to allow the amplifier to run cooler and reduce distortion.
---

Copland CTA408
Price: £6400
Pros: Tube amplifier, great warm sound, built-in phono stage
Cons: No digital inputs, no DAC, no bluetooth, large size
Verdict: Copland's CTA408 offers a unique listening experience that is warm with a well rounded bass response. Recommended for those who are looking for a tube amplifier that can power their speakers, and bring out the best from their turntables.
The CTA408 may be large in size but once you hear what it offers you'll be making room for it in your home. Thanks to its integrated amplifier tube system, warmth like no other is brought to your soundscape, especially when you're listening to records. Made with audiophiles in mind, there are a plethora of analogue inputs in the back of the unit, which include MC and MM phono inputs.