Published on
January 29, 2016
Category
Features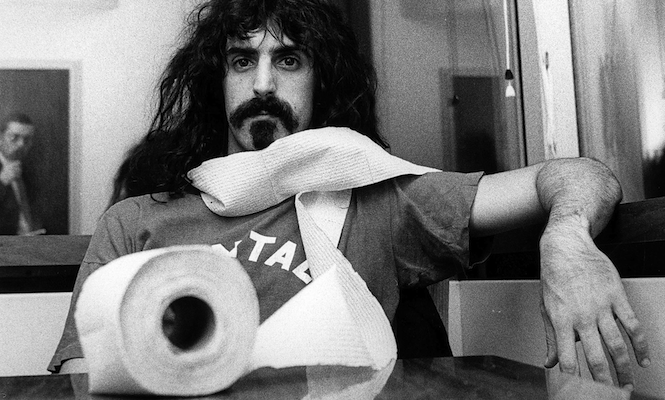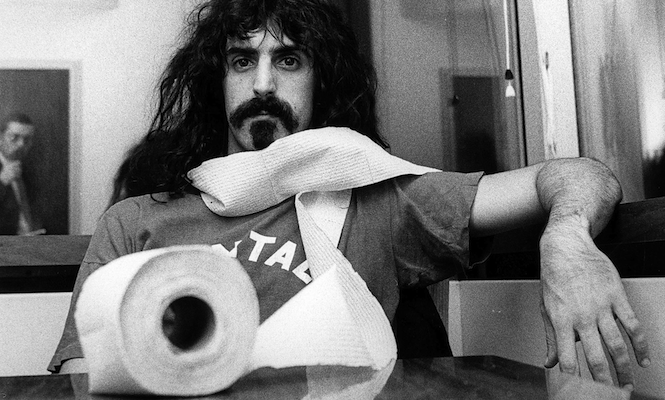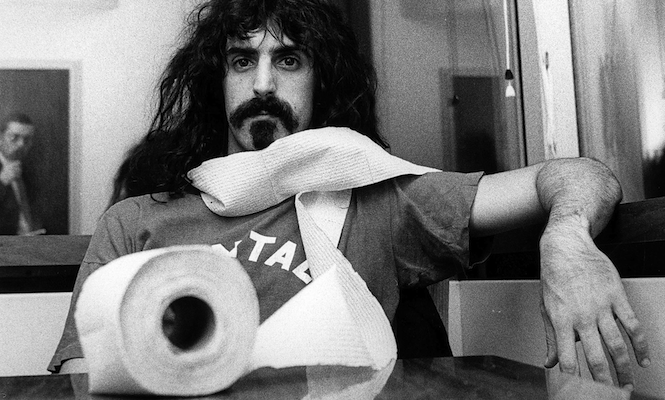 Arch surrealist and prog satirist, virtuoso and give-a-shit iconoclast, Frank Zappa blazed his own trail across genres and eras like no-one else. In the throes of a vinyl reissue campaign and with new documentary Eat That Question taking the plaudits at this year's Sundance festival, Chris May sifts through all 59 Zappa records to find 10 entry points for the fearless.
---
Words: Chris May
---
Frank Zappa began his recording career in the early 1960s knocking out copycat surf-music singles for fly-by-night labels in Los Angeles, where he lived for most of his life, latterly in the city's fabled rock-star hangout, Laurel Canyon. By the end of the decade, he had blossomed into one of the most singular and adventurous bandleaders, guitarists, songwriters and producers of the era. His inspiration was extraordinarily diverse, drawing from rock, doo-wop, early R&B, free jazz, jazz fusion, dissonant modern classical and musique concrète. On most of his records, Zappa referenced them all.
Zappa was also extraordinarily prolific. He released 59 albums (not counting reissues) between his debut, Freak Out!, in 1966 and his passing in 1993. Most were issued on vinyl and most were recorded with various incarnations of the Mothers of Invention, the band Zappa formed around 1965 out of the ashes of Top 40-covers group The Soul Giants. Other albums were made with symphonic orchestras and a few, towards the end of his life, were multi-tracked solo projects, exploring the emerging possibilities of synthesisers and digital recording. Zappa despised the conservatism and amorality of the established music business and, from 1968 onwards, the overwhelming majority of his albums were released on his own labels, first Bizarre, followed by Straight, DiscReet, Zappa and Barking Pumpkin.
Alongside his instrumental innovations, Zappa was also an inventive lyricist. There were two strands to his versifying: politically articulate anti-establishment songs, and strangely juvenile and, by today's standards, well-dodgy ones (such as 'Crew Slut', 'Fembot in a Wet T-Shirt' and 'Titties & Beer'), in which he continued to delight even in his '50s. The first strand has stood the test of time. As for the second, Zappa's relevance has endured not because of them but despite them.
Zappa's drive to make risk-taking music never let up, and most of his later recordings have the same energy and sense of adventure as his earlier ones. But, inevitably, there is something special about his first flush of work, and the first six albums listed below were made during his first five years as a recording artist…
---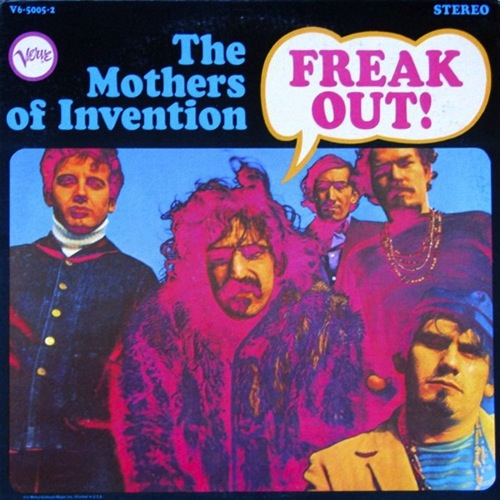 The Mothers of Invention
Freak Out!
(Verve 2 x LP, 1966)
Before Zappa was able to accumulate the funds to set up Bizarre, he was obliged to work with a well-established corporate label and a house producer. For Freak Out!, he was fortunate in being assigned Tom Wilson, who wore his genius with a light touch. One of the few African American rock producers of the 1960s, Wilson began the decade producing Bob Dylan's break-out albums and later did the same for the Velvet Underground. But it was his experience producing free jazz pioneers Sun Ra and Cecil Taylor in the 1950s that made Wilson the perfect foil for Zappa's iconoclastic, open-ended music. Sgt. Pepper's Lonely Hearts Club Band, released a year later, sounds conservative alongside Freak Out!, which was, incidentally, rock music's first double album.
---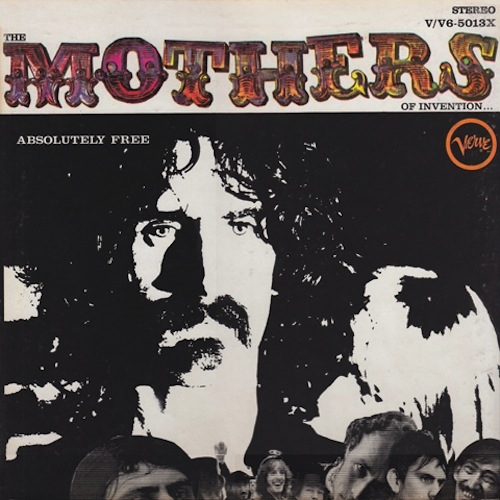 The Mothers of Invention
Absolutely Free
(Verve LP, 1967)
Another Zappa/Wilson project, another masterwork. Absolutely Free includes some of Zappa's most provocative, politically-informed lyrics. So out-there was his music, and so idiosyncratic was his sartorial style, that most people assumed Zappa was a fully paid-up member of Los Angeles' acid-dropping community. In fact, he shunned all drug use. He was also down on alcohol: on Absolutely Free, 'America Drinks and Goes Home' makes the point with overdubbed drunken, boorish shouting punctuated by the sound of breaking glass. Elsewhere, 'Plastic People' and 'Brown Shoes Don't Make It' express a more general disenchantment with overground US politics and society.
---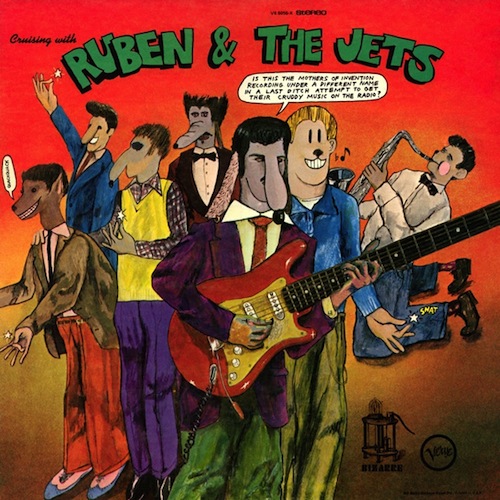 The Mothers of Invention
Cruising with Ruben & The Jets
(Verve LP, 1968)
Most of Zappa's albums maintained the epic musical eclecticism of Freak Out! and Absolutely Free. Cruising with Ruben & The Jets is unusual in that focuses on just one of Zappa's inspirations: doo-wop. The first record Zappa bought as a young teenager was Riot in Cell Block #9 by The Robins and doo-wop became a life-long love. By the mid-1980s, Zappa had collected around 7,000 early R&B singles. Cruising with Ruben & The Jets, Zappa's self-produced fifth album, was his tribute to the style, given a few tweaks but conceived with respect for the tradition. Probably best appreciated if you are already familiar with the 1950s classics.
---
Frank Zappa
Hot Rats
(Bizarre LP, 1969)
Another album with an unusually narrow musical-focus – in this case, rock and jazz fusion – Hot Rats is the first instrumental masterpiece in Zappa's discography. It was recorded shortly after he broke up the original Mothers of Invention and while he was producing Captain Beefheart's Trout Mask Replica. The band includes the MOI stalwart, saxophonist and keyboard player Ian Underwood, whose extended, bar-walking tenor solo on 'The Gumbo Variations' is a treat in itself, ex-Wes Montgomery and Lee Konitz bassist Max Bennett (plus guest bassist Shuggie Otis on one track), and violinists Don "Sugarcane" Harris and Jean-Luc Ponty. Despite his feelings about drug use, Zappa bailed Harris out of jail, where he was awaiting trial on a heroin bust, to make the sessions. The only non-instrumental track, 'Willie the Pimp', features Beefheart on vocals.
---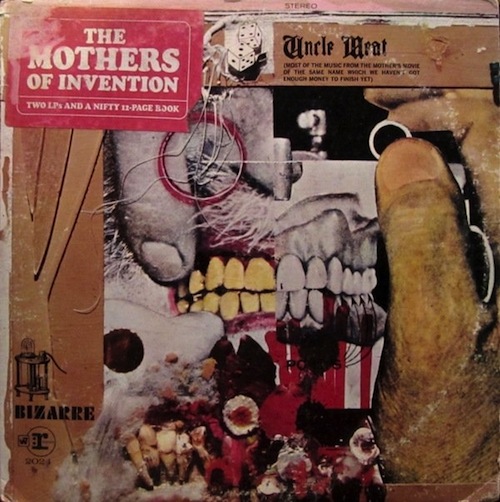 The Mothers of Invention
Uncle Meat
(Bizarre 2 x LP, 1969)
Recorded over the course of a year as the soundtrack for a never-completed science-fiction movie, Uncle Meat is a sprawling, rococo work when set alongside Cruising with Ruben & The Jets and Hot Rats, approaching rock and jazz through the splintered prism of musique concrete. But Zappa's extensive use of overdubs, tape-delays and cut-ups brings its own perverse coherence. Prominent in the new MOI line-up was drummer and tuned-percussion player Arthur Tripp, who had performed solo concerts of the work of John Cage and Karlheinz Stockhausen and joined MOI after two years with the Cincinatti Symphony Orchestra. Not the most accessible Zappa album, but one of the most rewarding.
---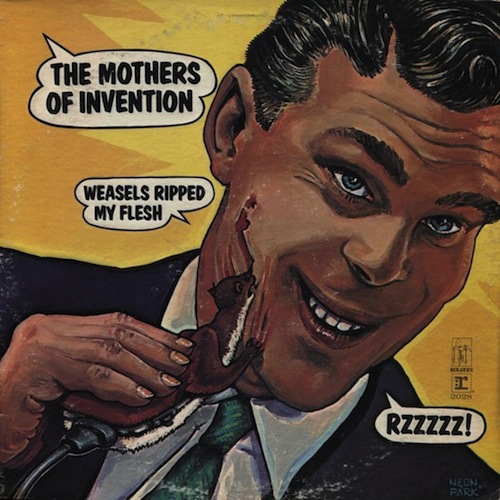 The Mothers of Invention
Weasels Ripped My Flesh
(Bizarre LP, 1970)
A mixture of top-dollar live and studio recordings made from 1967 – 1969, mostly by the original MOI lineup. The stylistic references are gloriously wide-screen. The live tracks deliver a heftier dose of free-jazz than was normal on Zappa's studio sets, with weighty contributions from saxophonists Ian Underwood (alto), Motorhead Sherwood (baritone) and Bunk Gardner (tenor), along with Gardner's brother, Buzz, on trumpet. The studio-recorded 'The Eric Dolphy Memorial Barbecue', at seven minutes the longest track, explores similar territory. The closing title-track is a two-minute onslaught of feedback and dissonance.
---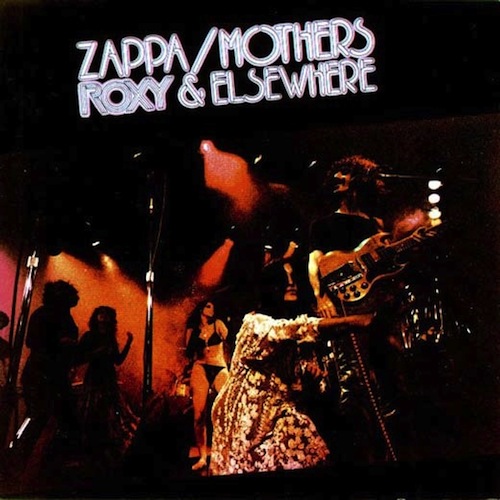 Frank Zappa and The Mothers of Invention
Roxy & Elsewhere
(DiscReet 2 x LP, 1974)
After a series of uncharacteristically straightforward albums between 1973 and 1974 – the fusionesque Waka Jawaka and The Grand Wazoo and the rock-centric Over-Nite Sensation and Apostrophe – Zappa returned with some of his most complex and challenging music, notably the 14-minute sequence comprising 'Echidna's Arf (Of You)' and 'Don't You Ever Wash That Thing?'. On Uncle Meat, Arthur Tripp's virtuoso percussion-playing had allowed Zappa to write some fiendishly intricate arrangements; on Roxy & Elsewhere, the conservatoire-trained, pinpoint-accuracy of percussionist Ruth Underwood (wife of Ian Underwood) did the same. The album presages the knotty music of 1975's One Size Fits All and 1978's Studio Tan and Zappa in New York. Most of the tracks were recorded live at the Roxy theatre in Hollywood, and then retooled in the studio by Zappa.
---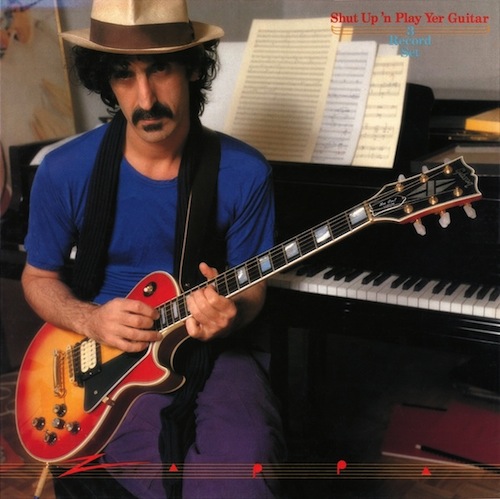 Frank Zappa
Shut Up 'n Play Yer Guitar
(Barking Pumpkin 3 x LP, 1981)
Delivers exactly what it suggests on the tin. Zappa's songwriting, arranging and producing were so sui generis that his formidable guitar playing tends to get overlooked. Shut Up 'n Play Yer Guitar – simultaneously released on three separate LPs and as a box set – is a collection of magnificent instrumental tracks recorded live between 1977 and 1980 which corrects the balance. Zappa's formative influence as a guitarist was Johnny "Guitar" Watson, and traces of Watson's feisty, penetrating style stayed with him. Some aficionados rate Zappa's guitar playing as highly as Jimi Hendrix's, and the comparison has merit.
---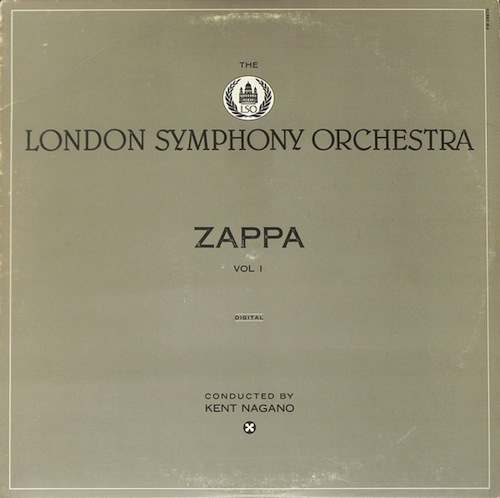 London Symphony Orchestra
Zappa Volume 1
(Barking Pumpkin LP, 1983)
Zappa fell in love with symphonic music, particularly the dissonant, time-signature-shifting work of the modernist composer Edgard Varèse, in the mid 1950s, at the same time that he discovered doo-wop. He later said that he only took up rock because he feared no-one would take his orchestral music seriously. This album, together with 1984's The Perfect Stranger, commissioned by another modernist auteur, Pierre Boulez, for his 27-piece Ensemble Intercontemporain, is utterly convincing.
---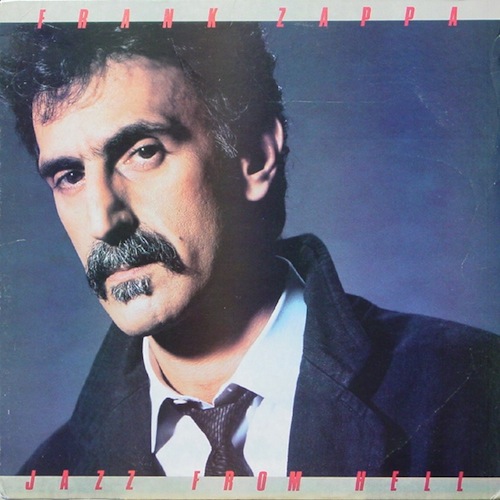 Frank Zappa
Jazz from Hell
(Barking Pumpkin LP, 1986)
In the mid 1980s, Zappa was an early adopter of computers and synthesisers. Only one track on the instrumental album Jazz from Hell features a band, the rest being performed by Zappa on multi-tracked Synclavier. Some Zappa enthusiasts denounced it, much as some acoustic jazz fans rejected Herbie Hancock's contemporaneous synthesiser-innovations. But the album won a Grammy for Best Rock Instrumental Performance. A rival for the award was Zappa's son Dweezil, whose 'Wipe Out' from the soundtrack to the movie Back to the Beach, recorded with Hancock, was also nominated. Zappa kept the future shock happening, though mostly on CD only, until his death.