Published on
December 2, 2015
Category
Features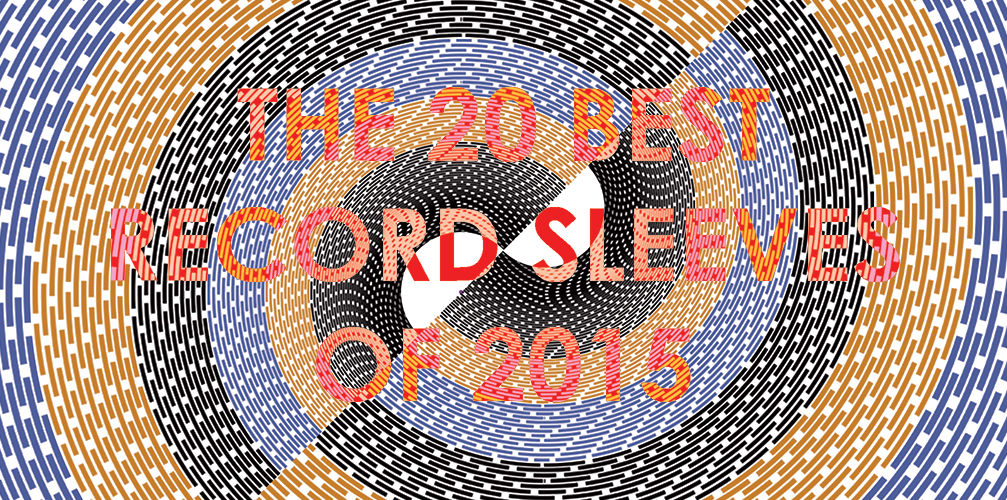 Having sized up this year's most collectable records, our end of year review continues with the 2015 artwork award.
From Tame Impala's vortex shedding visual identity to Grimes' grotesque Art Angel creature to the kaleidoscope of colours for Jamie XX's celebrated debut album, cover art remains a crucially emotive force in how we place music.
But the glory of vinyl lies in its luxurious three dimensionality. Nothing quite matches that large, square, blank canvas, whether it's a gatefold LP or a 7" or some space in-between. For that reason, our definition of artwork runs broader than sleeve image: we're judging the entire package here.
That's not to say that the cover art isn't important; it is. But the quality of packaging and design – from liner notes to etchings, concept box sets to hidden flexi discs – scores points. That also means evaluating the process that goes in to creating unique objects, whether hand-stitched by local artistans or expertly printed by a design studio.
What we're looking for here are records that make the most of the format, offering a physical and immersive experience, far beyond the reach of CD, tape or digital.
With that said, here's our top 20.
---
Catch up on all our end of year lists:
The 50 best vinyl LPs of 2015
The 30 best vinyl reissues of 2015
The 20 best 12″s of 2015
The 20 best 7″s of 2015
The 10 most collectable records of 2015
The Year in vinyl tech
The 10 best vinyl soundtracks of 2015
---
20. Jay-Z
Magna Carta… Holy Grail
(Third Man)
King of strange, novelty vinyl releases, it's not easy keeping Jack White out of end of year vinyl roundups. Last year it was Lazaretto, his 'Ultra LP' , featuring multi-speed tracks, locked grooves, holograms and other vinyl wonders; this year, amongst many other things – including a new pressing plant in Detroit – Jack White has his paws on the first official Magna Carta vinyl release.
While the release is a normal double vinyl pressing with a nice looking gatefold and a printed lyric insert, the real surprise lies on the back cover — or rather, inside it. Jack White, the crafty cat, has hidden a "postcard flexidisc" in it (with a secret track) that you can only get at by taking a knife to the thing. Oh, the dilemma!
---
19. Petite Noir
La Vie Est Belle / Life Is Beautiful
(Double Six)
Drawing on a unique concoction of influences, Petite Noir, the half-Congolese, half-Angolan, Cape Town-residing artist brings post-punk energy to African folk. Named after a revered Congolese film of the same name, his debut La Vie Est Belle / Life Is Beautiful arrives in a beautiful double wide spined LP. The marbled artwork on the front captures something of his Afro-European cultural clash and that image finds its way onto a photographic print insert as well as an ornate etching on side D.
---
18. Various Artists
Systems For A Score
(The Vinyl Factory)
Here's an unusual one from the VF chest. Earlier this year sound artists Fari Bradley and Chris Weaver invited UAE-based musicians and artists to a recording studio at Tashkeel (Dubai) to interpret patterns of traditional Emirati weaves as graphic scores.
Fed through an Atari computer to create new sounds, these scores were then used as the basis for the seven original compositions, many which wouldn't sound out of place in a Four Tet or Gilles Peterson set. Limited to 100 copies, each vinyl record features a unique traditional Emirati weave, handstiched by artistans in Dubai, adding a beautiful extra layer of tactility and a reminder of the process that went into creating the music.
---
17. Exploring Jezebel
On A Business Trip To London
(Blackest Ever Black)
More concerned with aesthetic than genre, Blackest Ever Black splashes romantic artwork, gothic typography and careful attention on every record that passes through its dark heart. The highlight from this year's fold is Exploring Jezebel's On A Business Trip To London. There aren't any tricks here – just a pastel artwork of a stern, black-gloved, red-lipped lady who's full body is revealed as the gatefold extends. A magnificent work that, with minimal fuss, makes great use of the format.
---
16. Various Artists
A Girl Walks Home Alone At Night
(Death Waltz Recording Company / Mondo )
In 2014 we got the first Iranian vampire noir; in 2015 we get the soundtrack. A Girl Walks Home Alone At Night doesn't have a score – so it's different from the usual Death Waltz releases in that sense – instead it's a compilation of tracks chosen by director Ana Lily Amirpour. Persian dominates, and the vibe is sulky, new wavey: from the arpeggio-and-spoken-word of Farah, a Persian beat poet from Texas, to the spooky strings of Radio Tehran.
As ever Death Waltz have nailed the vinyl edition – die-cutting the film titles into the black outer-sleeve so when you pull it apart, the type turns blood-red against the background. The two inner sleeves are printed with gothic stills from the film, encasing records that are either onyx black or white or grey and white – if you managed to pick up a limited edition. If not, there's an unlimited run of all-black kicking around.
Purveyors of high quality soundtrack releases, other Death Waltz/Mondo editions of note this year include the Batman Animated Series box set, the Superman S-shaped 7", the Back to The Future box set and the first vinyl pressing of Black Swan.
---
15. Amon Tobin
Dark Jovian EP
(Ninja Tune)
Science fiction fantasies have long been the friend of great cover art, nowhere more so than with Amon Tobin's rubber wheel of destiny Dark Jovian, released on Record Store Day earlier this year.
Like some piece of shrapnel from Discovery One, the four track EP appears on two single-sided, etched, heavyweight white vinyl discs encased in a rubber wheel and presented in a clear Perspex box designed by Alexander Brown.
It's an otherworldly object and fits seamlessly into Tobin's bombastic A/V catalogue. As one hapless Discogs commenter put it: "They should have provide [sic] some user instructions to use this…"
---
14. Not Waving
Get Serious 12″
(Diagonal)
A late entry into the artwork list but by no means a gratuitous one, Not Waving's recent 12" on Diagonal only landed last month, but it's a good as example of the label's uncompromising visual aesthetic.
A wolf in sheep's clothing, 'Get Serious' is a single-sided EBM predator unleashed from inside an innocent candy-striped paper bag. Sounds simple enough, but with every one of the 300 copies hand-screen-printed by John Powell-Jones it's one hell of a unique 12", especially given that the track won't be included in Alessio Natalizia's forthcoming LP.
Can't imagine the bag will last long in a club though.
---
13. Heathered Pearls
Body Complex
(Ghostly International)
Ghostly have built a something of a reputation for desirable objects, but never has their motto "Of Art and Artifice" been more pertinent. With a nod to Factory Records and their indexing of objects, Polish-born Jacob Alexander aka Heathered Pearls' new 2015 LP Body Complex brings the art of sleeve design into relief.
While the image, featuring a three-dimensional architectural sculpture, and the bottle green vinyl pressing are nice enough, the musician and artist has made the sculpture available to purchase too. Evoking the spirit of a corner-piece of an art deco mall, it is probably the ultimate keepsake for any fan of the album.
Emerging from his fascination with interior architecture, the music follows a similar conceptual framework to the to 5lb piece of Hydrostone: "The shape came from wanting to create an imperfect sculpture that, from a distance, looks like a display piece," he says "but when you get closer and you have more time with it, you see its flaws." As a complete package Body Complex certainly shifts perspectives.
---
12. Hot Chip
Why Make Sense?
(Domino Recording Co.)
Go on Domino's Why Make Sense? micro-site and you're greeted with a statement that reads like a defect warning: "Due to a unique and bespoke printing technique… every copy of the album, on both CD and LP, will feature a completely unique artwork". But there are no mistakes here.
Using a palette of 501 discrete colours and an algorithmic variation in the Bridget Riley-inspired design overlay, Nick Relph and Matthew Cooper's design appears differently on every single iteration of the thousands of LPs pressed is different. A computerised randomisation process akin to the variation achieved in screen-printing (without the human error), variations deviate from the subtle to the extreme (Cooper says there could be over 130,000 discrete outcomes). Good luck making that lot by hand.
While computers have colonised composition for over fifty years, this concept brings machines into the design studio to take an active role in generating unique artwork too.
---
11. Olga Bell
Incitation
(One Little Indian)
Björk's virtuosic label friend Olga Bell is responsible for this year's shiniest, most shimmering record cover. Not easy to capture its dynamic physical quality – although our photographer did a damn good job of it – the artwork for this release is as bewitching as the music within. Limited to 1000 copies and pressed on translucent dove grey vinyl with white marbling, the record arrives with a Noah Kalina photograph and a gorgeous lyrics insert.
---
10. Ty Segall
Mr. Face EP
(Famous Class)
People should make more 7-inch gatefolds. Loads of tactility with none of the unwieldiness; we'll say it again: more 7-inch gatefolds please. Take inspiration from Ty Segall's Mr. Face EP which, from the striking wrap-around wallpaper art to the texture on the sleeve, is a completely deluxe package. Included within is a pair of 3D glasses, which lets the mirrored mayhem pop-out at you. The arsenal of tricks continues with the translucent red and blue vinyl records, which themselves double up as giant 3D glasses!
Another magnificently designed 7-inch gatefold (albeit without the 3D frills) of note this year is the debut EP on RAFT records – have a look here.
---
9. Mikael Tariverdiev
Film Music
(Earth Recordings / Antique Beat)
A perfect example of an archival release delivered with the respect the music deserves. Mikael Tariverdiev was a Soviet film composer who never enjoyed the worldwide acclaim of Artemiev (who scored Tarkovsky's Solaris) and this hardback box set puts the man front and centre, leading with four iconic portrait images of the artist through the ages – from buckish youth to statesman-like figurehead – printed in stunning sepia.
The three inner sleeves feature patchwork ephemera gathered by Stephen Coates and Paul Heartfield at the composer's St Petersburg apartment, while an inviting linen-finish 12" booklet shares more intimate images of the artist's home studio and private life.
Unlike some of the other pieces in this list, there's nothing gimmicky about the way Earth and Antique Beat have put this together. It is as serious and understated as the man himself – sometimes class is best left to speak for itself.
---
8. Karl Bösmann
Coma
(Alt.Vinyl)
Perhaps exactly how you'd imagine a German post-industrial innovator to be released on vinyl, Karl Bösmann's exploration of the fascinating and hideous experience of witnessing a friend's post-motor-cycle accident coma is delivered like a memory box of assorted mementos to tether the unconscious back to reality.
Charting in last year's list with Zoviet*France's rusting Patina Pooling box set, Alt.Vinyl have out-done themselves once more, the limited edition of 50 art box sets topped with punched metal plated Coma artwork.
Artist Markus Thorn is on hand to fill each with a vast array of hand-made inserts and photos, that evoke the fragmented memories, dream visions and existential terrors of the coma experience.
---
7. Trevor Jackson
F O R M A T
(The Vinyl Factory)
Fourteen years since his last, Trevor Jackson's new album F O R M A T was bound to be worth the wait. We were hugely excited to be involved in realising the project that saw Jackson flex both his musical and design muscle for a conceptually complete homage to the physical format.
Launched at an accompanying A/V installation in London, the first iteration of F O R M A T saw Jackson select twelve physical sound carriers, from reel-to-reel to USB to host one of the twelve tracks on the album. Each track was initially sold in a receding limited edition months before the album dropped as a complete triple vinyl (itself a desirable minimal edition, housed in clear plastic sleeves), leaving the completed album a mystery to anyone who didn't make the journey to the installation.
With every format produced in uniform monochrome, Jackson put the emphasis back on what he calls "the nuances and imperfections of physical objects". Creating the conditions whereby listeners are forced to engage with the way they consume music, F O R M A T is a rare example of record having an active effect on the way music is listened to.
---
6. Egyptian Lover
Egypt Egypt
(Stones Throw)
It's difficult to justify a reissue in this list unless the artwork has been updated and looks absolutely amazing. Stones Throw ticks both boxes by bringing back Egyptian Lover's groundbreaking hip-hop classic 'Egypt Egypt' as a custom-built pyramid. The record itself a white triangle vinyl and the sleeve is comprised of 8 black panels with gold foil and magnets that fold into a free-standing pyramid. One of this year's better Black Friday RSD releases.
---
5. Operation Midnight Climax
Operation Midnight Climax
(Peak Oil)
Inspired by the CIA's mind-control experiments with LSD in the 1950s, Florin Büchel adopts the original project name Operation Midnight Climax – a moniker which perfectly fits the cascading acid-soaked paranoia of the release. Pressed in a run of 300, the record cover is made from tear-off blotting paper – just like the tabs used to take LSD – with the Peak Oil label printed on each piece and a neon-screen printed intergalactic comic-book character hanging over. To boot, the record comes with a printed insert featuring redacted documents from the experiment.
---
4. Björk
Vulnicura
(One Little Indian)
No single release has covered all the bases this year like Vulnicura. But let's start with the LP itself, the burning core at the centre of Björk's heartbreak confessional.
A thing of beauty, imagined across a double layered sleeve, it features Björk as crab expelling chrome magma from a gaping flesh wound in her chest, printed onto a film sleeve that slides off to reveal Björk as dandelion florette, her palms open, the picture of serenity. Conceptually, it perfectly reflects the 'abstract complex feelings' she wrestles with on the album, at once angry, cathartic, resigned, loving and maternal.
Of its offspring (a live LP, strings LP and limited picture disc release followed), the series of Vulnicura remix 12"s is the one – a dozen oyster-shaped die-cut sleeves from across the LP's pastel palette, each housing a single-sided 12" pearl of ice-clear vinyl with an etching on the flip.
Extravagant, yes, but always conceptually tuned in to what the music is trying to say. With Björk, no extra touch feels superfluous.
---
3. TCF
I4WUAT7H5cXQif1EmFqeQTcXjLXDcyNrcnzdzf2DVPifOBu5kNXF9B W2lFN+WqzJkmTktNUuRwC gywyUVjQrw==
(Ekster)
Stimulating stuff from Berlin-based electronic artist TCF, who translated his obsession with tea and its trade history into an algorithmic framework for his new EP.
Something of a mouthful in more ways than one, the release is pressed onto a 10" record, vacuum-packed into a silver silk-screen bag alongside 15 grams of Shiu Xian Oolong tea direct from the Wuyi Mountains in China.
With only 200 pressed up this might be the rarest cuppa you'll ever get your hands on. A bonkers concept, executed in style. We love it.
---
2. Linkwood
Expressions
(Firecracker)
Another year, another work of art by Firecracker. Its founder Lindsay Todd, who also runs Unthank and Sacred Summits, spends 90% of his time assembling, screen printing, packing and stamping the records himself. As we said last year when Panarom topped our 2015 vinyl chart, every release on Firecracker feels like a geniune labour of love.
Even so, Expressions is especially standout. Linkwood has been synonymous with Firecracker since its inception and talk of this second LP reached near-mythical status over the years – which probably goes some way in explaining why so much care and attention has gone into assembling two beautiful vinyl editions. Both screen printed by Todd, there's a regular version and a deluxe handmade wooden package. Limited to 50, the latter is truly a thing of beauty.
---
1. Phil Collins
My Heart's In My Hand…
(Nero / Shady Lane Productions)
No, not that Phil Collins. A conceptual master-stroke from the Turner Prize-nominated artist, realized with the most sophisticated packaging this year.
Featuring specially-commissioned music by Demdike Stare, Laetitia Sadier, Pye Corner Audio, Peaking Lights and more, My Heart's In My Hand… tasked the musicians to rework conversations recorded anonymously in a free phone booth in Cologne station. The music was then pressed to unique 7"s which were played back in the station at specially designed listening booths.
An extension of his 2013 show In every home a heartache, the double vinyl edition, housed in a silk-screened gatefold, invites you to listen to the eerily voyeuristic music while leafing through the poignant, often heart-rending conversations, transcribed in the accompanying 12"s booklet, with photos documenting the process throughout.
As you'd expect, every element is produced to the highest quality, the anaglyph palette running all the way through to the alternatively coloured discs. It's a substantial artefact from concept to execution and we believe a worthy pick for the top spot.
---
Illustration by Hector Plimmer