Published on
September 17, 2015
Category
Features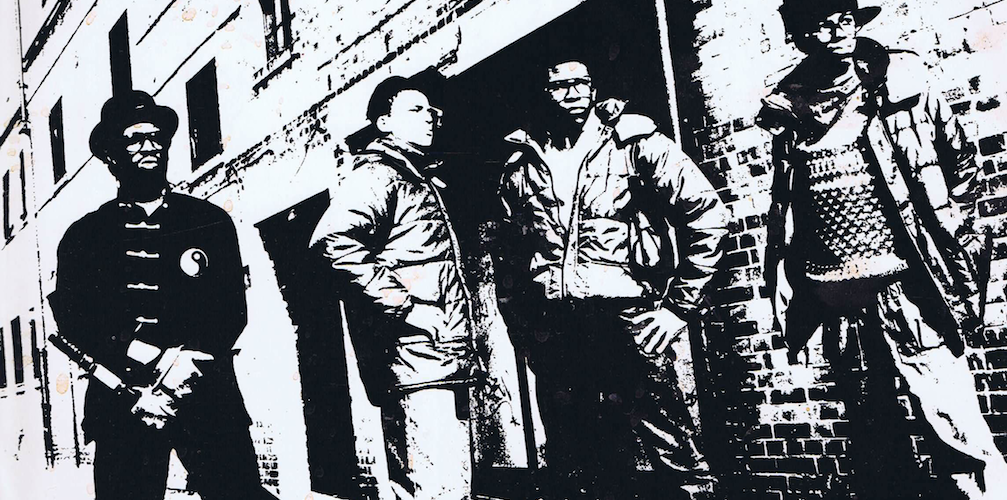 For the best part of a decade, rappers in the UK struggled to stamp their own identity on the new hip hop sound arriving from across the pond. And yet, the 12″s that emerged during the '80s chart a coming of age that's full of energy and experimentation. From Malcolm McLaren to London Posse and The Wild Bunch, Chris May sheds light on 10 under-appreciated 12″ singles that helped the UK scene find its own voice.
---
Words: Chris May
---
The birth of British hip hop was triggered by New Jersey crew Sugarhill Gang's 'Rapper's Delight,' which reached number three in the UK singles chart in December 1979 and was the first time most people in the country heard rap. The birth was a two-stage process, as were the British incarnations of every previous style of music which had originated overseas, from jazz to reggae. First came artists heavily indebted to their US inspirations, performing with accents which imitated those of their heroes. Later came an explicitly British sensibility, voiced in the British vernacular.
The ten landmark discs below track British hip hop through both stages, from the first releases, in 1982, to just beyond what is generally regarded as the second-stage watershed, London Posse's 1988 single, 'Money Mad.'
Archive recordings are sometimes described as "timeless," as though this is the ultimate recommendation. The earlier discs here, on the other hand, sound very much of their own time. What else are they supposed to sound like? It doesn't invalidate them and it doesn't necessarily make them any less enjoyable.
Influential first-wave British artists such as City Limits Crew, Family Quest and Cookie Crew, for instance, may have been looking towards the US and rapping in what are today considered anachronistic American accents, but their records still sound exhilarating. The three crews, who were founded in 1982-83, had each given hundreds of performances before they got the chance to make a record, and by the time they finally did so, they were skilled in what they were doing.
The British hip hop story is currently being chronicled by London Posse's Rodney P as part of a trio of made-for-TV documentaries collectively titled Under the Influence. The films will document in turn the birth of British hip hop, British reggae and British soul. Hip hop is first up and is due for completion this autumn.
---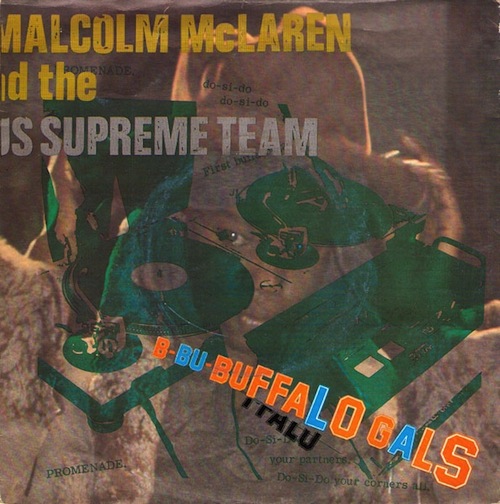 Malcolm McLaren & World's Famous Supreme Team
'Buffalo Gals'
(Charisma 12", 1982)
OK, Malcolm McLaren got the idea at an Afrika Bambaataa block party in the Bronx, the featured DJs were American and the video was shot in New York. But McLaren, who co-produced, was British, as were fellow producer Trevor Horn and co-writer Anne Dudley. It can thus be argued that 'Buffalo Gals' was the first British hip hop single. The video, in any case, was a revelation. "We knew what hip hop sounded like, but we didn't know what it looked like," London Posse's Rodney P told me recently. "In that video, we got to see body popping for the first time, break dancing for the first time, kids putting lino on the pavement, the graffiti writers and the DJs. All the elements were there. Malcolm McLaren was a big part of the UK hip hop story, though he's often written out of it."
---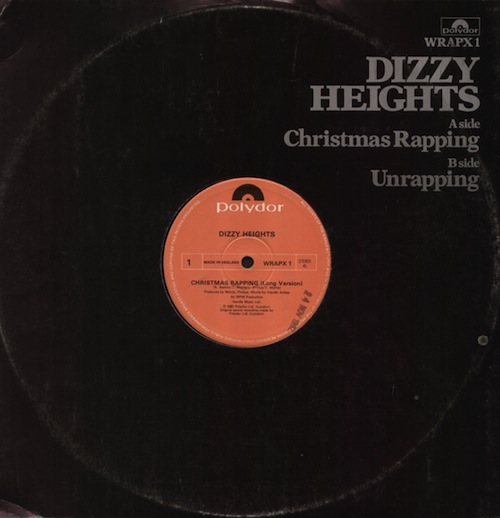 Dizzy Heights
'Christmas Rapping'
(Polydor 12", 1982)
Identifying the first wholly-made-in-Britain hip hop disc is complicated by the evolving definition of hip hop in the early 1980s. Front-runners are Dizzy Heights's 'Christmas Rapping,' which despite the cheesy title contained a credible rap, and DJ Newtrament's 'London Bridge Is Falling Down' (Jive, 1983). Legend has it that 'London Bridge' was recorded first, but was beaten to the shops by 'Christmas Rapping,' rush released to maximise pre-Christmas sales. Who gets first prize is further complicated by the fact that Newtrament relocated to Philadelphia from 1980-81, before returning to London and founding Krew, of which Dizzy Heights was a member.
---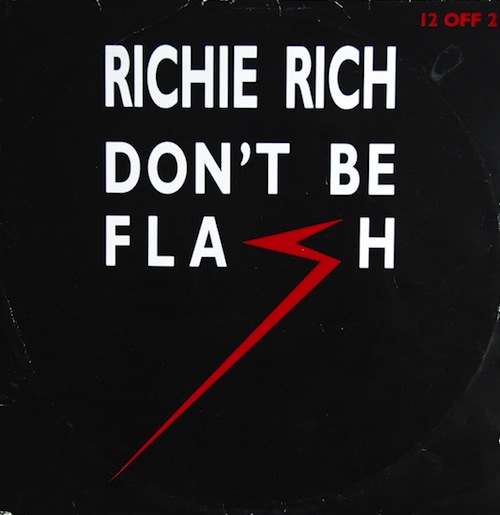 Grandmaster Richie Rich
'Don't Be Flash'
(Spin Offs 12", 1985)
Spin Offs was a short-lived mid-1980s specialist record and one-stop DJ shop in London's Fulham Palace Road. Among the counter staff was Richie Morgan, who to the delight of customers honed his turntable skills on the shop's decks. As Grandmaster Richie Rich he released two singles on the Spin Offs label. 'Don't Be Flash' was the second and the best.
---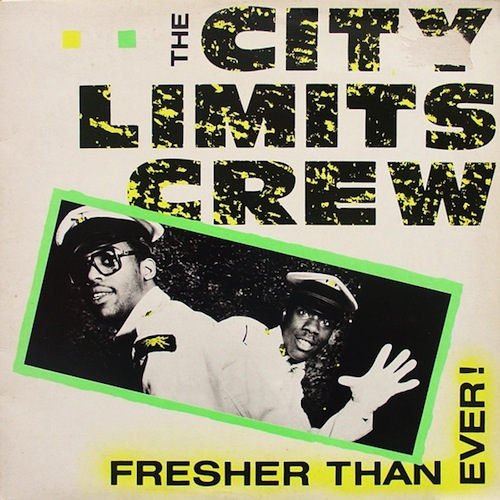 City Limits Crew
'Fresher Than Ever!'
(Survival 12", 1985)
In 1986, British hip hop would be by galvanised by UK Fresh '86 at Wembley Arena, when Bambaataa, Grandmaster Flash and a dozen other leading US artists appeared live on a British stage for the first time. The impact was visual as much as aural – local rappers and DJs did not anticipate the theatricality of the US performers and their flamboyant costumes. Many subsequently decided their own stage-presentation needed a boost.
City Limits Crew – MCs Little Stevie Bee and Pretty Boy Gee – were ahead of the curve, appearing in well-tailored naval and Al Capone-era gangster stage-wear as early as 1983. The precocity probably derived from Gee – real name Gary Beadle, wearing the white glove on the record sleeve – previously attending the Anna Scher Theatre School in London (he later became a full-time actor). The uplifting 'Fresher Than Ever!' was the duo's second single.
---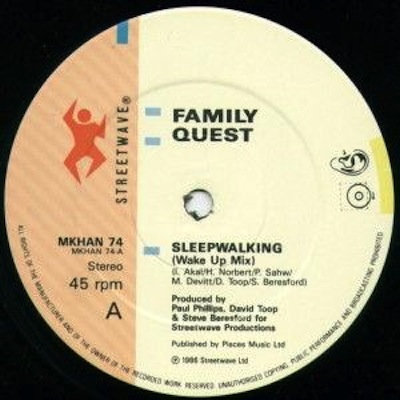 Family Quest
'Sleepwalking'
(Streetwave 12", 1986)
Family Quest – Chico MC, Emix, Dirty Harry and Mystery MC – were one of the few British crews to appear at UK Fresh '86: Streetwave was the sister label of Streetsounds, which organised the event. (Streetsounds's Electro LP series, though mainly compiled of US tracks, mastermixed by London's Herbie Mastermind, was avidly followed by early British hip hoppers). 'Sleepwalking' was co-produced by David Toop, author of Rap Attack (1984), the first authoritative study of American hip hop.
---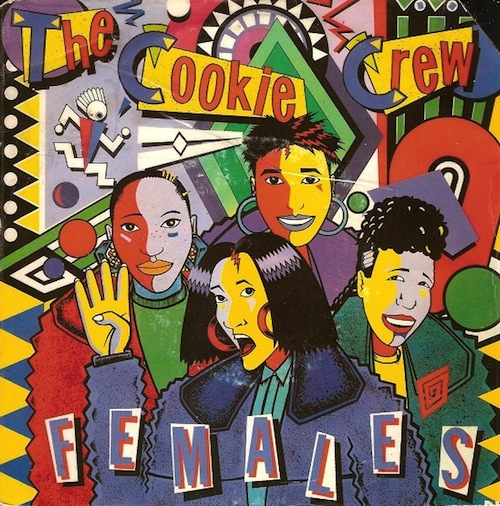 The Cookie Crew
'Females (Get On Up)'
(Torso 12", 1987)
Cookie Crew – MCs Reme-Dee and Susie Q – got their first major break when John Peel invited them to make two appearances on the Peel Sessions in 1985. The second session featured the duo with Sipho the Human Beatbox, already well known for his work with Mick Jones's Big Audio Dynamite and on the cusp of co-founding London Posse. Remarkably for a British hip hop release, the infectious girl-power rap 'Females (Get On Up)' charted in the US, reaching the Top 20 in trade magazine Billboard's dance chart.
---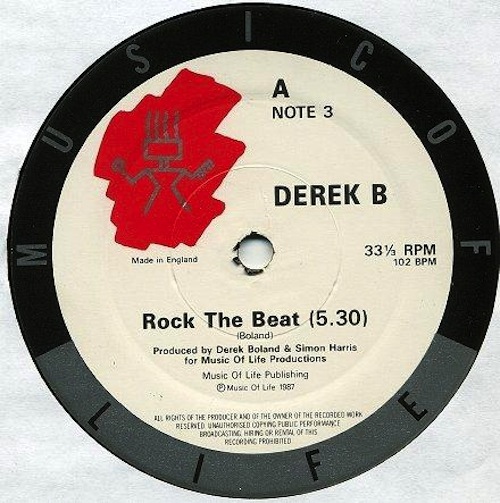 Derek B
'Rock The Beat'
(Music of Life 12", 1987)
A face at Soho's scene-setting Wag Club, where he had a DJ residency, rapper Derek B scraped into the charts with this vinyl debut. Commercially, his biggest year was 1988, when the singles 'Good Groove' (Music of Life) and 'Bad Young Brother' (on his own Tuff Audio label) were mainstream chart successes and he became the first British rapper to appear on Top of the Pops. That year, he also released the LP Bullet from a Gun (Tuff Audio), and was signed to a management deal by American rap mogul Russell Simmons.
---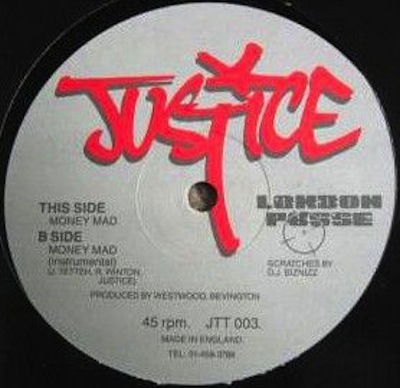 London Posse
'Money Mad'
(Justice 12", 1988)
The game-changer for British hip hop. London Posse – founded by rapper Rodney P, Sipho the Human Beatbox, Bionic MC and DJ Biznizz in 1985 – were the crew who first gave it an unmistakably British identity. Like every other early British outfit, London Posse started out with fake American accents, before making the risky decision to sound like the Londoners they were. They also incorporated dub reggae, which further distinguished their style from its American parent.
Rodney P was still struggling to shake off his US accent on the group's 1987 debut, 'London Posse' b/w 'My Beatbox Reggae Style' (among the best human-beatbox records ever), but by the time 'Money Mad' was made for Tim Westwood's Justice label, he'd succeeded. With 'Money Mad,' British hip hop came of age. N.B. This original version is not the one included on London Posse's 1990 LP, Gangster Chronicle (Mango), which was a re-recording.
---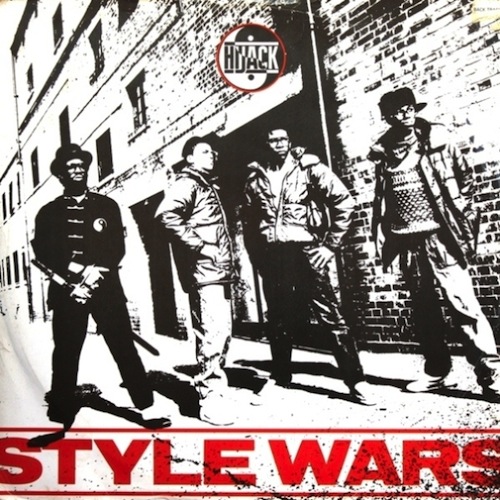 Hijack
'Style Wars'
(Music of Life 12", 1988)
After 'Money Mad,' imitation American accents fell out of favour among artists and audiences, but it didn't happen overnight. On Hijack's gritty debut single 'Style Wars,' Kamanchi Sly still sounds like a New Yorker. As part of the Turntable Trixters, Sly had won a Tim Westwood MC competition in 1987. Derek B saw the winning performance and got the group signed to Music of Life, where they expanded the line-up and adopted their new name.
---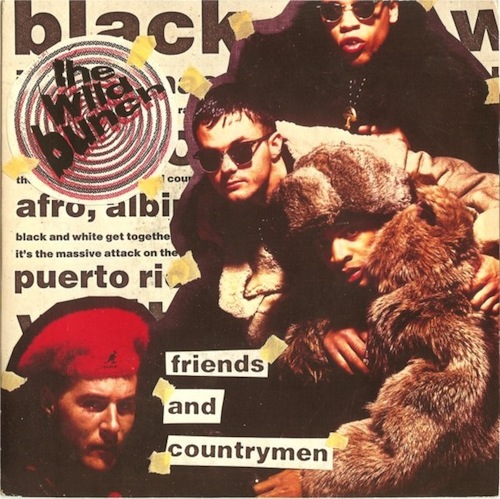 The Wild Bunch
'Friends and Countrymen'
(Fourth & Broadway 12", 1988)
Lest we forget, British hip hop was a national phenomenon from the beginning, even though the artists who first made it to vinyl were London-based. Most major British cities had hip hop scenes from the early 1980s. Bristol's Wild Bunch, for instance, who later morphed into Massive Attack, were formed in 1983 and contemporaneous Bristol crews included 2Bad, FBI Crew, City Rockers and Fearless Four featuring Tricky.
---
Under the influence will premiere at Pioneers History Dance Festival in Brixton on Saturday 26th September, featuring a Q&A with Rodney P.