Published on
June 10, 2016
Category
Features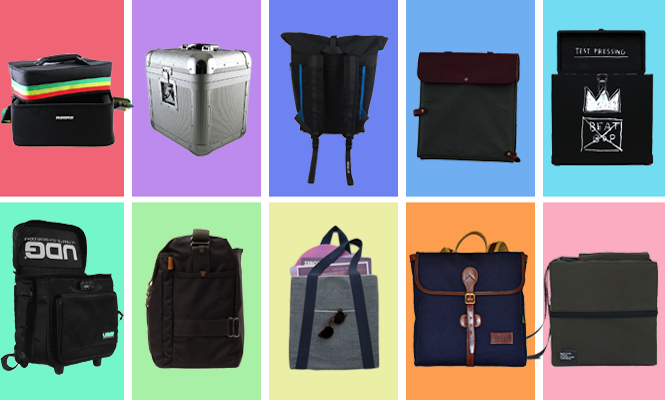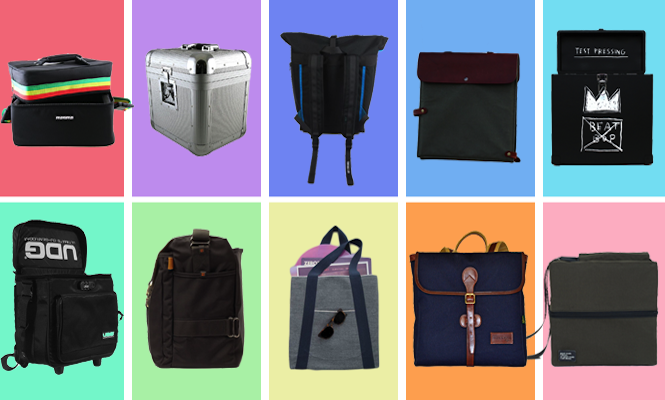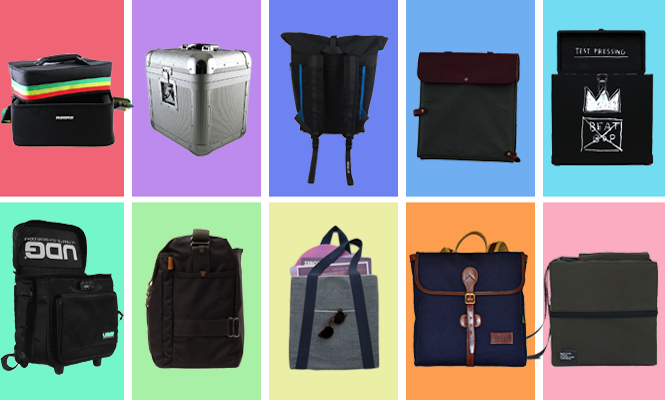 A bag for every occasion.
Having explored shelving alternatives to IKEA, record consoles to reimagine your living space and crates for carting vinyl around the home, it's now time to roundup the very best record bags on the market.
Whether it's an industry standard trolley for gigs, something casual to sling over your shoulder, a cycling bag, or, you know, just a Jean-Michel Basquiat-designed record box, we've got all shapes, sizes and bank balances covered.
And whilst we've picked solutions for different situations, the key thing to note about these ten products is that they will all keep your vinyl safe on the fly.
Dive in below and let us know if we've missed something special.
---
Price: £74.00
From over-the-shoulder messenger bags to tour-ready trolley board systems, Magma has been serving DJs since 1999. Their 7" single bag isn't the cheapest around but then again you wouldn't want to risk crushing that Turkish psych 45, would you? 2.5cm of thick interior padding keeps 150 singles feeling extra fresh. Also available as a Carnival-ready Rasta Edition.
---
Price: £39.99
If you shift vinyl around quite a lot, then Citronic's robust aluminium flight case is perfect for giving your records the added protection they need. Built like a safe, the case's exterior is rock solid with chrome plated steel corners, a tough diamond patterned finish, padded carry handle and a lockable lid catch. With padded interior throughout and space for 50xLPs, you can't go wrong.
---
The Record Tote
Price: $109.00
For the casual record shopper with an eye for independent design, Kate Koeppel's newest vinyl accessory is this rather fetching Japanese demin tote. Capable of holding between 15 and 20 albums, we believe that calling this a tote is doing it a disservice (most record shop freebies will groan and fray at the edges when filled with more than 10). Instead let's call this a proper record bag, an alternative to your fusty old satchel, which marries style and substance, with the added gravitas of being beautifully hand-crafted in San Francisco.
---
Price: c.£95.00
What better way to carry your 45s than in a box designed by every rapper's favourite artist and iconoclastic street art pioneer Jean-Michel Basquiat. Featuring licesned images from Rammellzee and K-Rob's 1983 classic 'Beat Bop', the box is said to hold "50 records or a week of greenery" (to quote Madlib) and was produced in a limited edition of 1000, making it just about as rare as the record it's based on. Practically sold out at source, these surface regularly on eBay so don't despair.
---
UDG Trolley To Go
Price: £104.25
As close as you get to the industry standard, the Technics SL-1200 of the DJ bag world, UDG's trolleys need little introduction. The hard-wearing, compact design, complete with lock, is aimed at traveling DJs primarily, the smaller variants are able to be carried on as hand-luggage (just don't let them weigh it!) Standard and deluxe versions both have extra storage space for 7"s and accessories. While the strap is a life-saver when navigating sodden festival sites, the wheels will save you a decade of back pain when things start to go south. To paraphrase a great man: "Real DJs let the earth help carry their records".
---
Price: $149.00
Whether it's heavy-duty turntable weights or all-in-one consoles, the good minds at Turntable Lab are continually at the forefront vinyl accessories and equipment. Their take on the record bag is this brilliant roll-top backpack, developed by their Brooklyn neighbours Mer Bags. Using the signature Mer style but tweaking for the 12″ (you can easily fit 40 records) and added a roomy side-opening stash pocket for headphones or cables, it's a handcrafted and durable bag, perfect for shipping around your records.
---
Bicycle Record Bag
Price: €154.00
Let's face it, the options for transporting your records by bicycle aren't great. Sling a record bag over the shoulder? Crush an LP mailer into a rucksack? Wing it with a plastic bag? Not ideal. Designed in cycle culture capital Copenhagen (where else?) this deluxe cycle record bag has the answer. Fit snuggly to your frame, it can carry up to eight records to make your afternoon record buying experience that little bit more civilized. The cotton waxed waterproof military textile, soft leather and brass detail don't half look good either.
---
Cosmo Baker North To South DJ Messenger Bag
Price: $249.00
Billed as the real DJ's DJ bag, this messenger bag was designed with input from New York veteran Cosmo Baker, himself a DJ's DJ, a crate-digger's crate-digger. "Being on the road over 150 days per year, I need a bag that is all business," he says. "Functionality is key but that doesn't mean that one should sacrifice style. Together with Tucker & Bloom, we've created this DJ bag that no only works perfectly with my lifestyle. I'll throw my laptop in, some vinyl and my DJ gear, a book, a change of clothes and toiletries, and I'm out the door." There you have it.
---
Airbag A2 Chateau
Price: €268.00
Where to start with Airbag? These guys could have a whole list to themselves. Fast becoming a contemporary classic, these German bag-makers have got all your record carrying needs covered. Rucksacks, satchels and handbags for casual collectors are all represented, all made to dimensions that have your records in mind, with the Taunas and Offenbach lines worth seeking out. However, if you really want to steel the show behind the booth, Airbag's Chateau and Playhouse lines are for you. Sleek, minimal design, the former opens via a circumference zip to make selection even easier, both cushioned on the inside, hard-wearing on the outside (like an armadillo?). This is one of the best looking bags out there.
---
Original Peter: The Record Rucksack
Price: £265.00
One evening, out of a frustrated bag discussion, vinyl nuts Jonny Trunk (of Trunk Records) and Ed Griffiths (the man who started blaxploitation.com) decided it was time to design the ultimate record bag; and so, Original Peter was born. These delightful bags are made by a traditional British manufacturer that's been crafting classic hunting, shooting and fishing bags for hundreds of years. Whether you go for the market-ready Utrecht range, the straight-up LP carrier, or the dinky 7-inch selection, these bags will age handsomely, last you a lifetime, and feel pretty damn good on your shoulder all the while. If that wasn't enough, all of these bags come with a 'lucky dip' record from Jonny's and Ed's collections. Ace.