Published on
November 21, 2017
Category
Features
22a boss, producer, saxophonist and latter day flute enthusiast, Tenderlonious is one of the hardest working men in music, bridging jazz, house and beats with restless ease. With his ensemble projects Ruby Rushton and 22archestra releasing albums that draw on the spirit on Sun Ra, Yusef Lateef and LTJ Bukem (!), we dropped by to find out how he got here.
A lot has happened since we last spoke to Tenderlonious. Three years ago, almost to the day, The Vinyl Factory published a three part survey of South London's blossoming musical eco-system. Three record shops had opened, Rhythm Section was the hottest party in town, and a shaggy collective of beat-makers were redefining the city's relationship with broken beat on his label, 22a records.
Except that, despite then living in Lewisham, Tenderlonious isn't from South London at all, and he's never owned a broken beat record in his life. And what about the Sun Ra reference in his newly minted outfit 22archestra? "Nah, it's not got the k like the Sun Ra Arkestra. I'm not actually a massive fan."
Right then. From the off this time round, all assumptions were out the window. In fact, much of what has made Tenderlonious' rise to the apex of the current British jazz scene so remarkable is his ability to confound expectations.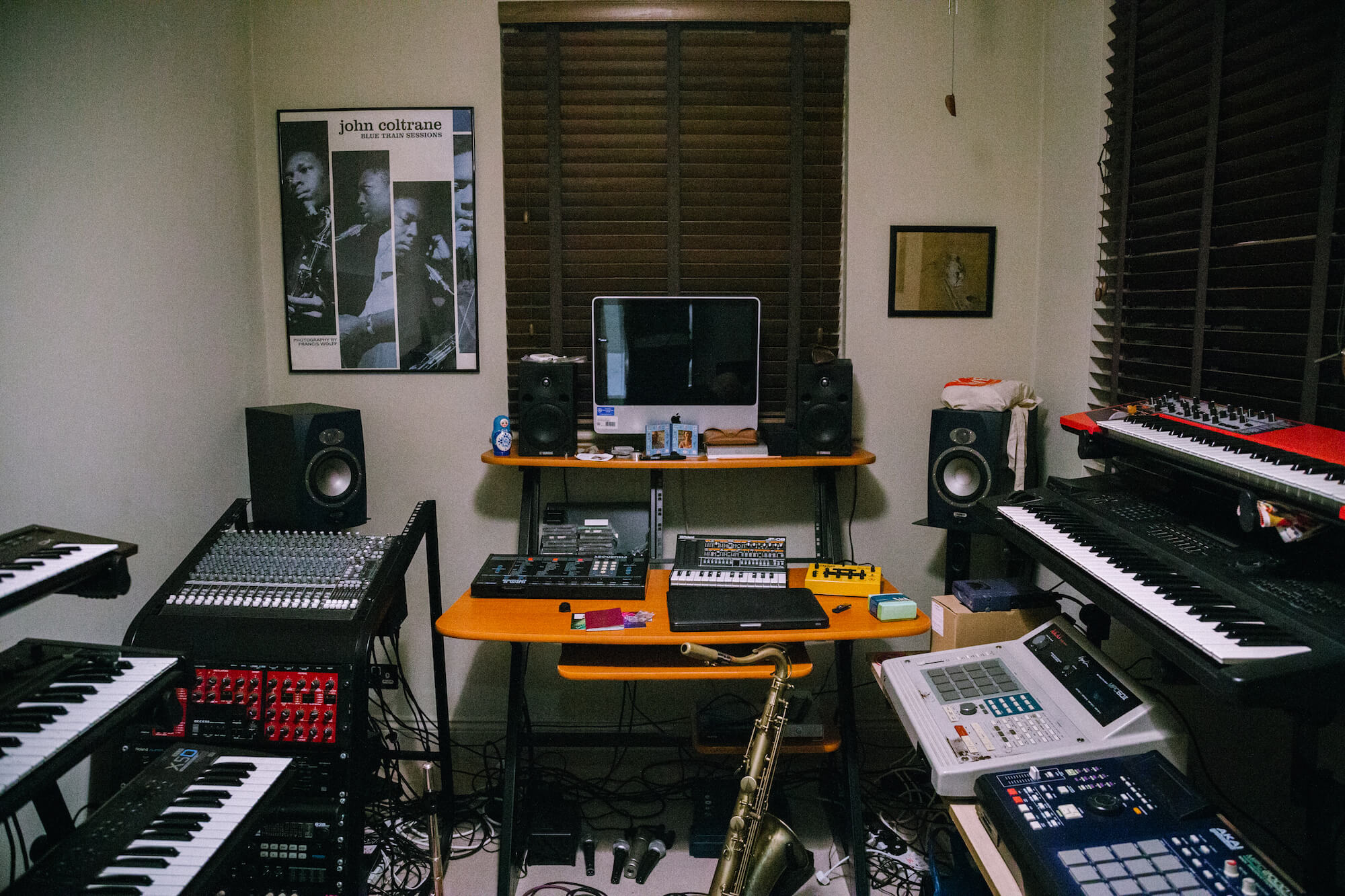 Edward Cawthorne was born into a military family and spent much of his early childhood abroad. Any propensity to rebel from such a regimented yet rootless upbringing was exacerbated at boarding school back in the UK. Unlike his contemporaries, Cawthorne benefitted from neither a traditional jazz education, nor the osmosis of being a teenager in an urban environment. When it comes to musical history, Woking is hardly Detroit.
Riding out a rocky adolescence listening to drum'n'bass and making loops in his bedroom may not be a suburban experience partiular to Cawthorne, but things got worse before they got better. A few turbulent years as a disaffected beat-maker for grime artists on the fringes of the law hardly amounted to a career in music, and distractions (sought or imposed) were everywhere.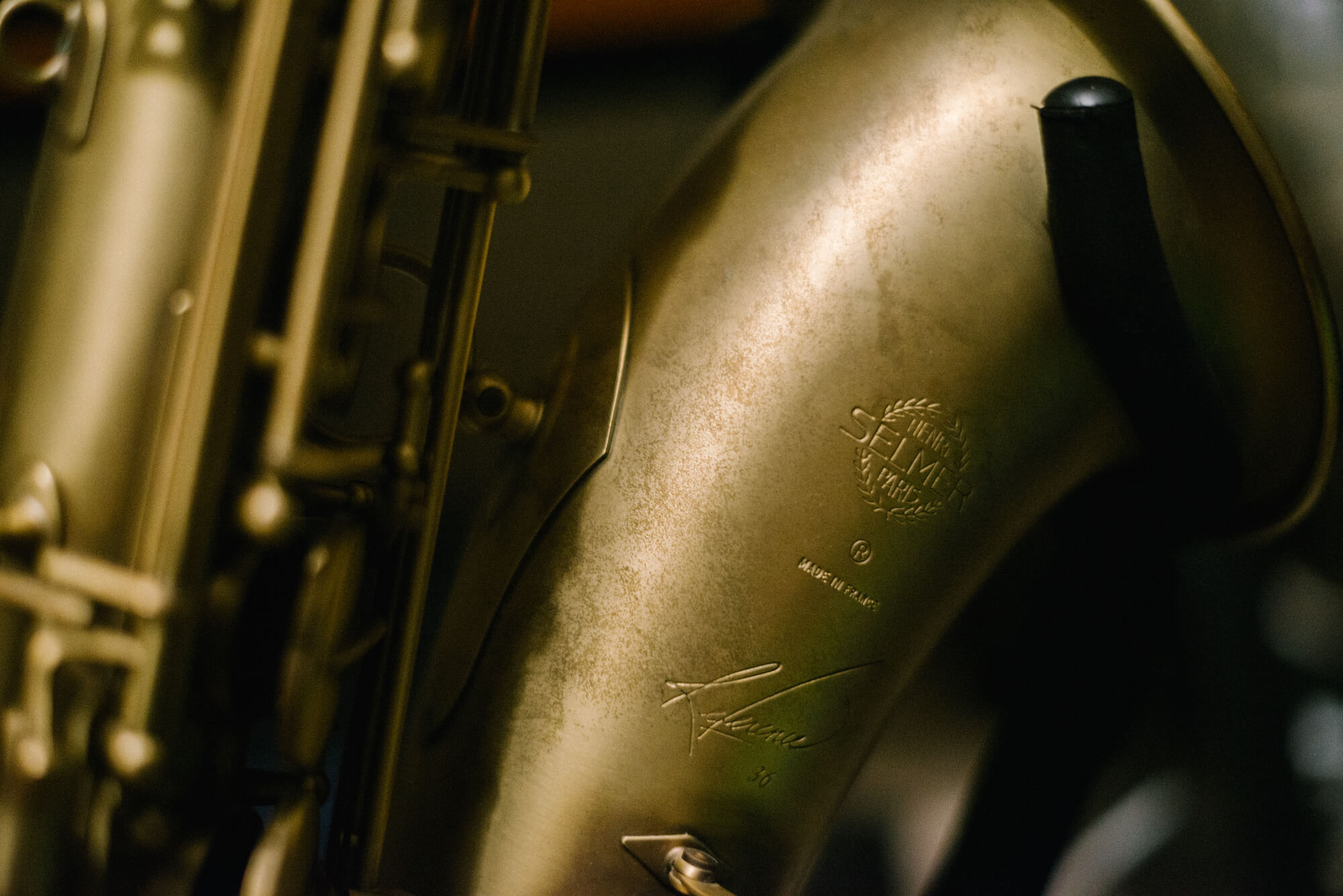 Cawthorne was at a low ebb when the soprano sax – or "golden clarinet" as he thought it was – pierced his consciousness. "From listening to Lateef and seeing the soprano in the window [of a local music shop], I thought maybe that's the focus that I needed," he remembers. "I enquired with the guy in the shop, and he looked at me like "who the hell are you?" because I was on some rude boy stance." It's an encounter he recalls with great pride, as the main character in a narrative who revels in being written off.
That stance is one which Cawthorne still carries today, and the juxtaposition of seeing a tattooed jazz musician on stage in a Slazenger tracksuit remains striking. For our photos he whips his hood up, grabbing young puppy Rocco like a prize fighting dog. And while he speaks eloquently, almost uninterrupted, for close to two hours, his inflections alternate seamlessly between that rude boy stance and crisp, middle class articulations.
Again with those assumptions. As much as any musician trying to make a living from their work – and having to promote themselves to do so – there's no separating Ed Cawthorne from the music he makes as Tenderlonious.
A largely self-taught jazz saxophonist with seventeen years of beat-making experience, a respected, financially self-sufficient record label in 22a, three major musical outlets as Tenderlonious, Ruby Rushton and 22archestra, several releases already this year, and a live schedule graduating from Bussey Building to Ronnie Scott's in a matter of days, his is a story that has helped refresh a genre beset by a reputation of elitism, and establishment pretence.
"Everything that you need is always right in front of you," he explains, revealing that Ruby Rushton is the name of his grandmother, and Trudi, whose two-volume Songbook they've released this year, is his mother. Tracks names on the most recent release reference to both Cawthorne's sister and late uncle.
Turns out Woking can be as inspirational as Detroit, if you know where to look. [Just don't assume that Motor City house, like broken-beat, was in any way an influence, as he vehemently attests: "the Detroit sound, Moodymann etc? I don't own none of that!"]
Generous with his time, and candid with his story – "you can publish the rest of that stuff in 50 years, I'll probably be dead by then" – Cawthorne begins the interview by giving us a glimpse of the imagination that sustained those early years, and laid the foundations for a career he's proud to have hustled for.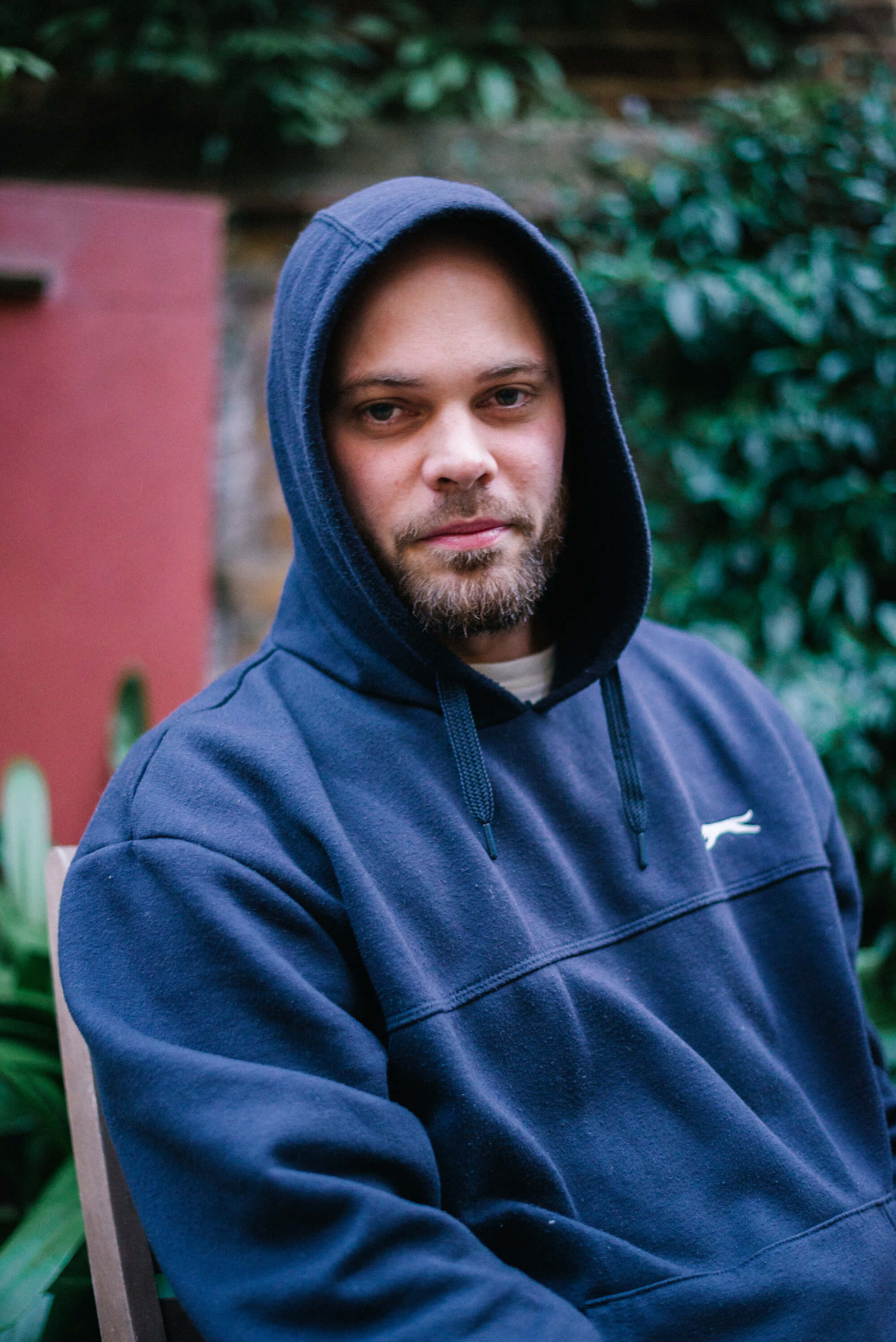 ---
You travelled a lot as a child and spent a good deal of time away from home. Was there a musical influence in your life during that time?
I was fortunate because my mother and father loved music and listened to it a lot. Jean-Michel Jarre – they loved that shit. That's really cinematic music, and the main thing for me about music is the visual aspect that comes with it. Being an army child, you're not rooted, so you have to have an imagination to get by. For me the music was constantly giving me visual ideas, I felt like I was in a movie and I'd have Oxygene playing. And the Teenage Mutant Ninja Turtles soundtrack with MC Hammer on it. It was a soundtrack, but it was conceptual in that it was actually lifting some of the dialogue from the film, so it was dope. You had Splinter talking to the Turtles about Shredder on the hi-fi. It was some Madlib shit!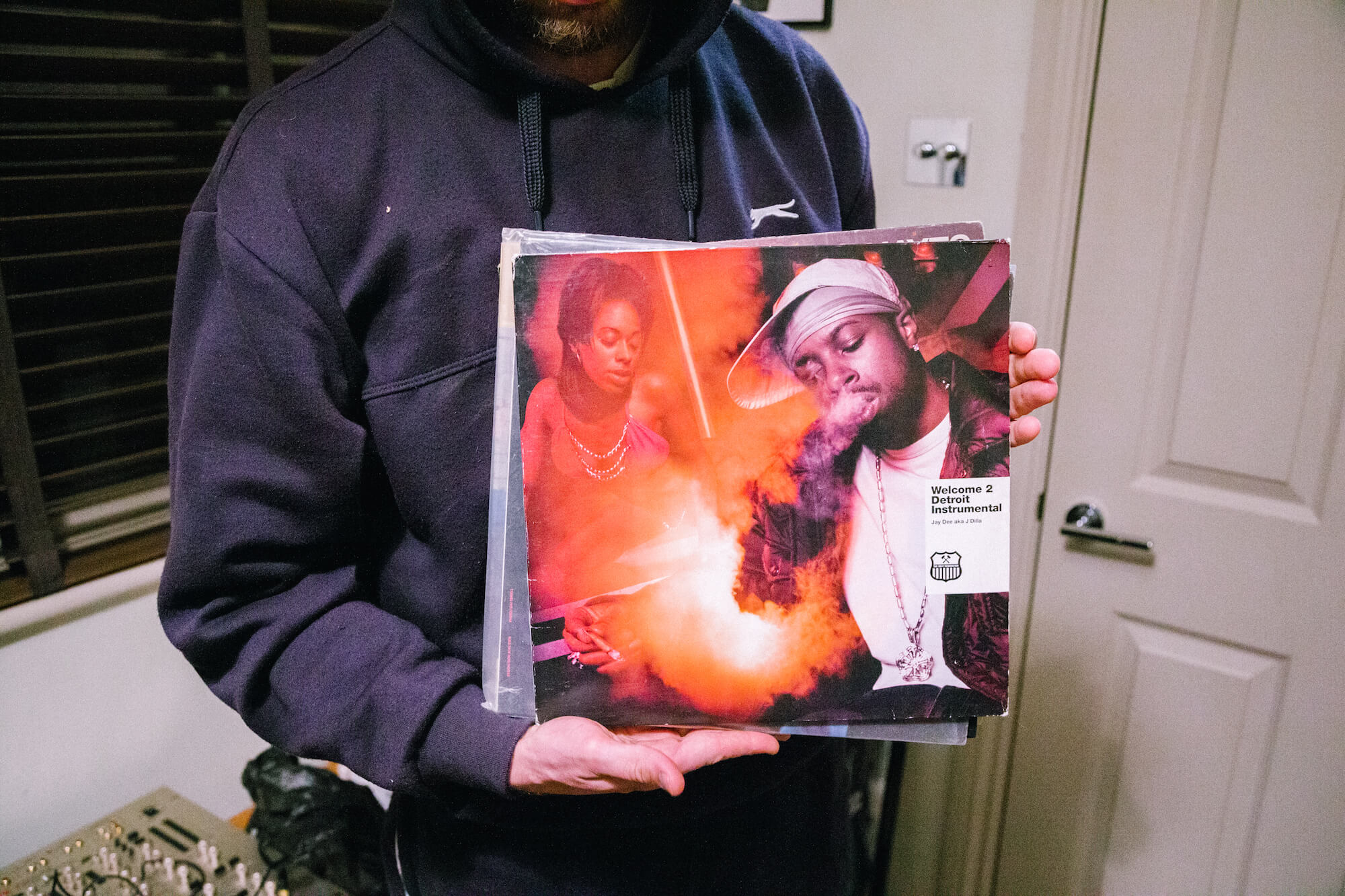 Do you still have a visual image in your head when you make music?
Absolutely. When I describe the music to the guys in the band, I'll describe a scene to them, like we're on some alleyway, and it's dimly light, there are a couple of shady characters… Or when you're trying to describe a groove, and it's got to be laid back, like you're walking down the beach in Rio de Janeiro, and you're trying to play it cool and puff your chest out.
These are all the different types of descriptions I try to give the guys. And they laugh, because they don't hear that normally. I was never educated talking about music as diminuendo or crescendo, so for me it's about describing the music as it would feel in the scene, as if I was writing it for a film.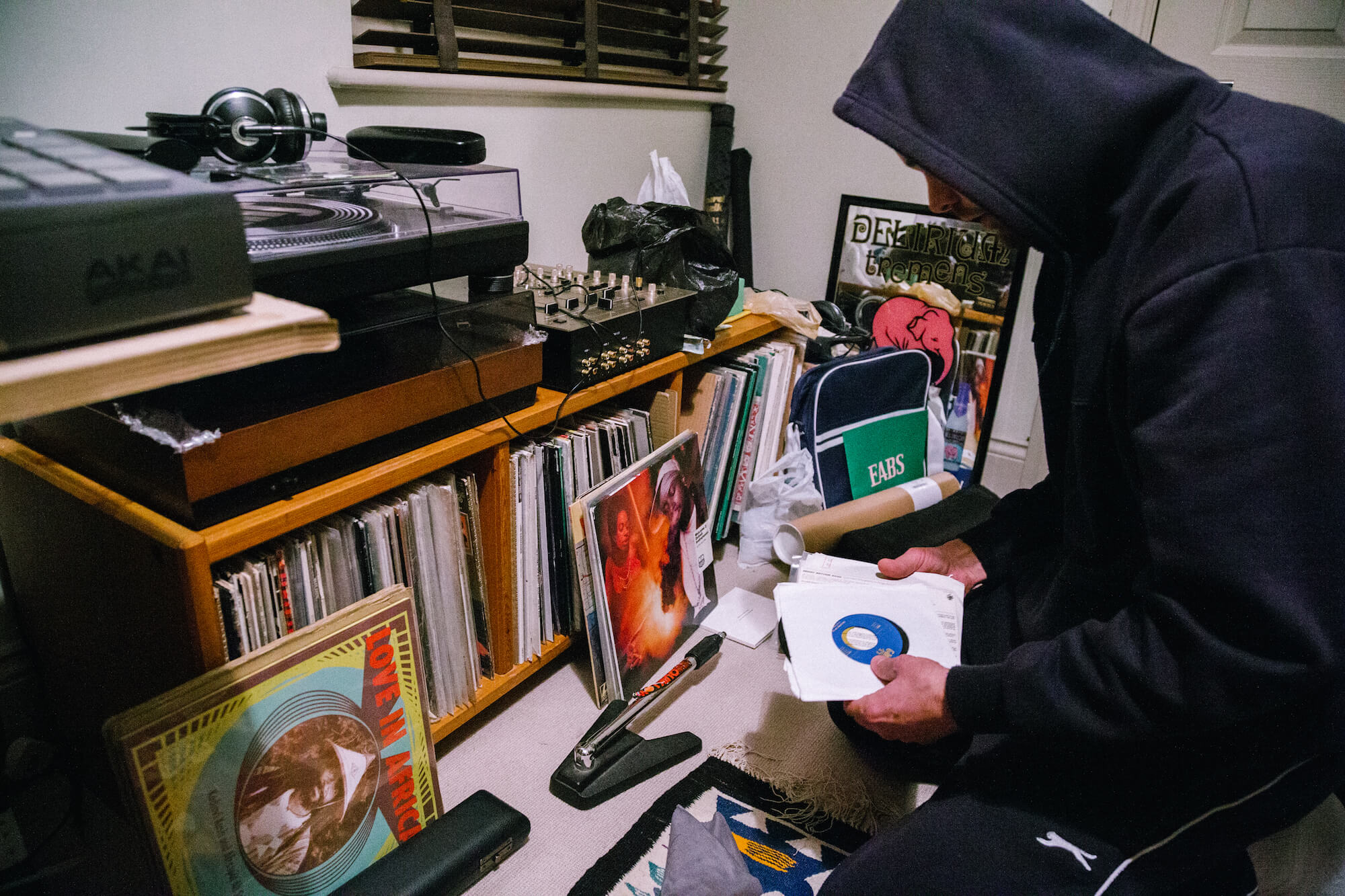 That's why Bernard Hermann and Ennio Morricone are massive influences for me. My mum loved The Mission when I was younger. I didn't like the film at the time but the music was so emotional. And people like Jerry Goldsmith, who did the music for Alien, I always loved all of that shit. And Ghost Dog by RZA, that was just a dope soundtrack.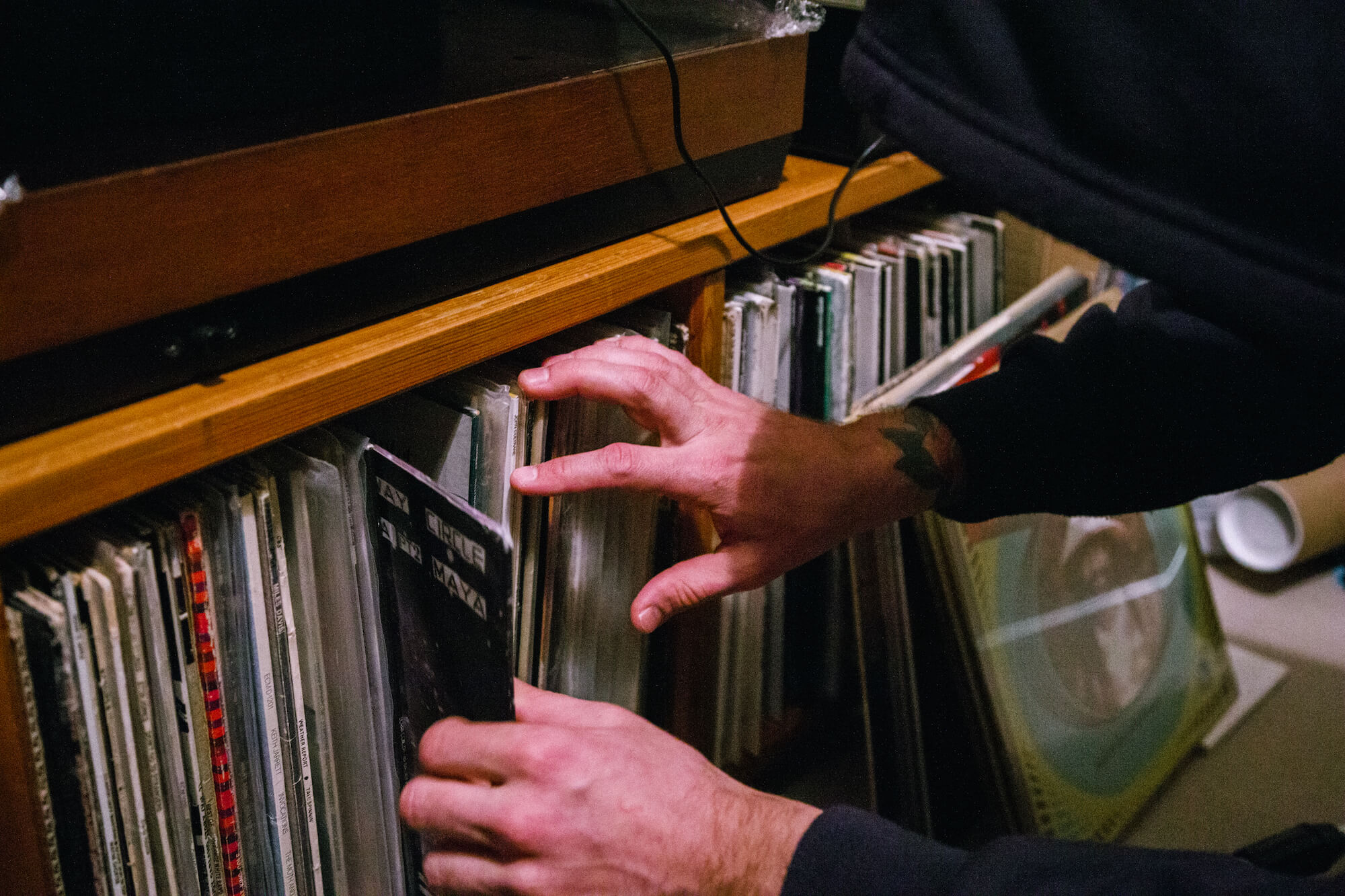 As well as describing physical scenes and spaces to people, a lot of the track names seem to refer to real world places, like 'Tisbury Truckin" or 'Elephant & Castle'.
Tisbury is where I grew up as a kid, and Elephant and Castle is a Latin tune and also the Latin quarter of London. It's very rare that I'll have a tune's name at the beginning, so the bossa inspired tune will be known as "Bossa", but that might turn out like a ballad, which became 'Song For Christopher'. He was my uncle that passed – Ruby's son and my mum's brother.
It feels like your family is present throughout the entire project – Ruby Rushton, Trudi…
And Charlotte Emma Victoria is my sister.
It must be important for you to tie them back into the music that you make?
Yeah of course, and 22a is my house where I grew up in Woking. Everything that you need is always right in front of you. Creatively you're trying to think of a name for your label, or a DJ name or whatever the fuck it is, and you're thinking so far out, about "what can I do to separate myself and sound unique…" but always the answer is right under your nose. It might be something that's so familiar to you. Even if it's your own goddamm name, you might have heard it a lot, but other people don't know your name. People overthink stuff a lot of the time, but for me, it's always obviously the shit that's right in front of you, the real shit.
Is there an element of paying homage to these important people too?
Yeah, although I wasn't close to my grandmother. Ruby was not a woman that I saw much of, and even when I did see her it was tricky. She was a tough lady. She was trying to be an actress, a musician, an artist, she loved expression and expressing herself, but she failed at it.
People think that I must really love my gran to call the project after her, but it's more because I know if there's anything I could do for the family and for the name, it's to try and pay homage to what she wanted to be and what she could never achieve.
So music was an outlet for you from an early age?
Yeah, but even in school, I was given such a hard time about my choice of music. I had a lot of pride in the fact that I liked it because I loved it, not because anyone else told me to like it. Every kid had a poster of Oasis, I had a poster of the Prodigy. I got decks when I was 14. In 1998 I bought some Numarks and a Gemini mixer and bought a few records. So I started a job at 14 working in the holidays to make money to buy vinyl.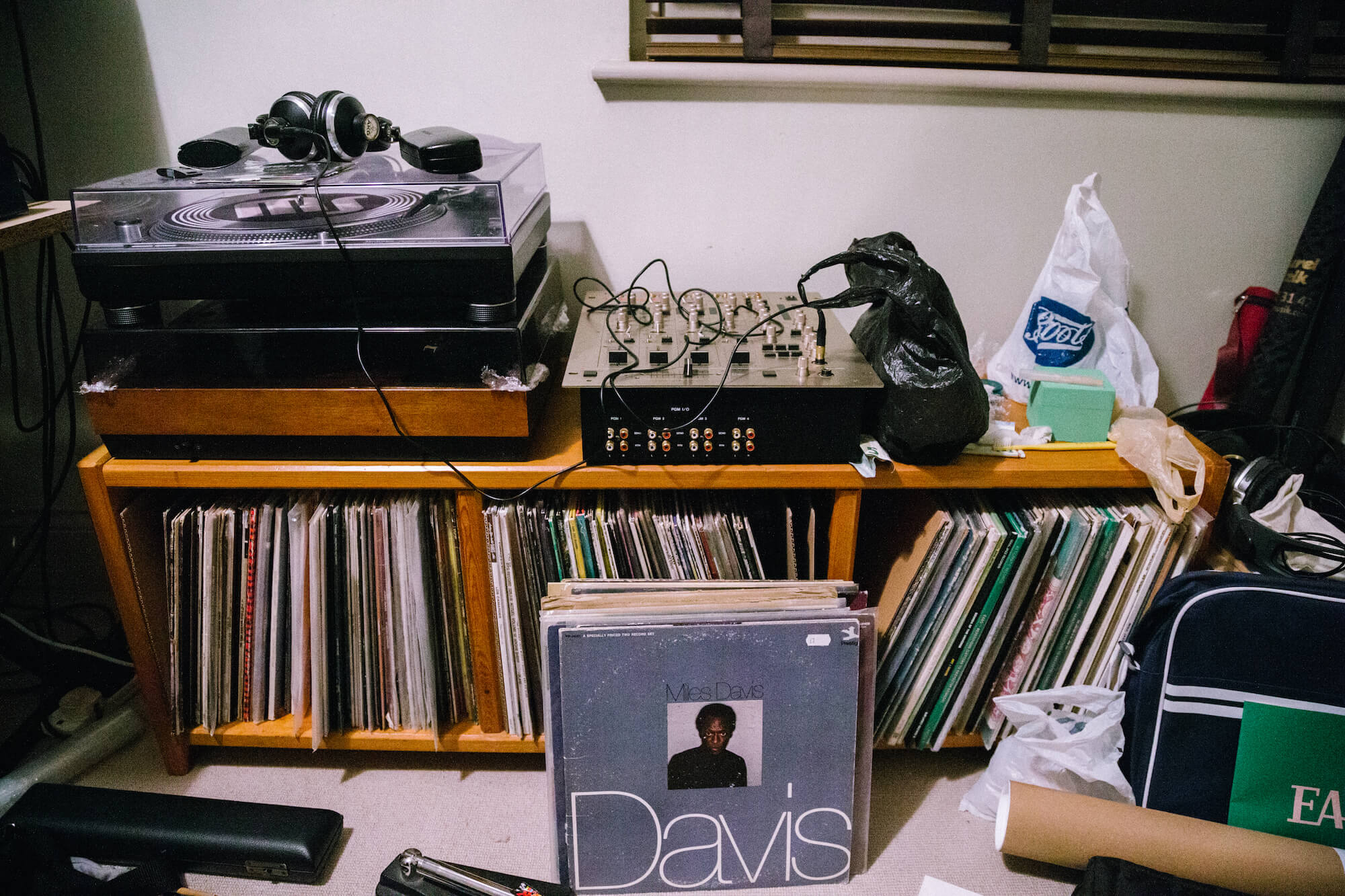 Is that a time of your life that you connect to at all now?
I was back with my parents recently and my dad was like, "we've got this old jacket of yours from school, what do you want to do with it?" And I said, "give it to the charity shop," but I ran the pockets first and pulled out an old chap stick…. In my early school days you weren't allowed sweets, and there were no shops around. The nurse used to order in the lip salves for the kids and for a while they had the fruity ones. We used to take them and eat that shit because it was the closest we could get to sweets. It goes deep! Anyway, that chapstick took me back. You had to work with what you had.
That is deep…
Yeah, and then I pulled out a timetable and all over it was scribbled LTJ Bukem, Blame, Dubforce – which was a name I had for myself. Or Metric. Designing flyers with my name on it. I had catalogues from Turn Key, which was a shop on Charing Cross Road that used to sell all the gear, and I used to write out my dream studios, giving myself a budget and pretending what I could get for 10 grand. I was obsessed and I would plan it out.
I always dreamed of this shit as being easy for me, and I started doing little DJ bits here and there but didn't pick up no money from that, so it was a harsh reality. I'm not getting signed, I'm not being flown around the world like all my idols, and then when you come to meet these idols you realise a lot of them are still living at home and struggling with day jobs. It was a real fuckin' hard reality.
I didn't start 22a until 2013, and by that point I'd already been doing this shit for like fifteen years.
Were you learning to play instruments at that point?
I started to learn instruments in 2007 when I was 23.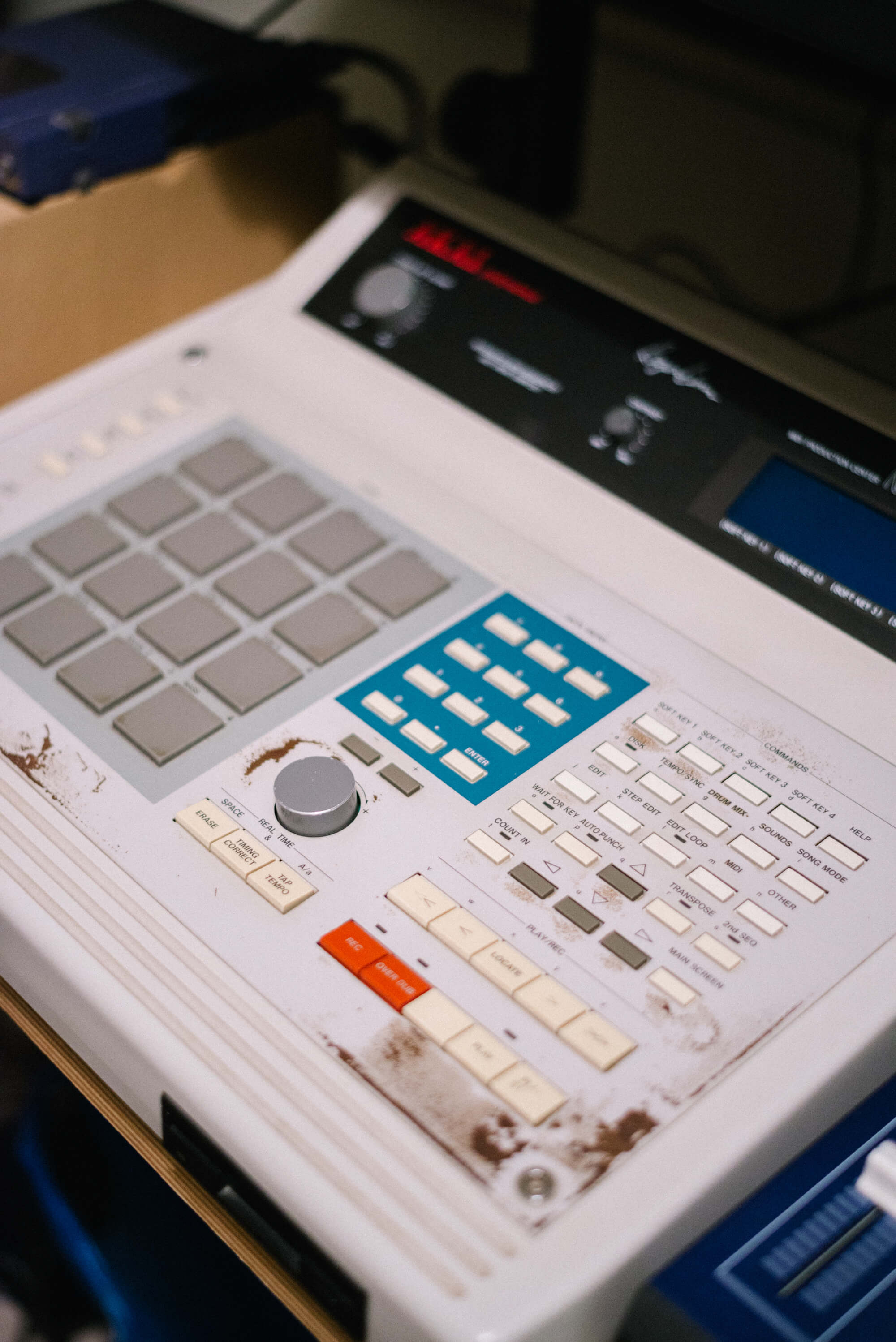 Things got a little hectic around this time too, right?
Yeah, suffice to say I needed to get something that was going to focus me. The production stuff wasn't challenging me, and I was always doing other jobs, whatever I could do to make dough to buy studio gear. I was stacking shelves at B&Q, and cleaning the toilets in the hospital. I would get up at 5am to start my job, and walk past the music shop in Woking where there was a soprano sax in the window. I recognised it immediately because Yusef Lateef was playing it on a record cover I'd seen. I loved that eastern inspired sound, it gave me goosebumps.
So you knew about jazz through sampling?
The jazz came through the sampling, and knowing that these guys were making hip-hop out of jazz records. So I got into digging all on my own. Mole Jazz was wicked I used to go there and another place in Old Street called Smallfish that did the Jazzman 7″s. I was just buying records and wasn't really able to listen to them in the shop, so I had to guess. I would go for cheap records or records with a cool looking sax player on the front. That's how I stumbled on some Lateef.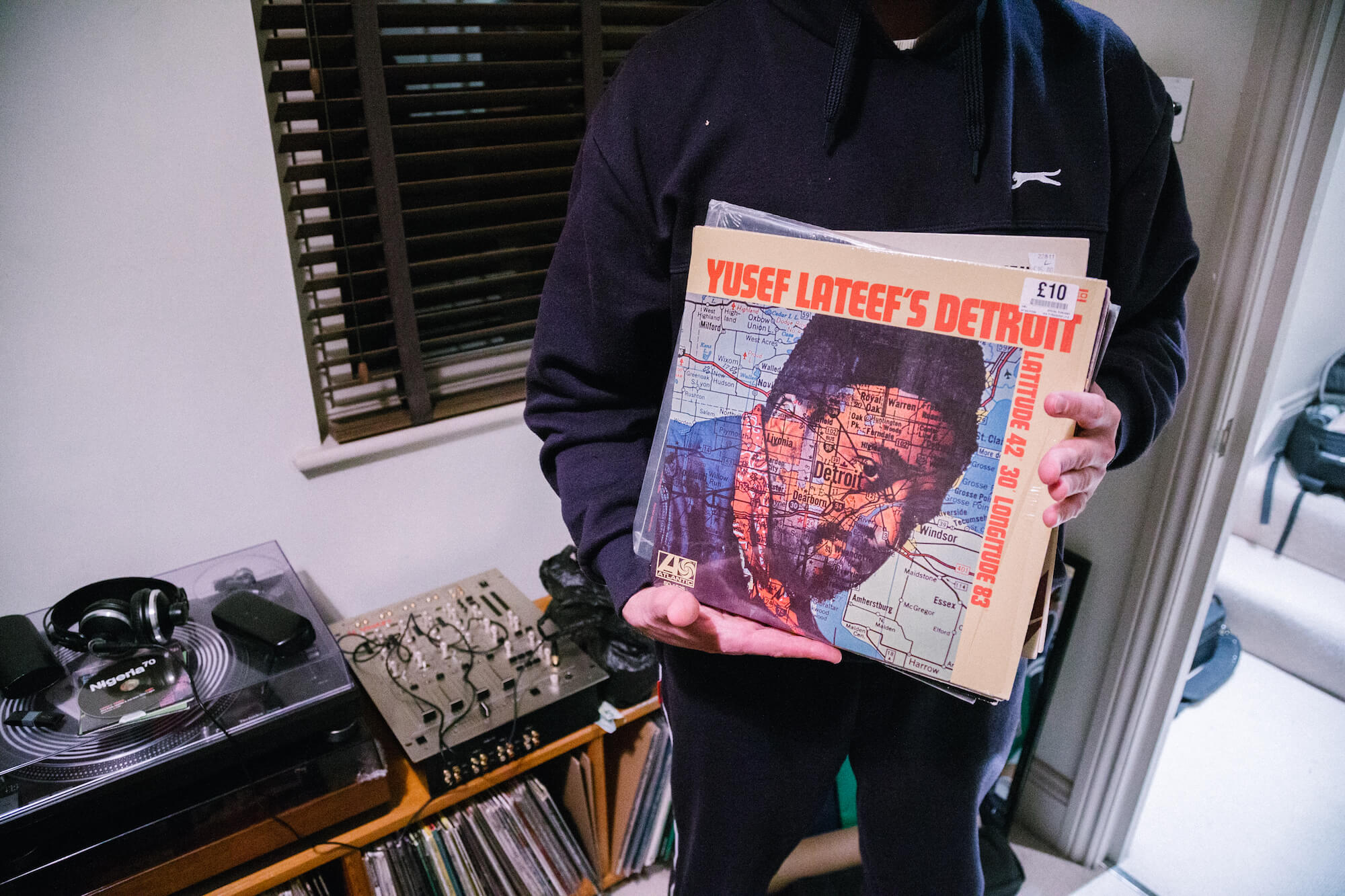 Anyway, from listening to Lateef and seeing the soprano in the window, I thought maybe that's the focus that I need. I enquired with the guy in the shop, and he looked at me like "who the hell are you?" because I was on some rude boy stance.
I had called it a golden clarinet because I didn't realise it was a sax. "It's a soprano sax," he said, "but you don't want to start on that because it's really hard, you want to start on alto or tenor." But I was like "cool, I want to do that one because that's what Yusef Lateef played." I asked how much it was to rent it and he said it was £100 for 3 months. So I said "let's fuckin' do it."
I rented it and got straight into it. And obviously having a hard-ass year, trying to learn this instrument was keeping me sane and keeping my mind occupied. And then from some luck, the tax man sent me a letter saying that I'd overpaid tax and was like "here's £700", which was exactly what I needed to buy the soprano. So I got my cheque, cashed that shit, went back to the shop and said, "I'm buying this mother-fucker right now." And the guy was like, "I thought you were going to bring this back and give up." And I was like, "man, if there's one thing I will not do, it's give up."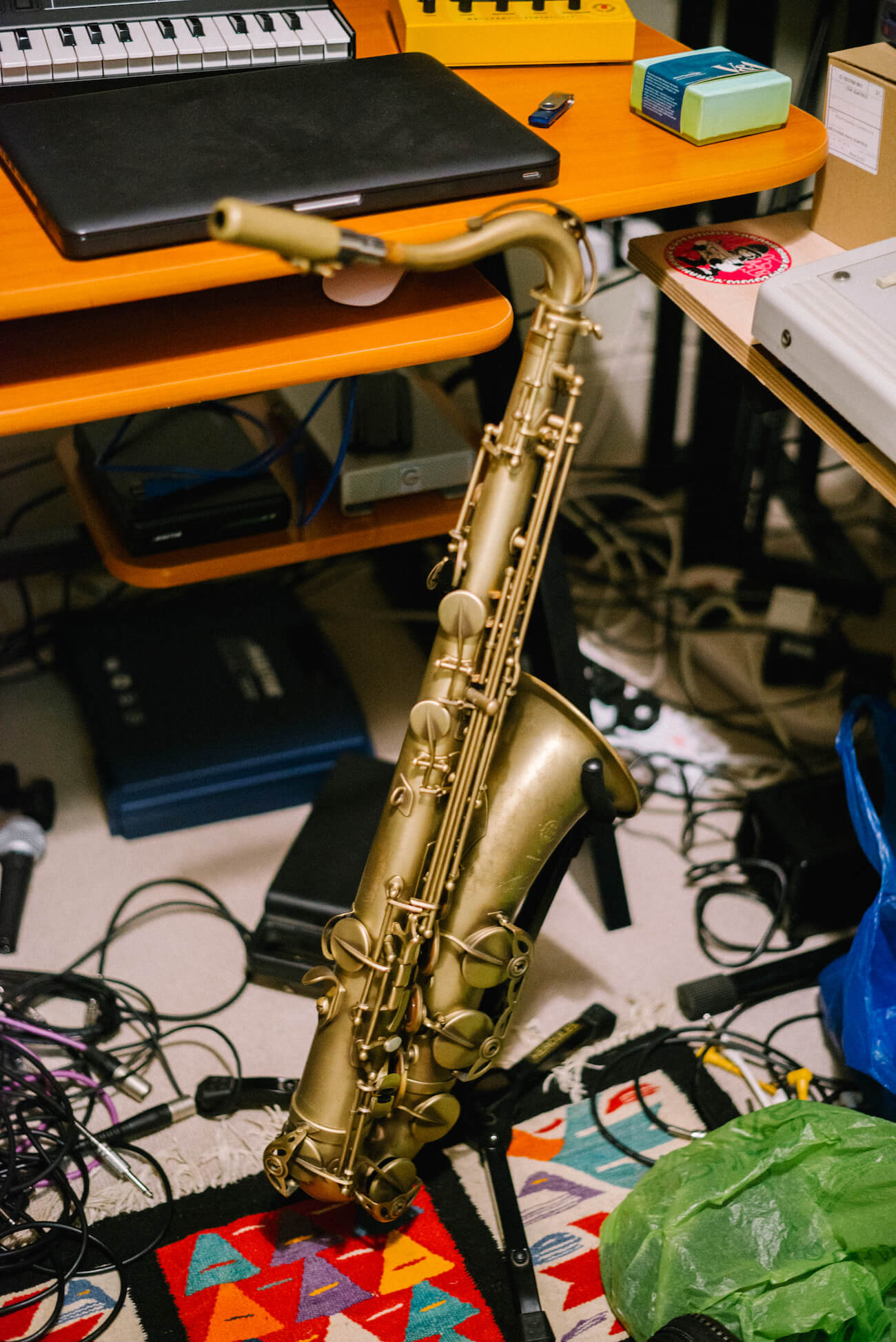 ---
Fast-forward a few years and things begin to look very different. Doing grade one and grade four saxophone as a 23 year old (qualified, almost defiantly with, "I got distinction and stuff in them anyway!"), Cawthorne took lessons with a British jazz player called Pat Crumly who he found on the internet.
A member of the Soka Gakkai International (SGI) Buddhist movement – like Herbie Hancock and Wayne Shorter – Crumly gave Cawthorne more than just musical foundations, opening a door to spirituality, which although short-lived, only served to deepen the experience of learning to play music.
Devastated by Crumly's death ("I loved him a lot. Pat was like an uncle, and I felt like he really loved me too", he remembers), Cawthorne's brief flirtation with Buddhism was replaced by a renewed dedication to his instrument, and honing the ability to express himself in an emotionally articulate manner. Legends like like Yusef Lateef and John Coltrane were a good place to start…
---
I'm not an academic person by any means. In fact, in the eyes of the academic world I'm a failure. But emotionally I was always advanced, in terms of knowing how I feel and being able to show it. I can't help but say how I feel, and that's probably been my problem growing up.
But with the music you don't have that problem, unless you limit yourself because you're scared to go too far, because you think you might be shunned or judged for it. But for me the further I can take it, the more out there I can get, the better. I love the late Coltrane. Giant Steps don't really appeal to me. It's cool, I will listen to it, and 'Naima' is probably one of my favourite songs in the world, but I love the later stuff like Africa/Brass, Olé, Coltrane Plays Blues, and then even later like Stellar Regions when a lot of people started backing away from him because they thought he was freaky. The same goes for Albert Ayler, Eric Dolphy's Out To Lunch, all of those albums.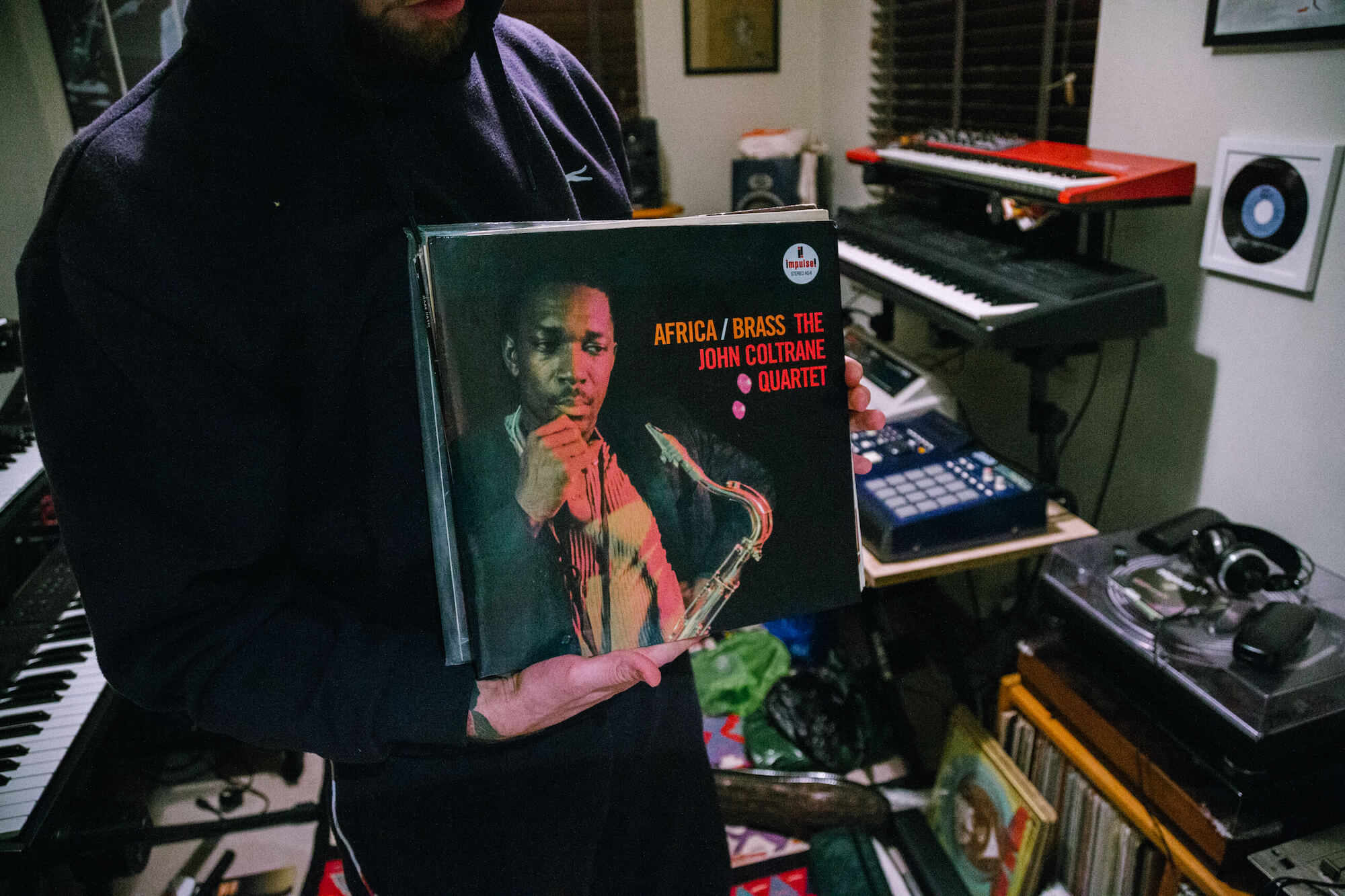 In terms of your own music, each project appears to go down a slightly different path. Do they each offer you something different?
Yeah, they're different outlets. These are all the ideas that I've got, and I'm trying to get them out in a way that is palatable. So Ruby Rushton is my dream, which is to have a band, and my most favourite thing is playing in a band situation because then I'm with people who I'm sharing ideas with.
I recorded Two For Joy [Ruby Rushton's debut LP, released in 2015] before 22a started, in 2011, and I sat on it for four years. One of the reasons for starting 22a was to get that album out, but I knew I couldn't do it straight away, because there wasn't really a platform for it at the time. So I thought, let's lure them in gently, and then connect the dots and show people that jazz is actually the origin for all the house, all the disco, etc. People like Jean Bassa, Al Dobson Jr. were either sampling or taking inspiration from jazz, and then suddenly, this is it, we do that as well.
If Ruby Rushton is me playing alongside accomplished players who have actually studied music at university, then the 22archestra is with guys who are not conventional musicians, or who would not consider themselves to be musicians. There's a weird thing of guys who are beat makers thinking, "I'm a beat maker, therefore that's what I do, and Ed, you're a musician because you play the sax and the flute." I don't think of it like that, I think of it all as music.
The new album is coming out next year, right?
Yeah, that was a random one. I got Abbey Road, which was lucky. The engineer there Matt Mysko was a fan of Ruby Rushton, and wanted to record that, but gave me two days notice because it's down time. None of the guys were available apart from the bass player Fergus, so I just had to draw whoever I could from 22a. The tunes weren't even written or rehearsed. It was really modal music, and somehow the energy was so crazy that we came out with this recording that sounds dope.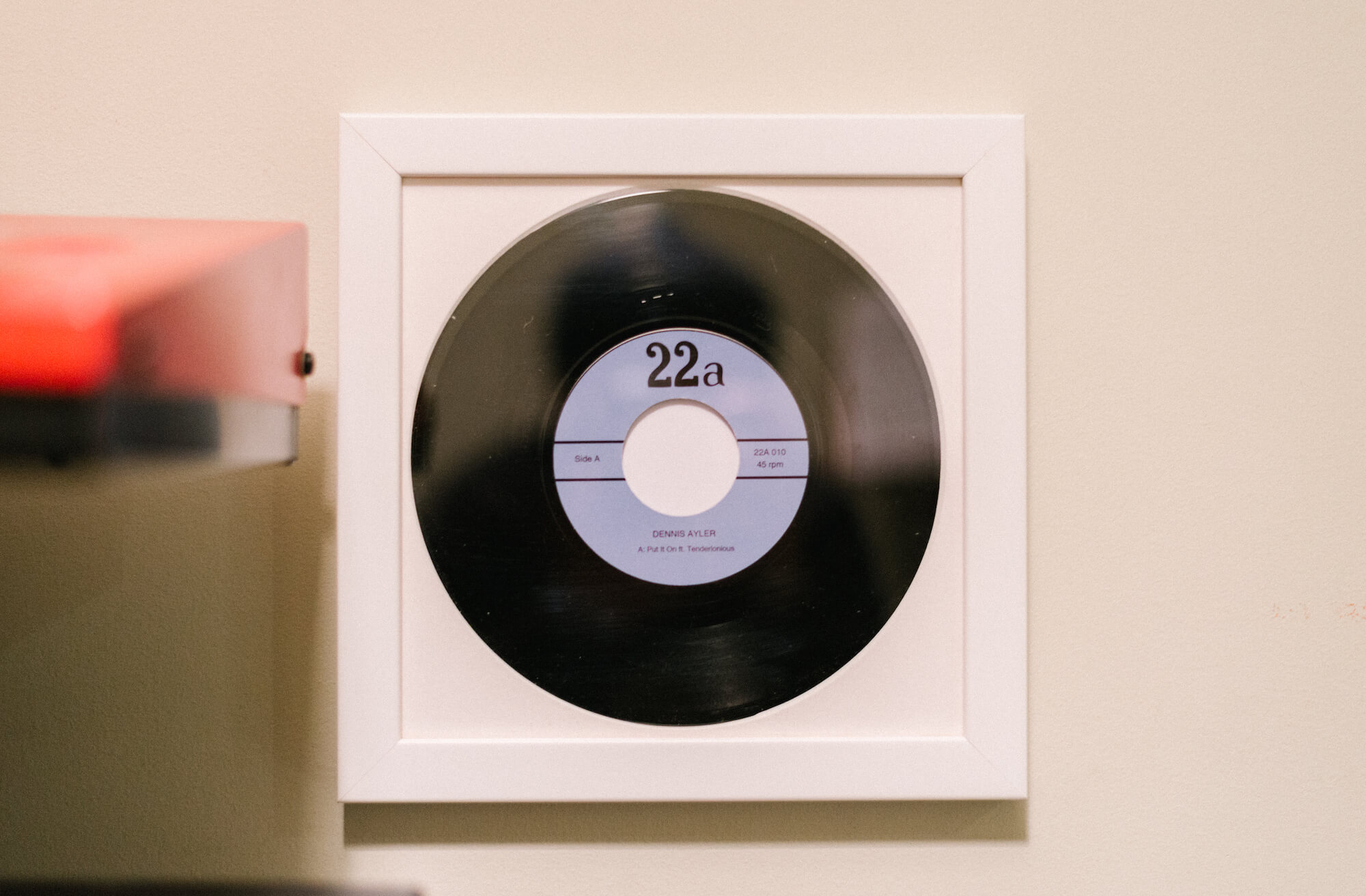 Is that freeform approach to recording also a nod to the Sun Ra Arkestra in the name?
Nah, it's just joining 22a and -rchestra. It's spelled like orchestra, so it's not got the k like the Sun Ra. I'm not actually a massive Sun Ra fan. I have a couple of Sun Ra records, and I love stuff like 'Nuclear War' and the story of Sun Ra in Space Is The Place. I do rate him a lot, but I don't own a lot of his records. But I suppose it is connected because his band was made up of non-traditional musicians.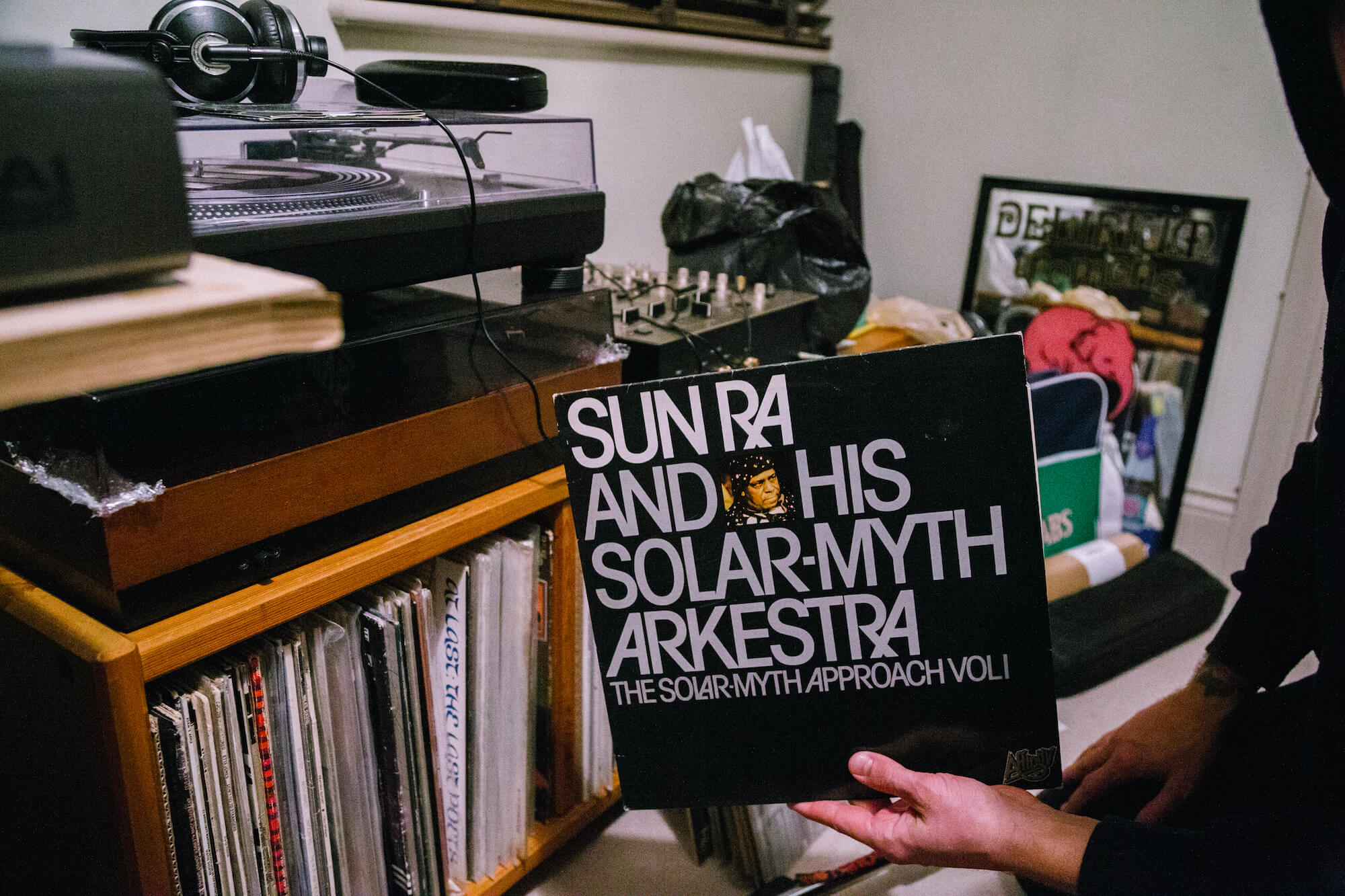 There's something of the way you perform that is also non-traditional, in a very different way. When you're standing on stage in an Adidas tracksuit, it's a juxtaposition with the music that isn't necessarily that familiar.
I wear tracksuits for comfort reasons, and I get into trouble! It's not the flyest look. I've got lots of nice shirts and trousers upstairs, but I always go out of the house in a tracksuit. The Slazenger one is the cheapest!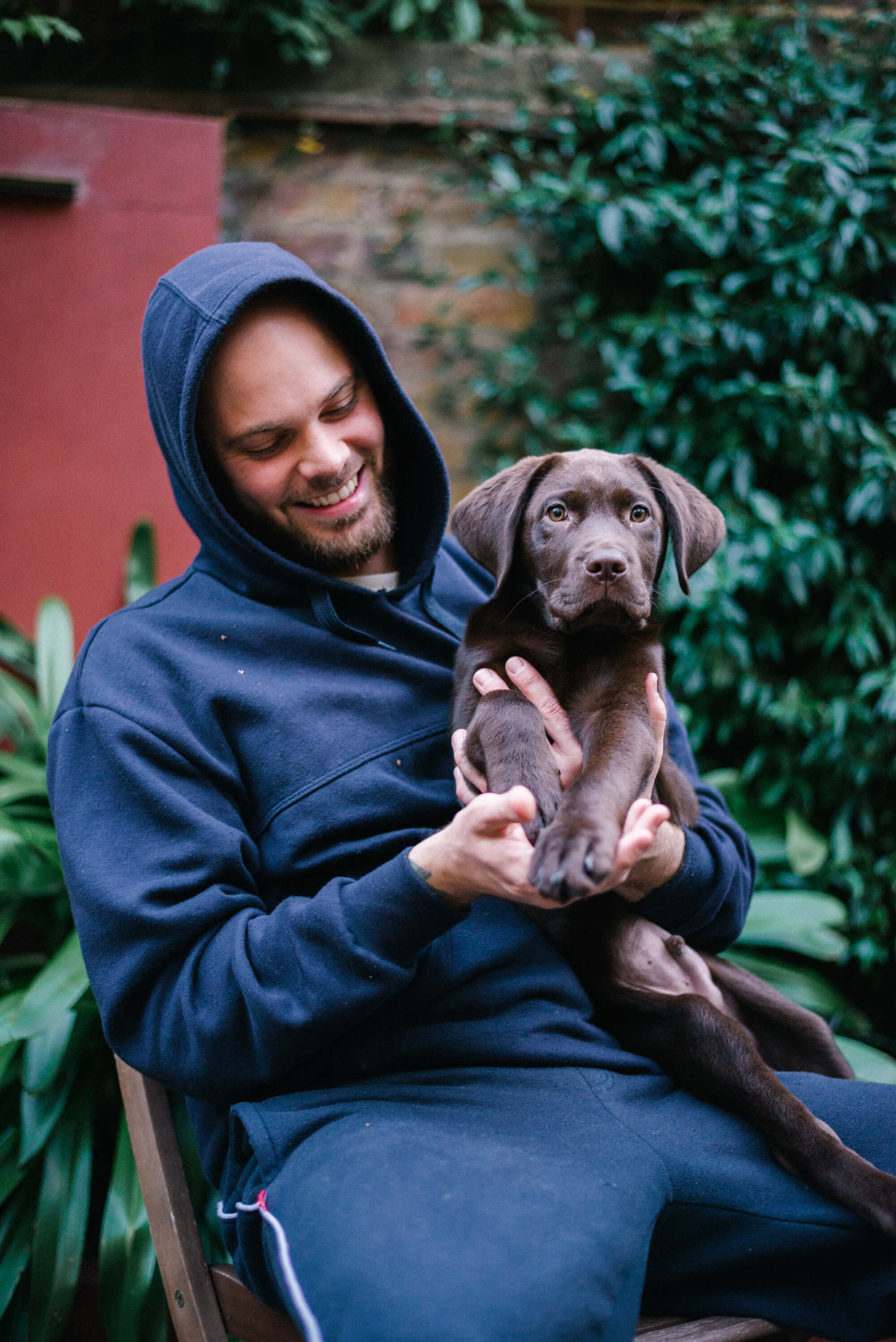 But jazz does, or did, have a sort of dress code, and a specific type of venue where you'd hear it. And that's now different, with venues in churches or clubs, where the music is experienced in a new context. It's interesting that you didn't think there was a platform for Two For Joy in 2011. There certainly is now…
It's sexy again. It was geeky for a while, but now it's sexy again. Also, a lot of people in the audience are really up on their shit, they're quite outspoken, aware of the social implications, and they're there for a reason – almost to make a stand for their own social beliefs in tune with the music.
For me, the social aspect of my music doesn't go beyond my own experiences, whereas other people are really taking from Trump or Syria or something else. Those things upset me, don't get me wrong, but there's too much going on in my own world to even consider other things. And not in a self-indulgent way, I'm just trying to process my own life, through the music partly as well as through living a normal life. I'm just trying to do me, from what I know.
---
Ruby Rushton play Ronnie Scott's on Thursday 24th November. Click here for more information.
Ruby Rushton – Trudi's Songbook Vol. 2 is out now via 22a.
Photos by Michael Wilkin