Published on
July 15, 2015
Category
Features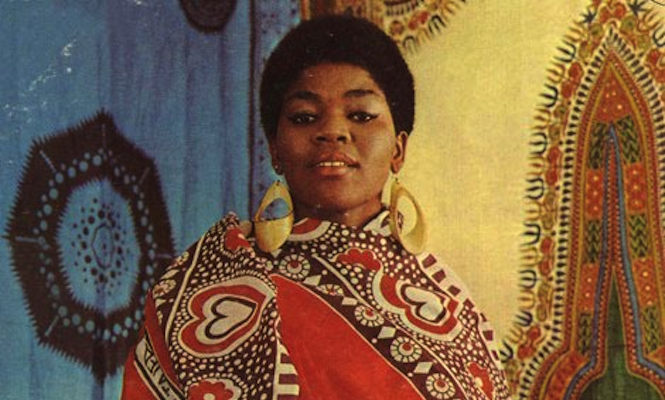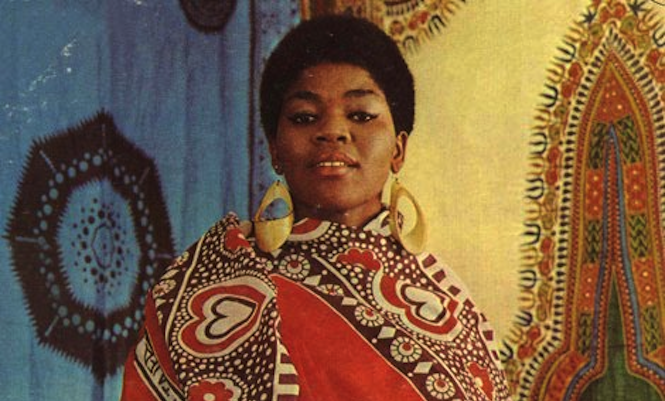 One of our holy grail reissues of the year, Letta Mbulu's In The Music, The Village Never Ends was recently given a new lease of life on Be With Records. To put the South African vocalist into context, we invited digger and DJ Sean P – who opened his 'Originals' compilation with a track off the record a few years ago – to introduce her career and pick out 10 essential Mbulu tracks.
---
Words: Sean P
---
2015 marks the 73rd birthday of Soweto's Letta Mbulu who, whilst not a household name, has forged a 50+ year career as one of South Africa's most prominent vocalists. Her recorded output spans the 1960s to the 2000s and as testament to her talent, most of her LPs have attained multi-territorial releases. This, of course, is not unusual in the music business, but it's certainly a badge of honour for an artist so often below mainstream pop's radar. Although she sings in perfect English, Mbulu seldom strays far from her roots and often performs in her mother tongue, with a repertoire that encompasses tradition African styles and funk, soul, reggae, Latin and jazz.
A constant companion on her journey has been husband, Caiphus Semenya; a singer, composer, musician and producer in his own right, under the Munjale Productions umbrella. The pair met in China in the 1950s whilst touring as cast members of King Kong, South Africa's first internationally successful musical, in which, notably, the late Miriam Makeba and trumpter/cornetist Hugh Masekela were also involved. Escaping its brutal Apartheid regime, Letta and Caiphus left South Africa in the mid-'60s (Masekela had self-exiled to America earlier, Makeba re-located there when her South African passport was inexplicably revoked) and settled in the U.S, where she would remain until returning to Africa in 1992. Their early recordings together include a single for Columbia as part of their quartet, Letta & The Safaris, in 1965. In 2011, Letta and Caiphus were honoured with doctorate degrees by the University of South Africa for services to music and the country's liberation struggles during the era of oppression. 
Letta maintained a varied schedule involving acting, voice work, touring and occasional soundtrack duties (which included well-documented projects with Harry Belafonte and Quincy Jones) along with a steady stream of LPs, 45s and CDs, from the late '60s onwards. Her sublime interpretation of Masekela's 'What's Wrong With Groovin" is likely her first solo record – though with no publishing date on the label itself, this is difficult to verify. Cult West Coast producer David Axelrod saw her potential and signed Mbulu to Capitol in 1967, where she recorded the Sings and Free Soul LPs – later moving to the Motown-distributed Chisa label (co-fronted by Hugh Masekela and named after the first track on his' Emancipation LP) for 1970's Letta, the first of two LPs titled simply by her first name. An alternative version of Letta was issued on Motown in South Africa the following year as Mosadi, which replaced selected tracks with previously unissued ones – and to date, these added tracks have yet to be reissued in any form. Although demand for it is eclipsed by In The Music../Sweet Juju and What's Wrong With Groovin', Mosadi seldom surfaces for sale and, hype aside, is a genuine rarity.      
My introduction to Letta Mbulu's music came via the jazz-funk tinged disco of 'Kilimanjaro' in the 1980s. The 12″, bearing this exotic name and title had piqued my interest whilst on the soul import chart, but slid off and disappeared before I'd actually managed to hear it. I finally caught the song on the radio one day, liked it immediately and spent the next year or so sourcing a copy. In the meantime, I had acquired Letta's 1976 album There's Music In The Air, her first of two A&M LPs; and Naturally, an earthier effort released three years previously, which featured contributions from Cannonball Adderley, Nat Adderley and the equally legendary Crusader, Wayne Henderson.
Further Mbulu music eluded me until I was on the way to pick up friends for a party one Saturday evening. My pal and I were listening to the radio in his car when London DJ, Steve Jervier, dropped a moody Letta cut which, again, got my attention. The next time I saw Jervier, I enquired about the track's origin and he informed me it was from a Japanese LP called Sweet Juju. So, I'm off again, only this time, my first copy is some years away. Fast-forward to 1992 and one afternoon, I'm having a clandestine meeting with a record dealer outside the Dominion in Tottenham Court Road and in one swift and painless financial transaction, I'm leaving £50 poorer – but a Sweet Juju album richer.
In 2009, I started compiling tracks for an edition of Claremont 56's 'Originals' series. Letta's 'Nomalizo' was a late addition – I hadn't played it for a long time but spun it one day and thought it could sit well alongside the rest of the proposed tracks. I sent it to Paul, Claremont's head – and his reaction was instant. When the compilation was released the following year, feedback revealed that 'Nomalizo' was a favourite for those who had bought the CD. 
Despite having been issued at least four times in the '80s and '90s (twice on vinyl and twice on CD, with a rumoured U.S. vinyl pressing to boot) In The Music, The Village Never Ends, a.k.a Sweet Juju has long fostered demand that far outstrips supply. Be With Records have secured the rights and given this legendary LP its first western release with a new, remastered limited edition for vinyl enthusiasts. 
---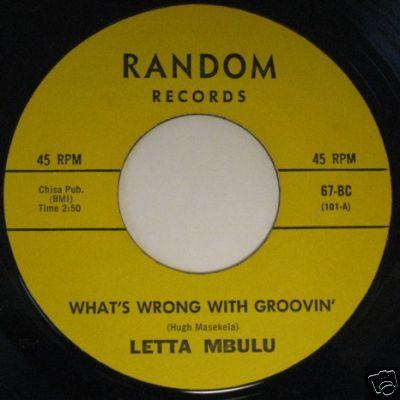 Letta Mbulu
'What's Wrong With Groovin" from What's Wrong With Groovin
(Ransom, 1967)
The gently swaying 'What's Wrong With Groovin" hints at the delightfully sombre '60s soul-jazz style of Cannonball Adderley's 'Mercy, Mercy, Mercy' and Masekela's own 'Ha Lese Le Di Khanna', with a bossa bridge that gets the feet moving. This one-off single has been in-demand for many a year and rather expensive in its original 45 form, though thankfully there are reissues and compilation appearances. 'What's Wrong…' is majestic, marred only by its short running time. It's almost as if the song never hits its stride – you wonder where the last two minutes fifty have gone. 
---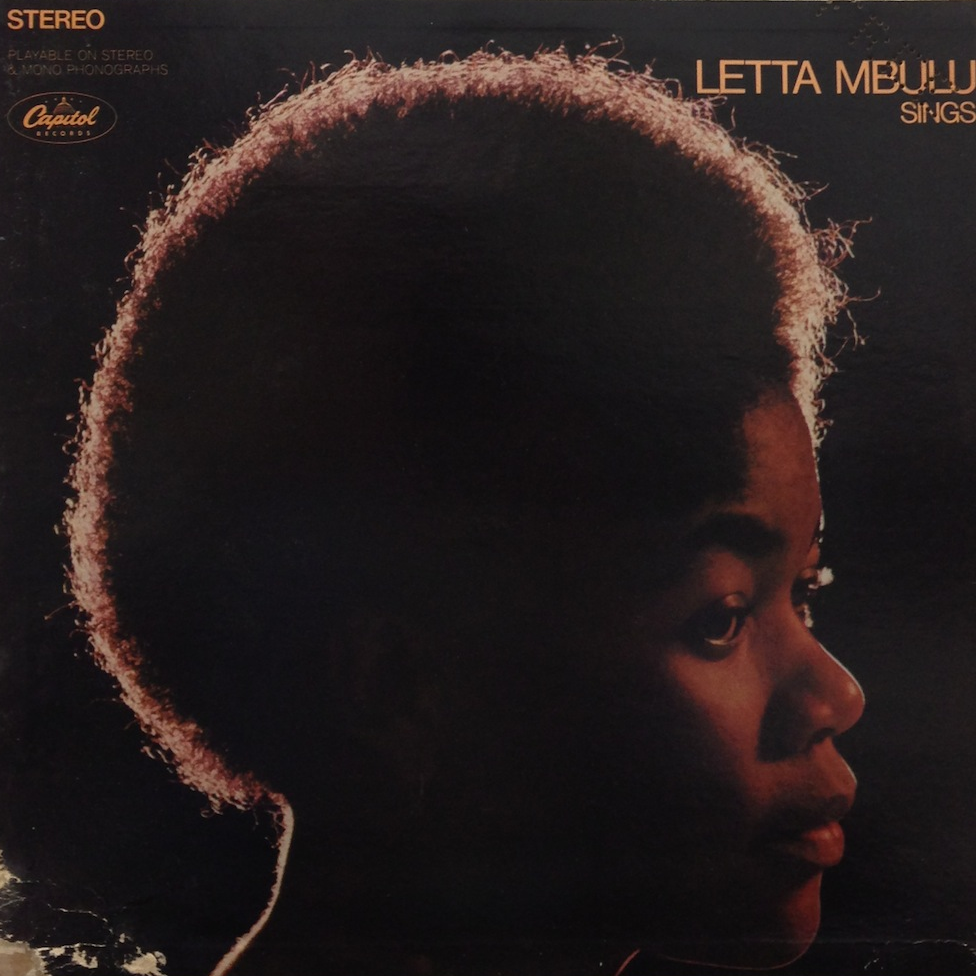 Letta Mbulu
'Pula Yetla' from Letta Mbulu Sings
(Capitol, 1967)
Thundering sound effects give way to a characteristically charged performance from Letta on a track taken from her first David Axelrod-produced album, which made ripples in the early 2000s when it was sampled by Blackalicious and Dan, The Automator on 'Soul In Flesh' and 'Strangers On A Train' respectively. In 2005, Capitol paired Axelrod's 'The Signs' on a 12″ single with previously unavailable alternate and instrumental mixes of 'Pula Yetla'.
---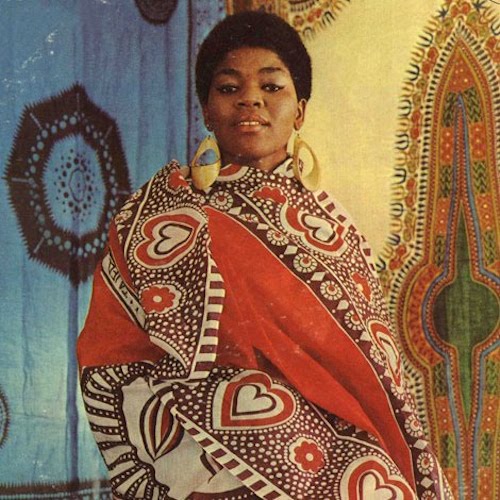 Letta Mbulu
'Welele' from Free Soul
(Capitol, 1968)
The David Axelrod-produced closer from 1968s Free Soul is an infectious, upbeat, uplifting romp which sets up stall and immediately struts its stuff for two and three-quarter minutes. Despite the song's dour subject matter (a destitute man requests tobacco in return for tales of his miserable life), this is happy music. I once played this as the penultimate track at a particularly triumphant gig – and people started dancing on the tables.
---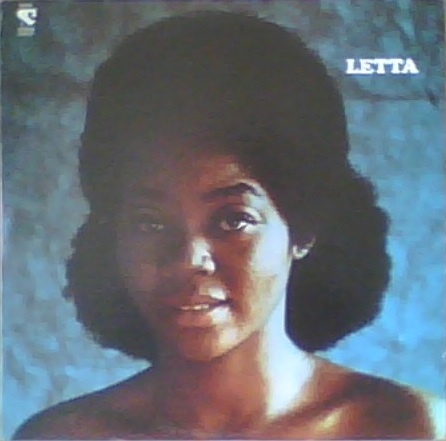 Letta Mbulu
'Mahlalela' from Letta
(Chisa, 1970)
'Mahlalela' has done the rounds on the compilation circuit, so will be well known to more than a few. On this session Letta's backed by The Crusaders and Cuban conguero, Francisco Aguabella. A version of this also appears on the aforementioned live Harry Belafonte LP. 
---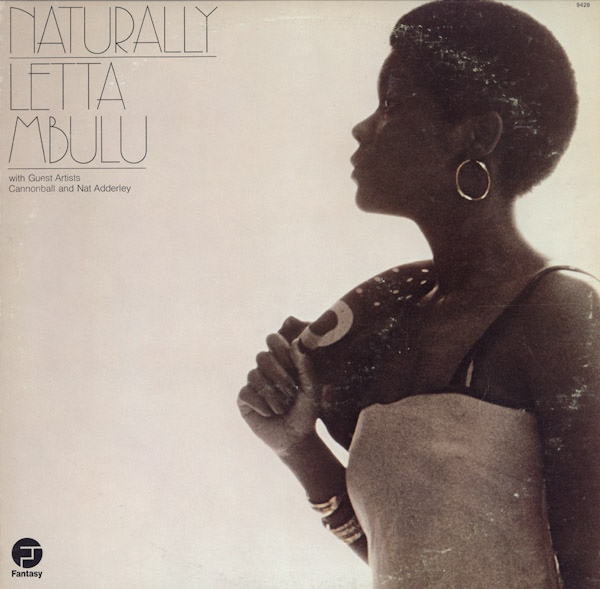 Letta Mbulu
'Afro-Texas' from Naturally
(Fantasy, 1973)
Alto giant Cannonball Adderley brought Letta to Fantasy Records in the early '70s, a move which got Letta in the studio again and resulted in the Naturally LP. The opening cut is the spritely  'Afro Texas', penned by Crusader Wayne Henderson and Caiphus Semenya – the title referencing its writers' geographical origins.   
---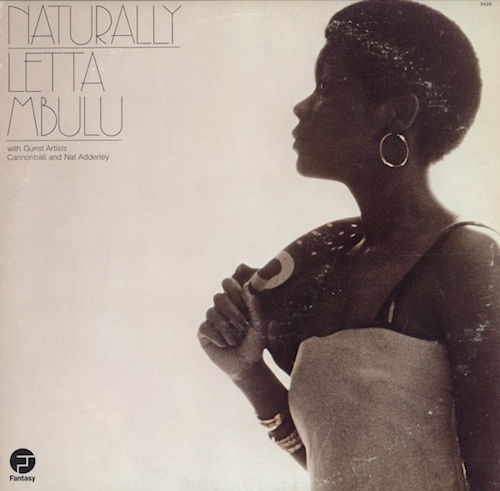 Letta Mbulu
'I Can Depend On You' from Naturally
(Fantasy, 1973)
A stand-out from Letta is the anthemic, soulful disco of 'I Can Depend On You', on which Caiphus shares vocal duties with Letta. The song was co-written by the duo, along with '60s blues guitarist and singer Arthur Adams, himself moving towards the more disco-orientated sound of the period. The lush production and sing-along chorus made it an obvious choice for a single release in the U.S., but it failed to chart. This uplifting gem is unfairly overlooked and deserves some action.
---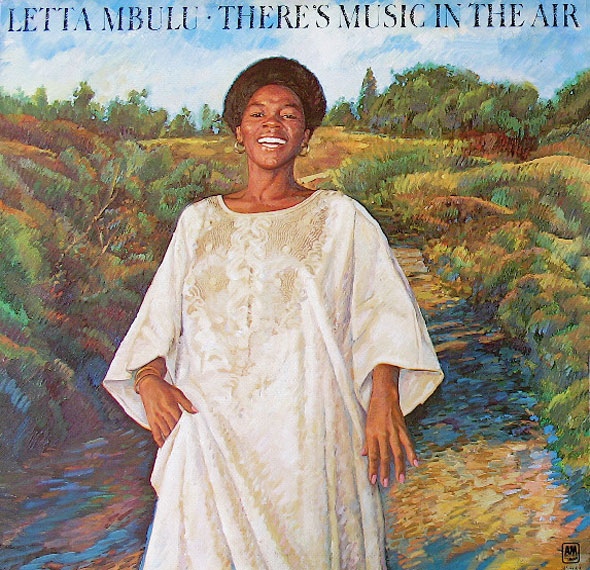 Letta Mbulu    
'Tristeza' from There's Music In The Air
(A&M, 1976)
Letta and Caiphus turn in an atmospheric rendition of a composition by the Brazilian albino multi-instrumentalist, Sivuca, whom Mbulu performed with on Harry Belafonte's 1972 LP, Live. This track is taken from 'There's Music In The Air' and featuring a host of big session players, including Bernard Purdie, Joe Sample, Lee Ritenour and A&M label boss, Herb Alpert.  
---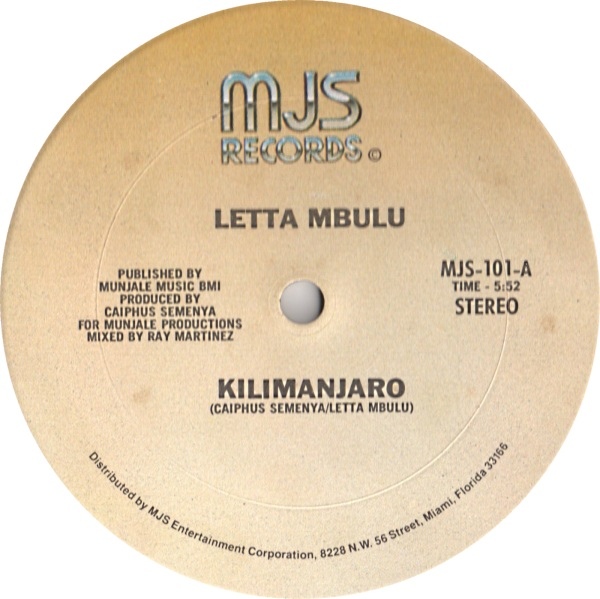 Letta Mbulu
'Kilimanjaro' from Kilimanjaro
(M.J.S., 1981)
Letta's paean to the largest free-standing mountain on the planet ('Kilimanjaro, Take Us Higher') was originally the leader cut on 1980's Sound Of A Rainbow album. The following year, it was to be the first release on the newly-formed, but short-lived label offshoot of distribution network, M.J.S. Entertainment. T.K. Records' Ray Martinez was charged with the 12″ remix and wisely, does not mess with the formula. Extending the basic track, he reduces the jazzier elements whilst bringing the beat and syndrums forward, making the end result more disco-friendly. The semi-instrumental flip omits the lead vocal but is otherwise verbatim. A DJ several years my senior once told me how he found 'Kilimanjaro' to be a 'multi-purpose' record, in that it worked for the disco, jazz-funk and soul-orientated audiences. Whatever its provinence, MJS-101 is a storming Afro-disco classic.     
---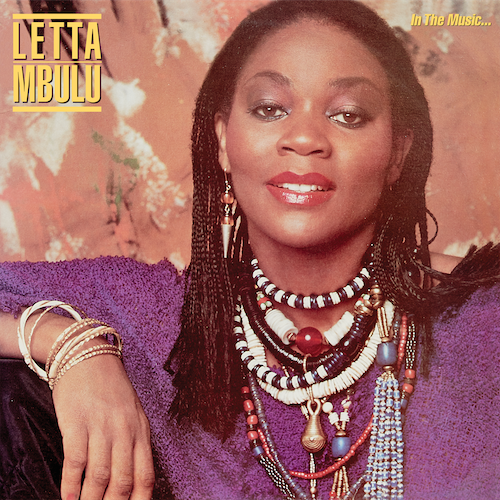 Letta Mbulu
'Nomalizo' from In The Music, The Village Never Ends
(Munjale, 1983) 
Now so familiar to many, 'Nomalizo' has after many years transcended the relative obscurity of its early days on the soul underground and in recent times, has also been a feature on various mixes, blogs and compilations. My own delayed exposure to its very existence had me slightly bemused as to how an artist known within the music circles I moved could have slipped through the net. At time of writing, the internet's user-generated record database Discogs lists a waif-like 87 'haves' total versus a corpulent 2068 'wants' for all versions of this LP – though Be With's reissue should go some way to correcting the imbalance.
---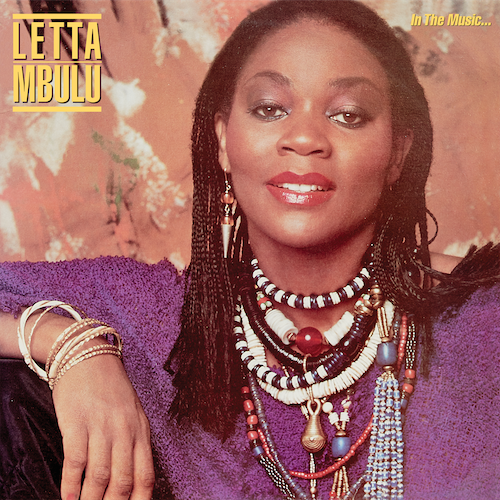 Letta Mbulu
'Down By The River' from In The Music The Village Never Ends
(Munjale, 1983)
'Down By The River' is another popular song from In The Music, The Village Never Ends and is of similar tempo and feel to 'Nomalizo', falling somewhere between the funkier side of AOR and laid-back '80s boogie.