Published on
October 28, 2016
Category
Features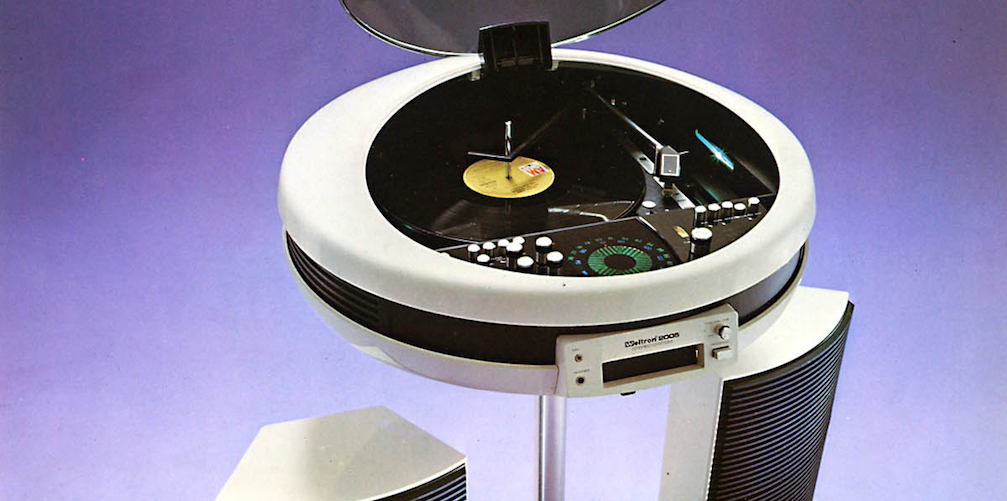 Extra-terrestrial turntables.
When the Space Age blasted off with Sputnik 1 in 1957, pop culture desperately followed the smoke. The obsession with space travel left a sleekly futuristic print on everything, simultaneously stimulating and exploiting society's enthusiasm for technology and future.

The worlds of art, fashion, design, architecture were all struck by Space Age design. By the time Neil Armstrong and Buzz Aldrin landed on the moon, Googie architecture had transformed diners, bowling alleys and airports while comics and kids TV shows like The Jetsons launched a sci-fi revolution.
The space race translated to interiors, as global designers competed to create ultramodern furnishings. Plastic chairs took on strange, horizontal rocket-shaped formations, television sets swivelled and capsules were everywhere.
The aesthetic shaped stereos, radios and turntables, which, housed in pods and globes, became living room centre pieces, the epitome of Space Age cool. From stereo 'eggs' to spaceship jukeboxes, we've collected some of the most visually striking designs from the era.
---
Weltron 2005 / 2007
The two iterations of GEC's Weltron "spaceship" turntable were inspired by Stanley Kubrick's 2001: A Space Odyssey. Available in two colours, lift the visor and you'll find a turntable, cassette deck, AM/FM radio, and built-in speakers.
---
Clairtone Project G
Produced in Canada between 1964 and 1967, only 400 of the original Clairtone's were made, retailing at roughly $20,000 (in today's terms). Endorsed by Frank Sinatra, Hugh Hefner and Oscar Peterson, it also made its way onto sets of films like The Graduate. A real high-end record player console, co-founder Peter Munk once quipped that, "The prime minister had one and if the local truck driver didn't have one, he wanted one."
---
Wega 3300
Designed by Dane Verner Panton in 1963, the Wega 3300 Hifi Stereophonic system is a real classic. Containing a radio in the top half and a record player in the base it was a Bauhaus meets pop art phenomenon, appearing in both classic white or orange colours.
---
Wega 3213
Another entry from the pioneering German audio company, the Wega 3212 and 3213 took the design of the dice-like 3300 and unpacked it into a console, Dual turntable on the left, radio on the right. Internal speakers included although external ones always recommended.
---
Electrohome Apollo 711
The Apollo missions were drawing to a close when home hifi brand Electrohome unveiled their own Apollo series in 1970, with three-speed turntables and a choice of radio transmitters.
---
Electrohome Circa 75
Intended to be a "communications nerve centre for the future" the Electrohome Circa 75 was one hell of a prototype, a flagship design made with only the most futuristic materials available. As well as the massive circular pod, the system was hooked up to a wall-screen TV and cockpit arm chair with control buttons in the armrests and speakers in the wings.
---
Rosita Stereo Commander
Like it's just been plucked straight out of the Starship Enterprise, the Stereo Commander was another German endeavour, complete with futuristic chassis and electronic EQ display.
---
Sanyo Phonosphere
The Japanese Sanyo Phonosphere is the archetype space helmet-meets-R2D2 turntable. A sphere that pivots like a globe, the Sanyo also included a light that glints off a faceted mirror-ball on the spindle, creating a glittering "ballroom" effect.
---
Brionvega RR126
David Bowie's player of choice, this stereo "radiophonograph" is a classic piece of '60s Italian design by architects Pier Giacomo and Achille Castiglioni. It has a modular structure so the speakers can be stacked in a cube, arranged horizontally or a some combination of the two. Each one was handmade so no two units are exactly the same.
---
PAAM Tube Turntable Stereo Console
Aeronautics-trained French designer Yonel Lebovici channeled his signature, playful, curvilinear design style into a console for the Paam Tube. Its cylindrical form and acrylic elements make it an iconic slice of post-war French design.
---
Vision 2000
This plexiglass beauty is the Vision 2000 stereo system, launched in 1971 by Thilo Oerke. No vinyl here, instead you have tape deck and radio tuner housed within a pod-on-wheels.
---
Kuba Komet
Meet Kuba Komet, the mothership of Space Age entertainment systems. This rocket-like structure includes a 23″ black and white television, eight speakers, a Telefunken phonographs and a multi-band radio receiver. At the time of release in 1957, The Komet cost more than a year's average wage.
---
Dynatron Stereo Reproducer
This teak and chrome console features a Garrad deck that plays at speeds 16, 33, 45 and 78, with the capacity to stack eight records for automatic operation. Complete with amplifier and speakers, you're ready for blast off…
---
Chantal-Meteor 200
A vinyl jukebox for the most cosmic of occasions, the Chantal-Meteor was designed by Jean Foufounais and Andre Deviaz and named after Jean's wife Chantal. The first iteration, launched in 1954, features 120 selections with the 60 discs arranged in two rows. The jukebox was then re-booted as the Chantal-Meteor 200, installed with a new "revolving doughnut" mechanism for a larger selection, but after only five years of production the Chantal Meteor factory was destroyed by fire.
---
Panasonic Audio Egg
This brilliant '70s product ran with the tagline "stereo lays an egg" and combined the era's iconic pod chair with an in=built stereo system for the ultimate experiment in Space Age interiors.
---