Published on
September 11, 2014
Category
Features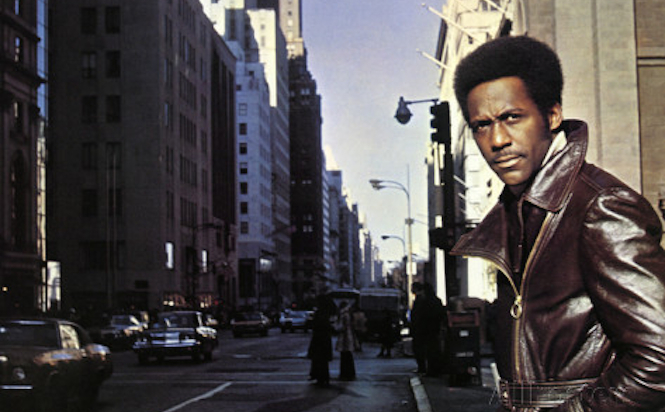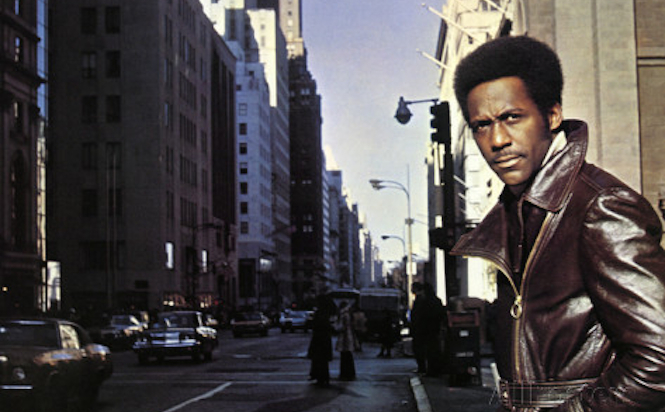 From Shaft to Superfly, Amar Ediriwira unearths the best blaxploitation soundtracks ever recorded.
Dovetailing the civil rights movement, 1970s blaxploitation film was the birth of a new code of black representation. Often formulaic, they featured black heroes thrown into style-heavy contexts (from crime thrillers to westerns to science fiction), usually battling against white oppression and marginalisation in one form or another.
It's a genre ensnared in controversy but whether you consider it empowering or regressive, it's impossible to ignore the music that accompanied the action. The soul and funk soundtracks tended to surpass the quality and popularity of the films themselves. In contrast to the radio-friendly funk of the time, these '70s soundtracks are complex with rich orchestration and killer breaks.
So, in alphabetical order (of film title), here's our essential selection of 1970′ blaxploitation soundtracks. Listen to the playlist below and scroll down to check out the records individually.
---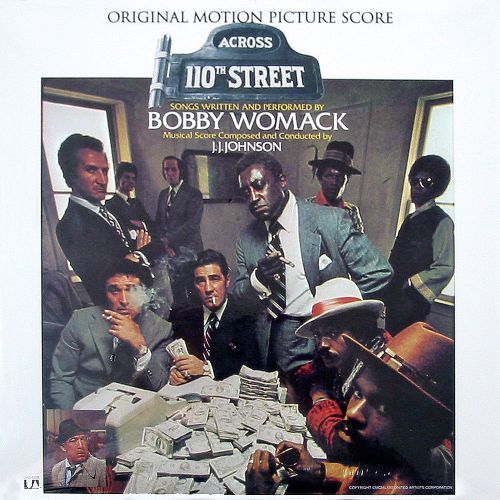 Bobby Womack & J.J. Johnson
Across 110th Street (UAR, 1972)
Film: $300,00 is stolen from a Mafia-owned Harlem bank. Two detectives are on the case but so are the mob…
Soundtrack: The film owes its cult status to the title track, which was later revived by Tarantino in Jackie Brown, but the entire score blends irresistible soul with funky instrumentals.
---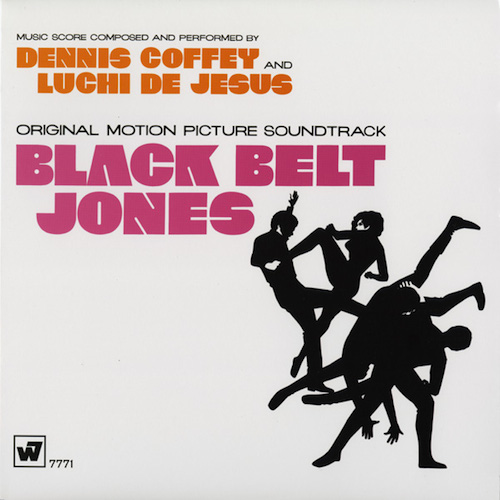 Dennis Coffey & Luchi De Jesus
Black Belt Jones (Weintraub Heller, 1974)
Film: A karate school becomes entangled in the Mafia world, leading to death, revenge and obviously loads of martial arts.
Soundtrack: Music that packs a punch. Heavy bass, mega drums and blasts of groove, plus bits of sound effects and dialogue thrown in. Highlights include the title track, which chants its way along, and the choppy turns on the 'Love Theme'
---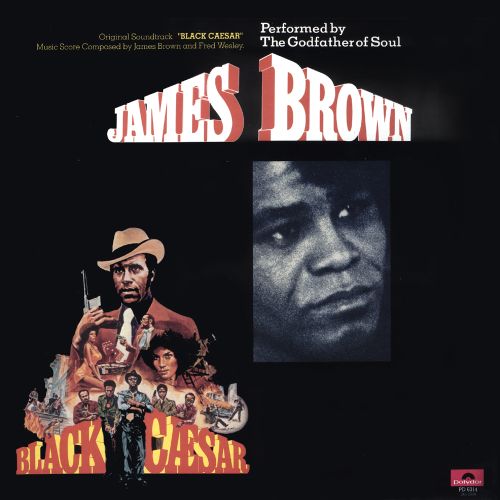 James Brown
Black Caesar (Polydor, 1973)
Film: Another Harlem mob story – a young man ascends to power in the Mafia and seeks out the racist cop who tormented him as a child.
Soundtrack: With support from everyone's favourite trombonist Fred Wesley, this is James Brown's first shot at a soundtrack and it's a pretty killer workout, with a nice contribution from Lyn Collins in the form of "Mama Feelgood".
---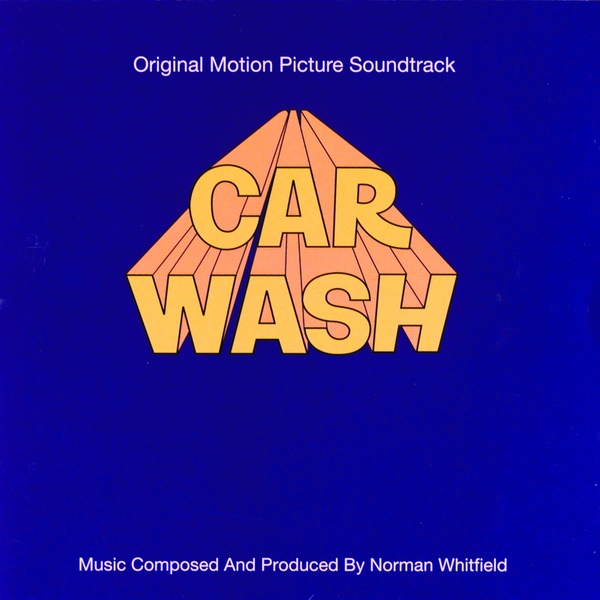 Norman Whitfield
Car Wash (MCA, 1976)

Film: A day in the lives of employees at a neighbourhood car wash and the strange visitors they encounter.
Soundtrack: Here we have the debut album of the Whitfield-produced group Rose Royce, and the music that launched their name. The title track was a number one hit but dig a little deeper and you'll be rewarded with sharp disco funk cuts and hypnotic instrumental pieces.
---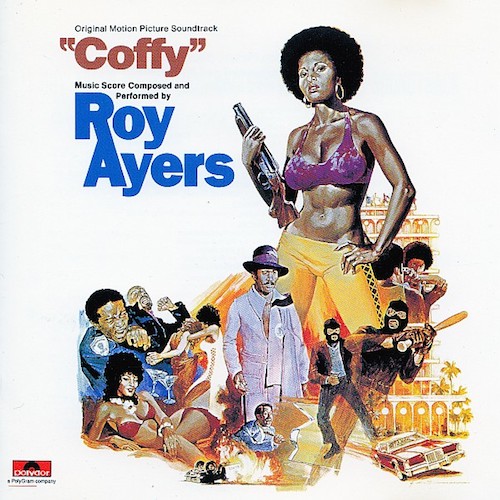 Roy Ayers
Coffy
(Polydor, 1973)
Film: A black nurse seeks justice against the drug dealers who led her 11-year old sister to addiction.
Soundtrack: A jazz-funk masterpiece, no question about it. More sophisticated than the average blaxploitation soundtrack, Roy Ayers' Coffy is atmospheric and rich in texture. Criminally under-played.
---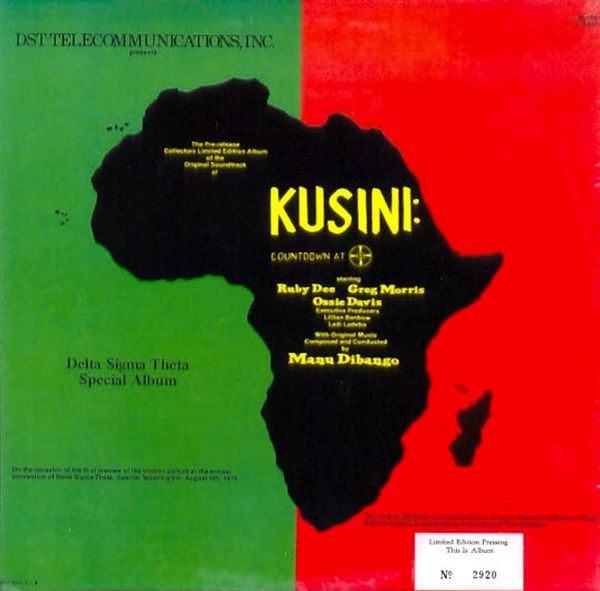 Manu Dibango
Countdown At Kusini
(D.S.T. Telecommunications Inc, 1975)
Film: Set in a fictional African country, a foreign corporation attempts to remove a revolutionary leader whose policies are comprising profits.
Soundtrack: Manu Dibango, the man behind that exceptionally funky 'Soul Makossa' tune that everyone loves to play, is on top form here. From uptempo movers to downtempo cruisers, Dibango expertly presents a cinematic melding of African, funk and jazz.
---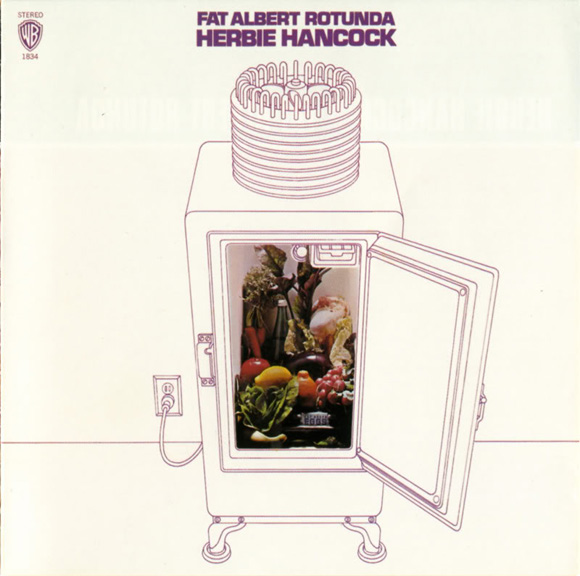 Herbie Hancock
Fat Albert Rotunda (Warner Bros., 1969)
Film: So this isn't a film – it's taken from Bill Cosby's animated TV series  Hey, Hey, Hey, It's Fat Albert and technically it released in 1969 but who cares when you've got Hancock dishing up the good stuff.
Soundtrack: It's definitely worth bending the rules for this addictive soundtrack album. There's a nod towards the funk territory that a later Hancock embraces but held down with his jazz roots from the post-bop, Blue Note days.
---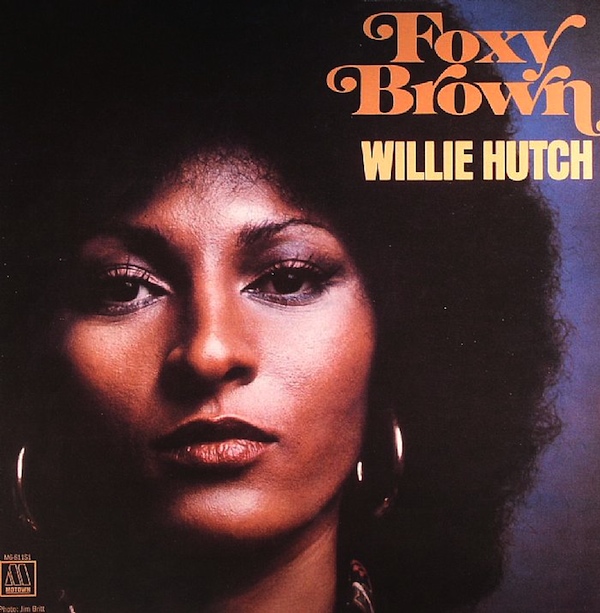 Willie Hutch
Foxy Brown
(Motown, 1974)

Film: More black revenge. This time a seductive lady masquerades as a high-class prostitute to infiltrate mobsters that killed her boyfriend.
Soundtrack: Not as successful as the soundtrack to The Mack but infinitely better. "Give Me Some of That Good Old Love"(left) is a slice of delectable, foot-tapping soul. And "Hospital Prelude of Love Theme" is a thing of beauty.
Buy it here.
---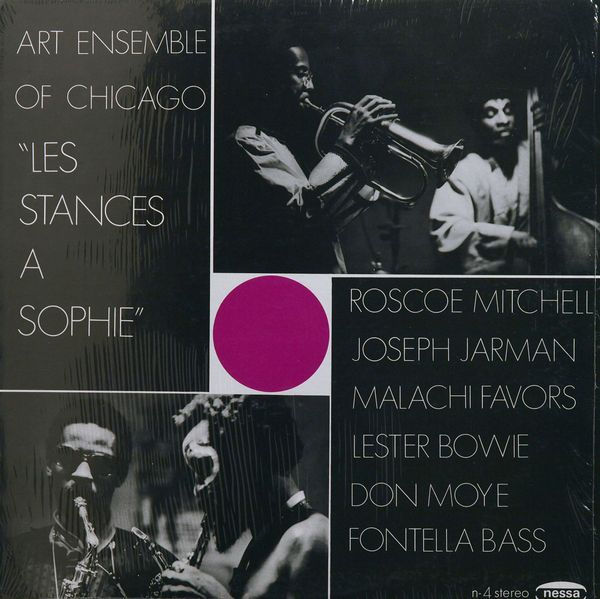 Art Ensemble Of Chicago
Les Stances A Sophie
(Nessa, 1979)
Film:  Filmed in Paris in 1970, Les Stances A Sophie Centres features groovy clothes, revolutionary ideals and most importantly, Art Ensemble Of Chicago. The film did a bit of a disappearing act until Soul Jazz re-released it on DVD in 2008.
Soundtrack: The powerful vocals of Fontella Bass meet cosmic jazz to stunning result. Hit play on 'Thème De Yoyo' and you'll be a convert too.
---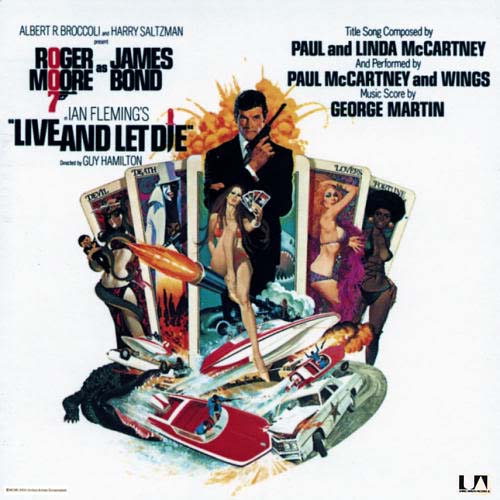 Various
Live And Let Die
(UAR, 1973)
Film: James Bond (Roger Moore) meets blaxploitation in a tale of Caribbean corruption with dubious racial overtones that were met with negative reception.
Soundtrack: The first Bond score not to involve John Barry, Beatles' producer George Martin delivers the funkiest Bond soundtrack ever.
---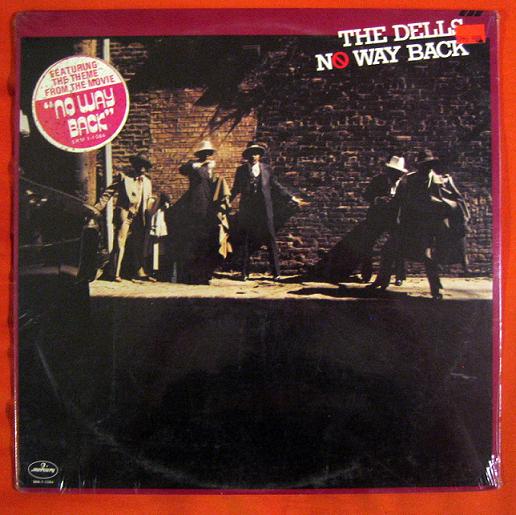 The Dells
No Way Back
(Mercury, 1976)
Film: A lesser known movie with Fred Williamson as a private detective that will do anything for cash – a mentality that leads him into a dangerous world.
Soundtrack: Only "No Way Back", "Too Late For Love" and "Adventure (No Way Back Pt 2)" (left) are used in the film but the whole record is cracking.
---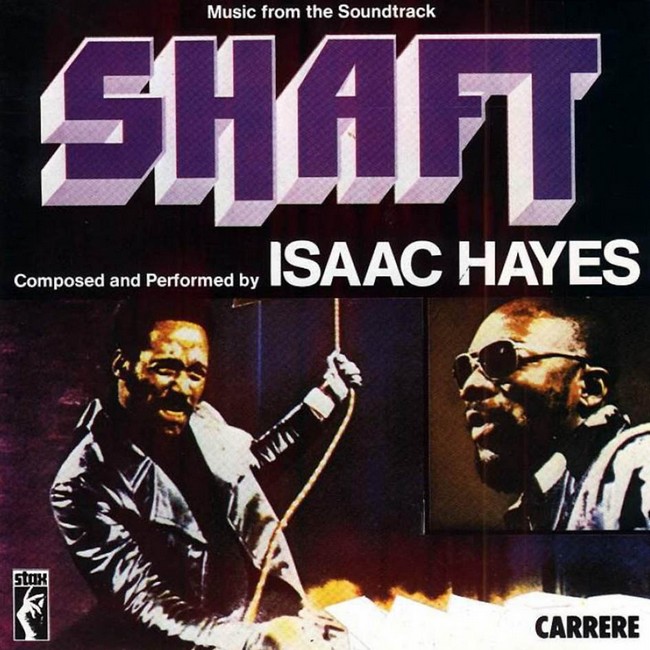 Isaac Hayes
Shaft
(Stax, 1971)
Film: An iconic film that follows a black private eye's hunt to retrieve a mobster's missing daughter.
Soundtrack: One of the best known and most successful blaxploitation soundtracks. An intravenous injection of pure soul from peak-time Isaac Hayes.
---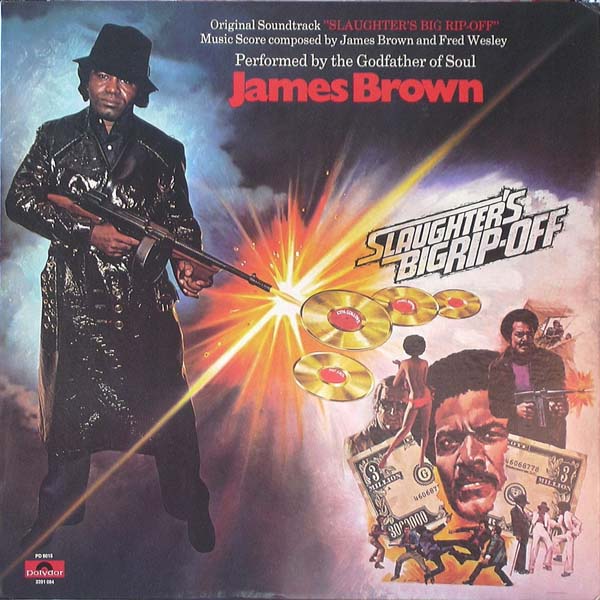 James Brown
Slaughter's Big Rip-Off
(Polydor, 1973)
Film: Sequel to Slaughter, in which the title character killed a gangster to avenge the deaths of his loved ones.
Soundtrack: More James Brown magic from start to finish. "People Get Up And Drive Your Funky Soul' deserves a special mention.
---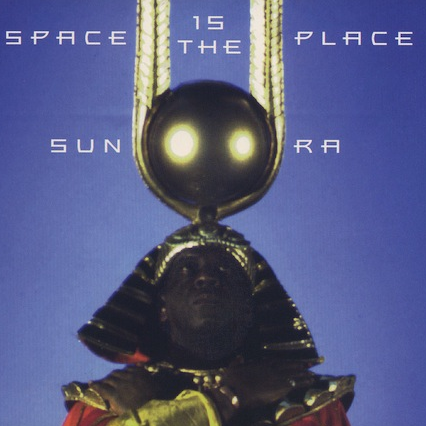 Sun Ra
Space Is The Place (Blue Thumb, 1973)
Film: Experimental, trippy, bizarre stuff but would you expect any less from a film starring Sun Ra? Afro-centric sci-fi and a non-linear narrative meets blaxploitation to produce a cinematic take on Sun Ra's music.
Soundtrack: The opening scenes are accompanied by the 20-minute free-form "Space Is The Place" that occupies side A. On the B there's four incredible cuts showing off a range of styles and instrumentation.
---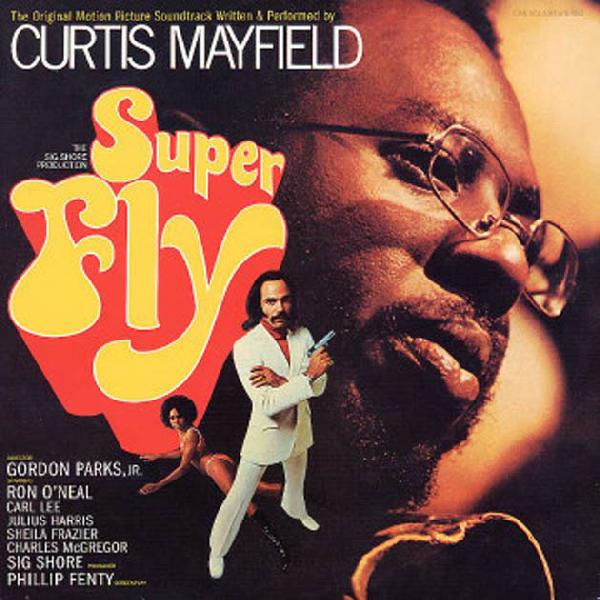 Curtis Mayfield
Super Fly
(Curtom, 1972)
Film: A drug dealer wants to quit the game but before going clean he needs to complete his biggest deal yet to fund his mobster pension.
Soundtrack: Mayfield's third studio album, a huge hit and a big influence on the blaxploitation soundtrack genre. The lyrics are masterfully socially aware – using storytelling to challenge the glamorisation of street life but without overtly moralising.
---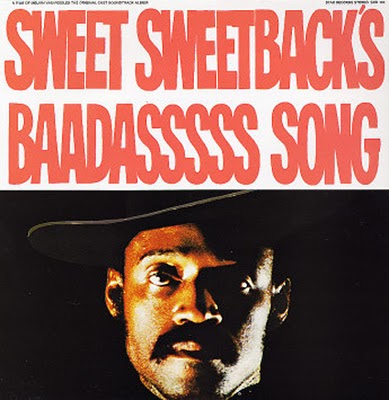 Melvin Van Peebles
Sweet Sweetback's Baad Asssss Song
(Stax, 1971)
Film: A landmark classic written, directed, scored and starring Melvin Van Peebles. It's often credited for birthing the blaxploitation genre.
Soundtrack: Performed by Earth, Wind and Fire, it was released before the film to generate publicity because Van Peebles didn't have funds for advertising. The soundtrack's not as groundbreaking as the film but it's still funky as hell.
---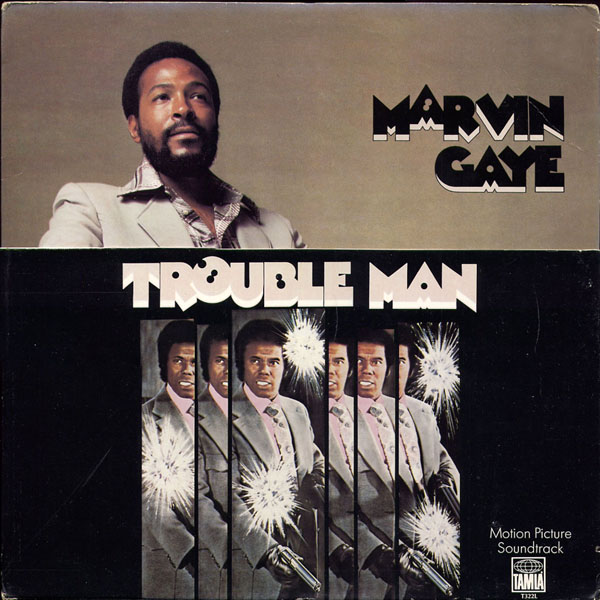 Marvin Gaye
Trouble Man
(Tamia, 1972)
Film: Mr T., a private detective, is hired to fight a masked gang but things get very complicated…
Soundtrack: Like Hayes and Mayfield before him, Marvin Gaye stepped up to soundtrack a film and ended up outperforming the film quite considerably. A strong contender for the best Blaxploitation soundtrack ever. 
---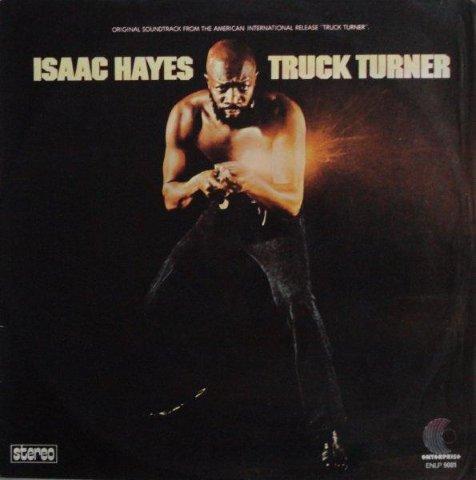 Truck Turner
Isaac Hayes
(Enterprise, 1974)
Film: Hayes wrote the score but he also stars as Turner, a bounty hunter who finds himself being hunted after completing a job.
Soundtrack: The third soundtrack from Hayes and a lengthier release than Shaft or Tough Guys. "Breakthrough" is the star track – a nice little funk workout.
---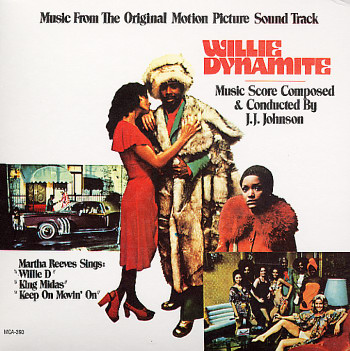 J.J. Johnson
Willie Dynamite
(MCA, 1974)
Film: The rise and fall of an ambitious New York pimp with a clear moral guide being offered up by the film.
Soundtrack: Scored and conducted by trombonist, J.J. Johnson, it's all about breakbeat sections and driving instrumental cuts. There's an edginess to the soundtrack which mirrors the action-packed uncertainty on screen.
---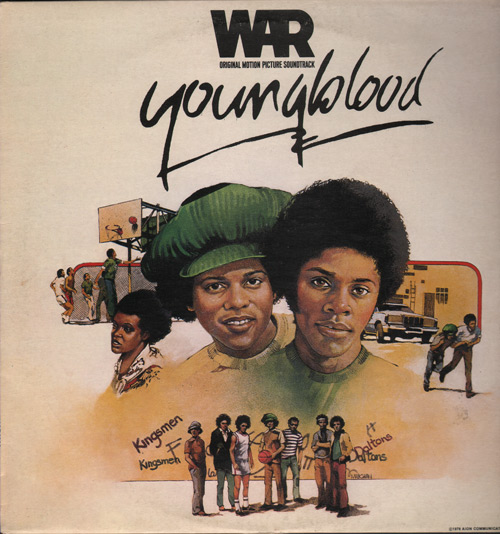 War
Young Blood
(UAR, 1978)
Film: A 15-year old black youth attempts to break free from the ghetto while also keeping friendly with his neighbourhood gang.
Soundtrack: Available very cheaply and in abundance, this soundtrack is packed with delicious funk. "Flyin' Machine (The Chase)" (left) is a spicy flute piece with a latin streak.