Published on
January 29, 2015
Category
Features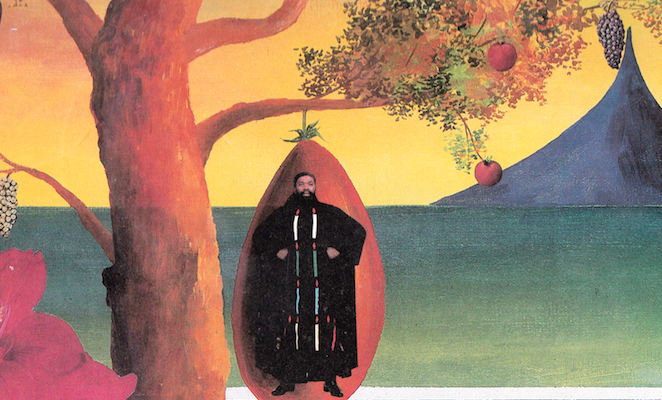 With their Invisible City Editions imprint, Canadian missionaries Brandon Hocura and Gary Abugan have become careful resurrectors of forgotten masterpieces that should have been genre-defining but somehow time slipped them by.
One of their latest excavations of music's deleted history is an unknown oddball Soca record, which they present below, along with 9 more must-have "Soca-Not-Soca" jams.
---
Brandon Hocura: There was a time, not even that long ago, when Soca was a four letter word for us. It was a no-dig zone to be avoided at all costs. Too many loonies had been squandered in dollar bins across Toronto, a city overflowing with Soca vibrations. We were always lured in by crazy unbelievably promising album covers only to hear watered down calypso with a weak not-quite-danceable beat.
Then suddenly one day the door opened to a whole new world; for us it all started when Gary found Shadow's 'Together' 12". Once we stepped into the strange light of Soca-gone-wrong there was no going back. We've probably listened to over 2000 Soca records collectively, and while the mean is rarely golden we unwaveringly have to listen to any new ones we come across for hidden deep in those sun-damaged grooves there is a wholly weird world of song and dance.
Listen to the 10 tracks below and scroll down to check them out individually
Gary Abugan: I'm not an authority on Soca by any means nor am I a music critic of any sort. I'm not a musician, although I played drums in an awful ska-punk band once. I'm a record collector and a DJ, and let's face it everyone is a DJ now too! I'm more into biographies, documentaries and grotesque anecdotal histories like the glam rock book on Motley Crue called "The Dirt". Most music writing makes me feel nauseous. It takes all the joy from music away for me. This brief article has taken me 3 months to write and constant prodding from Brandon.
Rather than describe what Soca is, let's let Arrow do it (he did that hot hot hot song): take it away Arrow!!
The music in the list below would never fit on a parade float at Carnival, nor at Caribana, what we have here in Toronto. I just can't see flamboyant sequins grooving to this music with crazy hard bodies crafted from military boot camp workouts and Men's Fitness magazine six-pack regimes. In fact, if this music were to be played on a float truck the driver would surely turn away from the march and drive onto the set of the ultimate late night show of Glen O'Brien's TV Party.  All the revelers would be dressed in the mind blowing costumes designed by self-taught Trini genius Brian Mac Farlane.
I think what ties these songs together and puts them so outside of the Soca realm is the synthesizer. It was cheap and supposed to synthesize other sounds but it just sounded like UFOs (see 'Praise Jah') and cats (see the Shadow song) it's micro tones were so beyond the scope of what people were used to hearing.
I'm not sure if artists were trying to redefine the genre consciously or if they were trying to market the music specifically to listeners but a lot of these songs have "SOCA" in the title. Our buddy Dan Tripp calls them "genre shout-outs" and to me it's like saying, "Ok, the music is so weird but in case you are wondering this is S-O-C-A".
---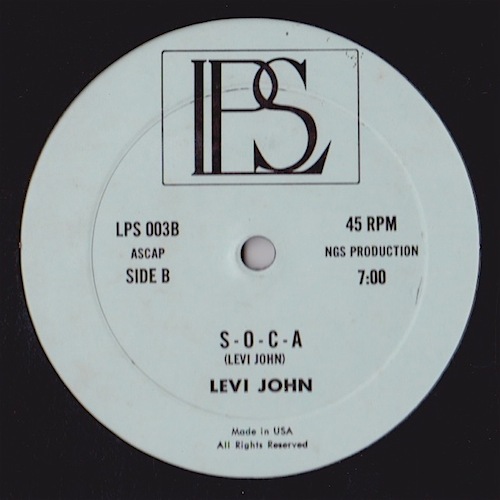 Levi John
'S-O-C-A' from 'S-O-C-A'
(LPS, 1980)
G: This reminds me of something Kid Creole would do if he were to team up with Bappi Lahiri. Sure it has some indo-Caribbean instrumentation like a Bollywood song but the keys make it sound like a loose joints tune and his voice is so wasted "just like a bird of a new nation you came into the peoples heart… soca music"
---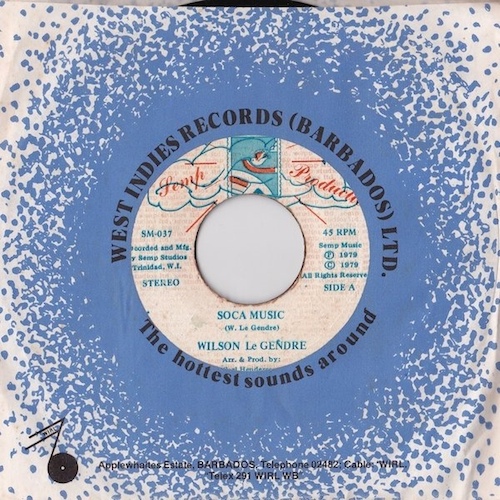 Wilson Le Gendre
Soca Music
(Semp, 1979)
G: Last time I checked Wilson was teaching drum corps in the US somewhere but before that he made an insane soca/italo-ish 45 on Semp Records. It still has the Dhantal, which is that crazy clanging sound that's in a lot of hyper Bollywood songs. He makes it very clear what is the song is "I do my do my do and you do yours too I do soca, soca music" the backing track could easily be on il discotto or Discomagic.
---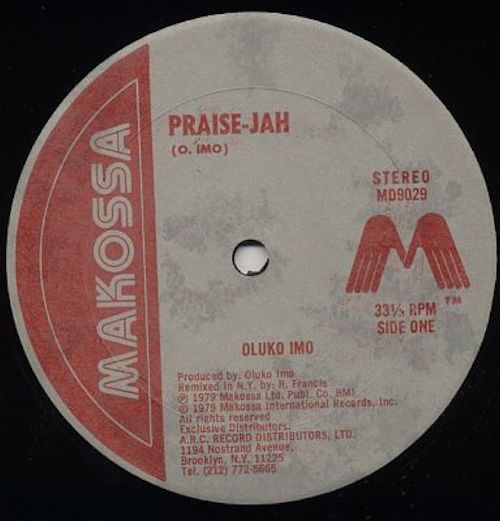 Oluko Imo
'Praise Jah' from Praise Jah
(Makossa International Records, 1979)
G: Fusing elements of a UFO landing and hovering over an exalted hymn to Jah is hardly going to fail if you are Oluko Imo. He was the leader of the Black Truth Rhythm Band and later became Fela Kuti's manager according to Brother Superior. I'm not sure this is Soca per se but it is based on psalm 150 (according to the 45).
---
Shadow
'Let's Get It Together'
(Shadow /CCP, 1984)
G: I was lucky to find this when DJ Archie decided to sell his record collection before moving back to Jamaica. It was the first Shadow record I ever found. I hid it in my basement, and listened to it constantly. I didn't tell anyone about it for months. The 12" is massive in clubs. It has a desperate ketchup splattered phoenix on its sleeve. Shadow does what he wants, he is the ultimate calypsonian. One of our heroes. A true dandy.  He truly is a masterful songwriter. It's Avant-pop at it's finest with that cat squeal synth, by the late Skice, over his deluded, and lost yet unforgettable vocals.  It's a theme song for anyone who's fallen in love with someone and was embarrassed about it. We've all been there.  You will listen to this forever. This is not a love song. It is the obscure object of desire.
---
These Eyes
'Soca Hustle' from ???
(We pestered ICE for details of the original release but they were pretty stubborn here)
G: To me this surely sounds like a Residents record made in the Port of Spain not a Soca record. It's out soon on our label.
B: No one knows where the next hustle comes from. And we certainly didn't expect it to come from the roughest edge of Diego Martin where These Eyes made music in almost complete isolation, barely even acknowledged by his family. Only one person we've ever met in Trinidad even remembers this song and that is only because they happened to be neighbours growing up. Apparently These Eyes was so discouraged after the lack of success of Soca Hustle that he threw most of the copies of this 45 into the street in front of his house. It's unfortunate because this song was way ahead of it's time, full of soul, synth, phased and murky production, dub pongs and it sounds ace on a nice system. This is quintessential Soca-Not-Soca and will be re-released on Invisible City Editions early next year.
---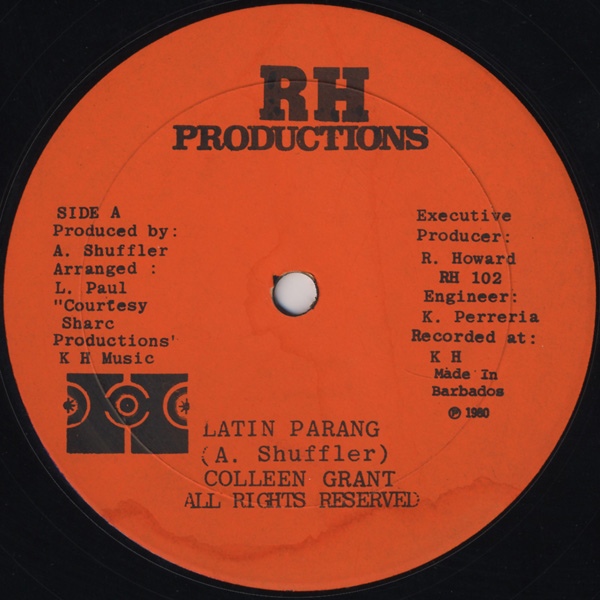 Colleen Grant
'Latin Parang' from Latin Parang
(RH Productions, 1980)
B: Parang is a distinctly Trinidadian Christmas tradition influenced by the country's proximity to Latin America. In the week leading up to Christmas roving musicians go door-to-door singing Parangs for food and wine and party with their neighbors until daylight breaks. Colleen Grant's languid melancholy perfectly captures the Latin heat of Trinidad in December while Shuffler's dancefloor ready production sounds like a lost P&P cut. Christmas doesn't have to come only once a year.
---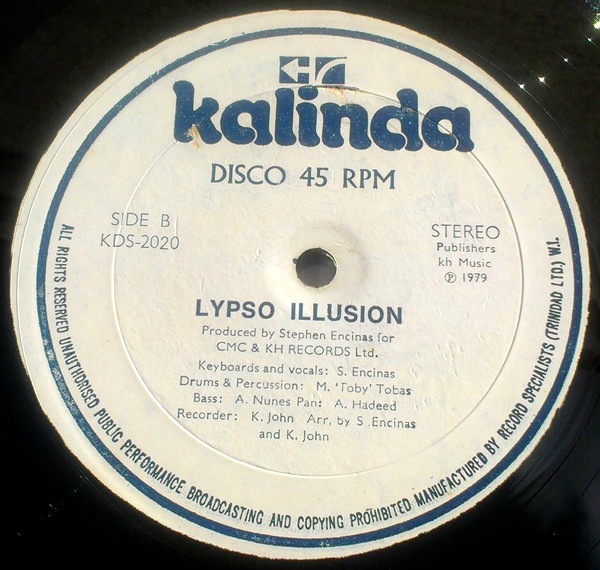 Stephen Encinas
'Lypso Illusion' from Disco Illusion
(Kalinda, 1979 / Invisible City Editions, 2013)
B: We were so enamoured with 'Disco Illusion' that it took us months to flip the record over and play the b-side. It was a revelation all over again, a perfect compliment to the lost Loft vocal a-side, 'Lypso Illusion' sounds more distinctly Trini with a searing pan solo, fluid Rhodes and driving synth bass. This 12" secured Encinas' place in the disco history books and made a lot of ears start paying attention to sounds coming from the island.
---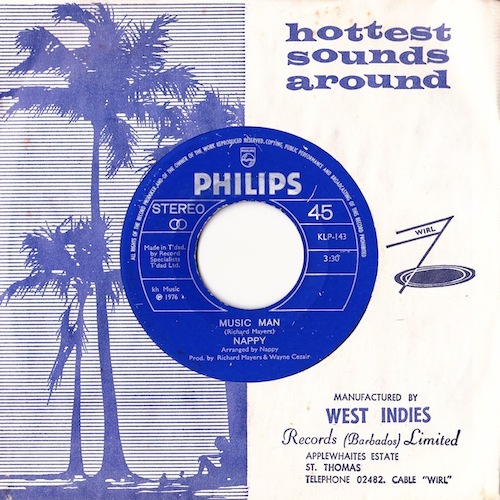 Nappy Mayers
'Music Man' from Music Man
(Phillips, 1976)
B: Although T&T was a hotbed for music in the 70's and 80's there are very few success stories (Billy Ocean being the most well known) and most musicians had to give up their dreams and work day jobs to support their families, and in many cases eventually give up music entirely. Music Man is a cautionary tale about the lures and false promises of the music industry. It is especially potent in Trinidad, but the story is universal, the Music Man is everywhere.
---
Jane's Addiction
'Jane Says' from Jane's Addiction
(Triple X, 1987)
G: Socapalooza. I know, I know, it's not Soca but we're obsessed with William Strobek's Supreme "Cherry" video that features 90s inspired clothes and atypical and raw skateboarding and a Jane's Addiction song. It's a huge ICHQ fave. I digress. Anyway, the song has steel drums. Something that totally works and something I picked up on when I reheard the song.
---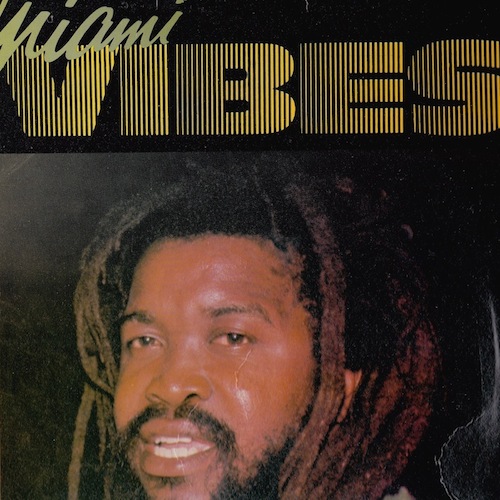 Rootsman
'Wild Goose Chase' from Miami Vibes
(Love People, 1987)
B: We've all been there. Countless hours irreversibly lost chasing some proverbial bird. Just imagine the time I could acquire if I could take back all the time wasted listening to bad records in search of lost treasures. Then, sometimes you get lucky and find the goose. In this case it is Rootsman's stoned electronic odyssey, a perfectly produced '80s Soca vibe from Leston Paul. I prefer it at +8 for maximum dancibility, but it still sounds wonky and wise slow. Children do you hear me? Alright.
---
Listen to the latest ICE release below:

Check out the ICE shop and listen to their latest mix here for more hidden gems. And catch them live at their upcoming Australian tour with Theo Parrish and Tako. 
---