Published on
May 31, 2016
Category
Features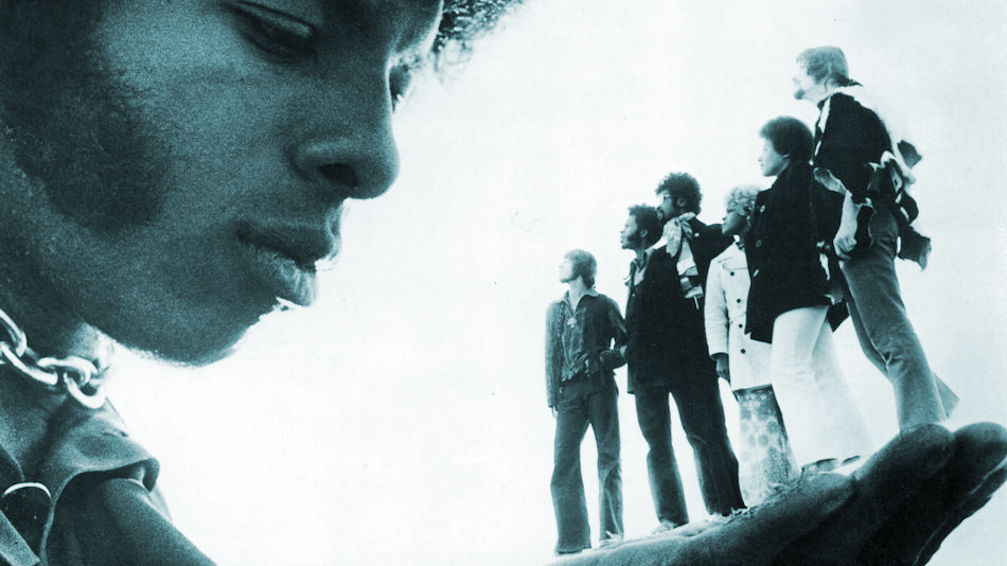 One of the most sociologically and stylistically integrated ensembles of all time, nothing quite compares to Sly and the Family Stone. Here, Nate Patrin presents a recap of the band's greatest works and its indelible imprint on modern music.
---
Words: Nate Patrin
---
It almost seems preposterous to even bring up the possibility that Sly & the Family Stone are underrated, at least to a diehard music fan or even a casual enthusiast who remembers their late '60s and early '70s heyday. But even accounting for all their influence, whether it's direct (Prince, Erykah Badu, D'Angelo) or by beatmaker proxy (they're one of the most-sampled acts of all time), it feels like we still need periodic reminders of the band that was one of the most sociologically and stylistically integrated of its or most other times.
It could be Sly Stone's late-life disappearing act and personal struggles that made his band's legacy a tricky one to uphold, or the fact that only two of their non-compilation albums – 1969's Stand! and 1971's There's a Riot Goin' On – were major hits (though 1973's Fresh had its share of momentum). It could also be the de facto radio segregation that left them out of the classic rock canon that the rest of their Woodstock peers became enshrined in, or the fact that their peak came during the peaks of nearly every other boomer favorite's career. Or maybe it was just because so many bands wound up doing what they did – some nearly as well – that the fact Sly & the Family Stone were the first and often the best to do those things became almost taken for granted.
So here's a refresher course. As a racially and gender-integrated band with an indelible ensemble strength to back up a charismatic and talented idea man, there wasn't really anything quite like Sly & the Family Stone. Having two white members helped play up the band's multicultural angle, but chops-wise they might as well have been Junior Walker (sax player Jerry Martini) and Clyde Stubblefield (drummer Gregg Errico). The other half of the horn section was a woman, Cynthia Robinson, who would be a titan from her outro to 'I Want to Take You Higher' alone. Bassist Larry Graham singlehandedly (or singlethumbedly) popularized the slapping style of playing, giving the band the legendary bottom-end that put them right next to James Brown (and arguably ahead of him) in the annals of funk's creation. And the Stone siblings – fuzz-flinging guitarist Freddie, co-lead-singer/keyboardist Rose, and singer/songwriter/mastermind Sly – were the literal familial unit that invited every listener to their reunion. They were tight when they lasted; their peak as a unified ensemble was a mere two years from 1967 through '69, with the early '70s marked by as much intra-band conflict as it was by Sly-as-auteur brilliance.
Listen to the playlist and scroll down to read about the records.
---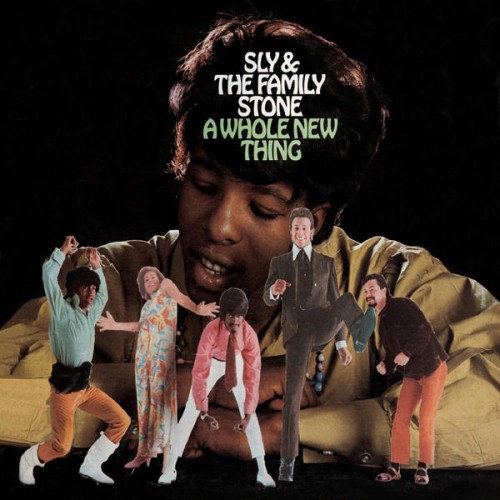 Sly and the Family Stone
A Whole New Thing
(Epic, 1967)
It's a little strange to think of A Whole New Thing as a critical and commercial flop, even if it does make a certain kind of comparative sense in the context of the Sly & the Family Stone catalogue. The only album up to that point left unrepresented on their 1970 Greatest Hits, New Thing is a little restrained compared to the formidable pop-rock-soul crossover band they'd become by the time they hit the stage at Woodstock. But their debut struck at an ideal time: with rock's turn for the psychedelic positing musical progress as something increasingly disconnected with the spirit of rhythm & blues, Sly & the Family Stone's hooky proto-funk took up the mantle of preserving that connection from another angle.
If nothing else, New Thing should at least be picked up for 'Underdog', the album-opening personal-as-political civil rights anthem that sounds exactly how the band's career should've kicked off in earnest. The Martini/Robinson horn section Staxes its way through a taunting 'Frere Jacques' riff before laying down punchy morse code in all caps, Errico and Graham lay down a backbone of liquid titanium, and Sly belts out like he can't focus on singing because his words are both seething with frustration and yearning with empathy – so he just breathlessly proclaims. The vertiginous Sam-and-Dave-get-dosed freakout 'Trip to Your Heart' (famously sampled in LL's 'Mama Said Knock You Out') and the 3-in-the-morning infidelity lament 'That Kind of Person' are additional highlights, while the filler cuts prove that even when they were still putting it together, their ensuing success already had a powerful tightness to build off.
---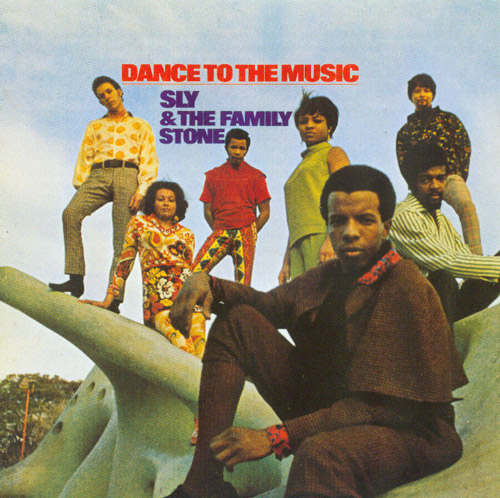 Sly and the Family Stone
Dance to the Music
(Epic, 1968)
After A Whole New Thing underperformed on the charts, CBS's Clive Davis prodded the Family Stone to make with the hits, nudging them towards a more commercial-friendly dance-band sound. And even if Sly wasn't thrilled with the idea of compromise, the resulting record was less a sellout than a delay of the inevitable, an amplification of their more danceable side that would perfectly balance itself out with their heavier tendencies within a year.
In the meantime, there's some fifteen minutes' worth of party-fueling perfection: a title track that would tangle with Archie Bell & the Drells' 'Tighten Up' for the honours of best meet-the-band dance anthem of early '68, and its relentless, twelve-minute counterpart 'Dance to the Medley', which took danceable soul headlong into LP-length conceptual jamming and unknowingly created a prototype for the marathon uptempo R&B vamps that would lop the -theque off disco a couple years later. And even as a straight-up party record with fewer nods to social agitation and crafty songwriting, there are still some singular points of idiosyncrasy – check out the push-and-pull spine-twister 'I Ain't Got Nobody (For Real)' and the first-draft foot-stomper 'Higher', which only lacks in comparison to the hurricane-force phenomenon it'd mutate into by Stand!
---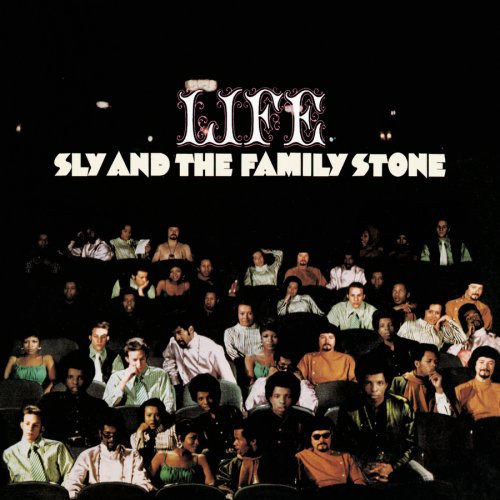 Sly and the Family Stone
Life
(Epic, 1968)
Third time's the charm. With Life, Sly & the Family Stone coalesced into the band that jumps straight to most people's minds when you drop their name, supernaturally catchy virtuosos who could take down anyone in a cutting session while bridging the gap between funk's Southern sweat and the melodic utopianism of NorCal bohemia. And even if that sound wouldn't become truly famous until the following year, their independent, clear-eyed optimism took on the kind of motivational form that was desperately necessary during the disillusioning trials of late '68: Put a smile on your face / Leave that bummer behind; Don't let a stranger sell you stories / Buyin' is cheap and so is lyin'; Tell it like it is / You don't have to die before you live.
The album wasn't a smash, but damn if the band didn't try – every song on Life is a pop-ideal 3 ½ minutes or less, and yet they hit dead-on every time, whether it's with conceptual goofs that hide sharp commentary ('I'm an Animal'), lanky statements of purpose laced with enough out-there rubber-reinforced grooves to inform a lineage from Funkadelic to Fatboy Slim ('Into My Own Thing'), or psych-skirting funk excursions that have more fuzz than a tennis ball factory ('Dynamite!', 'Jane Is a Groupee'). They even get away with biting the Beatles on the 'Eleanor Rigby'- quoting 'Plastic Jim' – a marker of Sly's stylistic chuztpah that sounded as ambitious as it was clever. Also keep an ear out for 'Love City', in case you wanted a deep-cut example of their break-beat godhood.
---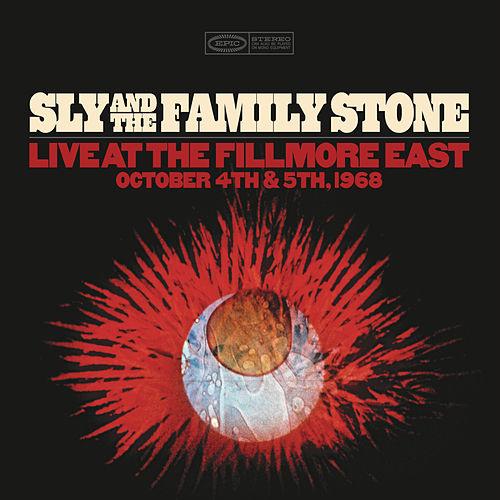 Sly and the Family Stone
Live at the Fillmore East
(Epic, 1968/2015)
One of the big, inexplicable mysteries about the Sly & the Family Stone discography was the fact that there were almost no commercially available recordings of their concert appearances over the years, their atomic throwdown at Woodstock notwithstanding (and it took until 2009 for the whole set to come out on The Woodstock Experience). The reason? Epic recorded an October '68 show as an intended stopgap release to help market the then still-low-charting band as a "you gotta hear 'em live" phenomenon, only to see 'Everyday People' break big a month later and point towards a next-level refinement for the band. Assuming that going back to the '68 model of the Family Stone after Stand! was like trying to sell a car buyer on a stock Pontiac Bonneville after test-driving a GTO Judge, their Fillmore East show was shelved and somehow never even resurfaced until Roots guitarist "Captain" Kirk Douglas was put in charge of compiling together a what-if double-live LP for Record Store Day 2015 in advance of a more exhaustive CD box set later that year.
Douglas' set pares down the material to a strong approximation of what could've been found on a version Epic might've put out in '68 – at least, assuming they were willing to take a chance on a then-rare double-live. This composite of sets from the Family Stone's October 4th and 5th shows at the Fillmore East is the long-needed document of the band at their full power, when their chart-fed stardom wasn't yet guaranteed and their drive was still fueled by hunger. So when you get Rose Stone singing Aretha Franklin's early secular hit 'Won't Be Long' or Sly channelling his inner Sam Cooke on Dance to the Music outtake turned smouldering show centrepiece 'We Love All (Freedom)' or the band's then-small catalogue extrapolated into a blistering, crowdpleasing repertoire, you get a band whose future was uncertain but played like they knew it would burn bright.
---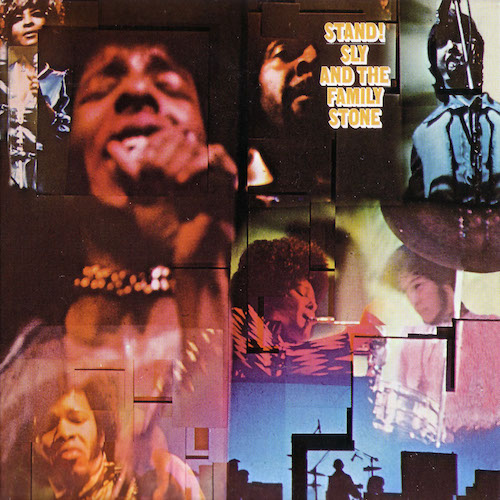 Sly and the Family Stone
Stand!
(Epic, 1969)
Stand! isn't exactly a hard sell, even for neophytes: you get six joyously defiant pop-soul classics, an explicit left-field statement on racism that doubles as the most 1972 song of 1969 ('Don't Call Me Nigger, Whitey'), and a nearly 14-minute vamp ('Sex Machine') so evocative of the looming funk future that James Brown was driven to snatch its title. The culmination of everything Life set the stage for, Stand! is as anthemic, exclamatory, and demanding as its title suggests. And it points a new way forward with a vibrancy that only amplified the canyon-deep hole their absence would mean in the two years following. Imagine waiting for the followup to an album where a song as life-affirming as 'Everyday People' is only maybe the best cut on the record.
Besides, it's an impossible record to get sick of, especially since odds are you've at least heard parts of it at every turn. It's not just that this always-tight lineup was at their peak when it came to the kind of funky breaks that would serve hip-hop and other sample-based producers well for decades. It's that there've been few records, funk, rock, or otherwise, that were so in tune with making sharp moments of melody or long-simmering rhythms so hard to shake. If the Jungle Brothers' 'Because I Got it Like That' hadn't sampled the circus organ/drum break in 'You Can Make it if You Try', if Black Milk hadn't chopped and rebuilt 'I Want to Take You Higher' for Pharoahe Monch's 'Let's Go', if every producer ever hadn't found gold in the drums off 'Sing a Simple Song'… well, those bits would probably still be looping in your head anyways.
---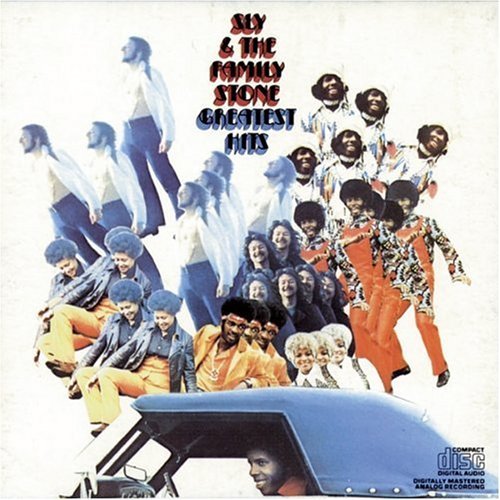 Sly and the Family Stone
Greatest Hits
(Epic, 1970)
If there was ever a case for calling the Greatest Hits format anything more than a contract-fulfilling cash grab, Sly & the Family Stone's made it clearly. Going two years between albums meant something more drastic in the studio-tour-studio grind of the 1960s and early '70s, so even as the band weren't technically hitmakers until 1969, 1970's Greatest Hits was put together to keep them in the public eye as Sly struggled to complete There's a Riot Goin' On. Despite the high carryover of material from Stand! – five of the original album's cuts, nearly half of the compilation, comes from their breakthrough LP – its sequencing, the essential high points of their '68 singles and b-sides ('Life', 'Fun', 'Dance to the Music', and 'M'Lady'), and especially the inclusion of maybe their three most emotionally moving pre-Riot single cuts make this one of the least redundant best-ofs ever made.
Just for the hazy afternoon floating-on-air reverie of 'Hot Fun in the Summertime', the dignified yet gutsy uplift of 'Everybody Is a Star', and the self-referential almost-farewell of 'Thank You (Falettinme Be Mice Elf Agin)' (dyin' young is hard to take / sellin' out is harder), Greatest Hits should be the first place you turn if you want to know what made the band one of the smartest, catchiest, most transformative pop acts of the 1960s.
---
Sly and the Family Stone
I'm Just Like You: Sly's Stone Flower 1969-70
(Light In The Attic, 2014)
Even as the Family threatened to splinter apart around him from internal dissent and creative roadblocks, even as the Stand! followup tentatively titled Africa Talks to You hit speedbump after coke-bump, even as the music world was staring down the End of the Sixties, Sly Stone felt he had enough in the tank creatively and attention-wise to run his own imprint label. Stone Flower Records was short-lived enough to fit its catalog on a double LP and have room left over for a handful of first-draft There's a Riot Goin' On sketches, but it turned out to be a pretty fruitful sideline. As pure music, all of it written by Stone (though largely performed by others), it's somewhere between good and fantastic; as a side-route into an examination of Stone's creative process between the recording of his band's two biggest statement albums, it's priceless.
Just off historical curiosity alone, you've got backup singers Little Sister turning 'You're the One' into proto-disco gold and 'Somebody's Watching You' into a successful field test for the Rhythm King drum machine, Sly's old acquaintance Joe Hicks belting out heart-pained, homesick laments disguised as dance jams, and a short-lived New York band called 6ix that was stripped down to a super-minimalist three-piece showcase for harmonica-player Marvin Braxton and singer Charles Higgins ('I'm Just Like You'; 'Dynamite'). Few people heard these tracks; fewer still recognized them for the harbingers they were.
---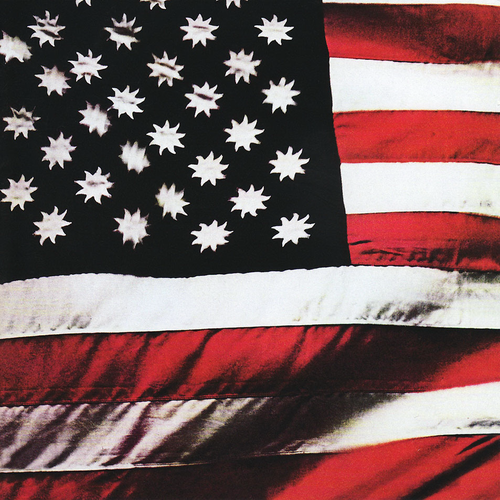 Sly and the Family Stone
There's a Riot Goin' On
(Epic, 1971)
A band indelibly connected with danceable, hot-blooded, life-affirming music in the late '60s made their fall '71 comeback with the opening sentiment feel so good inside myself don't want to move – and if there was anybody who wasn't thrown by that, history hasn't made note of it. There's a Riot Goin' On was a nod to both Sly Stone's peers and his antecedents, the title positioned as a simultaneous answer to Marvin Gaye's months-prior What's Going On and an allusion to the Robins' Lieber/Stoller-penned dawn-of-rock 1954 single 'Riot in Cell Block Number 9'. Riot seemed to hold the weight of everything that went down in both Black pop and Black culture between those two points, a retreat from motivational positivity and group-effort ensemble music into the auteurist austerity of one burned out, overindulgent, yet still creatively rich man trying to relearn his place in the world.
This is also where the divided nature of the band started to really manifest: Errico's door-kicking drums gave way for primordial, simple beat machines, the horn section was sawn-off instead of blaring when it showed up at all, most of the other band members' contributions were played in isolation with Sly and overdubbed, and everything was stripped and erased and overlaid and ripped apart and rebuilt so much that the album became one of the biggest-budget, longest-in-the-making lo-fi albums any household name would ever put out. This made for the kind of isolated, anxious sonics that perfectly complemented Sly's thousand-yard-stare vocals and ruminations on the resilience he'd need to build to make it through an ambivalent tomorrow. The only thing left to do is stand firm: blood's thicker than mud, the brave and strong survive, and refusing to move is at least better than running away.
---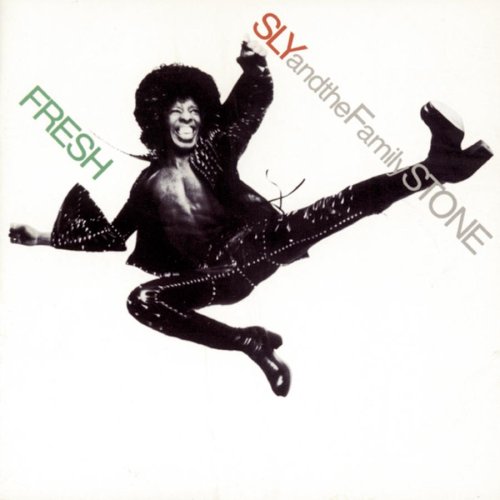 Sly and the Family Stone
Fresh
(Epic, 1973)
This might be the closest '70s Sly ever got to revisiting the upbeat thrills of his '60s form – he's even making sure to look extra-giddy during his Bruce Lee leaping kick on the Richard Avedon photo cover of Fresh, just in case listeners were still wary of its predecessor's introverted anxiety. But there's no turning back from a record as bracing as Riot, and in splitting the difference between that album's breath-snatching depth and his apparently renewed turn towards the outgoing, Fresh hinted at a phase that would prove both rejuvenating and sadly short-lived.
Released shortly after Sly's 30th birthday, Fresh could be looked at as another step in an ongoing maturation effort if later career turns didn't dispiritingly, sometimes tragically derail those possibilities. 'If You Want Me to Stay' was the big hit, the floor-staring withdrawal of Riot finally looking up to lock eyes and acknowledge just how difficult he's been, the horns hanging back in the cut as Sly, subbing for the on-the-outs Larry Graham, lays down a bassline so thick you can almost grab it from the speakers. 'Que Sera, Sera (Whatever Will Be, Will Be)', the only cover in the band's discography, swaps out Doris Day treacle for Rose Stone dive bar gospel. And opener In Time is so nervy and agitated it found its groove while finding ways to hit all the fractions you could split off The One.
---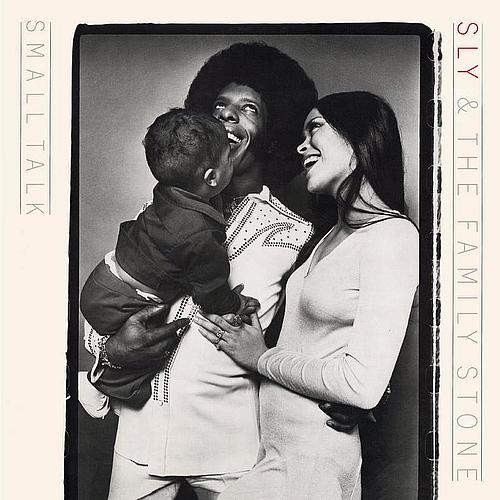 Sly and the Family Stone
Small Talk
(Epic, 1974)
The end of the line for Sly & the Family Stone as we knew it, Small Talk isn't a sore disappointment – any album with the meditative 'Time for Livin'" and the delirious 'Loose Booty' (turned into a hardcore burner and a Paul's Boutique building block respectively by the Beastie Boys) is worth digging out of the bin. But the feints towards new sonic flourishes – Rustee Allen is a solid Graham replacement on bass, and let's hear it for Sid Page adding some extra pathos on violin – couldn't hide a flagging energy or the MPH lost off his lyrical fastball. Magnetic-poetry Sly Stone lyrics still beat a lot of artists' hard-worked verses, but growing from a bandleader to a scrambling Everything Man would've shown his seams even without a song like 'Can't Strain My Brain' to lay it bare.