Published on
March 5, 2014
Category
Features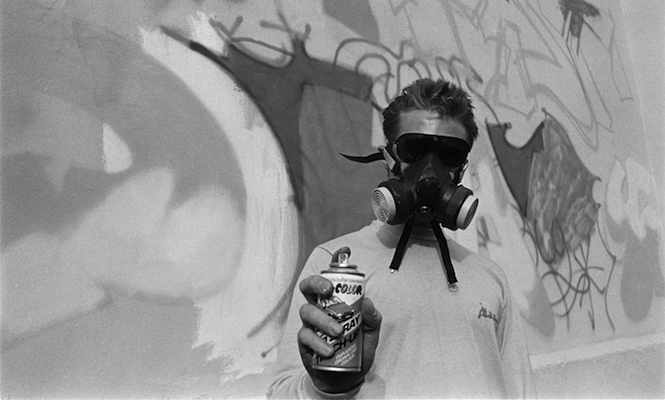 To celebrate the publication of The Vinyl Factory's long-awaited visual history of Massive Attack, founding member and artist Robert '3D' Del Naja recounts his work on the band's early albums, shedding light on a trailblazing period in UK music and street art culture.
This short extract is taken from the in-depth interview between Robert Del Naja and The Vinyl Factory's creative director Sean Bidder which is published as an introduction to 3D and the art of Massive Attack, available to order now from The Vinyl Factory online shop.
The 400-page retrospective collects over 25 years of band's iconic back-catalogue alongside new and unseen pieces from 3D's personal archive from the graffiti and stencil art of the 80′s Wild Bunch era to the modern day and the recent collaboration with filmmaker Adam Curtis.
Limited to just 350 copies worldwide, each limited edition book and vinyl box set is individually hand-signed and numbered and contains a unique print by 3D, a copy of the 12″ x 12″ hardback book housed in a 3D-designed heavyweight box and a special 12″ single with a previously unreleased track backed by an etching on the b-side.
Click HERE to see photos of the limited edition book and vinyl box set and order your copy HERE.
---
What was the thinking behind the hand that appeared on Unfinished?
I'd started painting with stencils in the mid-'80s. At first I'd tried a stencil on my first illegal piece on the Hotwells Road in Bristol. In fact, that was my first ever piece, period. I hadn't even practiced in my bedroom. Luckily, it didn't stay up that long – it was basic. When I got into painting in a less traditional graffiti way, I got heavily into stenciling again. Warhol repeats, famous faces and industrial symbols, and one of my favourite icons was the 'medical hand'. I had used it on various paintings including a series of monkey characters. When we were shooting the video in LA it was the build up to the first Gulf War – we had major issues with the attack on Iraq personally and the press had begun to go loopy. I wanted to create an image using the hand but covered in oil as if in surrender with a bandage on it, mimicking one of the medical hazard symbols. It somehow suited the song. We ended up controversially removing the word 'attack' from the album sleeve because of the association with the tabloid catchphrase 'a massive attack on Iraq!' which was horrible.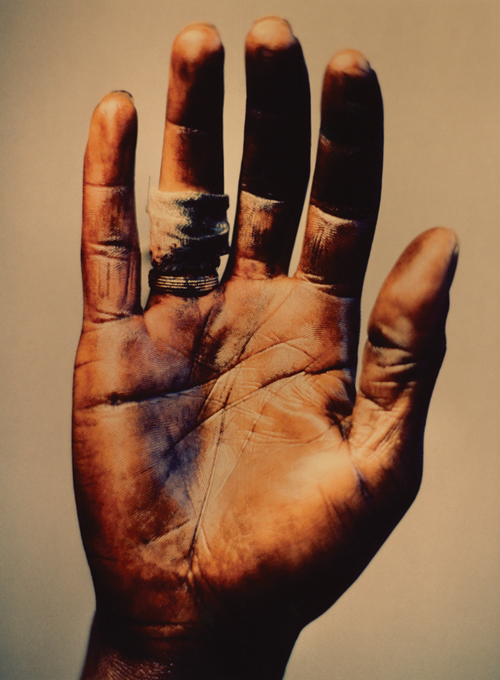 The first vinyl issue of Blues Lines had a screenprinted cardboard cover. Why?
It fitted with the DIY ethos and was influenced by PiL's Metal Box album package. We went more downmarket with cardboard! As soon as we'd scoured some boxes with the flame logo on them and laid them all out we decided that no other material was going to be as effective. So we tried to use the material in the most authentic way possible.
That was different to what everyone else was doing with record sleeves at the time – which was more polished, more slick…
We weren't being pulled apart by A&R man and letting other people art direct us. The same approach carried over to the videos. When we met Baille Walsh, we'd all decided that everything had to be shot on film, everything done 'in camera' – which didn't fit with everyone else's notions of what a pop video was at the time. It had to feel like authentic movie making to us. It all became quite obsessive.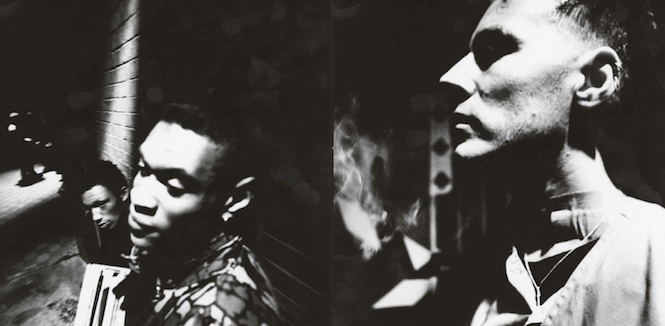 Tell us about your transition from painting in the street to canvas?
We were all apprentices back then and hungry for new input and everything that came from NYC was absorbed and regurgitated. The Subway Art book became the graffiti artists' manual; we were all on the same page for a while. I'd been arrested a few times and I'd run out of options because they knew who I was. It was the start of the tagging revolution; everyone carried a fat marker. It meant that the criminal damage element of the graffiti scene had soon overwhelmed the ambition of the art. In '87 I was offered a studio space in the old garage beneath the Montpellier Hotel in return for decorating their pub walls with new pieces. It wasn't the first time: the landlord, Dave Macdonald, made a deal with me at the Dugout in '83 – paint some walls in the club in return for beer and a tape of all my favourite music videos from the club's collection. It was a good arrangement as I had stopped painting illegal graf since a Wild Bunch trip to Japan the pervious year. The police had made a couple of house calls on me as part of a big anti-tagging operation. The dossier they had on us all was extensive. I'd already done community service, the game was over for me. The pub became an evolving gallery of my art for a couple of years. In 1988 we started working with Neneh Cherry and Cameron Mcvey, who became the band's manager. Around that time I put on my first solo art show in a gallery in Fulham. It was about the same time we were doing out first demos at Cameron's house.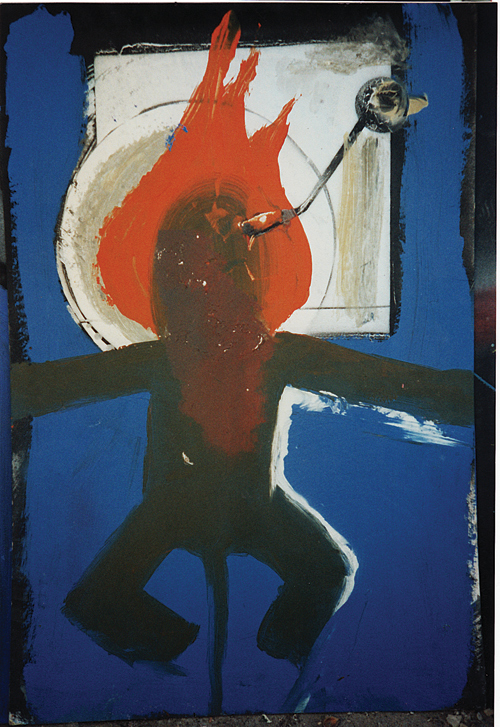 Around this time, an abstract human character began to emerge in your paintings and artwork…
Basquiat's influence was big for me at this point. As well as magazine clippings I had unexpectedly seen his work in a gallery in Tokyo. He painted in a raw and confrontational way. He abused the canvas with chaotic composition and intense primary colours. It wasn't just his imagery but the juxtaposed cultural references: media saturation, brand communication, power, poverty, African history, colonialisation and exploitation. Everything was consumer labeled and the words seemed part-manifesto and part-hit list. It was a slap around the face. Basquiat inspired me to break away from the calligraphy of the traditional graffiti art form. I tried to paint more boldly and spontaneously as opposed to methodically, creating layers with aerosol. Francis Bacon's work became a major influence later in the 90's.
Did you feel more synergy with what was happening in the States than the rest of the UK?
New York had the music, the art and the fashion. Keith Haring was everywhere and Basquiat was working with Andy Warhol. Fab 5 Freddy had painted a subway train with depictions of giant Campbell's soup cans. It seemed like a meltdown of the uptown graffiti and rap scene and the downtown art and punk music scene. The geography meant that London was the place to go to buy records and there were some amazing graf artists appearing like The Chrome Angels, Pride and Mode 2. The Wild Bunch started putting on underground warehouse parties, using graffiti art to spread the word. It attracted a cross-section of the population – middle class and working class, black and white. Each St. Paul's Carnival was crowned by the Wild Bunch soundsystem party that blocked Campbell Street outside Daddy G's flat – finishing with daybreak or constabulary intervention. We participated in the first international graffiti show outside of NY at the Arnolfini gallery, Bristol, where I hooked up with Brim, Bio, and Nicer from the TAT crew. It was around then that I made friends with Goldie, Pride and Mode 2. We also went to Japan in 1986. Visually Tokyo was a complete sensory overload. Back then there was very little exposure to Japanese pop culture. It was pre-Karaoke and pre-Manga Britain – it was exciting. Blade Runner was the closest reference.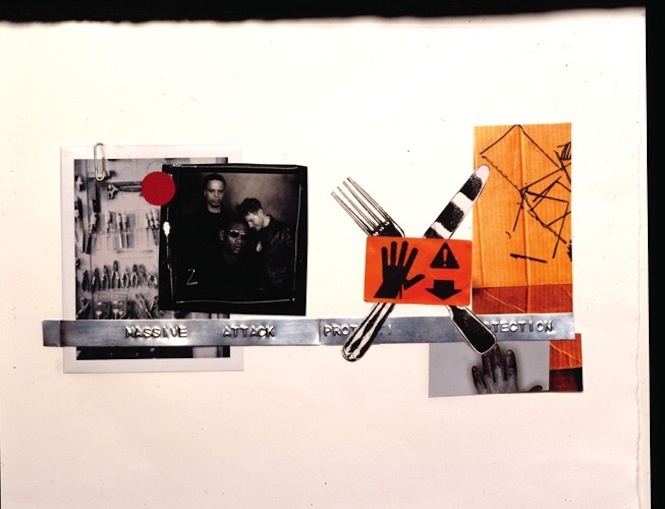 Did you ever go to art galleries as a kid?
No. Now you can spend a day on the internet and collect visual information on any artist but back then it was very much magazine culture. You were lucky to find anything, or you had to go to an art bookshop and stare at the pictures like a camera, trying to memorise images. As a kid I was a mad comic fiend, I was obsessed by artists like Jack Kirby and John Romita. My school exercise books were literally covered in superhero sketches. The comic shop was my gallery I guess.
---
3D and the Art of Massive Attack is out now and available to purchase from The Vinyl Factory online shop.