Published on
March 13, 2019
Category
Features
From running a jukebox business in Kingston to a record shop and pressing plant in New York, Joseph Hoo-Kim had the music industry in his veins. It was as founder of Channel One Studios however that the producer made his biggest impact. Following Hoo-Kim's death in 2018 at the age of 75, David Katz looks back at the extraordinary legacy of this irrepressible reggae maverick.
Joseph Hoo-Kim was one of a handful of record producers that indelibly changed the shape of Jamaican popular music. Through Channel One, the recording studio and record label he launched in 1972 in the heart of a west Kingston ghetto, Hoo-Kim became the leading record producer of the roots reggae era, his studio churning out more hits than anyone else. Channel One was also at the vanguard of the dub LP and the place in which the dancehall style first came to fruition. Influential musicians like Sly and Robbie joined forces there too and the Roots Radics, Barrington Levy and Yellowman also emerged from the stable. Due to the innovations of Hoo-Kim, his brothers and his team, there is no overstating the role that Channel One played in the development of reggae, and indeed, the popular music of the western world.
Born in Kingston in 1942, Joseph Hoo-Kim was the eldest of four brothers. The shop-keeping family has often been described as Chinese, though in multi-ethnic Jamaica, the story is seldom so simple. As Hoo-Kim explained, "My mother was born in Jamaica, she was half-Jewish and half-Chinese. My father is from China; he was going to Panama and stopped off in Jamaica and never get to Panama."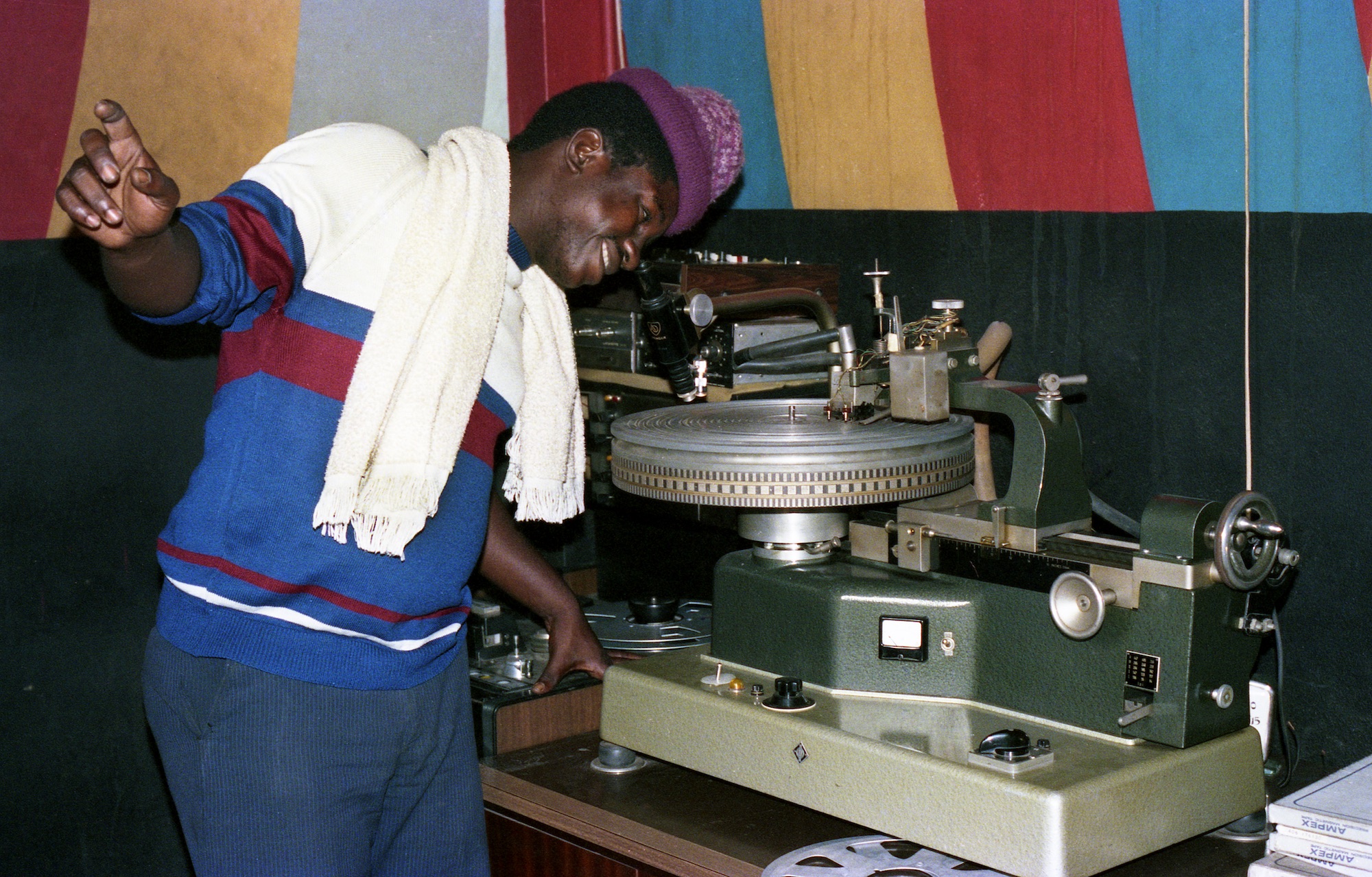 In the Channel One dub cutting room, 1984, (Photo: Beth Lesser)
The Hoo-Kims ran an ice cream parlour, wholesale liquor store and rum bar, beneath the family home at the corner of Maxfield Avenue and Spanish Town Road, a major downtown intersection just a few steps away from Trench Town – the infamous district that gave rise to Bob Marley and the Wailers and countless other groups. Hoo-Kim says that music was always a source of wonder, noting that his first foray into a business of his own came as a jukebox stocker. "When you are a young fellow, the only entertainment you have was records, so we were all into records from we were small; you always have your little amplifier and a speaker box. I had a jukebox business, I think it started about 1960, and I was just in that myself. My brother-in-law usually work with a company that operate jukeboxes, which was Issa's, and sometimes when he's going to the countryside, he usually pick me up and I follow him around. Then Issa begin to sell out the boxes and I acquired some; we usually go to the manufacturers and those who produce the records and buy from them and you always try to buy whatever is in the top ten, or what you think is going to be in the top ten."
In 1966, the family purchased a larger building at 29 Maxfield Avenue, moving their business and home base about a mile further up the road. Everything changed a few years later when Hoo-Kim's childhood friend, John Holt, asked Joe-Joe to accompany the singer to Dynamic Sound for a recording session. "I was fascinated with the sound in the studio, the sound just hold me right there," Hoo-Kim said, the memory obviously still fresh in his mind. "When I hear how the studio sound, I said, 'This is what I want to be in,' and that's it."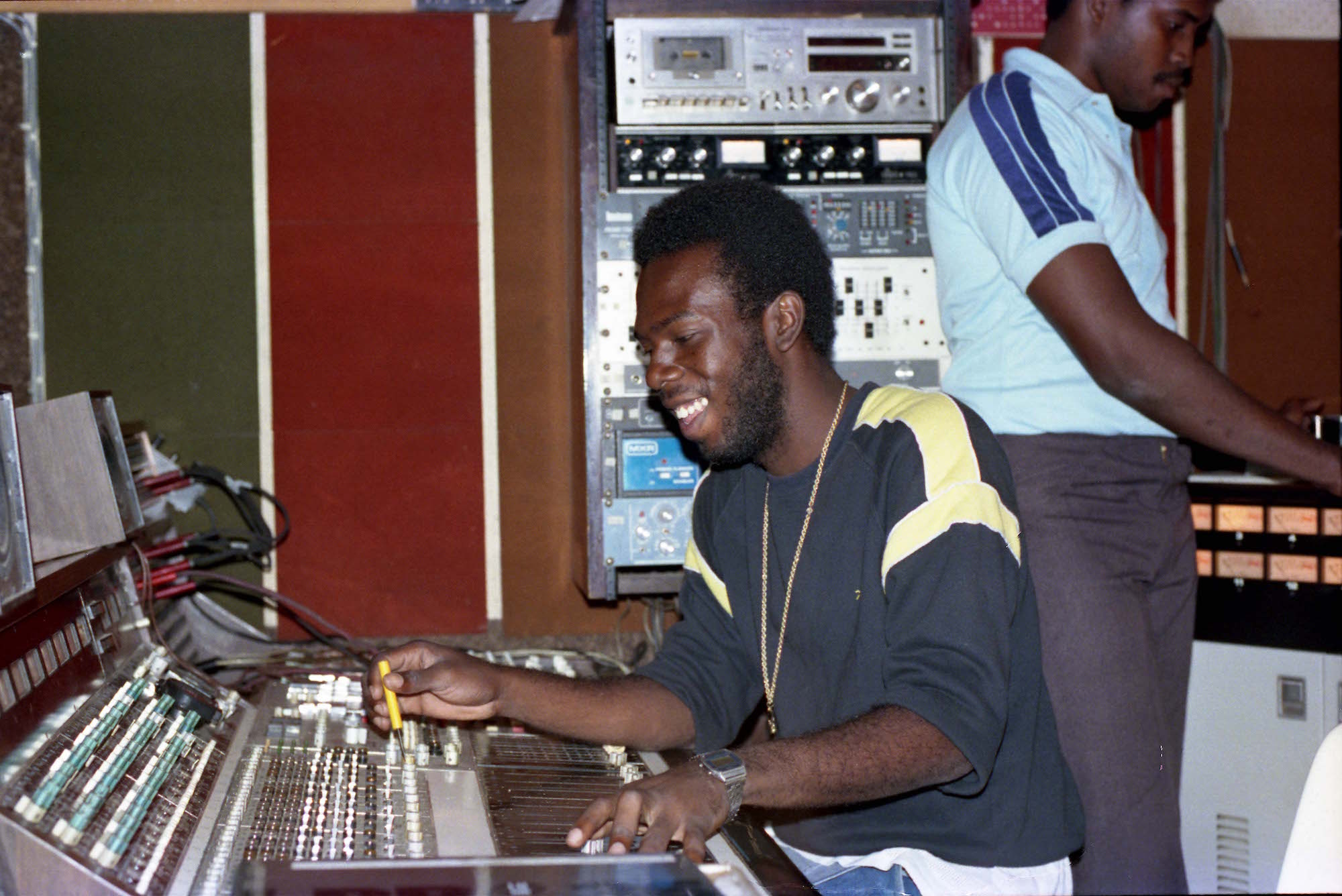 Channel One studio, 1984, (Photo: Beth Lesser)
Hoo-Kim employed the engineer Bill Garnett to help select and install the equipment at Channel One, during a time when Garnett was working at Harry Belafonte's Impact studio in New York. He had earlier set up Randy's, Joe Gibbs and Harry J's studios and had worked at Federal and WIRL. Hoo-Kim tried to ensure that the studio had only state-of-the-art machinery, sparing no expense with the process. "Just speaking about the tape machine and the console, I spent maybe about US$60,000," he recalled. "I paid $38,000 for an API console, one of the most expensive consoles on the market."
The studio opened as a four-track in 1972, with Sid Bucknor, cousin of Clement Dodd of Studio One, as the resident engineer, and hits began rolling out from the get-go. As Hoo-Kim recalled, "I remember Bunny Lee run the first session there, and I only can remember one song, 'Can I Change My Mind' with Delroy Wilson. I think the musicians were Soul Syndicate, but that was a trial session really; we gave everybody a free try, because I didn't understand anything about making records or running a session and I want to get experience."
Phil Pratt, Lee 'Scratch' Perry and various others thus made use of Channel One in its early days. But despite such auspicious beginnings, the studio soon encountered technical difficulties. "Sid Bucknor lasted about a year," laughed Hoo-Kim. "He didn't understand the console and that was it. I remember I did an LP with Alton Ellis that I couldn't release; it had fantastic tracks but the bass was tied with the drum, and it wasn't record properly. Then we make a session and they were all flops, and I decided to lay back and see what we are doing wrong, but the main thing was the sound. During the period when we start up, Bunny Lee said, 'The studio doesn't sound good,' and I have in the most expensive console; when I say 'Something is wrong' to the manufacturer, they say, 'Rubbish.' So we begin to talk about bottom end, and I begin to tell them that we didn't have any bottom. I take out about three EQs and take them back to America, then he begin to explain to me how the EQ really work."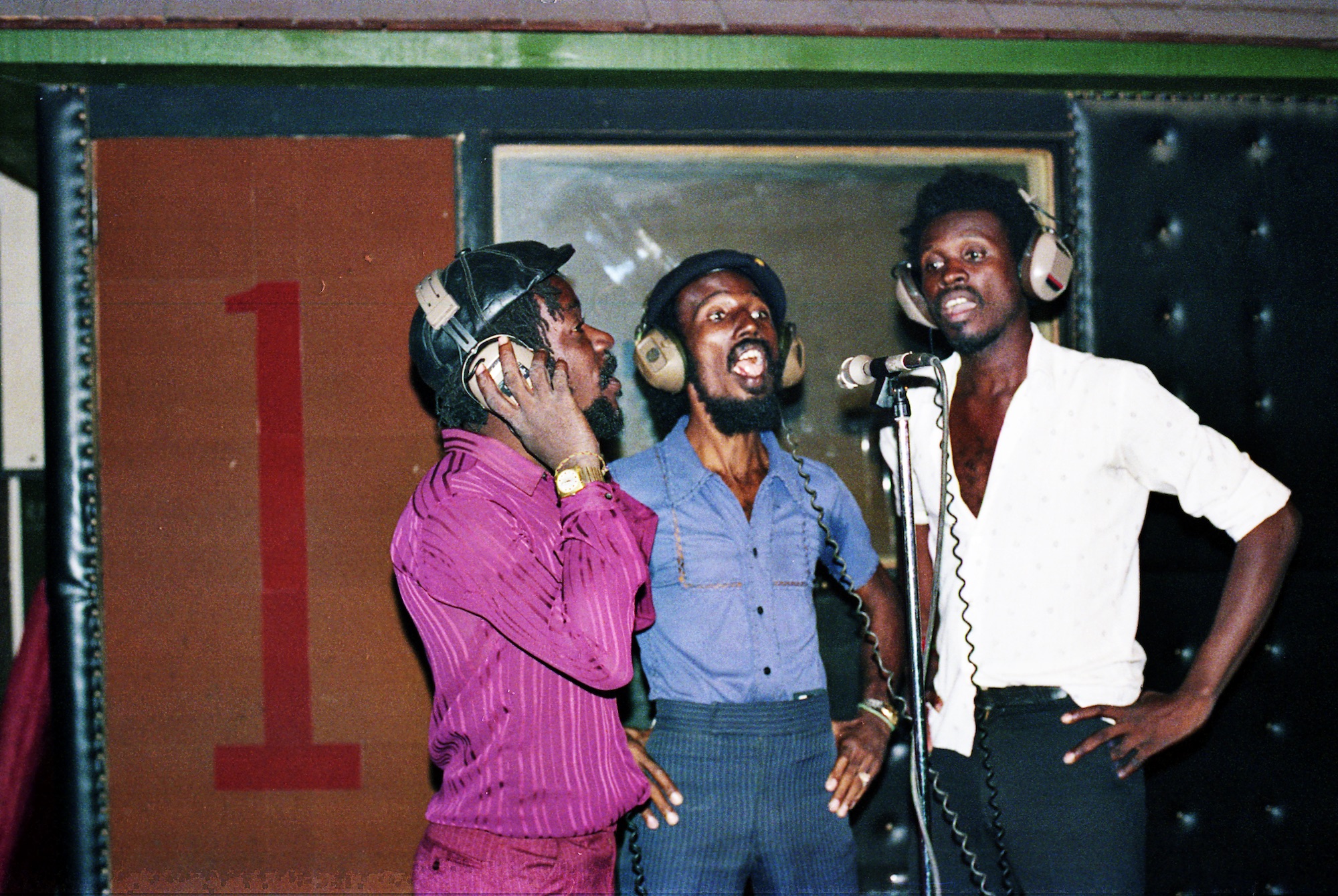 Channel One, 1984, (Photo: Beth Lesser)
Once Bucknor was out of the picture, and armed with this new knowledge, Hoo-Kim's brother Ernest became the resident engineer and Joe-Joe began producing music more regularly. With Sly Dunbar and the Revolutionaries as the house band, once the studio upgraded to sixteen tracks, Channel One became an unstoppable force. The hits flew out thick and fast during the mid-1970s, unsettling the longstanding dominance of Studio One, Treasure Isle, Federal and Dynamics and casting a serious shadow over Randy's.
"Then we decide that we should have a go at it," Hoo-Kim emphasised. "Now we understand how session really run, so we said that we could do it, because it wasn't anything too tough. We decided to go into the studio ourselves now, and then we came out with hits."
There was Delroy Wilson's reggae cover of Stevie Wonder's 'It's A Shame' and Horace Andy's forlorn 'Beware Of A Smiling Face', Junior Byles' 'Fade Away' becoming an all-time Rasta anthem. Dillinger's CB 200 album became hot property when Island issued it overseas, bringing 'Cokane In My Brain' into the European charts, but the biggest group to make their mark in 1975 was the Mighty Diamonds, whose Channel One debut was handled internationally by Virgin. The following year, the Meditations caused a massive stir with 'Woman Is Like A Shadow' and Leroy Smart made waves with 'Ballistic Affair'; the Wailing Souls began an incredible run of hits that would culminate in the Wild Suspense album for Island. In 1977, a crippled Doctor Alimantado blagged some studio time for his landmark 'Born For A Purpose', which Johnny Rotten proclaimed an all-time favourite, John Holt came on heavy with 'Up Park Camp' and Ranking Trevor's deejay hits led to a contract with Virgin. These and other greats like Delroy Wilson, the Jays, Tappa Zukie and the Tamlins made the studio their second home and Sly and Robbie began cutting their Taxi productions there.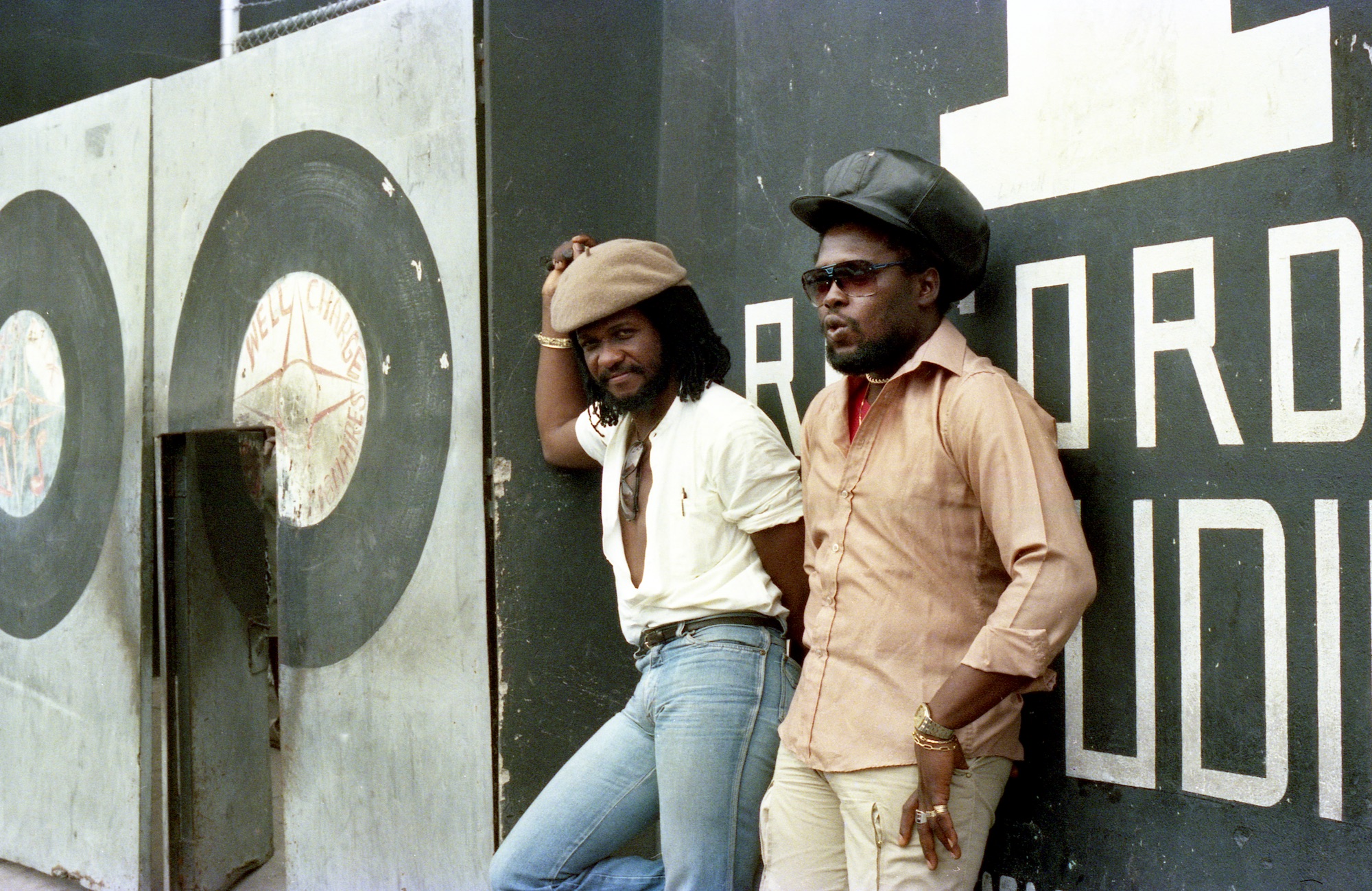 Sly & Robbie, 1984, (Photo: Beth Lesser)
Hoo-Kim said that the Channel One sound went through a process of evolution and emphasised that the deejay I Roy played an unseen part in the process, helping them to choose which Treasure Isle and Studio One classic rhythms to lick over. "We get I Roy to run a session for us and he would have picked the songs what we must version. He usually play sound and we figure that he knows the most popular rhythm that is being played in the dancehall. But we were new to recording at the time and we notice that 'Woman Is Like A Shadow' didn't sound too hot, and Horace Andy, 'Girl I Love You,' they weren't really hot, they were more high-pitched. So what comes after it was a little bit damper, like 'I Need A Roof,' a more tougher sound, where the instruments sound harder."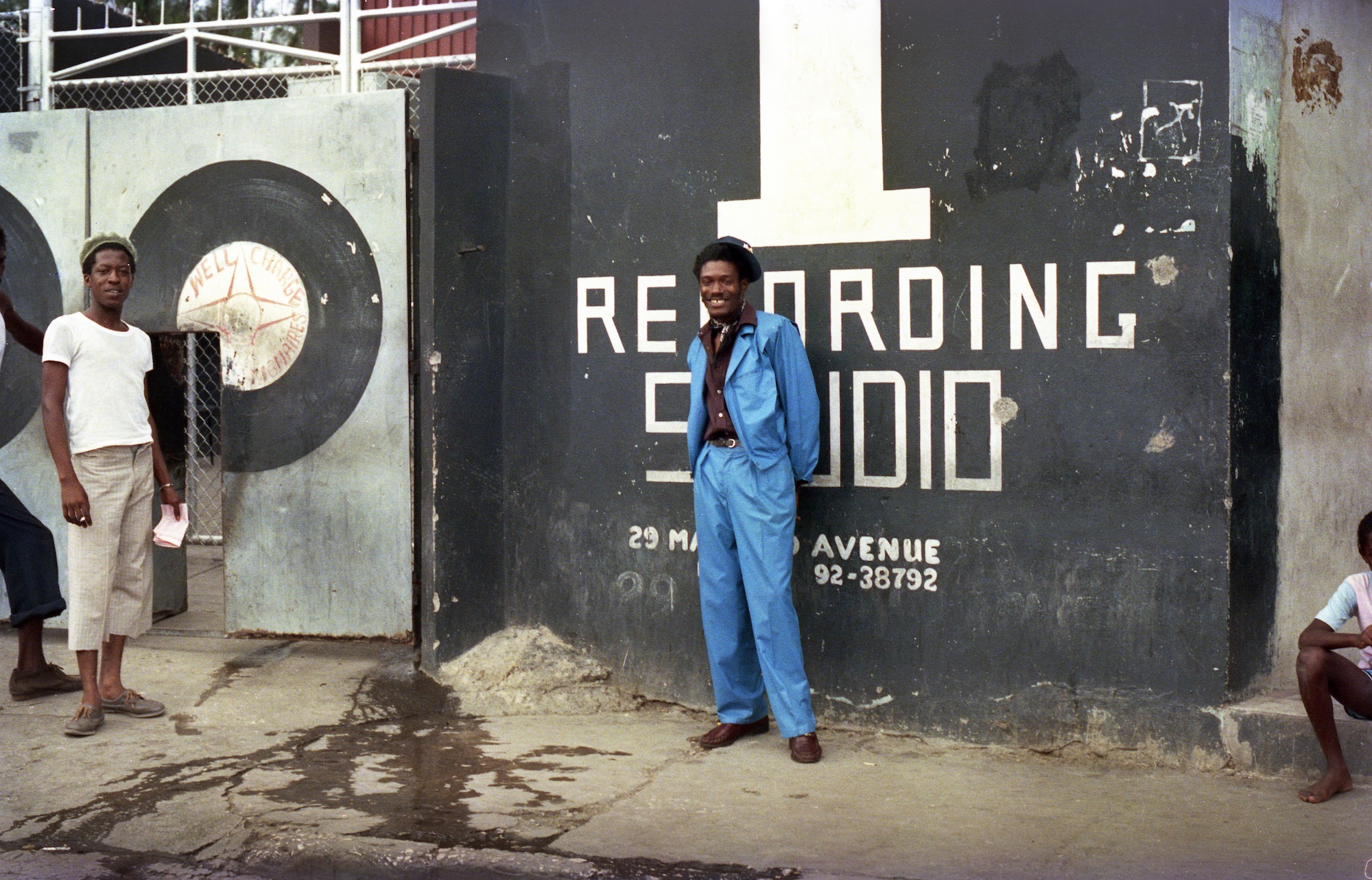 Horace Andy, 1984, (Photo: Beth Lesser)
Sly Dunbar was another key creative figure to influence the overall output through previously unheard rhythmic patterns, the Channel One drum sound being perhaps the most distinctive feature of all. "When we make 'Girl I Love You' and 'Call On Me,' the drum wasn't in our mind," Hoo-Kim reveals. "There wasn't no drums hardly in reggae music, period; you didn't hear no high-hat, you didn't hear no foot drum, you didn't hear no snare, you didn't hear all of that thing in no reggae tune, and we say it was missing, so we decided to feature the drum now, because the Americans was featuring the drum in funk. Sly would work for the day, just trying things out; we were experimenting and he was willing to go along with us, and you wouldn't get another drummer who would want to do that. He was very helpful in that way. And we tell him what to play, he didn't play what he wanted to play."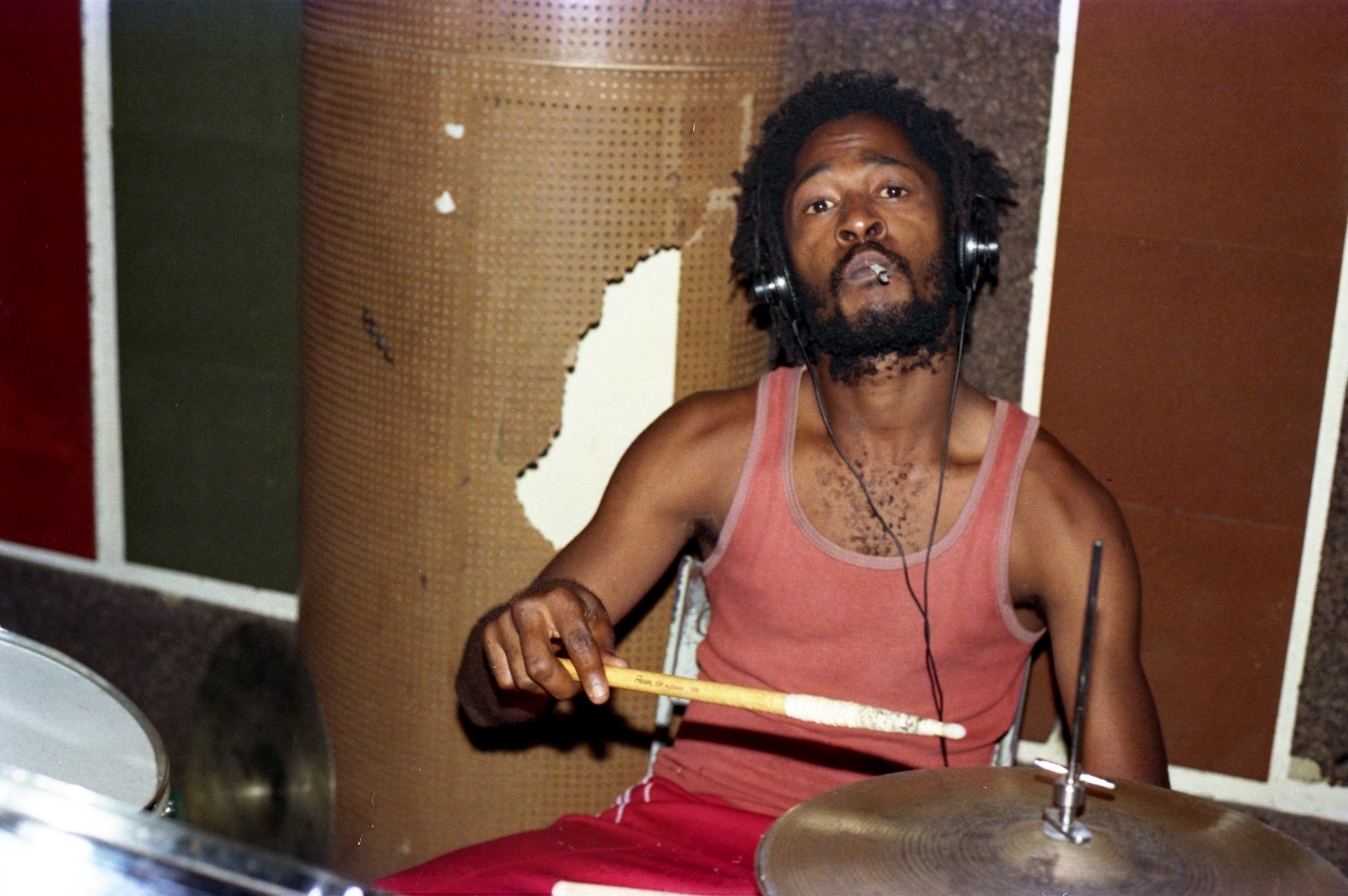 Barnabas, 1984, (Photo: Beth Lesser)
The resultant music was perfectly suited to dub, leading to a series of sublime albums that included Revolutionary Sounds, Revival Dub and Vital Dub, the latter handled overseas by Virgin. "Our dub albums, I'll say this over and over to everyone, Channel One is the only recording studio where a man will be sitting down, listening and all of a sudden, he jump up and say, 'Put it back!'" said Hoo-Kim proudly. "Barnabas, Chemist, Scientist, you name the engineers that work with Channel One, they don't mix a dub album like they are sitting down and pushing up slides, they are mixing like they are playing a keyboard, because their hands are all over the console, moving this, moving that, pushing off this switch, pushing the slide back down…no other console could have taken that abuse."
Hoo-Kim notes that several engineers got their start just from being around, rather than personal ability. "Barnabas live across the road from the studio; once they are interested, we are willing to give them a try. Maxie, Lancelot McKenzie, was Ernest's personal friend; he only take the voices, or he could just do a straight mix. Crucial Bunny was a straight mixer again too; he usually fix bikes round the bike shop. I would put Bunny and Maxie as the same type of engineer, but Bunny was a little flexible, not as aggressive a mixer."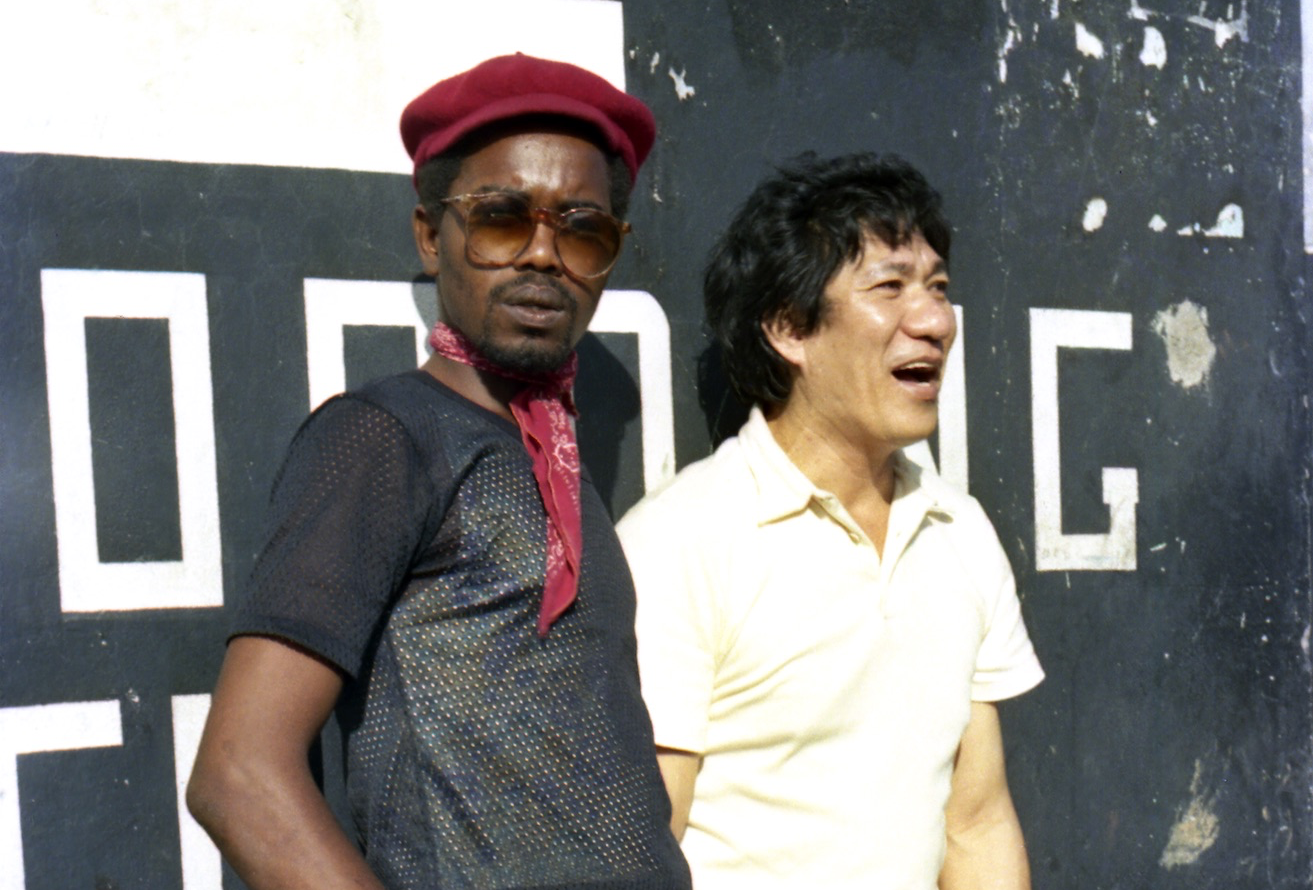 Joseph Hoo-Kim and George Wright, 1984, (Photo: Beth Lesser)
Even in the face of personal tragedy, the Channel One juggernaut rolled on. "What really get us down is when my brother Paul got killed in 1977," said Hoo-Kim, sadly. "It was a robbery, they rob him for his gun. They found out who did it, but no one would go and identify him and without a witness, you have problem. We was playing domino, three o'clock in the morning on the beach in Greenwich Town; he usually sell motorcycles and motorcycle parts from the same premises as the studio. That was the main thing why I came abroad, because Paul got killed, so we went to Brooklyn and opened J&L Records at Utica Avenue; J is for Joe-Joe and L is for a fellow by the name of Lowell."
Channel One pressing plant, 1984, (Photo: Beth Lesser)
Hoo-Kim went on to open a pressing plant in Long Island City in 1982 (which would later move to a larger space in Brooklyn), and though the J&L record shop closed the following year, the early 1980s saw a renaissance at Channel One in Jamaica, as Joe-Joe brought his brother Kenneth into the picture for a series of dancehall-oriented releases, expertly mixed by Scientist. And although the resultant material with artists such as Frankie Paul, Sugar Minott, Little John, Don Carlos and the Gladiators maintained the high standards of the past, it proved to be Channel One's swansong.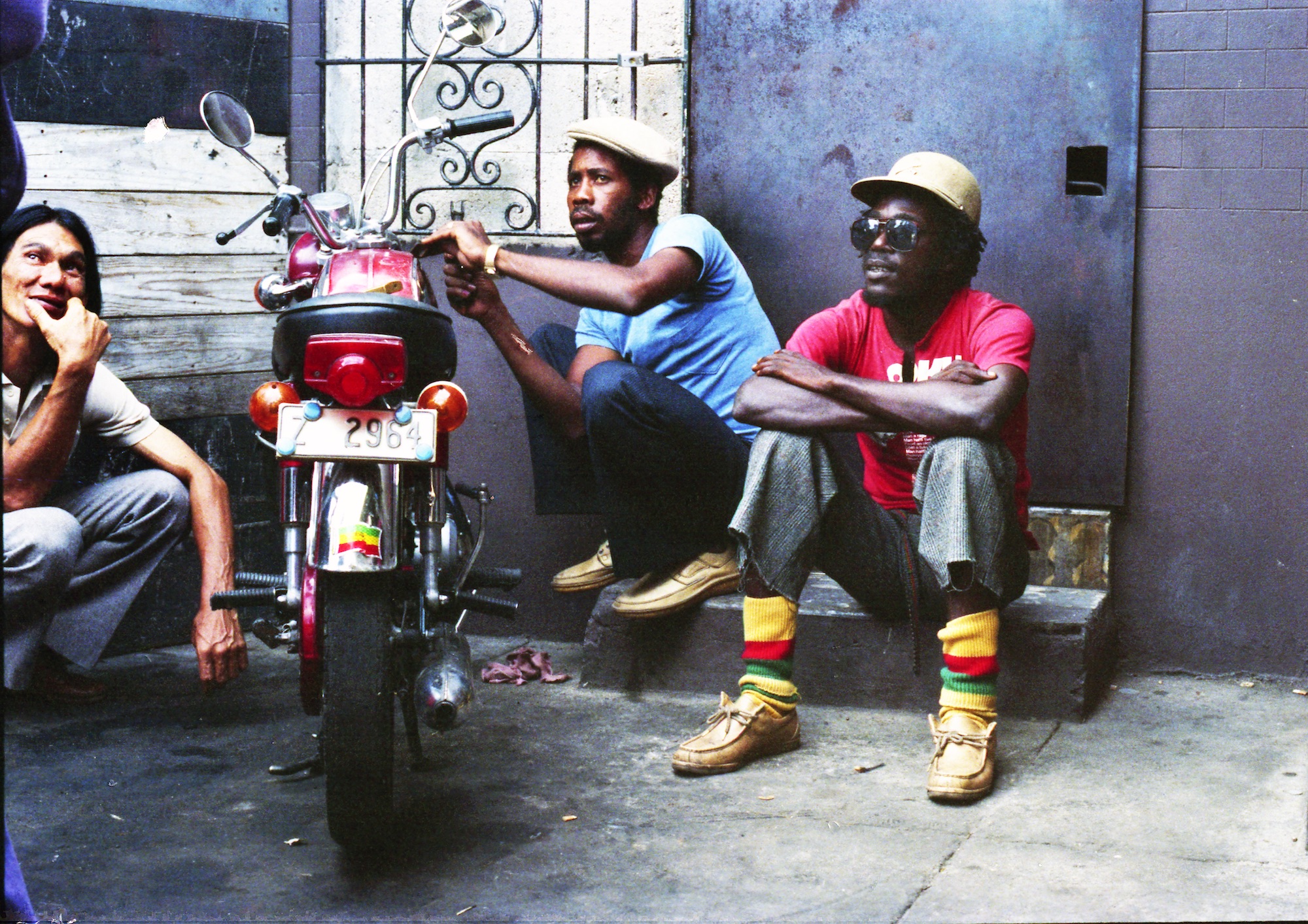 Kenneth Hoo-Kim and Frankie Jones at Channel One, 1984, (Photo: Beth Lesser)
As Hoo-Kim explained, "I bring in Kenneth in the business, the same time with Frankie Paul; Ernest couldn't take the confinement, being in the studio too much, so he begin to operate gambling machines again. After that, it begin to get down. When I stop, really, is when I and Kenneth didn't get along, and what really bother me too is, I didn't like computer. When the computer sound come in, I run one session with Sugar Minott and one with the Mighty Diamonds, but I didn't like one man playing a rhythm, and when we run the session, I say 'No,' because it was for love, it wasn't for money. That's why we can walk away."
Although Hoo-Kim continued to travel regularly to Jamaica to oversee his gambling machine enterprise, Channel One has lain dormant, the legendary facility an empty shell that has sometimes been squatted by homeless people. Hoo-Kim's death from liver cancer at the age of 75 underscores its absence, though the pedigree back catalogue lives on eternally.
Thank you to Beth Lesser for providing the wonderful photography for this feature. Visit her website to see more of her work.