Published on
February 6, 2014
Category
Features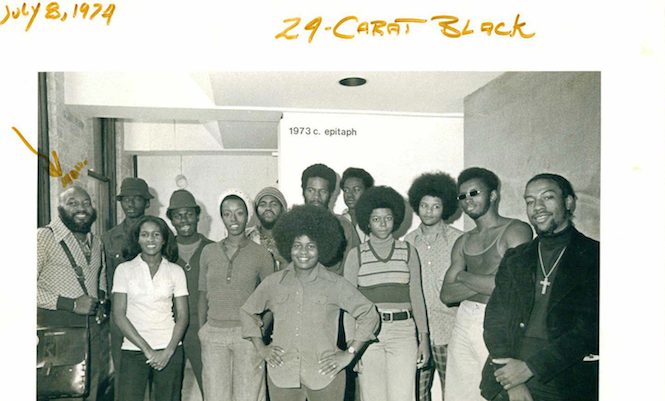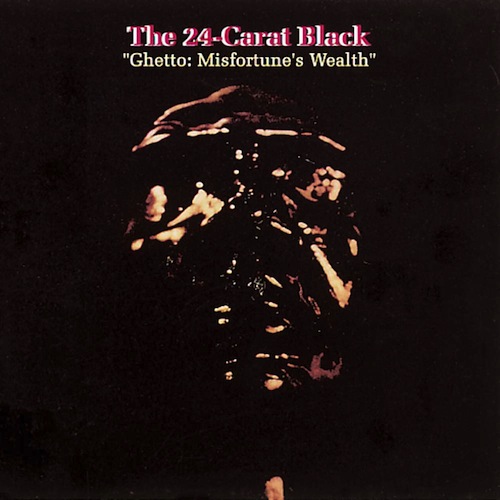 Having explored Zamrock band Witch's forgotten disco classic last week, our reissue review series turns to the United States for an in-depth look at The 24-Carat Black's seminal and deeply underrated Ghetto: Misfortune's Wealth, a concept album of sorts and holy grail for DJs and sample hunters finally available again via US imprint 4 Men With Beards.
---
Words: Theo Leanse
---
"Hey!" A female voice delivers spoken word, calm and measured. "What do our so-called leaders know" – the last syllable caught for a good couple of seconds in a rudimentary echo delay before continuing – "about the night? About our cold?" 'In The Ghetto' opens The 24-Carat Black's only album, Ghetto: Misfortune's Wealth, with a calm, powerful statement of the lived reality of the 1970s US inner city. Struggling to make sense of poverty, it's a showstopper from the start, composed simply of despairing vocals and a piano line as deliberately stirring as Angelo Badalamenti's most emotive moments. After firmly setting a tone for the album to come, it promptly fades into the brief joyful gospel of 'God Save The World', and an inescapable discord between the immediate hopelessness of one song and the intangible religious promise of the other.
This is the definitive record from Dale O. Warren, prolific string arranger and part of the extended family of the Motown founder Berry Gordy. With a classical conservatory training in the violin, his aunt Raynoma "Miss Ray" Gordy found him his first arrangement jobs during the early days of Motown, providing compositions for The Supremes' 60s material. By the 70s Warren's work had expanded, providing arrangement and production for a host of other Motor City labels before making a move to Memphis' Stax Records where he'd famously orchestrate Isaac Hayes' Walk On By. It was for Stax that Warren would deliver this album, in 1973 – moulding a Midwest group named The Ditalians in his own image to become, with a new name and an unprecedentedly sophisticated orchestral funk signature, The 24-Carat Black.
Ghetto: Misfortune's Wealth didn't sell well, probably too challenging and too heavily arranged for its own good, and has since acquired a revered status across diverse camps of fans, collectors, sample-hunters and DJs. It's sometimes referred to as a concept album, but – without disrespecting the history of concept albums – that can seem a bit of a glib and problematic tag for what is essentially a direct representation of racial and economic inequality. It may use a cohesive narrative, but it's a world away from Rick Wakeman's "The Six Wives Of Henry VIII".
The album is heavy on propulsive rhythm tracks, often ridden by Warren's keys and vibraphone in Jimmy Smith-friendly soul jazz performances, and detailed with woodwind parts and string quartets. The drum breaks, tight and intricate, have had a long-running appeal to producers that range from Eric B to Digable Planets. But it's within the landmark tracks on this album – the thirteen minutes of 'Poverty's Paradise' and the ten minutes of 'Mother's Day' – that The 24-Carat Black really announce themselves, dramatising in no uncertain terms the psychological and ideological violence involved in the political decisions that defined life in the inner city. Particular focus is given to the welfare state, which provides a timely reminder if you're a Channel 4 doc watcher. It's in these tracks that Warren uses his arrangements and production techniques most arrestingly to present the concepts and statements behind the album, and they've really got to be heard.
An archival issue of unreleased 24-Carat Black material back in 2009 – Gone: the Promises of Yesterday, released by Numero Group – was a welcome event for fans of the band's debut, but it couldn't really help but fall short of the standard and cohesiveness of Misfortune's Wealth. Then there's the bootleg press that's been doing the rounds, which only heightens the despair at the rarity of the original record. So San Francisco's 4 Men with Beards – who've previously rescued a heap of seriously essential titles from unavailability – do us all a fine service with this edition of a truly great record.
Ghetto: Misfortune's Wealth is out now on 4 Men With Beards. Click here for more info.