Published on
April 18, 2023
Category
Features
Get down early to the best in-store events happening this Saturday.
As part of our ongoing preparations for this year's Record Store Day on April 22, we're looking at five of the best in-store events happening this Saturday.
From Dash The Henge's South By South East extravaganza to the long-awaited return of Phonica Records' basement DJ sets, there's something happening on Saturday for every type of music fan.
Check out all of our Record Store Day 2023 coverage to date here.
---

Dash The Henge & The Old Dispensary
Address: 348 & 325 Camberwell New Road, London SE50TF
Doors: 9am at Dash The Henge, 12pm at The Old Dispensary
More details
Camberwell's Dash The Henge is celebrating its first Record Store Day by teaming up with The Old Dispensary for a two-pronged party called South By South East. From 9am, Dash The Henge will play host to a series of DJ sets from residents of Brixton Radio, Faith London, Rye Wax, Jumbi and more. Later in the day, The Old Dispensary will open its doors to a Resonance FM live broadcast with Dexter Bentley and live performances from Attawalpa, Azileli, Brian Destiny, Grupo Lokito, Kuntessa and SCUDFM. Food on the day will be served by Betty's Columbian Bakery.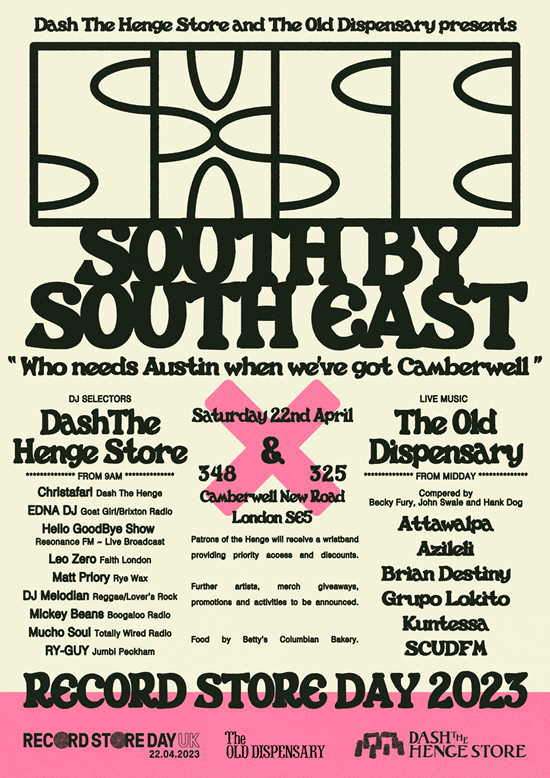 ---

Dreamhouse Records
Address: 177 Francis Road, London, E10 6NQ
Doors: 9am
More details
Dreamhouse Records in Leyton celebrates Record Store Day with a mix of DJ sets and live performances from Gold Panda, Snapped Ankles, Yama Warashi and MF Tomlinson. Gravity Well Brewing will provide the beers and the evening will offer a chance to show off your knowledge in Dreamhouse's Music Quiz.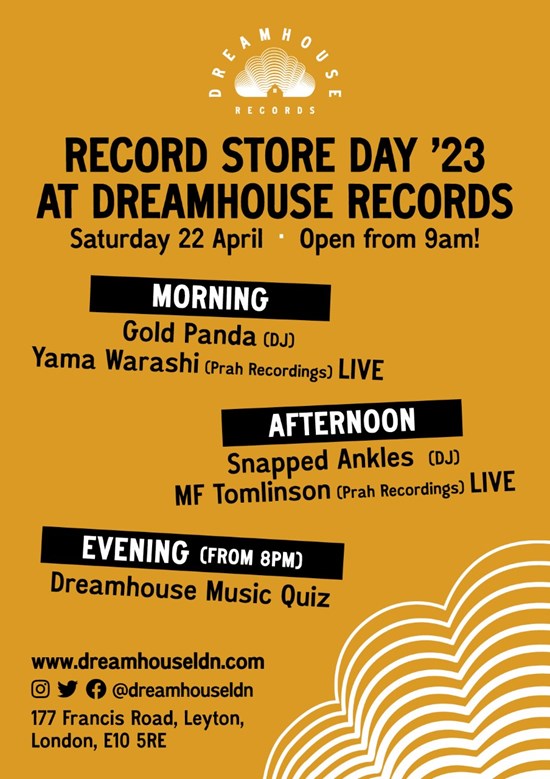 ---

Phonica Records
Address: 51 Poland Street, London, W1F7ND
Doors: 9am
More details
The folks at Phonica Records are back with another exciting Record Store Day event this year and have announced the long-awaited return of their basement party. As usual, Phonica's DJ line-up for the day is top-secret, but given the quality acts of years gone by, this will be one not to miss.
---

Resident Music
Address: 27-28 Kensington Gardens, Brighton, East Sussex, BN1 4AL
Doors: 8am
More details
Brighton's Resident Music is opening its doors bright and early for a packed day of performances, signings and competitions with Baby Queen, Heavenly Jukebox, Snapped Ankles and more. Resident's raffle offers chances to win a Technica LP60XUSB turntable, merchandise bundles and more while Red Bull will be on-hand to keep crate-diggers going.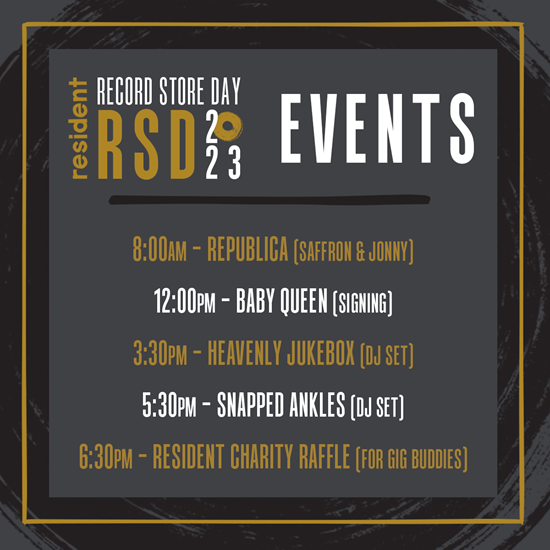 ---

Rough Trade East
Address: 91 Brick Lane, London, E1 6QL
Doors: 8am
More details
Rough Trade East will play host to a packed line-up including Oscar Lang, Unflirt, Lea Sen, Caitlin Rose, Songer, Liela Moss, dodie and tinyumbrellas in-st0re while their RSD pop-up will feature DJs all day from 2pm. Keep in mind, most of Rough Trade East's RSD releases will be housed in the pop-up, so head next door to get your limited releases.
Head here to see the full line-up of Record Store Day events happening across the UK.