Published on
June 11, 2021
Category
Features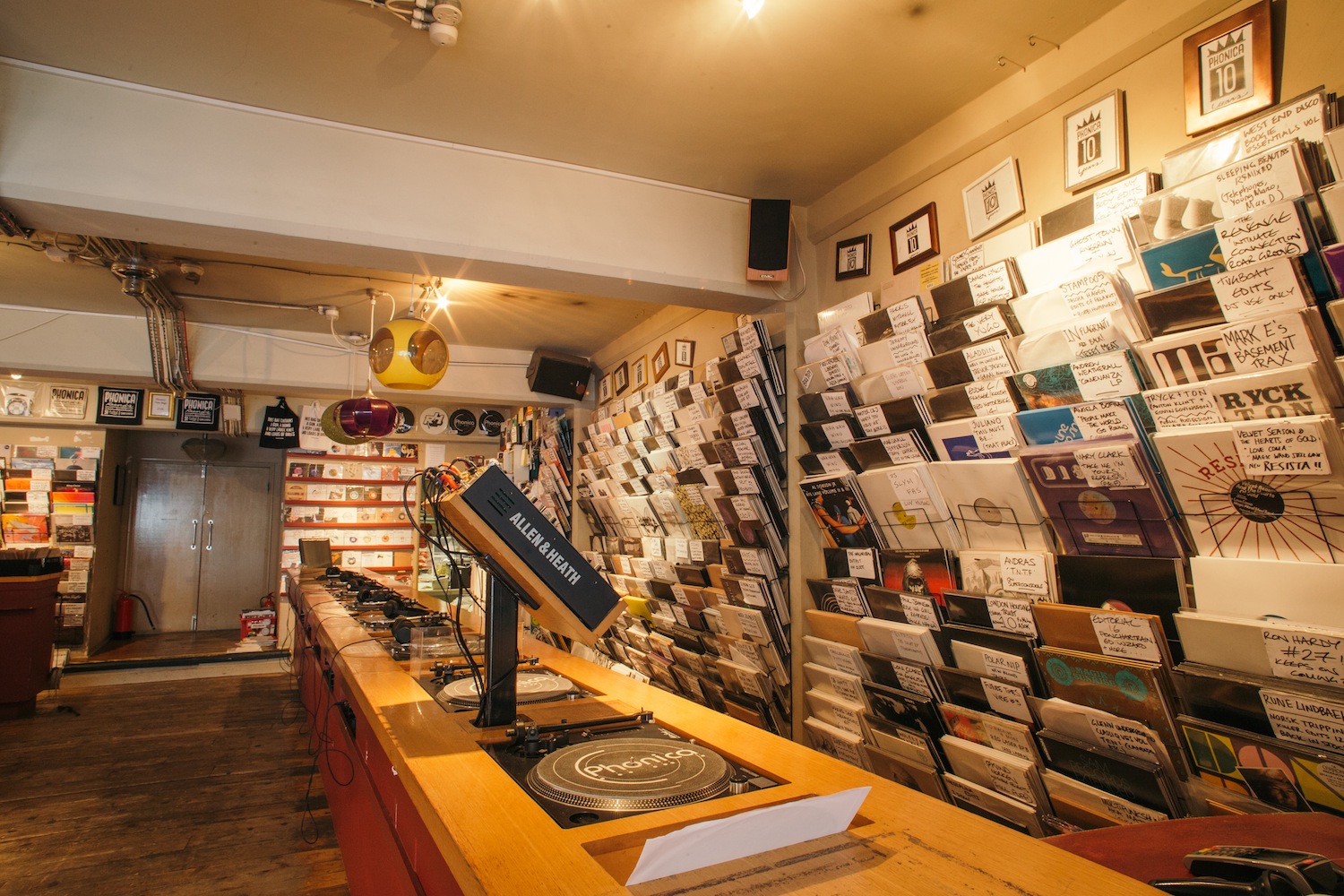 Support your local record shop.
Record Store Day 2021's first 'drop day' is nearly upon us – taking place on Saturday 12th June.
Read more: Record Store Day 2021 official releases
This year, 247 UK stores will be participating in the sonic festivities – from London to Glasgow to Truro to Newcastle and beyond.
Check out the list in full below, and head here to peruse the best vinyl releases on offer during Record Store Day 2021 'drop one'.
| | | |
| --- | --- | --- |
| Store Name | Address | City/Town |
| | | |
| Chameleon @ Holborn Hifi | 441 Holburn Street | Aberdeen |
| Maidinvinyl | 7 Rosemount Viaduct | Aberdeen |
| Red Robin | 13 Correction Wynd | Aberdeen |
| Andy's | 16 Northgate Street | Aberystwyth |
| Tasty Records | 25 Regent Road | Altringham |
| The Record Store Ltd | Unit 16 Park Mall | Ashford |
| Music in the Green | 2 Water Street | Bakewell |
| Strummer Room | F159 Cherwell Business Village, Southam Road | Banbury |
| Choons | 18 Central Avenue | Bangor |
| Diesel Records | Unit 8B Atlantic Trading Estate | Barry |
| Raven Retail | 74 Bromley Road | Beckenham |
| Slide Record Shop | 9 The Arcade | Bedford |
| Sable Starr Records | 22 Berry Street | Belfast |
| Beyond the Download | 5 Rose Street, Wokingham | Berks |
| Music's Not Dead | The Delawarr Pavilion, Marina | Bexhill |
| Slipped Discs | 57-59 High Street | Billericay |
| Five Rise Records | 30c Park Road | Bingley |
| Ignite Record Store | 110-114 Corporation Street | Birmingham |
| Polar Bear | 10 York Road, Kings Heath | Birmingham |
| Swordfish | 66 Dalton Street | Birmingham |
| X Records | 44 Bridge Street | Bolton |
| The Vault | 88 Old Christchurch Road | Bournemouth |
| Vinilo Record Store | 827 Christchurch Road, Pokesdown | Bournemouth |
| Grind & Groove | 59B Cavendish Street, Keighley | Bradford |
| The Record Cafe | 45-47 North Parade | Bradford |
| Blast Music & Comics | 64a High Street | Braintree |
| Bella Union | 13 Ship Street Gardens | Brighton |
| Cult Hero | 16 Brighton Place | Brighton |
| Rarekind Records | 104 Trafalgar Street | Brighton |
| Resident | 27-28 Kensington Gardens, North Laine | Brighton |
| Friendly | 57-59 North Street | Bristol |
| Rough Trade Bristol | 3 New Bridewell, Nelson Street | Bristol |
| Specialist Subject | First Floor Exchange, 72-73 Old Market Street | Bristol |
| The Record Shop Ltd | 37 Hill Avenue, Amersham | Bucks |
| Astonishing Sounds | 3 Hall Street | Burnley |
| Electron Records | 2 Hall Street | Burnley |
| Wax & Beans | 16 Market Street | Bury |
| Vinyl Hunter | 56 Johns Street | |
| The Rock Box | 34 Obelisk Way, The Square Shopping Centre | Camberley |
| Lost in Vinyl | 14 Magdalene Street | Cambridge |
| Relevant Records | 260 Mill Road | Cambridge |
| Vinylstore Jr | 20 Castle Street | Canterbury |
| Flipside | 64a Glenroy Street | Cardiff |
| Spillers Records | 27 The Morgan Arcade | Cardiff |
| Tangled Parrot | 15 Bridge Street | Carmarthen |
| Intense Records | 33/34 Viaduct Road | Chelmsford |
| Badlands | 11 St Georges Place | Cheltenham |
| Stutter & Twitch | 11 George Street, Altrincham | Cheshire |
| Up North Records | 19 St Werburgh St | Chester |
| Analogue October | 19a South Street | Chichester |
| Malcolms Musicland | The Baptist Chapel, Chapel Street | Chorley |
| The Vault | 1 Castle Street | Christchurch |
| Forest Vinyl | 24 Forest Vale Road | Cinderford |
| The Music Store/Ceritech Audio | Drake House, 1 Pavillion Business Park | Cinderford |
| Store Name | Address | City/Town |
| Music Mania Essex | 18 High Street | Clacton on sea |
| Townsend Records | 18 Moor Lanee | Clitheroe |
| Fairhill Records | 5 Hill Street, Ballemena | Co.Antrim |
| Vinyl Hunter | Allens Farm Barn, Tye Road | Colchester |
| Bending Sound | 59 High Street, Bangor | County Down |
| Frank Harvey Hi Fi | 163 Spon Street | Coventry |
| Just Dropped In | Unit 2d Fargo Village, Far Gosford Street | Coventry |
| Reggaemasters | 55 Frith Road | Croydon |
| TNT Records | 86 Duke Street, Barrow in Furness | Cumbria |
| Vinyl Cafe Carlisle | 44 Abbey Street, Carlisle | Cumbria |
| Smugglers Records | 9 King Street | Deal |
| Tallbird | 10 Soresby Street, Chesterfield | Derbyshire |
| Cool Discs Music | 6 Lesley House, Foyle Street | Derry |
| Drift | 103 High Street, Totnes | Devon |
| Martian | Unit 13 Exmouth Indoor Market, 12 The Strand | Devon |
| The Music Room @ Bookstop | 3 Market Street, Tavistock | Devon |
| Bridport Music Centre | 33a South Street, Bridport | Dorset |
| Clocktower Music Bridport | 10a St Michaels Estate, Bridport | Dorset |
| Square Records | 73 High Street, Wimborne Minster | Dorset |
| S.T Records | 165 Wolverhampton Street | Dudley |
| Assai | 33 Union Street | Dundee |
| Le Freak Records | 159 Perth Road | Dundee |
| Thirteen Records | 13 Union Street | Dundee |
| Cloth & Wax | 48 Marina, St Leonards on Sea | East Sussex |
| Bug Vinyl Records | 11 Ladygate, Beverley | East Yorkshire |
| The Vinyl Frontier | 35 Grove Road | Eastbourne |
| Assai | 1 Grindlay Street | Edinburgh |
| Avalanche | Waverley Mall, 3 Waverley Bridge | Edinburgh |
| Underground Solu'shun | 9 Cockburn Street | Edinburgh |
| Voxbox | 21 Stephen Street | Edinburgh |
| Jam Records | 32 High Street | Falmouth |
| Heathen Chemistry | 186D West Street | Fareham |
| 101 Collectors Records | 101 West Street | Farnham |
| Creekside | 3 Market Street | Faversham |
| Vinyl on Deck (VOD) | 28 New Street, Mold | Flintshire |
| Vintage & Vinyl | 57 The Old High Street | Folkestone |
| Chameleon @ Glasgow Audio | 88 Great Western Road | Glasgow |
| Love Music Glasgow | 34 Dundas Street | Glasgow |
| Mixed Up Records | 18 Otago Lane | Glasgow |
| Monorail Music | 12 Kings Court, 97 King Street | Glasgow |
| Mostly Vinyl Micky | 197 Gallowgate | Glasgow |
| Some Great Reward | 520 Victoria Road | Glasgow |
| Strip Joint Records | 956 Argyle Street, Finnieston | Glasgow |
| Trading Post Records | 26 Kendrick Street, Stroud | Gloucestershire |
| KMRIA Records Ltd T/A Record Corner | Pound Lane | Godalming |
| A Slice of Vinyl | 8 South Street, Gosport | Gosport |
| Carnival Records | 83 Church Street | Great Malvern |
| Replay Records | 62-64 Freeman Street | Grimsby |
| Vinyl Vaughan | 41 Commercial Arcade, St Peter Port | Guernsey |
| The Vault Collective Ltd | 34 Bethcar Street, Ebbw Vale | Gwent |
| Loafers Vinyl & Coffee | AE3 The Piece Hall | Halifax |
| Revo Records | 26 Westgate | Halifax |
| Global groove | 13 Bucknall New Road | Hanley |
| Reflex Folio | 2 Marmion Street, Southsea | Hants |
| P&C Music | 6 Devonshire Place, Skipton Road | Harrogate |
| Tangled Parrot | 2 Lion Street, Hay-on-Wye | Hereford |
| Empire Records | 21 Heritage Close, St Albans | Herts |
| Vinyl Tap | 42 John William Street | Huddersfield |
| Out of the Attic | 13 Paragon Arcade | Hull |
| Wrecking Ball | 15 Whitefriargate | Hull |
| Sound Records IOM | 9-11 Duke Street, Douglas | Isle of Man |
| Ventnor Exchange | 11 Church Street, Ventnor | Isle of Wight |
| Seedee Jons | 47 Halkett Place, St Helier | Jersey |
| Banquet | 52 Eden Street | Kingston |
| Townsend Records | 30 Queen Street, Great Harwood | Lancashire |
| Head Records | Unit 5, 8 Lower Mall, Royal Priors Shopping Centre | Leamington Spa |
| Seismic | 44-46 Warwick Street, The Neighbourhood | Leamington Spa |
| Crash Records | 35 The Headrow | Leeds |
| Jumbo Records | 1-3 Merrion Centre | Leeds |
| Released Records | 15/16 The Corn Exchange, Call Ln | Leeds |
| The Vinyl Whistle | 12 Otley Road, Headingley | Leeds |
| Fives Records | 103 Broadway | Leigh on Sea |
| Black Circle Records | 2 Roebuck Mews, 2a Hockliffe Street | |
| David's | 12 Eastcheap | Letchworth |
| Union | 1 Lansdown Place | Lewes |
| Off the Beaten Track | 36 Aswell Street, Louth | Lincolnshire |
| 81 Renshaw | 81 Renshaw Street | Liverpool |
| Defend Vinyl | 395 Smithdown Road | Liverpool |
| Jacaranda Records | 21-23 Slater Street | Liverpool |
| Jacaranda Records | 40 Seel Street | Liverpool |
| Probe | Retail Unit 1 The Bluecoat, School Lane | Liverpool |
| The Musical Box | 457 West Derby Road, Tuebrook | Liverpool |
| Audio Gold | 308-310 Park Road | London |
| Casbah Records | 320-32 Creek Road | London |
| Container Records | 501 Pop Brixton, 49 Brixton Station Road | London |
| Flashback Records | 50 Essex Road | London |
| Flashback Records | 131 Bethnal Green Road | London |
| Flashback Records | 144 Crouch Hill | London |
| Honest Jon's | Unit 115 Lowerstable Street | London |
| Honest Jons | 278 Portobello Road | London |
| Les Aldrich | 98 Fortis Green Road, Muswell Hill | London |
| Let it Roll | 121 Kentish Town Road | London |
| Level Crossing Records | 49 Sheen Lane, East Sheen | London |
| Lion Coffee & Records | 118A Lower Clapton Road | London |
| Lionvibes | 98 Granville Arcade, Brixton Village | London |
| Phonica Records | 51 Poland Street | London |
| Pure Vinyl Brixton | 246 Ferndale Road, Brixton | London |
| Reckless Records | 30 Berwick Street | London |
| Rough Trade East | Old Truman Brewery, 91 Brick Lane | London |
| Rough Trade West | 130 Talbot Rd, Notting Hill | London |
| Sister Ray | 75 Berwick Street | London |
| Soul Brother | 1 Keswick Road, Putney | London |
| Sounds of the Universe | 7 Broadwick Street | London |
| Stranger than Paradise | Mare Street Market, 117 Mare Street | London |
| The Book & Record Bar | 20 Norwood High Street | London |
| The Flood Gallery LLP | 8 Greenwich Market | London |
| Vinyl Hunter | Unit D Industrial Estate, Juno Way | London |
| World of Echo | 128 Colombia Road | London |
| Black Star Records | 46 High Street | Lyndhurst |
| Piccadilly Records | 53 Oldham Street | Manchester |
| Vinyl Exchange | 18 Oldham Street | Manchester |
| Vinyl Revival | 5 Hilton Street | Manchester |
| Wilderness | 9 Egerton Crescent | Manchester |
| Winyl | 16 South Street | Manningtee |
| Elsewhere | 21-22 The Centre | Margate |
| Transmission | 105 Northdown Road | Margate |
| Sound Knowledge | 22 Hughenden Yard | Marlborough |
| Quicksilver Music | 24 Market Street, Southport | Merseyside |
| Mo'Fidelity | 126 Murray Street | Montrose |
| Discovery Music | 7 Litchdon Street, Barnstaple | N.Devon |
| Vinyl Attraction | 6-8 Carter Gate | Newark |
| Beatdown | Basement Unit 1 Clarendon House, Berwick Street | Newcastle |
| Reflex | 23 Nun Street | Newcastle |
| Beyond Vinyl | 88 Westgate Road | |
| J G Windows | 1-7 Central Arcade | |
| RPM Music | 4 Old George Yard | |
| Vinyl Guru | 69 Westgate Road | |
| Diverse Vinyl | 10 Charles Street | Newport |
| Phoenix Sound | Unit 6 Pearl Assurance House, Queen Street | Newton Abbot |
| Spun out | 57 Gold Street | Northampton |
| Soundclash | 28 St Benedicts Street | Norwich |
| Venus Vinyl | 136 Magdalen Street | Norwich |
| Rough Trade Nottingham | 5 Broad Street | Nottingham |
| Vinyl Lounge | 4 Regent Street, Mansfield | Nottingham |
| Vinyl Underground | 2nd Floor Watts, 80 Abingdon Street | Nottingham |
| Grooves | The Old Library, 18 Laing Street | Orkney |
| The Orpington | 161 High Street | Orpington |
| Truck Store | 101 Cowley Road | Oxford |
| Rapture | Unit 12 Woolgate Centre, Witney | Oxon |
| Peckham Soul | Bussey Building, 133 Rye Lane | Peckham |
| Concorde | 15 Scott Street | Perth |
| Boiler Room Records | 7 High Street | Poole |
| Action Records | 46 Church Street | Preston |
| Sleeve Notes Records | 16 Richmond Hill | Richmond |
| Hundred Records | 47 The Hundred, Romsey | Romsey |
| Record Revivals | 6 Northway | Scarborough |
| Olaf's Record Store | 59 London Road | Sevenoaks |
| Bear Tree Records | Unit 13-16 The Forum, 127 Devonshire Street | Sheffield |
| Music Junkee/Record Junkee | 7 Earl Street | Sheffield |
| Record Collector | 233 Fulwood Road | Sheffield |
| Spinning Discs Sheffield | 107-109 Chesterfield Road, Meersbook | Sheffield |
| Wax at Moorgate | 643 Chesterfield Road | Sheffield |
| Left for Dead | 14 Wyle Cop | Shrewsbury |
| Tubeway | LRU6 The Collective, Charles Darwin Shopping Centre | Shrewsbury |
| Raves from the grave | 2-3 King Street, Frome | Somerset |
| Overdraft | 383 Shirley Road | Southampton |
| Vinilo Record Store | 55 Queensway | Southampton |
| South Record Shop | 22a Queens Road | Southend |
| Pie & Vinyl | 59-61 Castle Road | Southsea |
| Museum Vinyl | 15 Trinity Street | St Austell |
| Kaleidoscope | 30 Westfield Street | St Helens |
| The Vinyl Revival Store | 3 Church Street, Buckden | St Neots |
| Europa Music | 10 Friars Street | Stirling |
| Sound it out records | 15a Yarm Street | |
| Music Mania | 3-6 Piccadilly Arcade, Hanley | Stoke on Trent |
| Rubber Soul Records | 19 Marsh Street South, Hanley | Stoke on Trent |
| Strand Records | 15 The Strand, Longton | Stoke-on-trent |
| Fish Records | Crown Courtyard, Crown Street | Stone |
| Sound Records | 31 High Street | Stroud |
| Hot Rats Records | 38 Stockton Road | Sunderland |
| Union c/o Soundlounge | 216-220 High Street | Sutton |
| Derricks Music | 221 OXFORD STREET | Swansea |
| Tangled Parrot | 222 High Street | Swansea |
| Red House Records | 21-23 Faingdon Road | Swindon |
| Roan Records | 12 Church Road | Teddington |
| Music Nostalgia | Unit 2 Tinners Court, Back Quay | Truro |
| Eel Pie Records | 44-45 Church Street | Twickenham |
| Crazy Beat | 87 Corbets Tey Road | Upminster |
| Estuary | 5 Pormorla Road | Wadebridge |
| Wah Wah Records | 15 Brook Street | Wakefield |
| Eclipse | 4 Victorian Arcade | Walsall |
| Revolution Records | 16 Park Place Shopping Centre | Walsall |
| The LP Cafe | 173 The Parade | Watford |
| Cruisin Records | 132 High Street | Welling |
| Gatefield Sounds | 70 High Street | Whitstable |
| Adrians | 36/38 High Street | Wickford |
| Elephant | 8 Kings Walk | Winchester |
| Electric Church Records | Birtwhistle Buildings, Over Square | Winsford |
| Oldies | 89 Darlington Street | Wolverhampton |
| Vinyl & Vintage | 5-6 Cleveland Court, Cleveland Street | Wolverhampton |
| Moonlight Records | 27 Bridge Street | Wrexham |
| Earworm | 1 Powells Yard, Goodramgate | York |
| Vinyl Eddie | 86 Tadcaster Road | York |