Published on
February 7, 2018
Category
Features
Record sleeves have been home to some of the most radical and important fashion statements in popular culture. Here are 11 that captured the style and changed the game in the process.
Musicians sometimes seek to distance themselves from fashion. If music is to be sincere and meaningful then fashion can be seen as a surface preoccupation. Fashion is perceived as hyper-transitory, and styles can quickly become passé. This goes hand-in-hand with its framing as frivolous and fickle; it doesn't last.
But it's this temporality which makes it such an acute register of the contemporary. Fashion is constantly being refreshed, updated, overhauled; like a richter scale of changing tastes. At its best it's a tool both for reading the present and for destabilising norms, just like music. Take punk, perhaps the purest synthesis of fashion and music, the clothes of Vivienne Westwood's Sex shop are as inseparable from the movement as the Sex Pistols' music. David Bowie, Prince, Grace Jones, Madonna, Björk, Solange all had, and have, great style.
Sleeve artwork is one of the best encapsulations of this intersection, a space where artists can signify their visual identity. What follows is a look at the ways in which fashion has expressed the political, cultural and economic zeitgeist, through movements like Afrofuturism, Buffalo and UK Garage. In some cases the sleeves are a reflection of a broader aesthetic, while in others the artists have been instrumental in creating a new movement.
---
David Bowie
The Man Who Sold the World
(Mercury, 1970)
Keith McMillan shot a languid Bowie in a Mr Fish 'man dress' for this banned version of the album cover. It perfectly captures Bowie's psychedelic androgyny: the willingness to challenge gender conventions that made his – and later Prince's – style so vital and original. The '60s and '70s were pivotal for men's dressing, and the 'Peacock Revolution' brought a renewed awareness that men could partake in fashion, with a rise in decorative clothes and the founding of menswear courses. Mr Fish's Mayfair shop was a must for this new generation of dandys – think loud suits, floral ties, frilled shirts and, of course, dresses.
---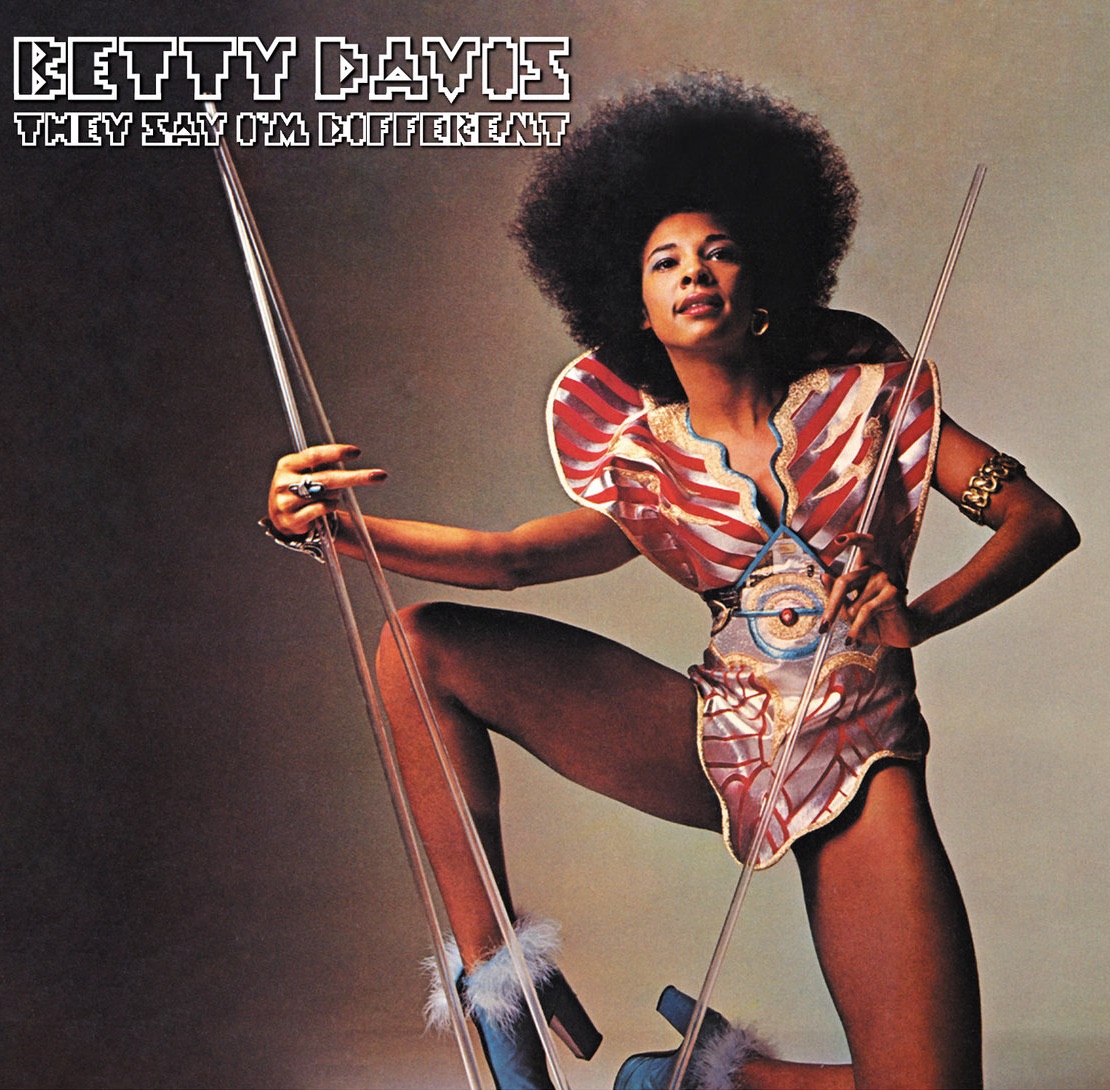 Betty Davis
They Say I'm Different
(Just Sunshine Records, 1974)
Space Age prophet Sun Ra, draped in a shimmering yellow overlay and crowned with a gold headdress, is the defining image of Afrofuturism. But the movement inspired a whole line of radical garments and interstellar styles – from the extraterrestrial mythoi of P-Funk and Black Panther comic strips, to the canvases of Jean-Michel Basquiat and Janelle Monáe's Metropolis-inspired alter-ego. This Betty Davis record sleeve, designed by Ron Levine and art directed by Bill Levy, is Afrofuturist fashion at its best – the fluffy platform boots, gold arm cuffs and red and silver spacesuit present a particularly '70s vision of the future.
---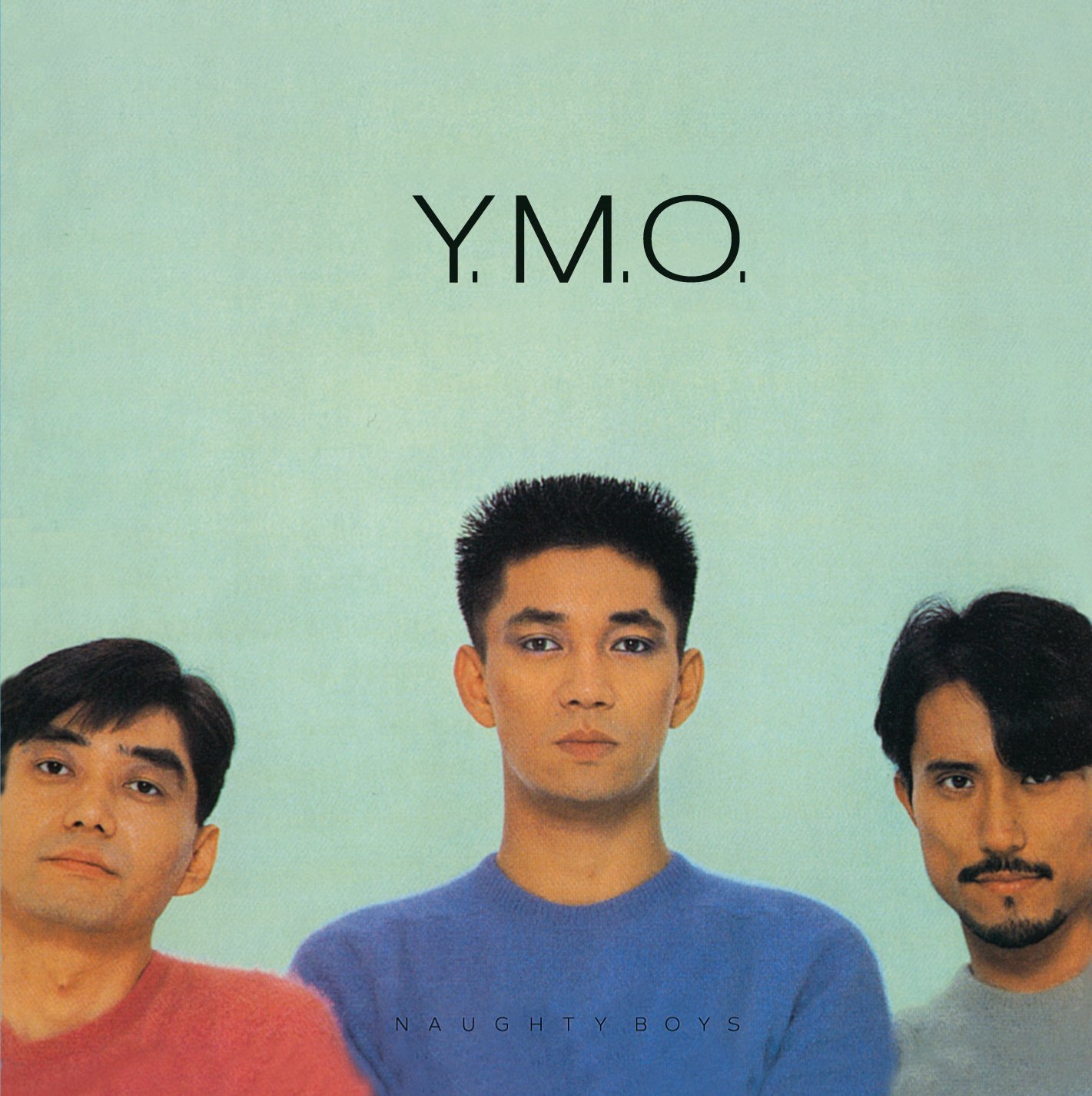 Yellow Magic Orchestra
Naughty Boys
(Alfa, 1978)
Yellow Magic Orchestra are well-known for their influence on joyous techno, hip-hop and R&B, and their explorations of exoticism and Japanese stereotypes. There's been too little attention, though, on their immaculate and enduring aesthetic, and in particular on the style of Ryuichi Sakamoto. Masayoshi Sukita, a photographer best known for working with Bowie for over 40 years and taking the cover of Heroes, shot this cover. The clean pastel hues and touches of makeup are a clear visual influence on the New Romantics of the '80s.
---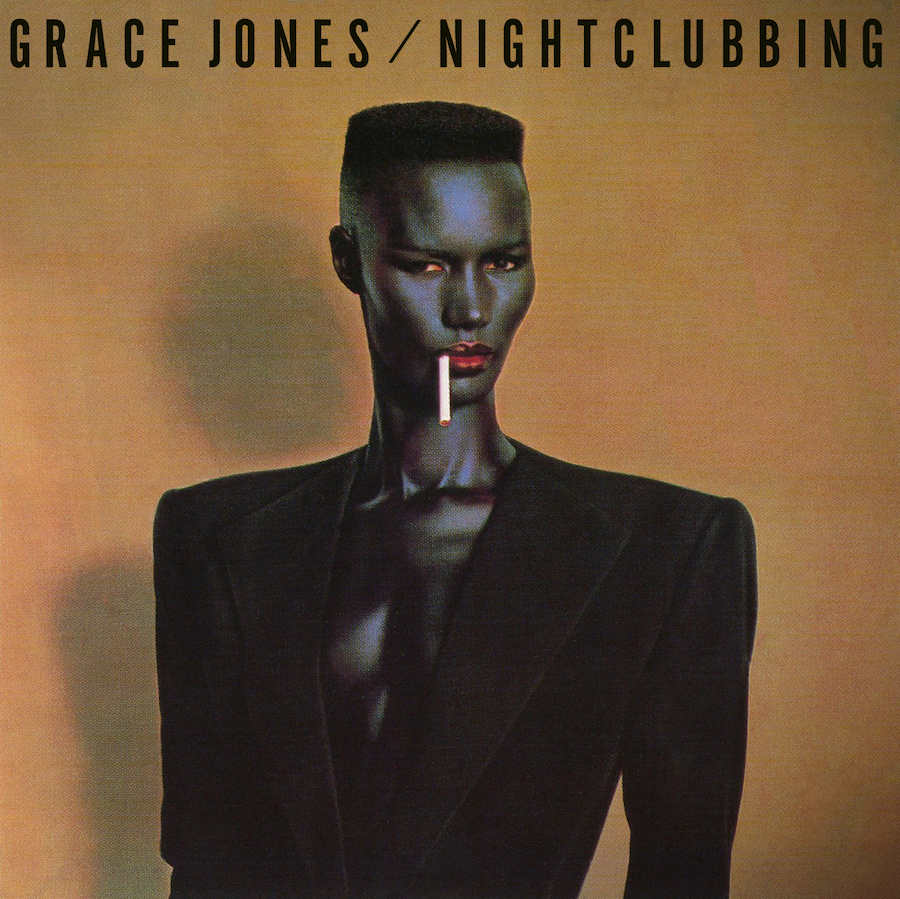 Grace Jones
Nightclubbing
(Island, 1981)
The Studio 54 aficionada who started her career as a model and acted as muse to Issey Miyake, Jean Paul Gaultier, Andy Warhol and Jean Paul Goude (who shot this cover), Grace Jones only makes iconic record sleeves. She of course understood, like David Byrne and Laurie Anderson, the importance of a statement suit. The rigidly angular profile of this Armani mens suit, at a time when Armani was casting off shoulder pads and moving towards a softer silhouette, makes this more subtly interesting than just a woman in a man's suit.
---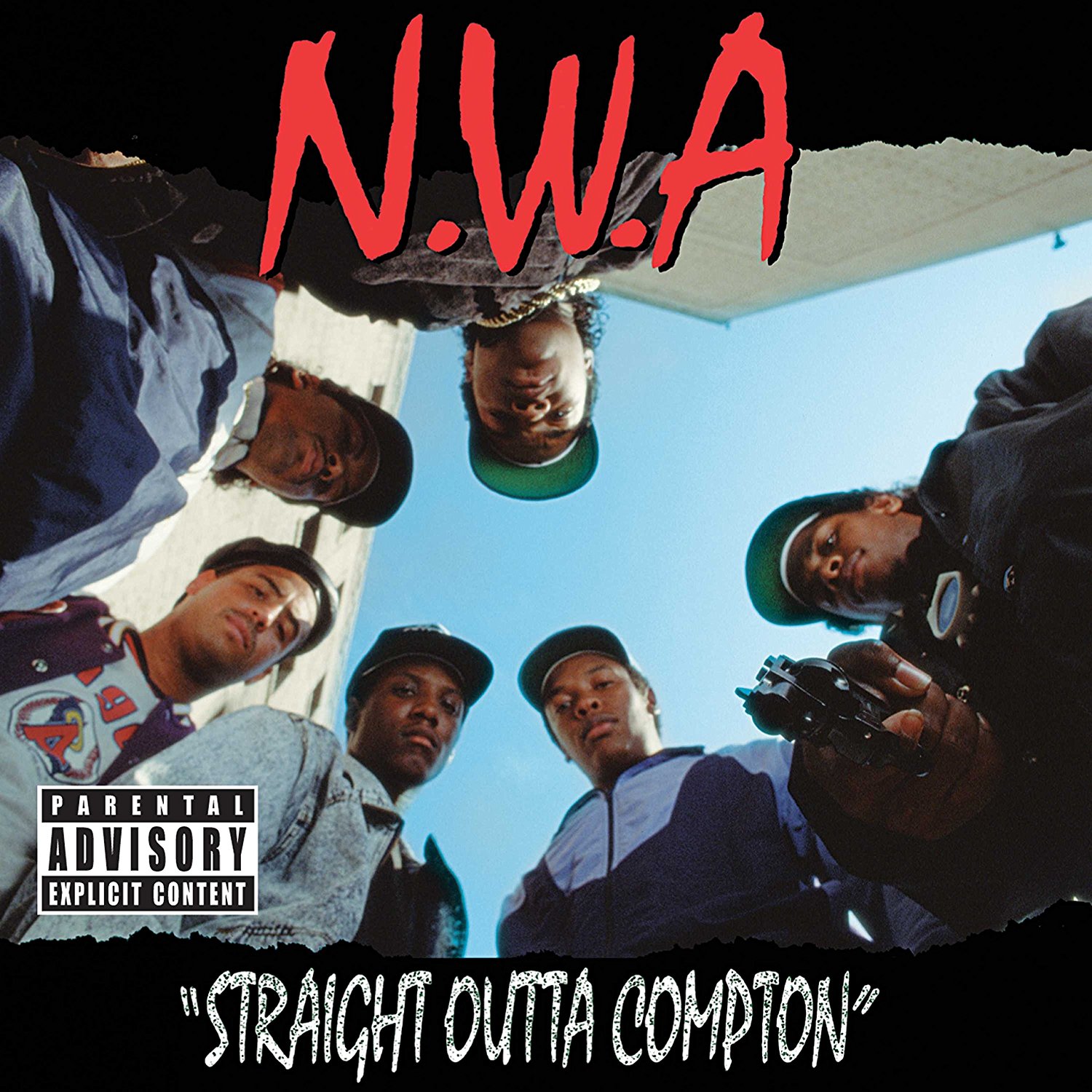 N.W.A.
Straight Outta Compton
(Ruthless, 1988)
Gangsta rap has become one of hip-hop's most explosive subgenres. But there's an uneasy line between credibility and success; is it possible to remain hood while topping the charts? Fashion plays its part in creating and maintaining authenticity, as a scan of the record sleeves and clothing lines of different hip-hop outfits testifies (special mention for Wu Wear). N.W.A., the forefathers of the scene, distilled the reality of street life in south-central LA into this breakout album cover. It's easy to see why the photo was provocative and controversial, but gun aside, it has an un-staged quality that can only really come from inexperience. Like the music, the snapbacks, football jackets and T-shirts on show here present the group at their rawest.
---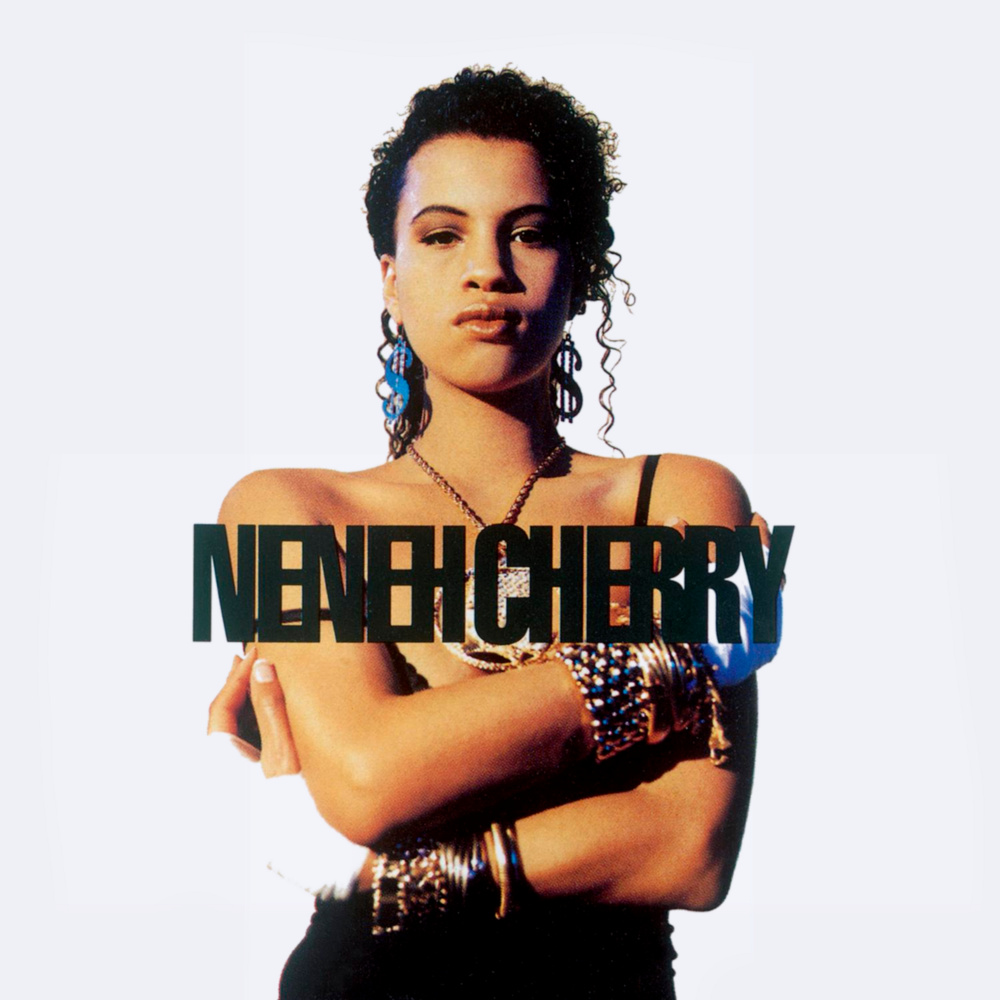 Neneh Cherry
Raw Like Sushi
(Virgin, 1989)
A movement manufactured by stylist Ray Petri, Buffalo (as in 'Buffalo Stance') was a collective of musicians, artists and stylists including Judy Blame, Mark Lebon and Jean-Baptiste Mondino (who shot this cover). Its members had eclectic backgrounds; Cherry's childhood was split between London, Sweden and New York, and Petri grew up in Scotland, then Australia, and travelled in India and Africa. This resulted in a style that was strikingly inventive, combining disparate cultural influences into what Petri called 'non-fashion'. Buffalo dressing paired kilts, feathers, military wear, and elaborate jewellery with sports- and streetwear items like Dr Martens. It filtered down to the catwalks in the collections of Jean Paul Gaultier and Yohji Yamamoto.
---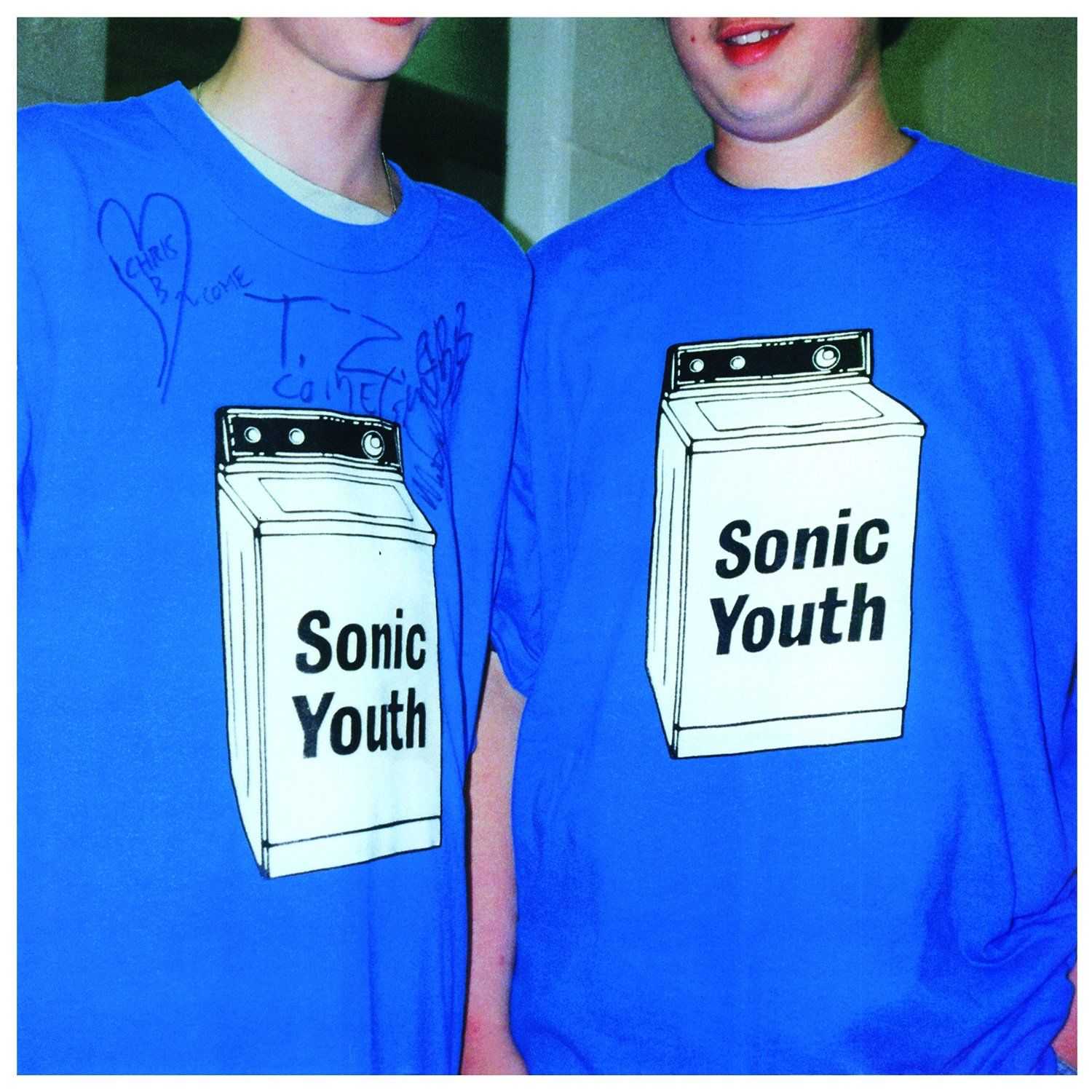 Sonic Youth
Washing Machine
(Geffen, 1995)
Taken by Kim Gordon, this cover photo of two fans wearing band merchandise at a Sonic Youth gig encapsulates the key elements of '90s alternative fashion. Above all this was a DIY movement, with a tension between being anti-mainstream and anti-fashion, while simultaneously affiliating to a scene through clothing. Gordon's X-girl clothing line, co-designed with stylist Daisy von Furth, held a special place in downtown New York, with its own store and guerrilla fashion shows. The clothes – slip dresses, mini-skirts and T-Shirts – sat somewhere between grunge, rave and preppy, and were worn by it-girls like Chloe Sevigny and Sofia Coppola.
---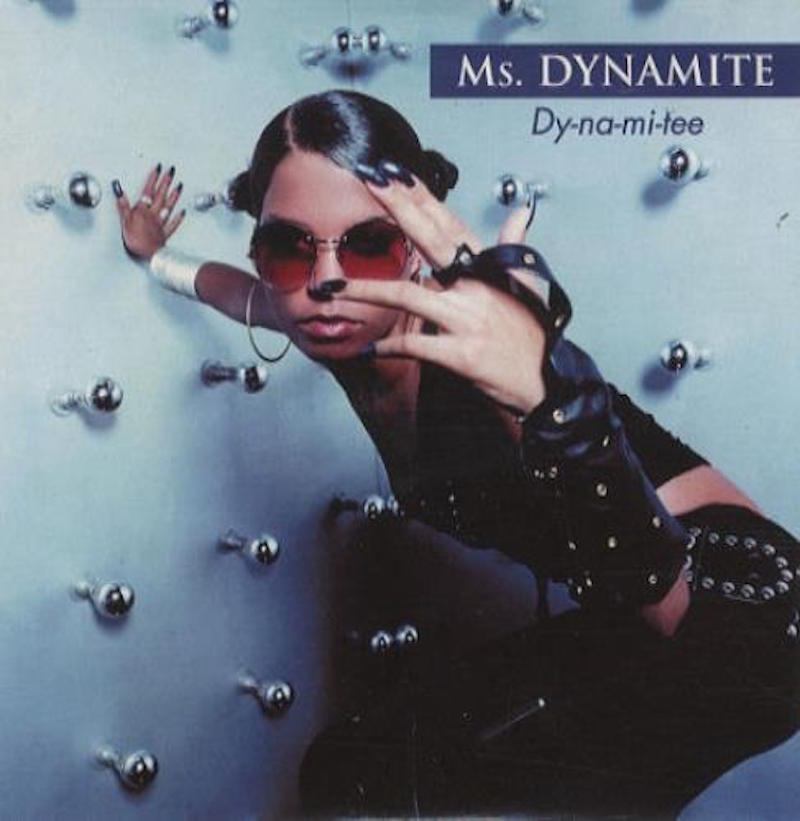 Ms. Dynamite
Di-Na-Mi-Tee
(Polydor, 2002)
The best incarnations of UK garage style existed off record covers and on the dance floor. The outfits in photographer Ewen Spencer's book and documentary Brandy & Coke are ostentatious, slick, and brilliantly label-centric. Must-have items were loudly patterned Moschino trousers, Gucci loafers, and Versace anything, and jeans were banned at certain clubs. These priorities can be read in the sheer finish of this Ms. Dynamite cover – the nails, jewellery and sunglasses, it's a look that's the height of polished.
---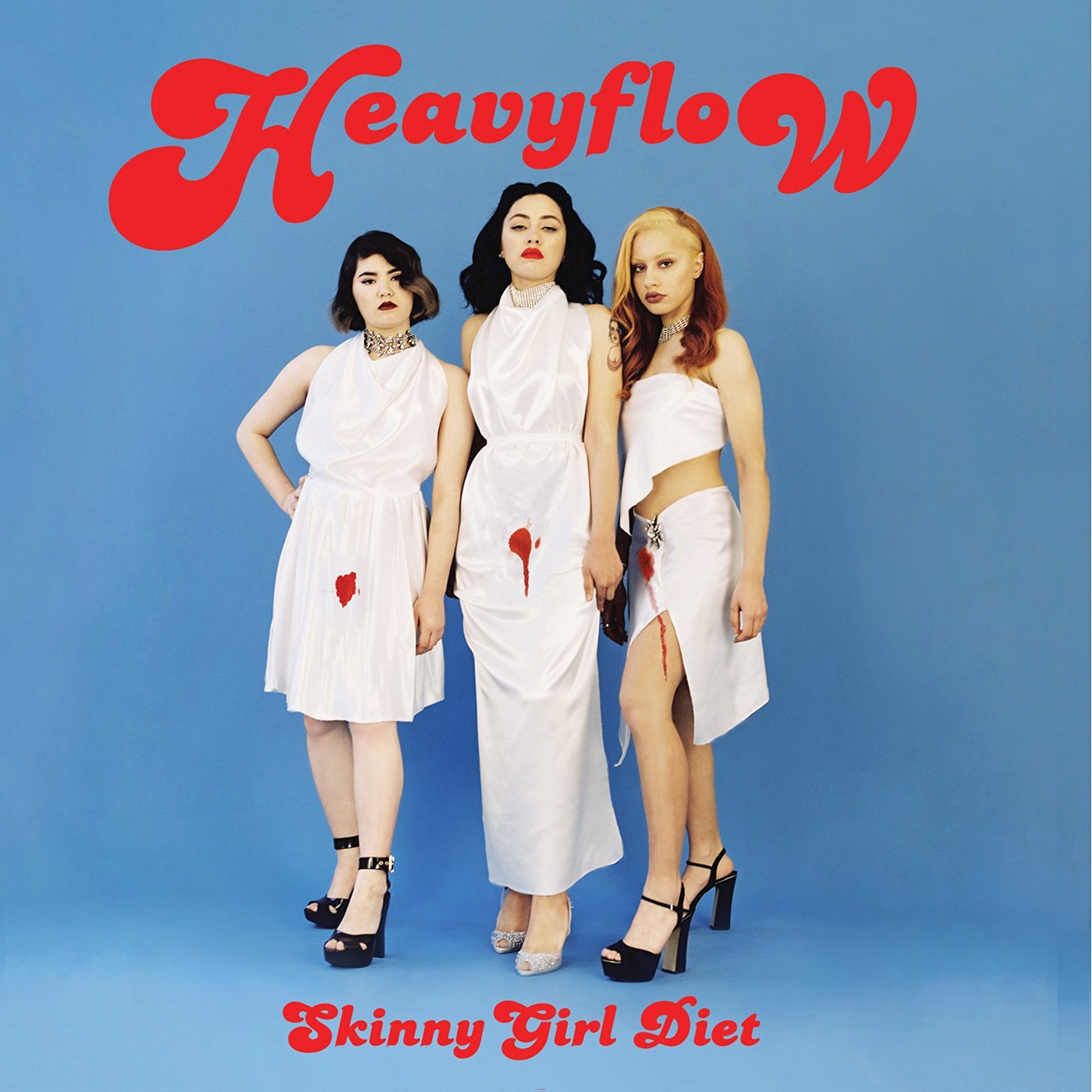 Skinny Girl Diet
Heavy Flow
(Fiasco, 2016)
Skinny Girl Diet have been critical of the tendency to conflate female musicians' music with their image. Eschewing mainstream fashion, they've appeared in zines and worked with young designers like Claire Barrow, establishing a stance very seperate to tokenistic commodity feminism. This cover, which the band produced themselves, riffs on pin-up imagery and classic tropes of female trios, like the 'different versions of the same colour' outfits that The Supremes, Destiny's Child and Sugababes all wore so well.
---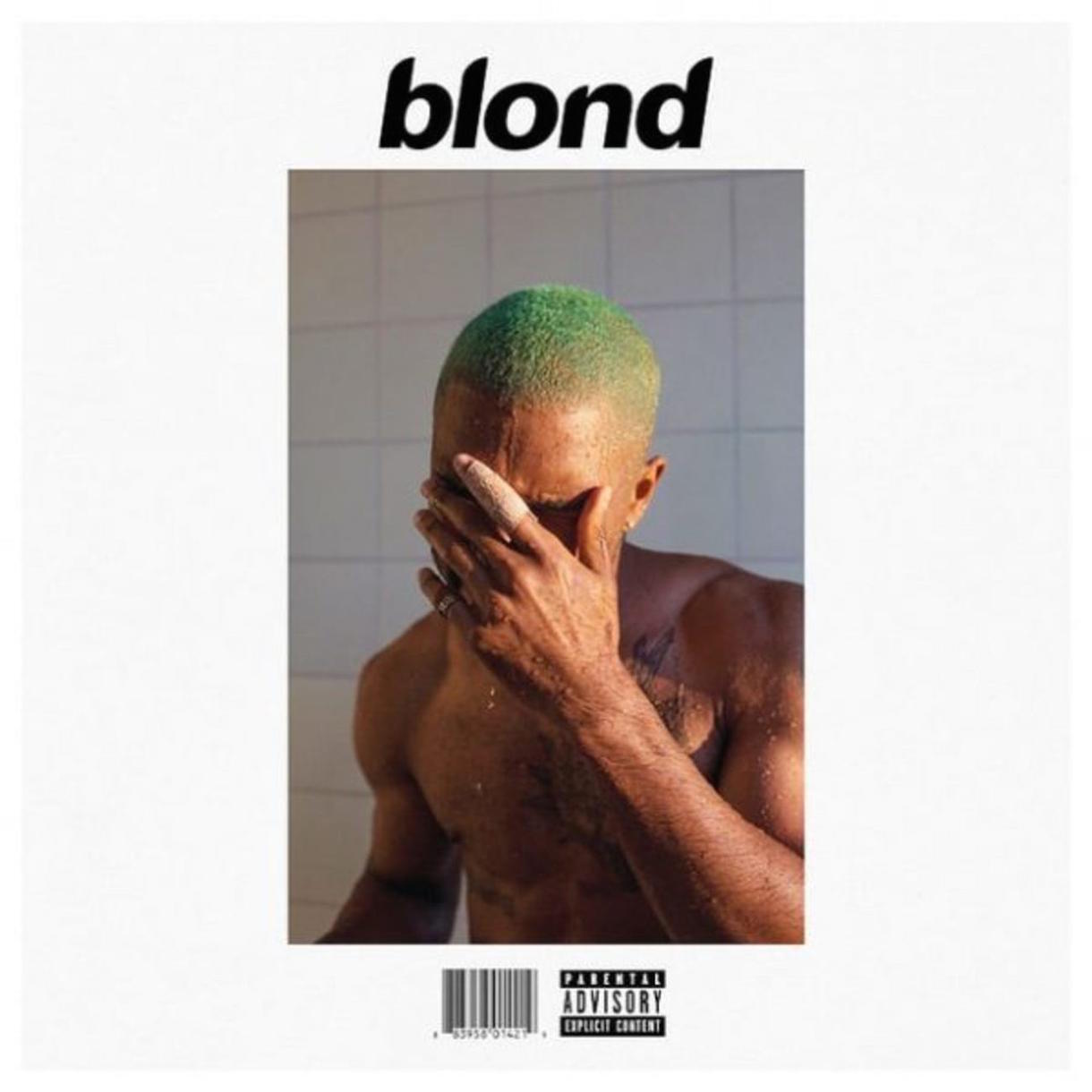 Frank Ocean
Blond(e)
(Boys Don't Cry, 2016)
The record cover behind the recent profusion of bleached buzz cuts was originally intended to be used in the fashion magazine Fantastic Man. A photograph typical of Wolfgang Tillmans' style, it has a lucidness that we tend to associate with fashion editorials, but an intimacy that's rare in magazines. Tillmans made his name documenting the early '90s for i-D and other style magazines, but has since drifted towards making more politically-minded work. His ambivalence towards the fashion world, combined with Ocean's enigmatic approach make this a particularly exciting collaboration – and a two way collaboration at that: Tillmans' track 'Device Control' was used on the prelude to Blond(e).
---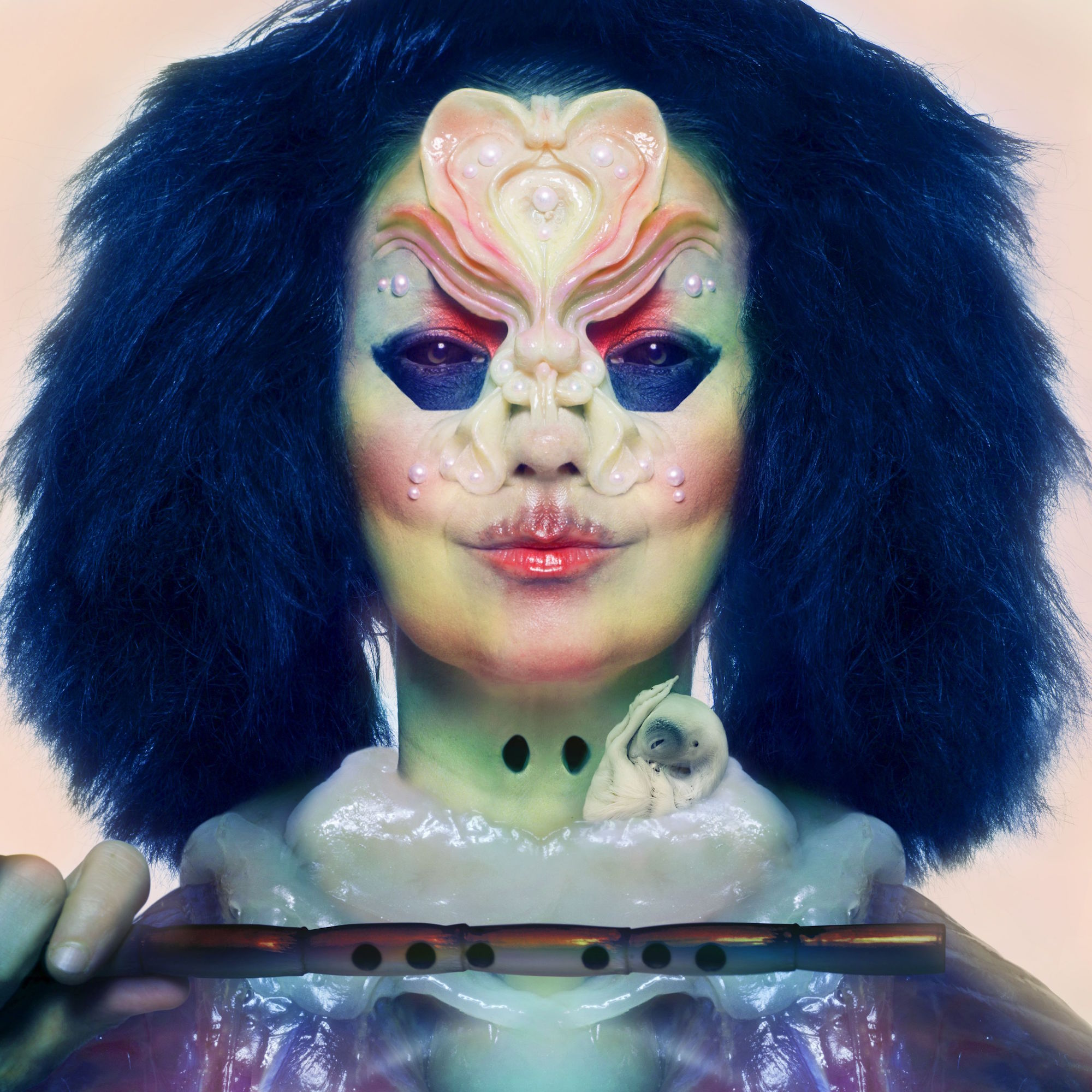 Björk
Utopia
(One Little Indian, 2017)
With a history of working with names like Alexander McQueen, Nick Knight and Tim Walker, Björk has continually woven fashion into her practice. Her embrace of the new makes her a particularly fitting fashion collaborator, and her most recent album cover brings together young rising talents Jesse Kanda and James Merry. Kanda's work with artists like FKA Twigs is increasingly shaping the current aesthetic, while James Merry's embroidered sportswear is a further twist on the Vetements/Gosha Rubchinskiy-led trend for reimagined sportswear.