Published on
April 21, 2015
Category
Features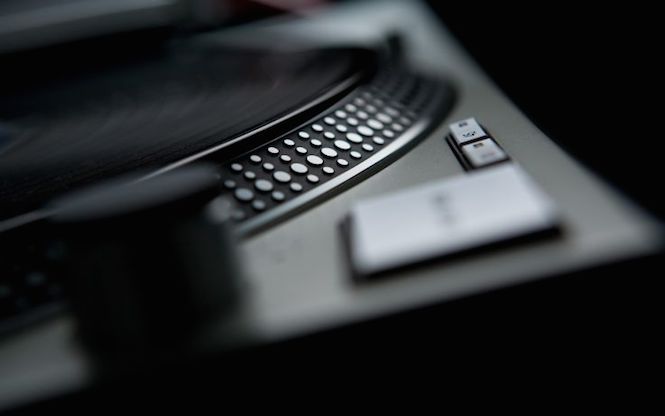 DJs have long experimented with the speeds of their records to add a little bit of personality to their sets. Patrick Ryder follows in the footsteps of the great dancefloor innovators to pick out ten records which shine when played at the wrong speed.
---
Words: Patrick Ryder
---
If you grew up in a house with a turntable, chances are you spent many a happy hour turning your parents' record collection into 'The Very Best Of The Chipmunks' or an eclectic covers album by the late, great Barry White. What you probably didn't know is that you were following the same path as a host of avant garde musicians (Pierre Schaeffer), adventurous DJs (Levan, Baldelli, Loda) and gloriously unprofessional radio hosts (John Peel), whose experiments with speed, whether deliberate or accidental were creating weird and wonderful results all over the globe. The list below ranges from the obvious to the obscure covering wrong speed 'classics' and a couple of my personal favourites. It's by no means exhaustive though, so dive into your collection and give it a go, the results could just be spectacular.
Listen to all ten in this play list or individually as you scroll. Got a wrong-speed favourite Let us know in the comments below.
---
Dolly Parton
'Jolene'
Originally 45rpm / Now 33rpm
Ms Parton's enduring tale of jealous vulnerability is probably the best known record in this list and while the sombre tempo and plaintive male vocal of its 33rpm incarnation may be too much for the purists, the slowed down version has certainly caused a storm, doing the rounds extensively of late on various social media outlets.
---
Wayne Ford
'Dance To The Beat Freakout'
Originally 45rpm / Now 33rpm
Cosmic club legend and turntable maverick Daniele Baldelli was one of the earliest advocates for the fine art of slow motion, frequently turning the dancefloor's brain inside out with his pitched down afro cosmic selections. He famously worked his smacked out magic on this 1979 disco hit, transforming it from lightweight mediocrity into all out drug chug.
---
Linda Law
'All The Night'
Originally 45rpm / Now 33rpm
A year before Rub N Tug dropped their mind expanding blend of pitched down madness, 'Better With A Spoonful Of Leather 2', the duo ended their flawless 'Campfire' mix on Eskimo with this sultry bit of Moroder-esque madness from Linda Law. Average electro-disco to intergalactic sex music at the push of a button.
---
Maxine Dee
'I Need A Man (That's What I'm Living For) Men Hungry'
Originally 45rpm / Now 33rpm
Sticking with the NYC scene, Justin Vandervolgen imperiously chopped and skewed this rampant bit of '83 Hi-NRG on his Try To Find Me mix for Golf Channel, pushing the 33 button to transform the tachycardic original into throbbing back room sleaze of the highest order. Poppers not provided.
---
Factory Floor & Peter Gordon
'Cside'
Originally 45rpm / Now 33rpm
Everyone's favourite industrial disco outfit hooked up with first wave avant garder Peter Gordon for two cuts of tessellating hypnosis on Optimo Music back in 2013. While A-side cut 'Beachcombing' got all the hype, I was smitten with the endless sunset of this bona fide Balearic B-side. Imagine my surprise when I found out it was actually designed for 45 and sounded like a Samsung ringtone.
---
Speedy J
'De-Orbit'
Originally 33rpm / Now 45rpm
Not only was Jochem Paap one of Europe's techno pioneers, he can also stake his claim as a key player in the evolution of Drum n Bass thanks to this melodic techno cut from back in '91. At its regular 33rpm it's a pleasant but unremarkable Italo-influenced cut but pitch it up to 45+ and those breaks and bleeps come into their own. What's more, it came out a whole year before 'Bug In The Bass Bin' – take that Detroit.
---
Masters At Work
'Justa "Lil" Dope'
Originally 33rpm / Now 45rpm
Although renowned as the finest purveyors of New York's house sound throughout the majority of the '90s, Kenny Dope and Louis Vega found a special place in the hearts of the UK rave scene when they dropped 'Justa "Lil" Dope' back in '91. The low bpm cut, built out of break beats and horn licks from the Lafayette Afro Rock Band and plenty of reggae chatter didn't have quite enough impact for Britain's chemically enhanced youth. Switch it to 45rpm and it's a different story.
---
LB Lynam
'Get Things Straight'
Originally 45rpm / Now 33rpm
Here's a little trick I learned from Manchester's resident South African madman, Levi Love. At 45, this Caribou production is a skipping garage influenced monster with stadium sized synth breaks; but slow it down to 33 and you get a bass heavy zulu house groove perfect for mixing into a little Penny Penny or Shazula Max.
---
Gary Low
'I Want You (Instrumental)'
Originally 45rpm / Now 33rpm -6
If Speedy J, Masters At Work and Carl Craig can all take props as unlikely DnB forefathers, then it only seems fair that we crown Gary Low the godfather of chillwave. At its intended allegro 'I Want You' is a fairly frothy Italo chanson you'd ignore in the pound bin, but played at 33rpm -6 you're onto a sunblushed winner, as Washed Out found to his favour with 'Feel It All Around'.
---
Wanda Jackson
'Funnel Of Love'
Originally 45rpm / Now 33rpm
Just like dear old Dolly at the top of the list, Wanda Jackson is the proud owner of one of music's unmistakeable voices, an instrument she used to fine effect as she carved out her own chapter in the Rock n Roll hall of fame. Asian influenced melodies and Wanda's raucous vocals make 'Funnel Of Love' an undeniable Rockabilly classic, but if you slow it right down you're met with layers of hidden mysticism as a cowboy vocalist gets lost in the Thai rice paddies. So successful is this slower version that Jim Jarmusch based his cover on it for the Only lovers Left Alive soundtrack.
---
For more pitch-shifted records and balearic good times, check out Daniele Baldelli's 50 favourite cosmic disco records here.