Published on
February 14, 2023
Category
Features
Run by a former Kim's Video clerk, the cosy space in Paradise of Replica is home to one-of-a-kind vinyl from underground legends. Olivia Lindsay Aylmer speaks with the New York store owner Kyle Molzan about the store's origins and the role of the store in its customers' listening journeys.
One summer afternoon, I glance skyward on Grand Street and notice a mysterious sign in a second-floor window: PARADISE OF REPLICA glows in cobalt. Intrigued but subway-bound, I make a mental note to investigate. Little do I know the treasure trove that awaits me once I finally ascend the staircase months later.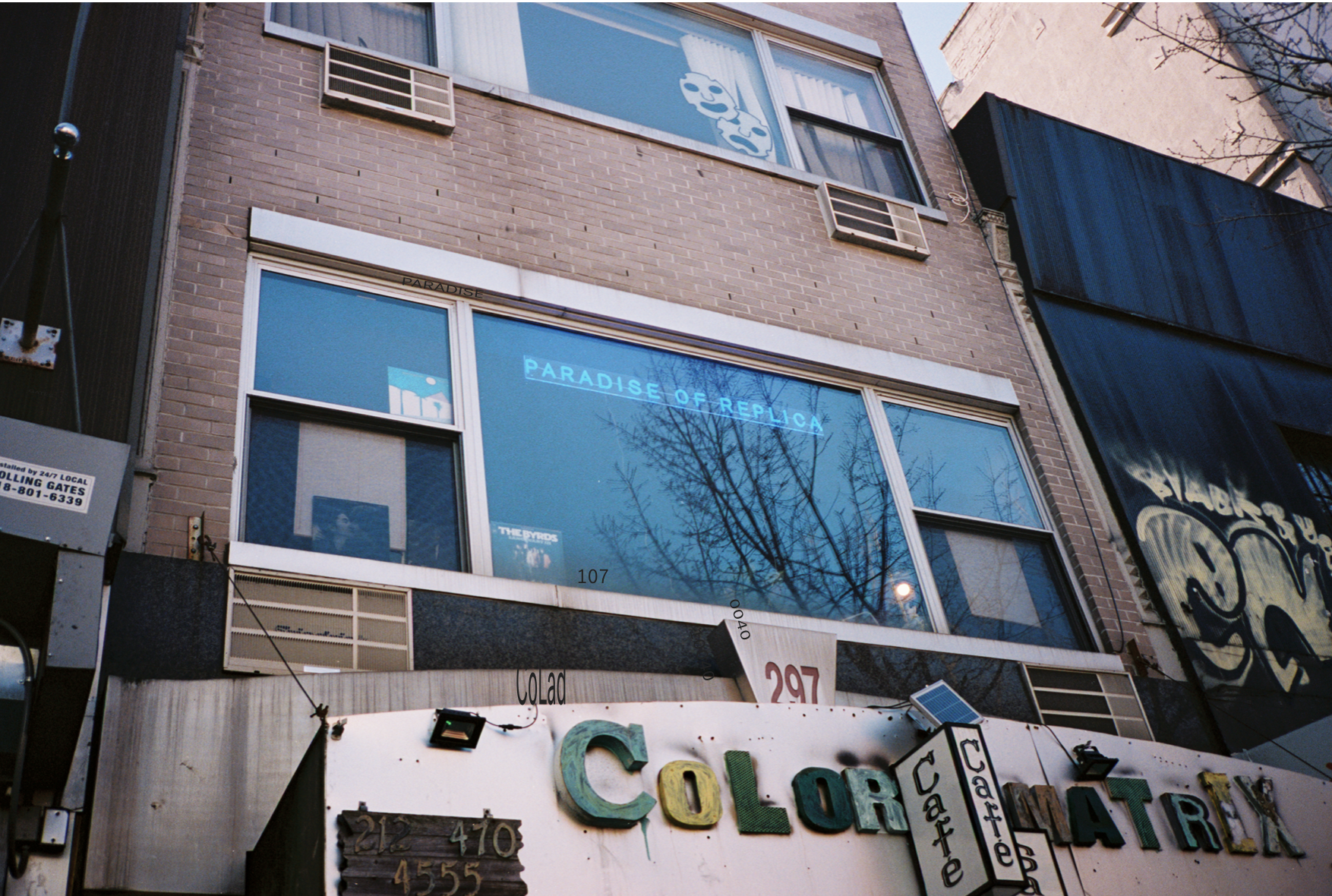 I have grown all too accustomed to the heartbreaking news of my favourite local record shops closing forever (Rebel Rebel, Other Music, the list goes on) that I almost can't believe what I find upon seeking out the story behind the sign: to my pleasant surprise, here's a relatively new record shop, filled with mostly used vinyl and if-you-know-you-know ephemera previously owned by a cast of New York characters, that first opened its doors in November 2021.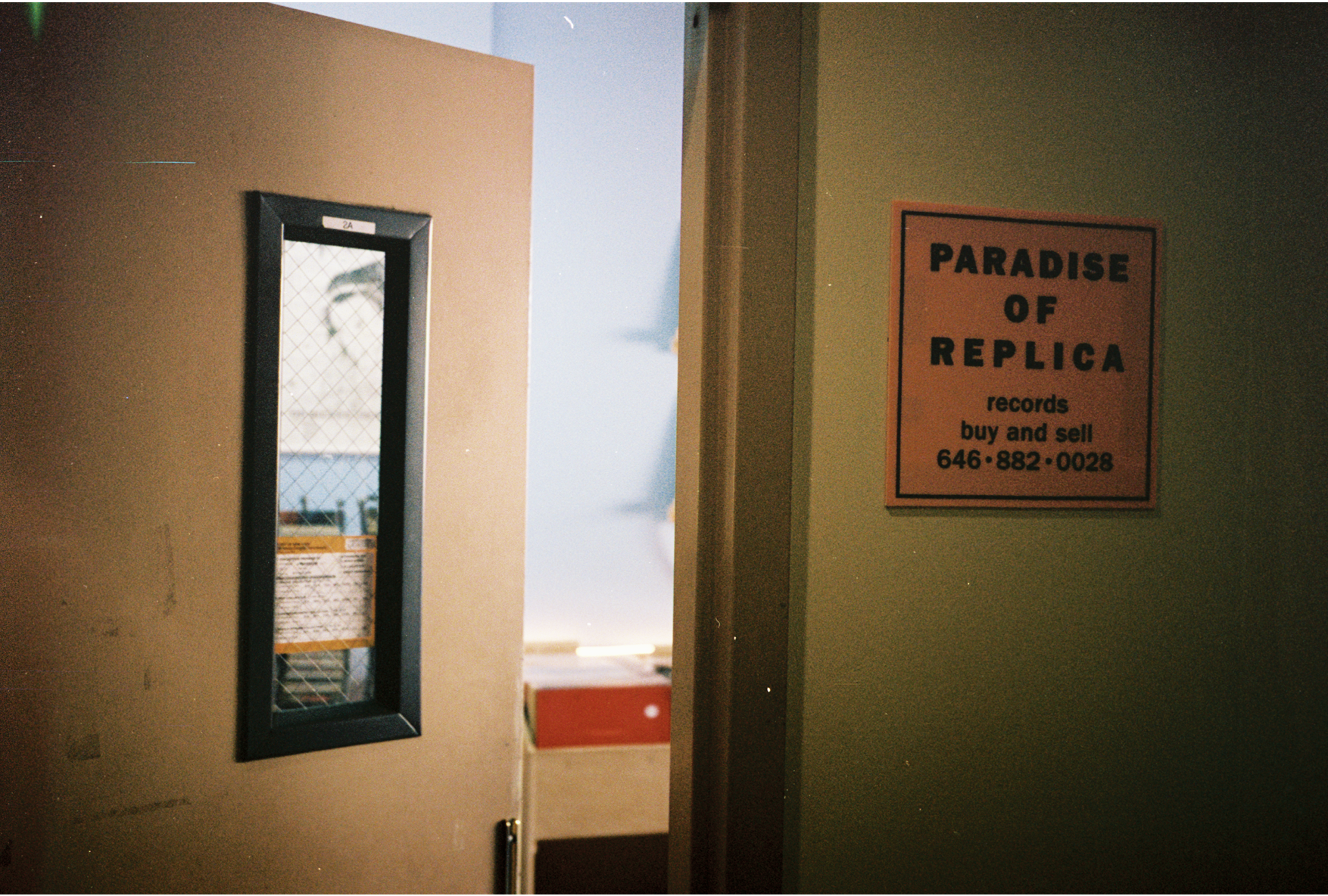 Owner Kyle Molzan moved to New York City in 2006 to study film production at Pratt, and went on to work at cultural institutions like Film Forum and Kim's Video & Music—the latter of which is the subject of a recently premiered Sundance documentary. Mr. Kim's, so the legend goes, was founded in 1987 by proprietor Yongman Kim out of an East Village dry-cleaning business. It subsequently grew into multiple shops throughout Manhattan, gaining a devoted cult following (including the Coen brothers and Quentin Tarantino, among many notable regulars) as a haven for obscure physical media, bootleg VHS tapes, and hard-to-find indie titles.
As Mr. Kim himself shared at a post-screening Sundance Q&A, he "wished to make a gathering place," where people could stop by and talk about movies, music, and ideas, whether or not they bought or rented anything. With Paradise of Replica, situated in a small, cosy room with a view of bustling Chinatown and a towering tree, Molzan is carrying on the underlying ethos of Kim's with a shop rooted in rare finds, playful serendipity, and the underrated lost art of hanging out, as we did on a chilly Saturday morning in January.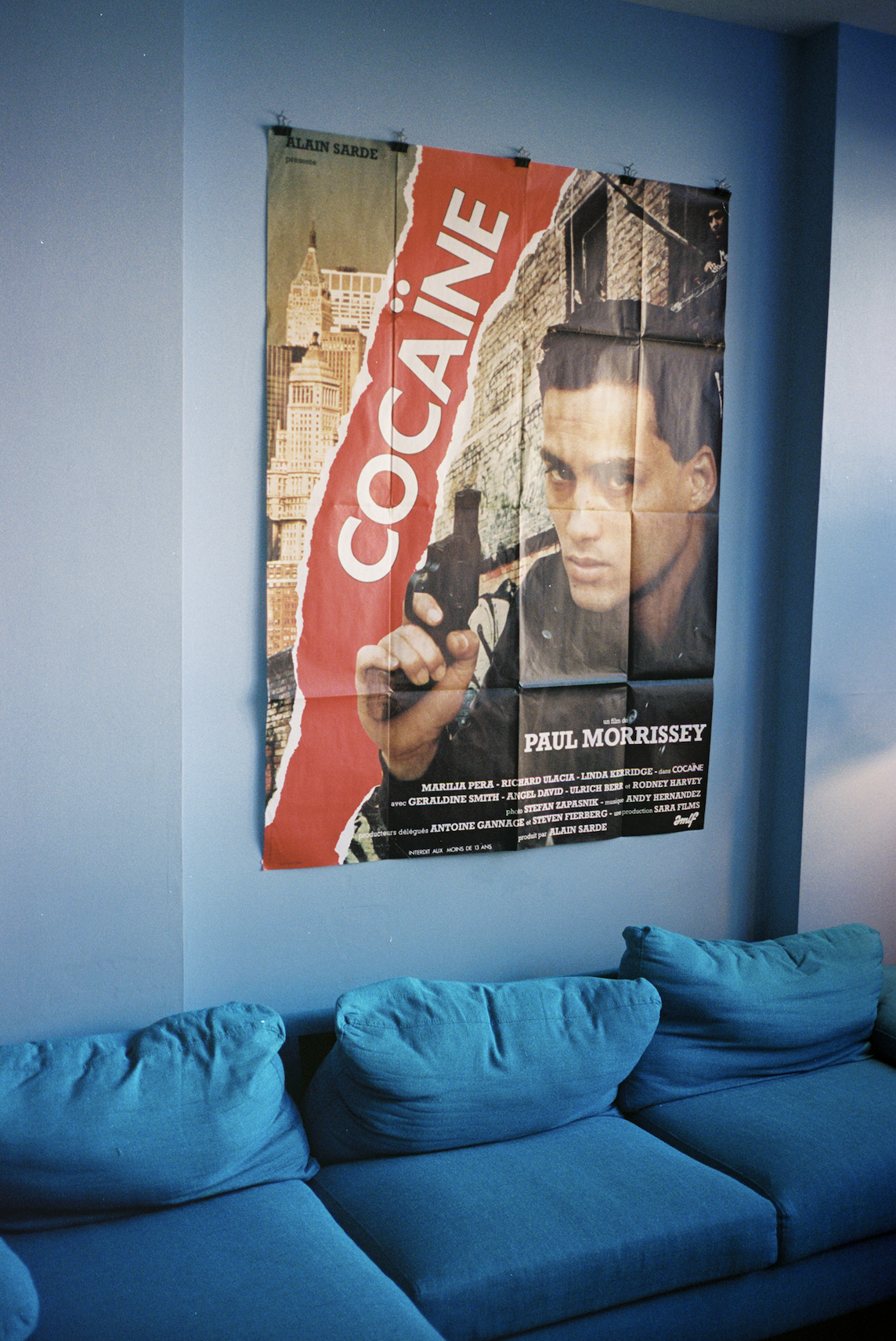 With its bright blue L-shaped sofa inviting impromptu conversation, a giant poster of a 1980s Paul Morrissey movie taped to the wall, and floor lamps emitting a soft glow, one would be forgiven for thinking they had magically teleported to their childhood best friend's cool older sibling's record-filled apartment, where everything also happens to be for sale.
Someone might wander in and casually pick up a copy of Iggy Pop's debut solo album The Idiot—only to find out it previously belonged to Richard Kern, the photographer, filmmaker, and unabashed provocateur known for the 1995 photobook, New York Girls. (Kern sold Molzan his immaculate collection of punk and hardcore records, including his copy of Sonic Youth's 1986 album EVOL, featuring a still of transgressive film star and model Lung Leg on the cover, shot by Kern himself.)
"I knew I wanted to listen to records every day. I do, I did it anyway," Molzan says, after serving me a cup of freshly brewed coffee in an orange Bulleit Whiskey mug. Even now, a full year into this venture, he still views himself as a clerk to some extent. "[When] I have employees, then I can say I'm the store owner." For now, though: "I just feel like I'm a guy in his living room."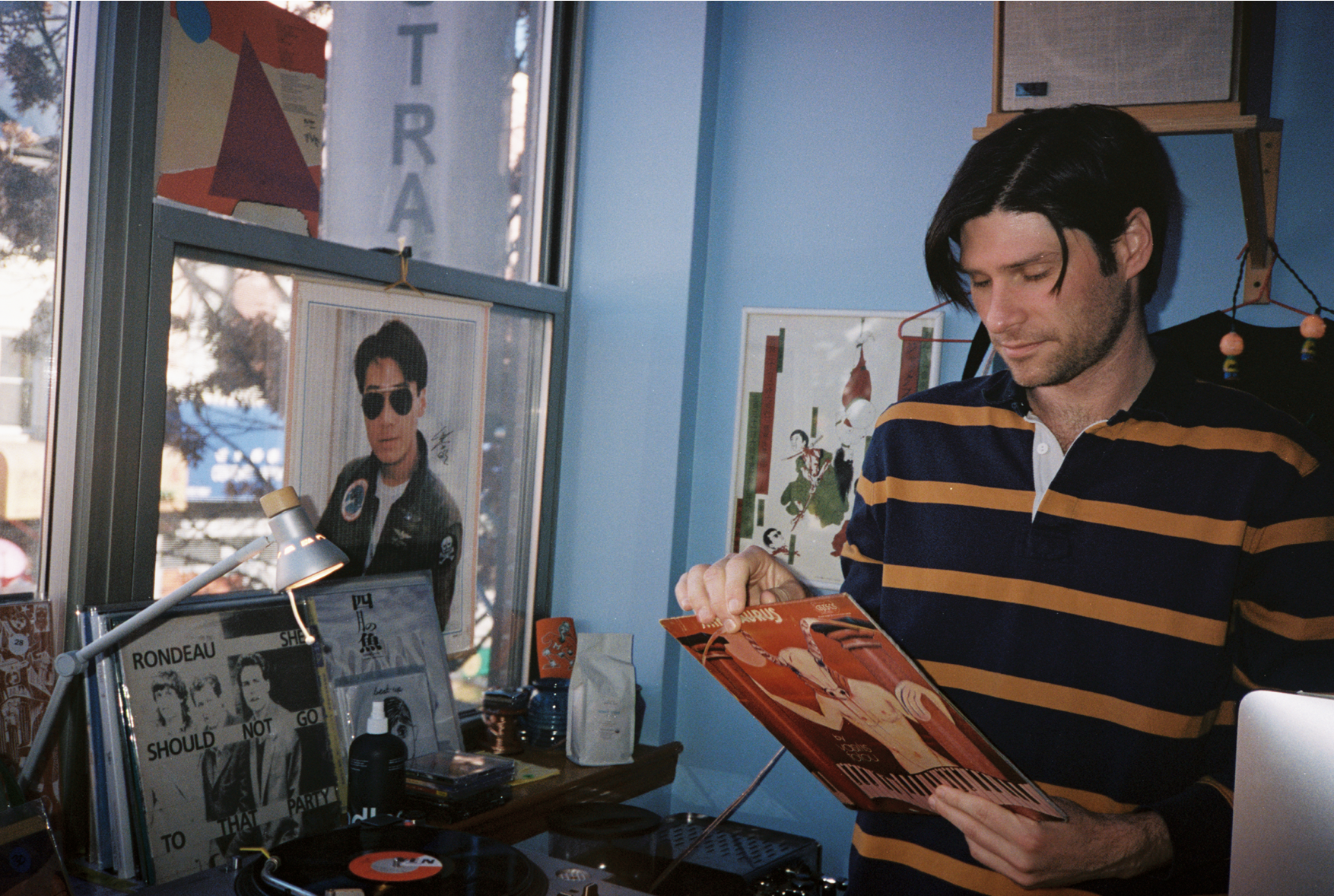 Molzan's personal vinyl obsession did not start until well into his college years. Baseball cards marked the extent of his collecting habit as a kid growing up in North Ft. Myers, Florida. He jokingly recalled a household that was music friendly, in the sense that the Aladdin motion picture soundtrack would play on CD, but a vinyl-filled home, his was not.
While at Pratt, Molzan found his way into records through a roommate with "a shitty turntable and, like, eight records." A little TV on the Radio here, a little Velvet Underground there (the album with the Warhol banana, of course), and he was down the vinyl rabbit hole. "You could have a dance party with these eight every time if you wanted to, you know what I mean?" This led to his first (of many to come) Discogs purchase: Duty Now for the Future, Devo's second studio album from 1979.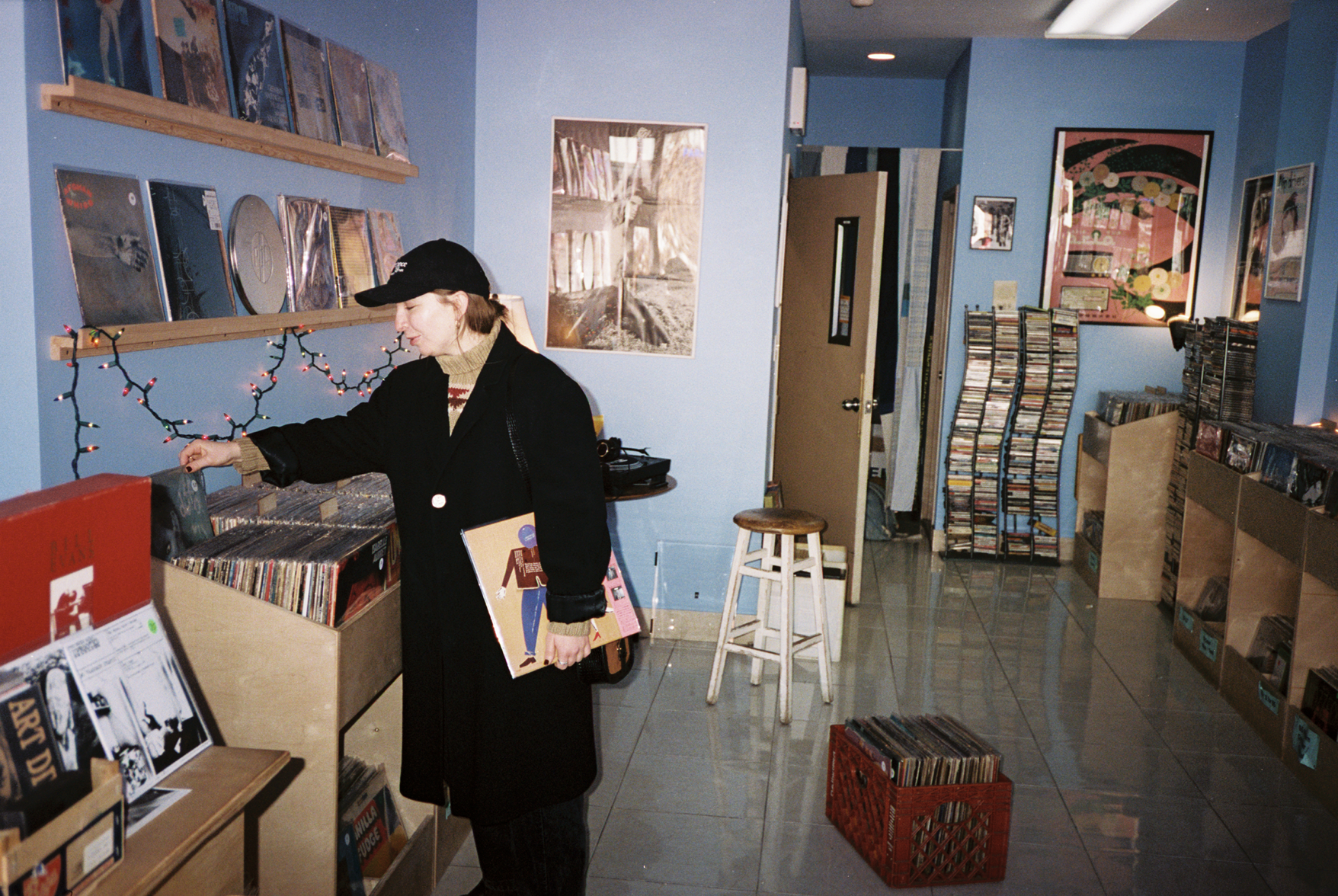 After entering the universe of hyper-specific music blogs, in search of more and more new-to-him music, he eventually started one of his own called "Partial Map." Back in that earlier era of music discovery, Molzan tells me, "I don't know if I wanted to be a store the way that I wanted to be a blog." The thread tying these different versions of self together lies in a desire to connect people to music they might not even know they're looking for yet. "I wanna be somebody who knows and can expose a lot of stuff to people," he tells me. Case in point: Molzan chose the shop name as a nod to a radio show he previously co-hosted with friends, "After Dinner," inspired by the 1980s art-pop band of the same name and their 1989 album Paradise of Replica, led by Japanese singer, composer, and multi-instrumental sound artist, Haco.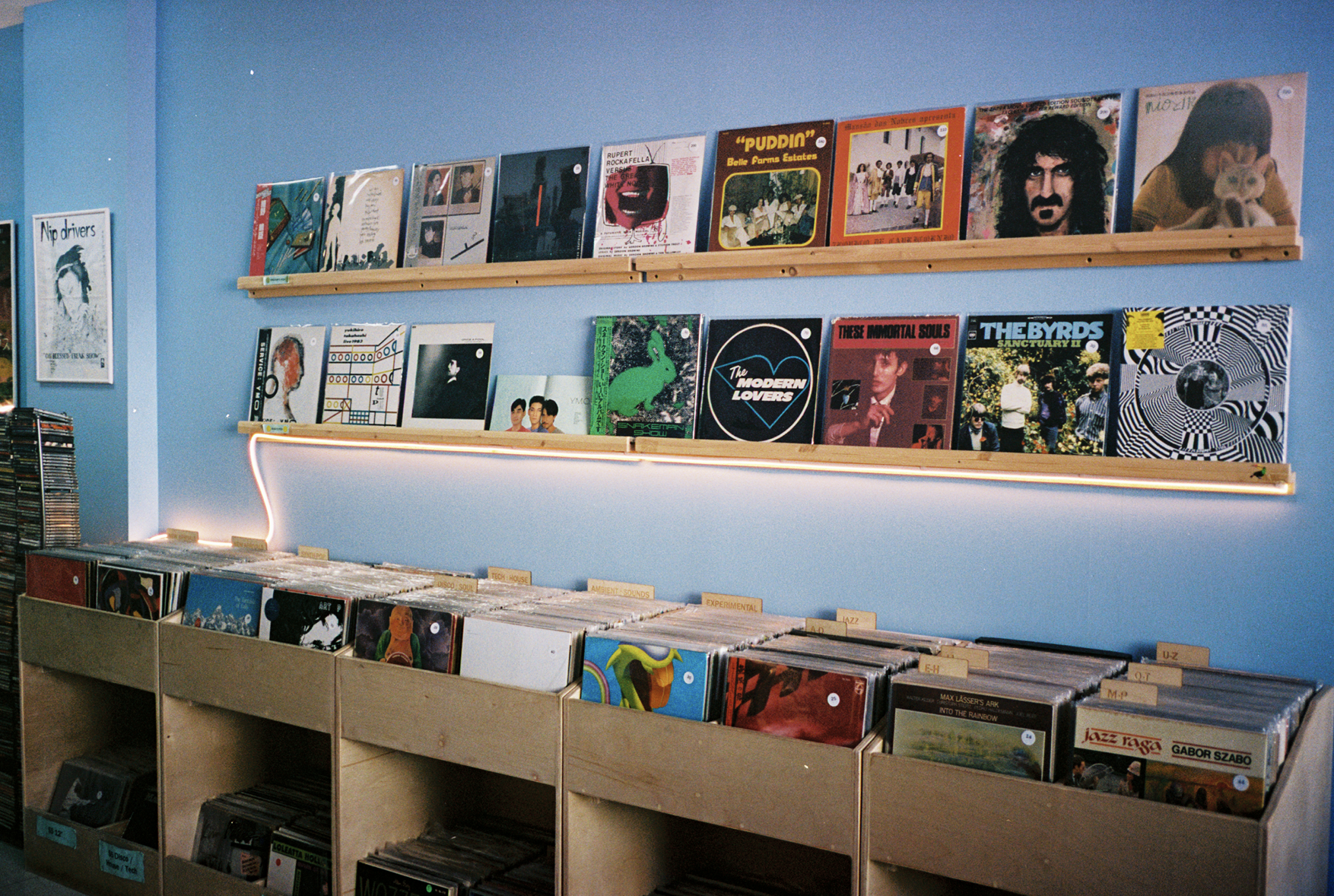 Part of the fun in running his own shop, Molzan says, is intentionally expanding beyond his own taste, which leans eighties (lots of synthpop and ambient) alongside Japanese rarities, a focus of his early collecting. Those genres now share space with punk rock, experimental, folk-pop, and jazz, among others. "I can't choose everything that comes in here," he tells me. This approach took shape in part when Duncan Hannah—the late painter, collagist, and chronicler of the '70s downtown New York scene, who died in June 2022—decided to sell his record collection, coinciding with Molzan's plans to open Paradise of Replica.
After an introduction from friend and film collaborator Bingham Bryant, they spent nearly two days pricing everything out in the presence of Hannah. "Duncan was a part of New York in a really cool way," says Molzan. "It was fascinating getting to know him." I add that it's also interesting to consider these individual record's trajectories across time, place, and generations, whether they were intentionally sought out or stumbled upon in a $5 crate. It's a question Molzan always asks people who sell him their stuff: Where did they first discover these records? "It's funny," he says, to think about "who is inspired by the idea of that record being somebody else's?"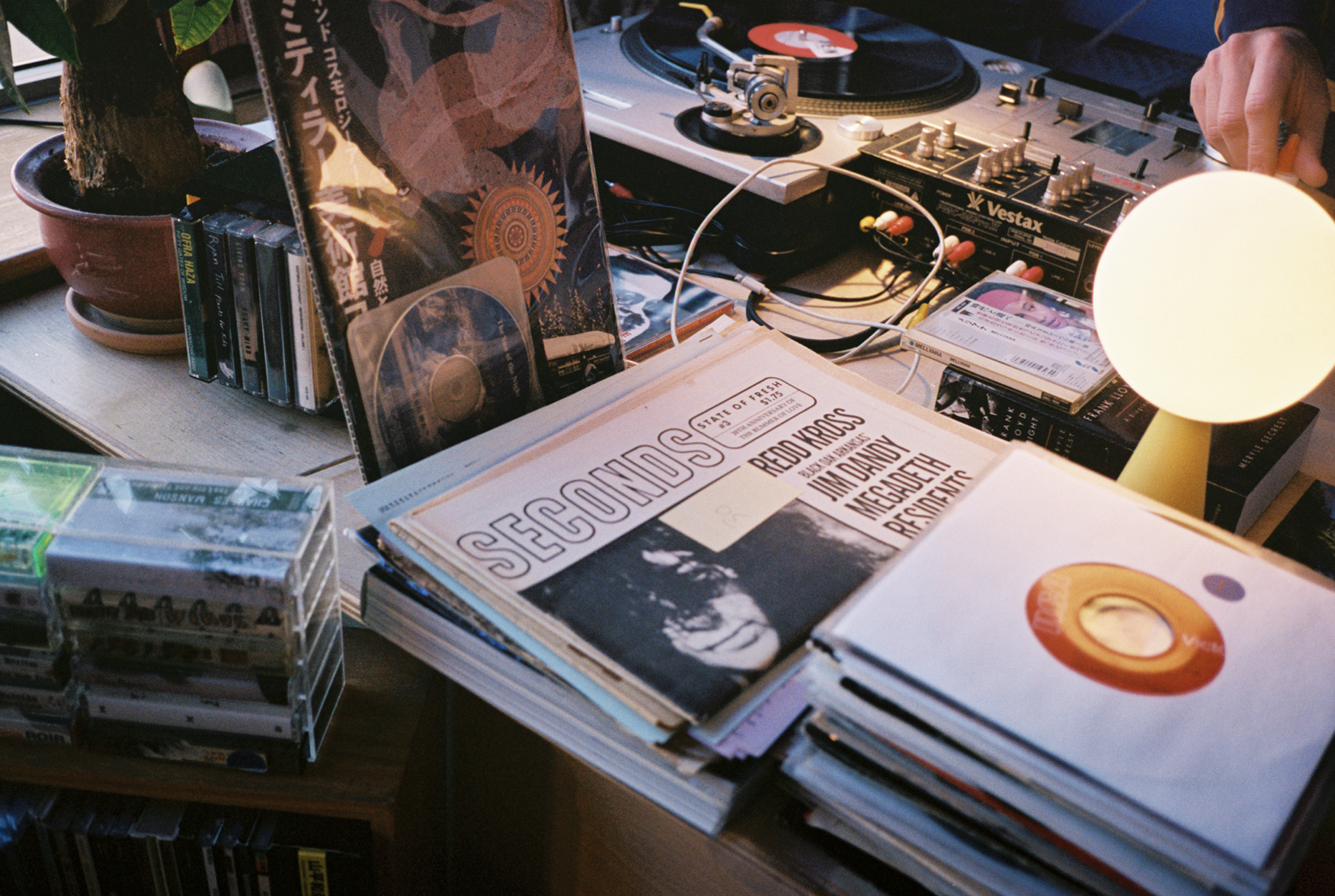 Encouraging a sense of open-minded curiosity is important to Molzan, given the intimidation factor that can sometimes accompany stepping into a small record shop solo—especially when one's moving through the lifelong process of honing their personal music taste. (Plus, as a cinephile who "used to watch five movies a day," to deepen his film knowledge, he relates to the insecurity of "not [wanting] be unaware.") He gestures to a table, stool, record player and headphones set up in a corner, plus a lava lamp topped with a kitschy-creepy doll's head straight out of Toy Story. "I put like 30 records in front of them, I sit 'em down at the table and go, 'go to town!'"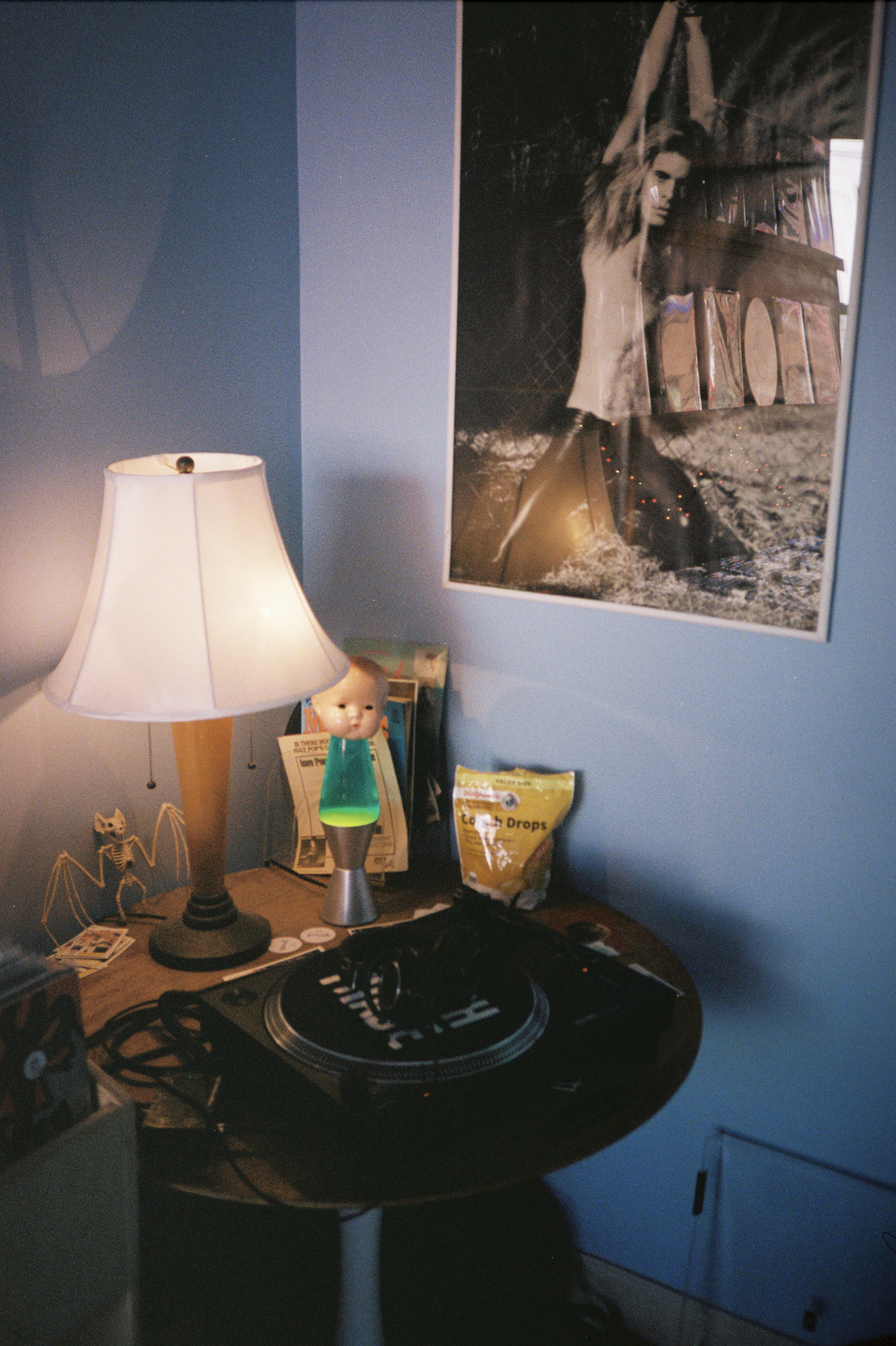 On the counter, I can't help but notice an enviable stack of fan zines and out-of-print music magazines like Punk (also a Kern acquisition). Would he ever consider making space to sell more prized printed matter alongside the records? Probably not. Simply put, Molzan says: "I like things [where] you put a needle on it, and it makes a noise."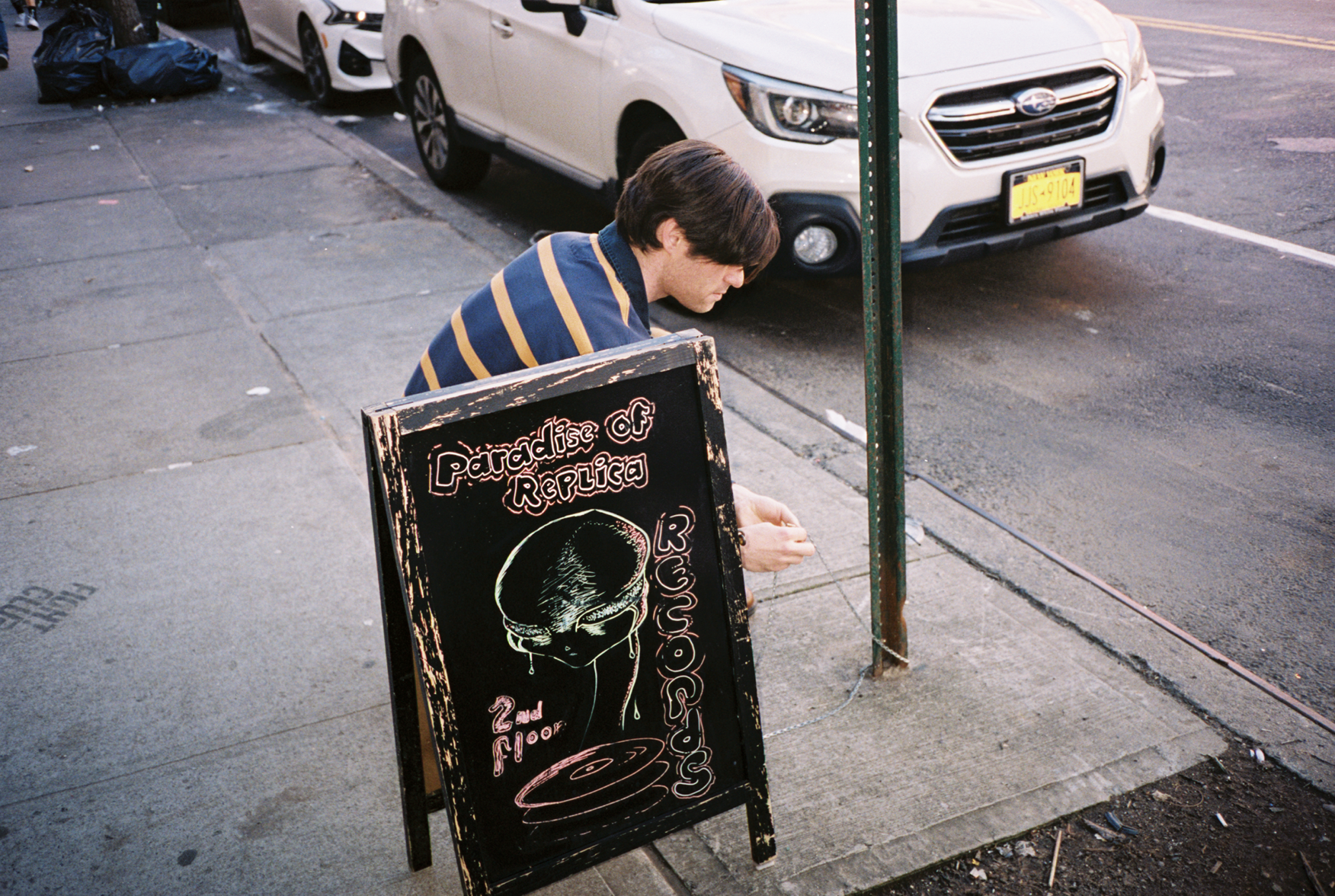 Paradise of Replica is located at 297 Grand Street, #2A in New York City.
https://www.paradiseofreplica.com/
Words by Olivia Lindsay Aylmer. Photos by Marie K. Stotz.