Published on
April 3, 2015
Category
Features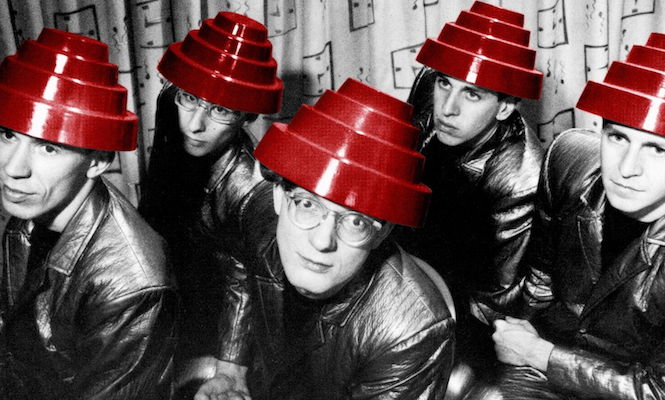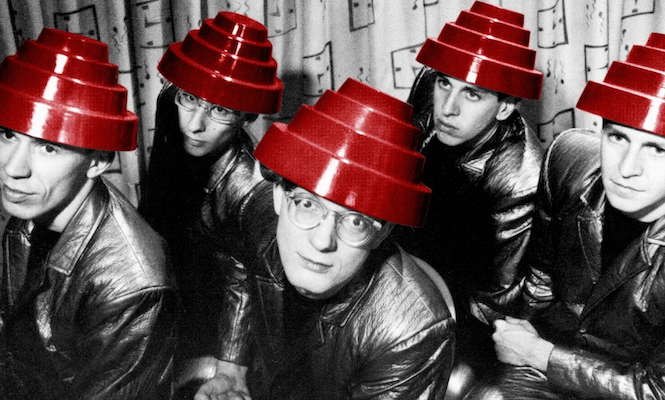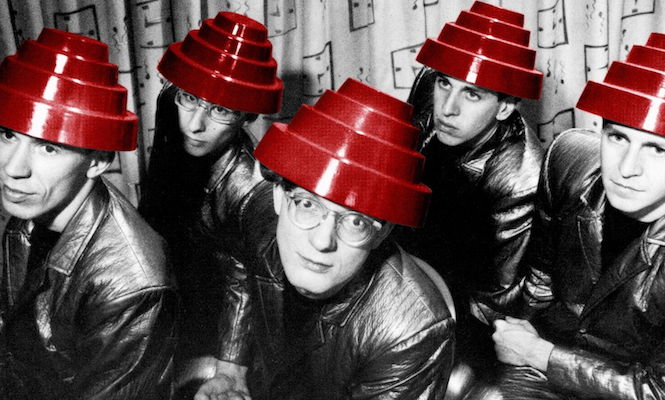 An indispensable introduction to the music of oft misunderstood art rock synth poppers Devo through 10 essential records (well, 9 and one DVD). Deconstructing the De-volution is Del Jae Williams of Futurismo, the label responsible for the brilliant release of Devo's 1977 live show Miracle Witness Hour.
---
Words: Del Jae Williams / FUTURISMO Inc.
---
There are two kinds of people in this world. Those that are fans of Devo and those that aren't. To me Devo have always been visionaries. A band that contorted music and culture into radiant surrealist shapes, deadpan humorists hellbent on discordant and satirical rock 'n roll, representing all that is good about music – attitude, philosophy, pop brilliance. They are a band that polarises opinion: to some they are the emperors new clothes, to others they are true iconoclasts of modern culture.
Since their inception in the early '70s, Devo (Mark Mothersbaugh, Jerry Casale, Bob Mothersbaugh, Bob Casale and Alan Meyers) have based their collective around the theory of 'de-evolution': a concept in which humans begin to regress rather than evolve, echoing dysfunctional society and its impending consumerist mentality. Their performances and compositions constantly challenged rock and pop music through its unique brand of deconstruction and complex philosophies, an approach that would go on to make them one of the first bands to truly subvert MTV's mainstream America.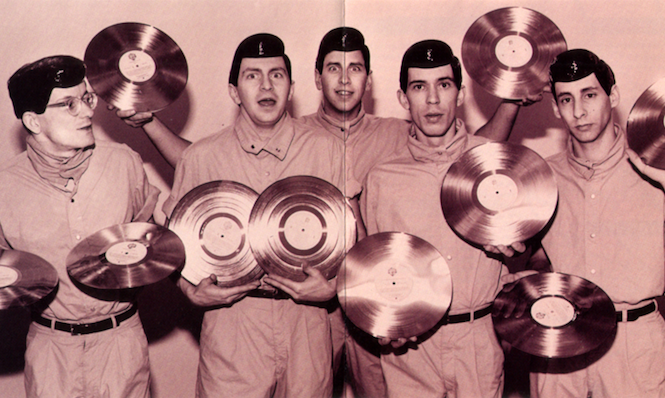 This subjective list comprises what I feel are the bands best releases, to seasoned spuds this list will be obvious, but to those of you that are perhaps curious about the impact of one of America's most misunderstood bands, hopefully the below can convert you. If it doesn't I'm afraid theres simply no hope for you…the de-evolution has already set in.
As ever you can listen to all 10 records in this Youtube playlist or hear them individually as you scroll:
---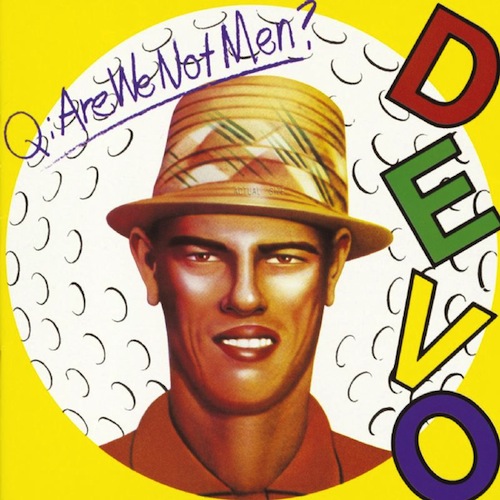 Q: Are We Not Men? A: We Are Devo!
(Warner Bros., 1978)
The perfect calling card, and for Devo a true statement of intent. Their debut album features many of their well known earlier songs rerecorded with Brian Eno in Germany at Conny Plank's studio, where Bowie famously recorded his Berlin trilogy. Eno's production both benefits and hinders, bringing out the best elements in Devo's guitar and drum sounds, yet at times veering into overt sparseness and a suppression of synthesizers, a main ingredient in Devo's later sound.
The songs themselves demonstrate Devo at their brilliantly bizarre best, vital and full of wry observations. Standouts are the wiry guitar driven punk of 'Uncontrollable Urge', the Island of Dr. Moreau-influenced unofficial band theme 'Jocko Homo', not forgetting their deconstructed (and bettered?) cover version of the Rolling Stones 'I Can't Get No Satisfaction'. There are no dull moments and placed within a 1978 timeframe this must have sounded otherworldly, and in my view it still does.
---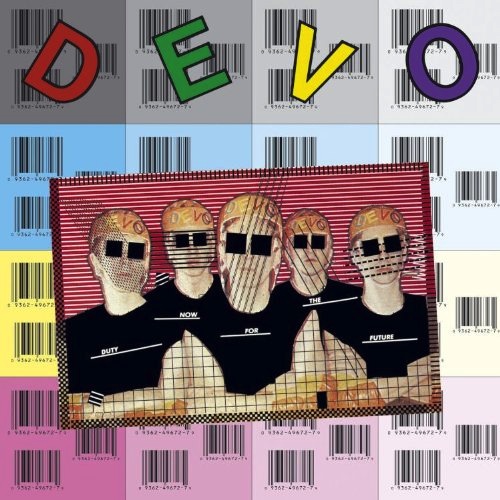 Duty Now For The Future
(Warner Bros., 1979)
A hardcore fan favourite, Duty Now For The Future is considered by many a Devoted fan to be their greatest work. From a band that once claimed they were "the sound of things falling apart" Duty Now For The Future fulfils that claim. Moving away from Eno's more considered approach, their second LP, produced by Ken Scott, is surprisingly more imaginative in the production department and the songs a more diverse and intense affair.
This time synths play a far greater role, beginning with entirely synth based opener 'Devo Corporate Anthem' through to the incredible science-fiction-gone-haywire medley of 'Smart Patrol/Mr DNA', almost bookending a whole host of memorable numbers such as 'Clockout', 'Wiggly World' and radio favourite 'The Day My Baby Gave Me A Surprise' along the way. All themselves buzzing with analogue synth blasts and laser noises set against the bands traditional live set up. While the lyrics aren't as direct as the debut, there is plenty of sarcastic observation, amusing sexual imagery and philosophical leanings to keep this LP a vital part of Devo's catalogue.
---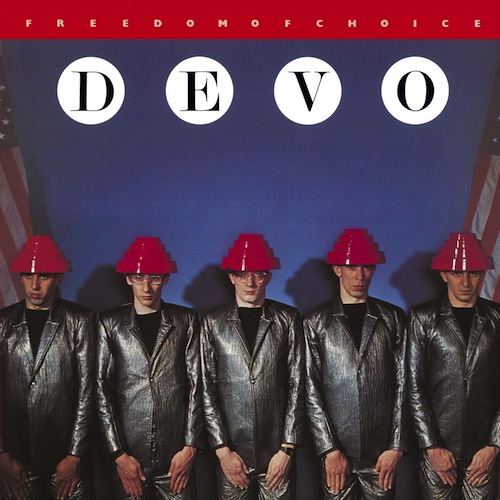 Freedom Of Choice
(Warner Bros., 1980)
Featuring the megahit 'Whip It', this is the Devo album the casual listener will likely own. Not to say that's a bad thing, as there are certainly plenty of other great tracks on offer than just their MTV smash. Freedom Of Choice was the band ironically taking a stab at corporate America (the name came from a burger advertisement) an added irony that came full circle as the band themselves gained a new found notoriety.
The sound here is more tight, punchy and hard, with an even mix of live instruments and synths, to which some would say is to the detriment of the emerging sci-fi edge displayed on their previous effort. Yet this loss becomes the gain of another fully cohesive statement by the band, this time twisting the pop myth on its head as its presents the avant garde disguised as commerciality. There's no doubt there are some total classics on here: the ambitious 'Gates Of Steel', the straight up new wave mover 'Girl U Want', the pummelling beat of the title track and of course the dance floor subversion of 'Whip It' that proved the young and the dumb could like something with substance. Devo's last guitar driven album, Freedom Of Choice is undisputedly a classic LP, perhaps rightfully the only one you already own.
---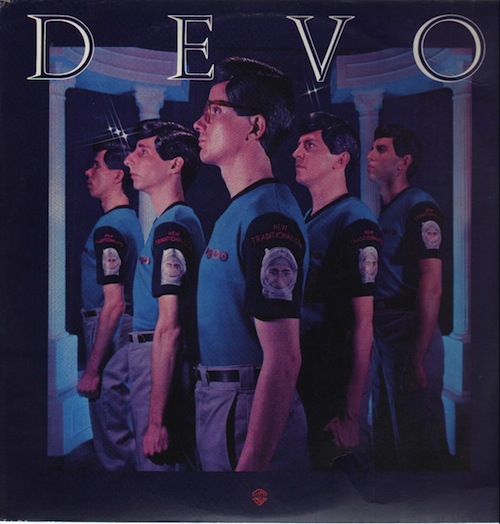 New Traditionalists
(Warner Bros., 1981)
This is Devo at their most scientific. The emphasise on guitars has been culled to make way for a more synthpop direction, a path they would continue down. Drum machines take over a good portion of the rhythmic duties here whilst synthesizers hold up most of the main melodies, and to many fans this was a step down. I personally disagree, the bands newly developed robotic direction and self-production style embraces the synthetic approach the band had always promised would prevail.
Perhaps less humorous and off-kilter in content than previous offerings, it still contains some of Devo's cleverest and most cynical lyrical content accompanied by some jerky, yet undeniably danceable, grooves. The anti-anthem 'Through Being Cool' sets the stage, but the highlight comes in the form of 'Beautiful World' a sarcastic social commentary on the state of human nature, set to one of their subtlest yet most memorable melodies…their point emphasised to great effect in it's accompanying video featuring a montage of footage displaying human suffering. Showing us that De-evolution was indeed real and that the band had not lost their bite.
---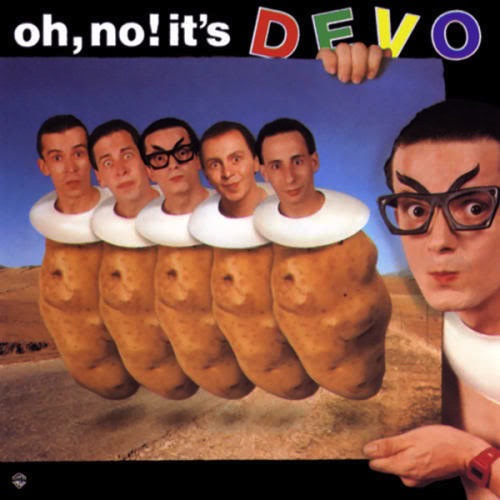 Oh No, It's Devo!
(Warner Bros., 1982)
This was the first Devo album I actually owned, so in that it holds a special place in my collection. To myself as a young kid it was a bold and outlandish statement in pop, a true eye opener. To others it was a band that had headed too far down the path of dance music, an issue I never had a problem with. Unfairly disparaged at the time of its release, this is the still the sound of arthouse and pop culture colliding, as Rolling Stone once said of this LP "it's best moments combined art and pop in a way that sounded as good in a gallery as on an episode of a sitcom."
Comparatively to Q: Are We Not Men? this is a very easily digestible record, largely due to the work of big time producer Roy Thomas Baker, yet placed alongside other records of the era that he also produced (Queen, The Cars) it still stands up as a truly absurdist work. The throbbing bass lines and synth blasts of dancefloor heavy singles 'Peek-A-Boo' and 'Big Mess' sit conversely alongside the controversy brought about by 'I Desire' were Devo lifted lyrics from a poem written by John Hinckley, Jr. (the man who attempted to assassinate President Reagan in a desperate attempt to impress actress Jodie Foster). The CIA came knocking and Devo still knew how to agitate. Tired of simultaneously being called fascists and clowns, Jerry Casale once said the creation process for Oh No, It's Devo! started with the simple question "what would an album by fascist clowns sound like?" When you look at this album with that in mind it puts a whole new slant on it.
---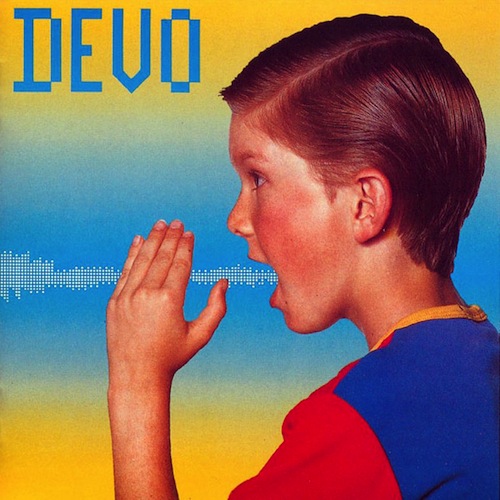 Shout
(Warner Bros., 1984)
To many fans this album would see the band take a down slide, but since everything else nowadays has been afforded reappraisal I don't see why this album should be an exception. Regardless of your viewpoint it is still an important part of the Devo story. Less dark and sinister than their preceding LP, yet focused along a similar, if slicker, sonic path, Shout still has many endearing qualities to counteract what some see as an overdose on production. The pressures of emerging technology may certainly have played a part in its failure to connect, though heavy reverb, gated drums and the use of the Fairlight CMI synth was normality for a major label album approaching the mid '80s. Strange then, that Devo's most synthpop album failed to be a success considering the popularity of synthpop at the time.
While there are no standout tracks per se, the melodic vocals, which are more direct than previous efforts, are still hook laden and sit along side some compulsive synth lines. 'Here To Go' does a decent job at a dance track and 'Please, Please' has a bassline that still reminds you your listening to a Devo record. Bearing in mind the musical climate it does seem that releasing their cover of Jimi Hendrix's 'R U Experienced' as a single rather than the obvious pop of 'Don't Rescue Me' was a mistake. In theory this should have been the album that catapulted the band into the stratosphere, but their openly admitted reliance on too much new machinery perhaps hampered their creative output, or perhaps the musical landscape was simply out of step with Devo rather than the other way around. If your taste lies firmly on the side of punk rock then perhaps give this a miss, if however you have penchant for synthpop definitely give this one a try. File under further listening.
---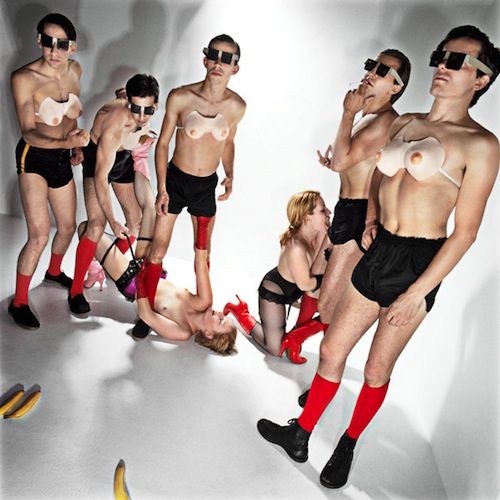 Hardcore Devo: Volumes I and II
(Rykodisc, 1990 / 1991) [Reissued by Superior Viaduct in 2013]
These are actually two separate releases originally released back in the early '90s, but for the sake of ease I have included them both here for reasons different and the same. What you have with Hardcore Devo are excellent low-fi documents of the initial recording stages of the band, although be aware, depending on your level of De-votion you may find the Volume II a tough one to tackle. Back in the early '70s, while at Kent State University (where they firsthand witnessed the Kent State shootings) they began recording very primitive demos in their basement studio. Minimal, unpolished, gritty and without the input of the man in the suit, these recordings are a true example of Devo in their laid bare infancy.
Volume I focuses more on the embryo of many heavy hitting Devo numbers such as 'Mongoloid', 'Jocko Homo' and fan favourites like 'Mechanical Man', whereas Volume II delves into the weirdness of 'Goo Goo Itch' and 'Baby Talkin' Bitches' alongside slowed down primitive versions of 'Be Stiff' and 'Clockout'. Volume I is certainly more cohesive a document whereas Volume II can at times feel a little like the less successful leftovers, enjoyable nonetheless…maybe even for that very reason. Ultimately these work best as one complete entity though, a window into the raw nucleus of pop culture insurgents. Both volumes were recently reissued so you can still pick them up on separate vinyl or together on a double cd, complete with Moshe Brakhas' striking original cover photography.
---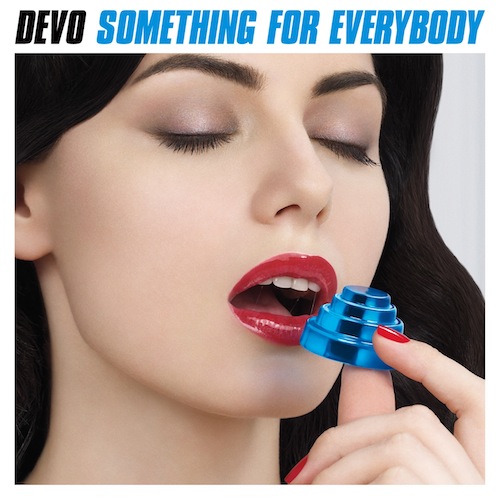 Something For Everybody
(Warner Bros., 2010)
Listen / Buy
The world finally catches up. Something For Everybody is not the album you fear it will be, most band recordings after a long hiatus usually result in tragedy, but in fact this is actually a triumph and far superior than their two preceding albums before this point: Total Devo (1988) and Smooth Noodle Maps (1990). At it's best the tracks still sound like classic Devo, albeit an amalgam of their different incarnations, perhaps leaning more toward the mechanical swing and pop punch of Oh No. Yet the original 1978 message is still exactly the same, it's just more obvious what that message is nowadays in todays world of reality television, superfast technology and overt self importance. "88% focus group approved" sings the self aware corporate terminology that inaugurated promotion for the album, this is Devo, Inc. in cahoots with the Mother creative agency to produce a 'commercially viable product' in a delicious slice of boardroom irony.
This sentiment is echoed in the product pitch of opener 'Fresh', with melodies almost doubling as advertising slogans against Devo's punchy guitars of old, very much setting the pace the for the rest of an LP that doesn't really let up until the emotive and wonderful 'Later Is Now', a track thats spirit works in tandem with their reason for returning, harkening back to the worldview as previously witnessed on 'Beautiful World', this time focusing on humanities mental drudgery rather than atrocities. This album is the band letting us know they were right all along.
---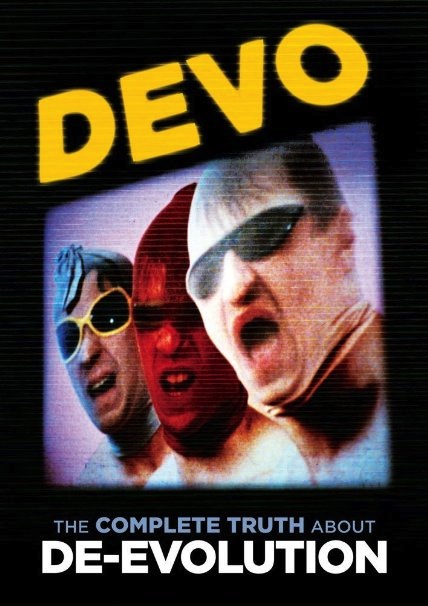 Devo: The Complete Truth About De-Evolution DVD
(2014)
You simply cannot appreciate Devo without appreciating their visual aesthetics. This roughly chronological DVD compilation comprises of everything the band ever did for video (with the exception of their Jimi Hendrix cover which could not get clearance). One of the most important submissions here is the film that started it all – 'In The Beginning Was The End: The Truth About De-Evolution'. Comprising of the songs 'Secret Agent Man' and 'Jocko Homo' this prizewinning mini film, directed by Chuck Slater, was Devo's visual manifesto and debut of longtime character Booji Boy. Aside from a vast collection of well known MTV videos: 'Whip It', 'Through Being Cool' and so forth, the disk also includes some of their rarer output such as 'Worried Man' from Neil Young's 1982 movie Human Highway which featured Devo as nuclear garbage men. This collection not only demonstrates how prolific the band was but also how much they had in common with the art world (namely the Dada movement) as step by step Devo twist abstract pop cultural references into a modern performance art all of their own.
---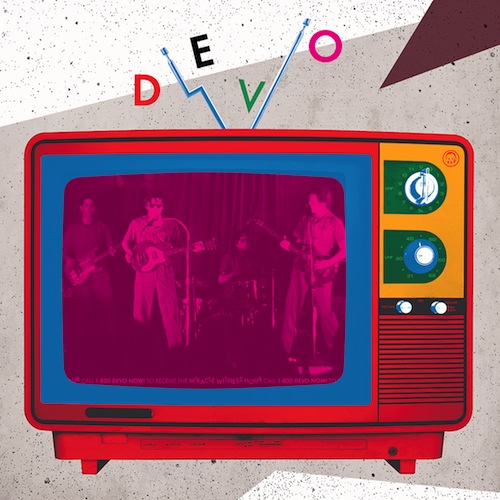 Miracle Witness Hour: Live in Ohio 1977
(Futurismo, 2014)
Ok, so possibly a bias inclusion, but one I feel is important nonetheless. When releasing this it was important to elevate it beyond the territory of the bootleg live recordings that have littered recent years. Jerry Casale came up with the great name, and from that we built a concept that centred around a paradoxical televangelist transmission sent through some skewed time portal. The ambitious sleeve design referenced what I consider to be some of the most forward thinking postmodern designers of the late '70s, purposely over the top and intended to demonstrate how in 1977 Devo were already influencing the way the following '80s would look.
The actual music is the true gem here though, my favourite live recording of the band for so many reasons. The choice setlist features big hitters such as 'Mongoloid' and 'Jocko Homo' which mix up with lesser known numbers such as 'Soo Bawls' and 'Polyvinyl Chloride'. The articulate performance and the surprising quality of the recording considering the situation are also great. Yet the truly intimate atmosphere (complete with only a smattering of handclaps) is the reason I find it so intriguing. Devo's raucous sci-fi performance art juxtaposed against a gritty redneck biker bar simply adds to the tension of what I consider to be a fantastic document of small town Devo on the brink of a collision with notoriety and fame. I wish I could have been there.