Published on
August 25, 2018
Category
Features
Photographer Alex Bartsch has spent the last few years tracking down the locations behind some of reggae's most iconic sleeves.
A portrait of the music and its adopted home in the British capital, Alex Bartsch captures the context around each record in more ways than one, offering a new and refreshing perspective on the relationship between the city and its musical heritage.
Collected in new book Covers: Retracing Reggae Record Sleeves in London, which is published by One Love Books, Alex shares four sleeves conceived on the streets of west London, starting with Grooving with Bamboo, a compilation whose cover was shot during Notting Hill Carnival in the early '70s.
---
Various Artists
Grooving with Bamboo vol.1
(Bamboo, 1971)
The cover of Grooving with Bamboo vol.1 was the 50th and very last cover that I re-photographed for the project. The photograph on the cover was taken by Horace Ové on Ladbroke Grove during Notting Hill carnival in the early '70s. His son Zak had told us about the location where his father took the photo.
"I came up with the concept for a reggae documentary and was looking for a director. Horace Ové was a young director, the only black director at the time, and although he didn't have a lot of experience I went with him because after interviewing him I thought he could relate to what I wanted to do. When I got to know him I realised that he also did art, so asked him to do some album covers for me.
"At that time the model thing was happening in reggae – Tighten Up Volumes One and Two and things like that. It was all about models and girls and I didn't want to continue with that. I didn't like it. I thought, 'Our music has far more value than just a girl on the cover.' The music we were doing had a little jazz influence, it had an African influence, and I wanted to make sure that the sleeves represented and reflected the music we were putting out."
– Junior Lincoln, record producer/founder of Bamboo Records
(Interview with Al 'Fingers' Newman, 30 August 2017)
---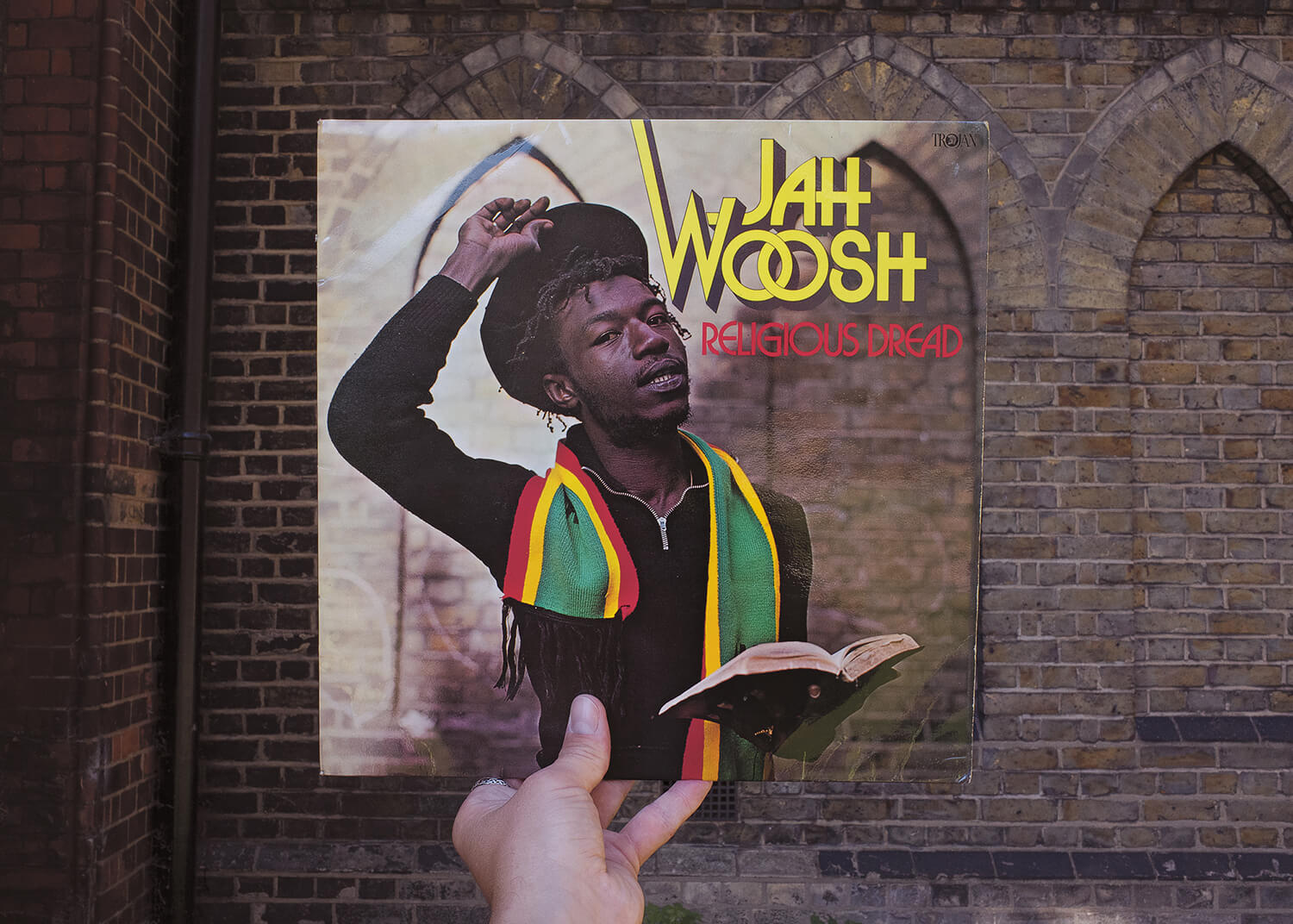 Jah Woosh
Religious Dread
(Trojan Records, 1978)
This cover of Jah Woosh photographed by Richard Holt was taken at the Parish Church of St John which is situated just north of the Carnival on the top of Ladbroke Road.
"The photography was miserably paid, so that's why no enormous effort was put into it. I did what I could, given the resources. No money for a location or anything like that. The whole thing about Saga [Trojan] was it was done on no budget, so you couldn't really go anywhere. I think Jah Woosh just turned up at the Saga office, and off we went down the road. We found the church and said, 'This will do.' Most of my career as an album cover photographer was around classical LPs for EMI, Philips, Decca, those sorts of labels. It was very different to the reggae business, I can tell you."
– Richard Holt, photographer
(Interview with Al 'Fingers' Newman, 9 June 2017)
---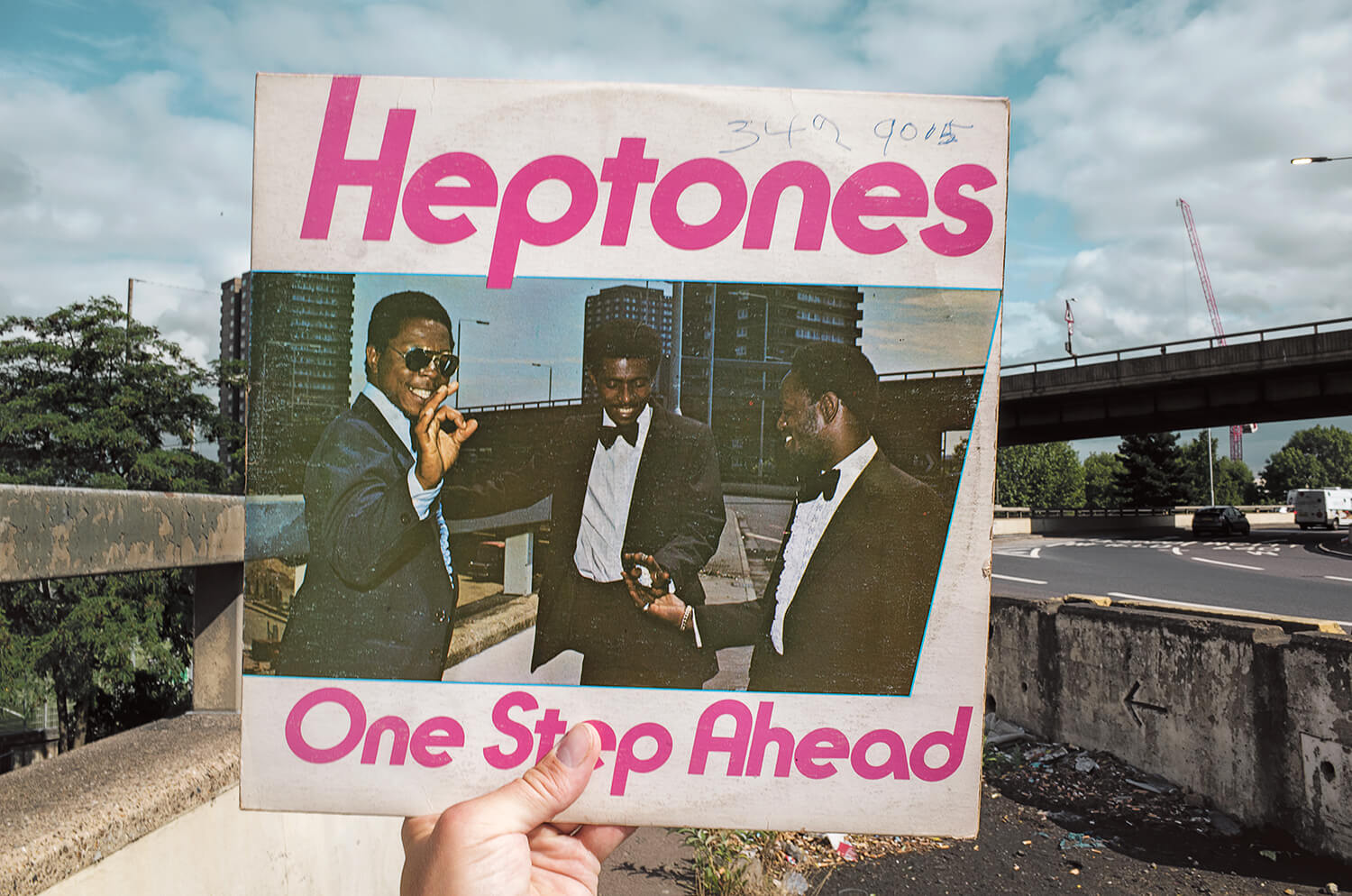 The Heptones
One Step Ahead
(Sonic Sounds, 1981)
Another cover that was photographed in the area is One Step Ahead by the Heptones taken on the Westway in north Kensington.
"We were down on the town, taking pictures all over. We even went to Buckingham Palace and a policeman wanted to take away our camera. We explained to them, 'We are singers from Jamaica, we are the Heptones,' and they gave it back."
– Naggo Morris, Heptones singer
(Interview with Al 'Fingers' Newman, 18 May 2017)
---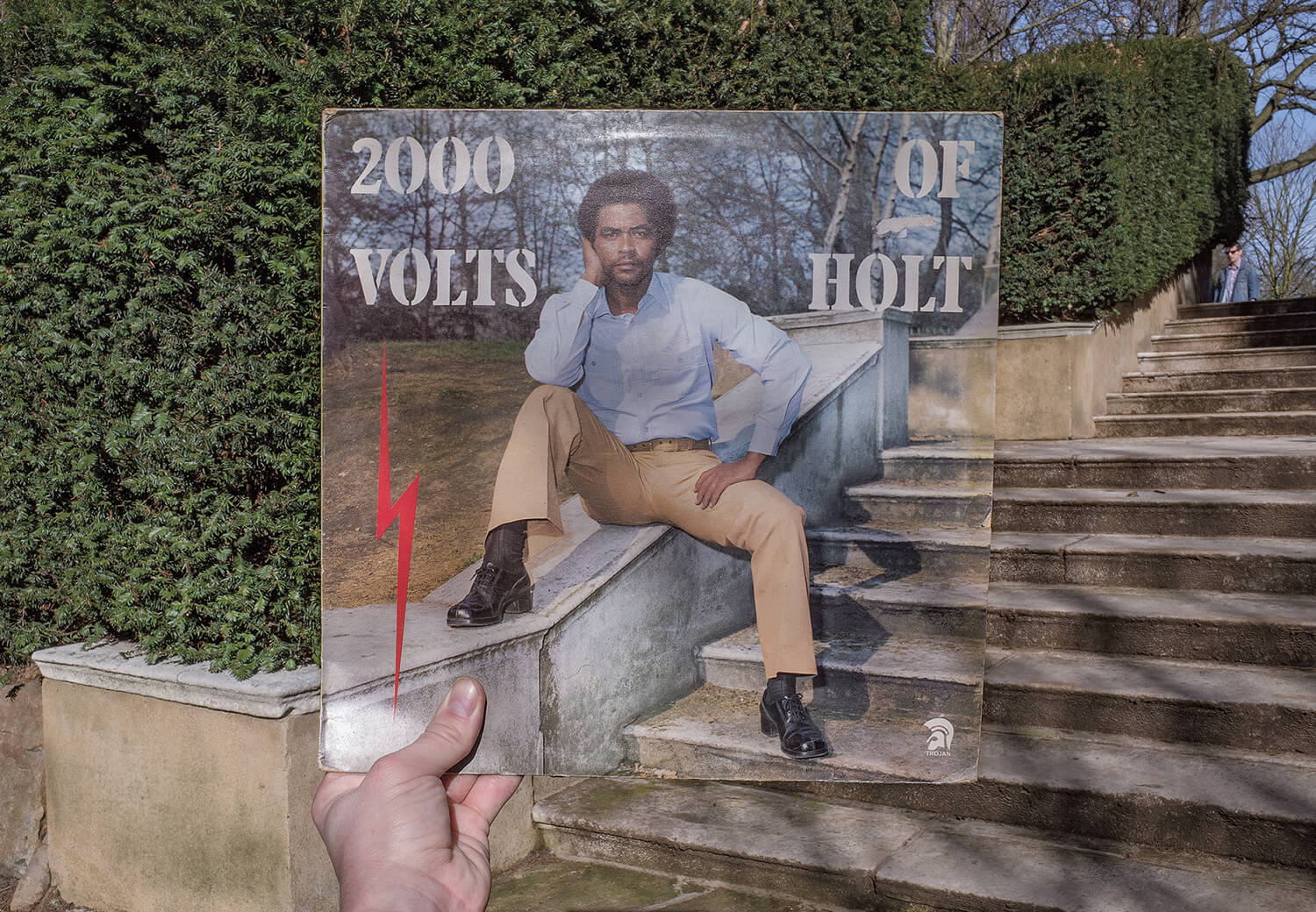 John Holt
2000 Volts Of Holt
(Trojan Records, 1976)
Just south of the Carnival, in Holland Park is where the cover of 2000 Volts of Holt was photographed. Lansdowne Studios was also based in the area.
"I produced John Holt's Further You Look album tracks for my sound system, Chaguaramas. I then added strings and took it to Trojan for release, complete with a Ras Daniel Hartman cover. The Dusty Roads LP followed on Trojan's request, but I was not interested in recording John again so he produced it on his own. Acting as John's manager, I initially stopped Trojan from releasing the LP because I thought it could be better. I decided to do another album and took control as producer, picking twelve songs, which I recorded at Dynamic Studios in Jamaica with the arranger Brian Rogers. I added the Philharmonic Orchestra and John's voice in various London studios and the set was released as 1000 Volts of Holt. After that, Lee Gopthal asked me to become Trojan's house producer. For the follow-up, 2000 Volts, I again didn't want to work with John, so he took charge of that project himself. It was around the time Trojan went under. Things just fell apart."
– Tony Ashfield, record producer
(Interview with Al 'Fingers' Newman, 28 June 2017)
---
Alex Bartsch's Covers: Retracing Reggae Record Sleeves in London is available to buy via One Love Books.
Cover image: Alex Bartsch re-photographing the Grooving with Bamboo Vol 1 LP cover on Ladbroke Grove, August 2017 (photograph © Al 'Fingers' Newman)