Resident DJ and disco legend Nicky Siano tells Oli Warwick what really went on in the booth.
In the history of DJ culture, Nicky Siano's presence looms large. His club The Gallery was instrumental in forging the disco culture of the 1970s in New York, while his technique on the decks helped further the art of mixing records as we know it. Of all the fabled NYC clubs of disco's golden age, Studio 54 was the most notorious, with its column inches of celebrity excess, ruthless door policy and lavish production values, and Siano was on board at the very start.
As one of the most renowned DJs in New York at the time, Siano was already playing at Steve Rubell and Ian Schrager's first club Enchanted Garden. Once they moved to Manhattan and opened Studio 54, Siano shared DJ duties with the full-time resident Richie Kaczor on the nights he wasn't playing at The Gallery, until creative differences saw him fired four months into the club's initial run. Tax evasion saw Rubell and Schrager put behind bars in 1980 and the club re-opened under new management, but it's the wild first three years that created the legend of the club. 40 years on from its opening night, Siano looks back on his experiences of Studio, the music that made the mammoth space move and how it fitted into the late '70s New York club scene.
---
My first impressions of the place were that it was expansive and could be great, but I didn't see the possibilities. I didn't see how the lighting was going to look, but Steve and Ian knew what they were doing. They had a sheer curtain that came down on the dancefloor and made the place half the size, so when people were coming in it didn't look as huge and as expansive as it was.
The night it opened Richie played and it was really crowded. The night that I played, the second night, was not. It was like 300, 400 people, and that for Studio was empty. Studio didn't really kick in for two weeks when Bianca Jagger had her birthday party, and after that everything was smooth sailing. They filled it every night of the week that it was open. I think it was closed Mondays. You really needed 2,000 people to make it good, and then on the weekends they had up to 3-5,000 people at points.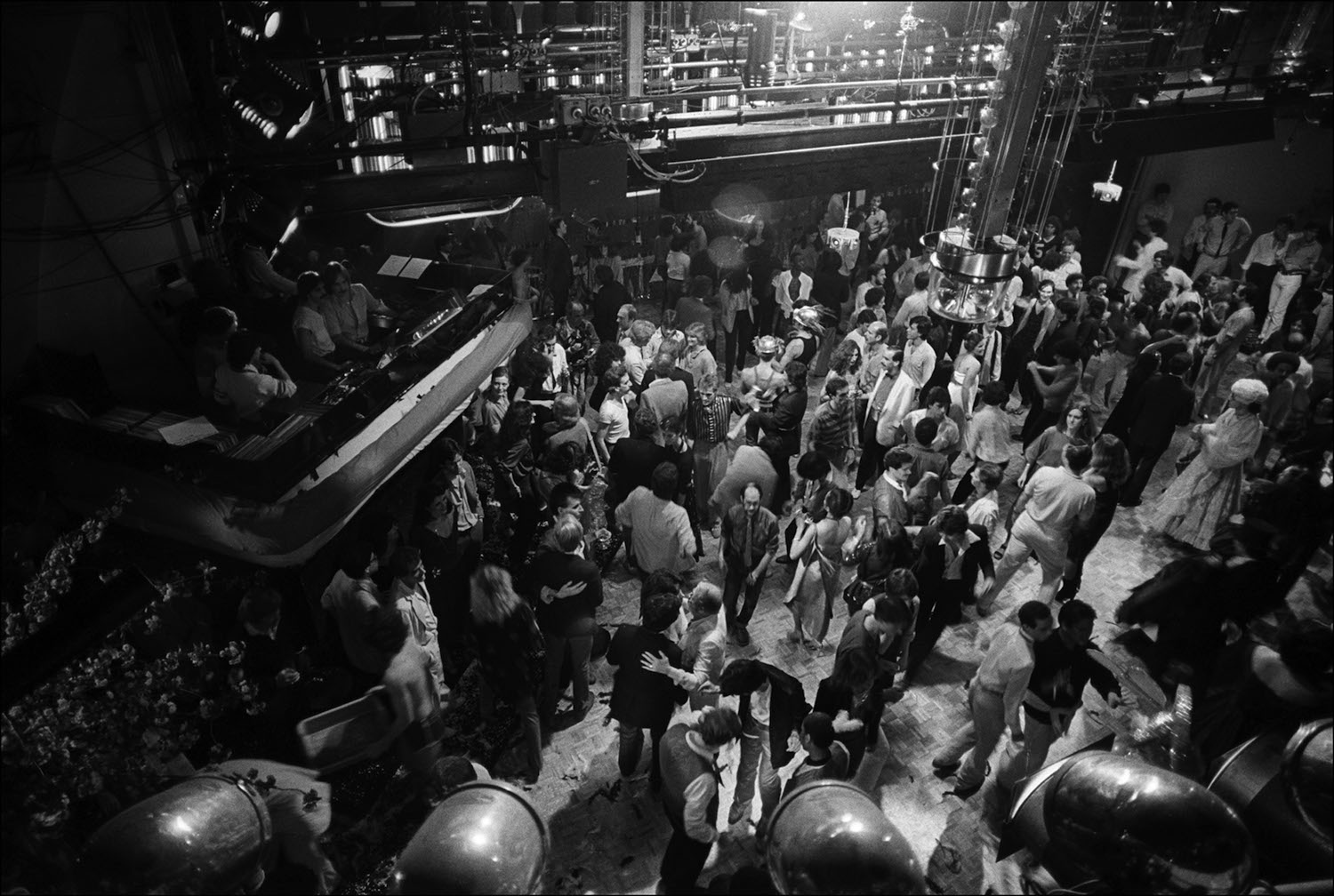 I was one of the first, you know, DJ stars, if there were DJ stars. I had an ego the size of Studio 54. I knew how to play records and I just figured I would play records the way I normally play records, but that's not what Steve wanted. Steve wanted an invisible DJ, so that it wouldn't interfere with the club. Richie Kaczor was the man who played most of the time at Studio 54. He played for the three magnificent years that it was open, and no-one knows his name. In books, in documentaries, in everything that you see on Studio 54, they never say Richie Kaczor. They say, 'Oh the music was fab,' but no-one knows the name of the DJ. It upsets me a lot.
Richie created a seamless night. We didn't have the help of 10-percent Technics turntables at Studio, we had Thorens TD-125s. They only went four percent in each direction and we never used even that much because we thought it was bending the record too much. Richie would start at 98 beats per minute and then he'd go to a record that was 105 beats per minute and then there'd be something that was 110 beats per minute and if he wanted to get up to say 'Lovin' Is Really My Game' [by Brainstorm] which is all the way up 132, he would build to that and play a record, a record, a record, until he got there.
I wasn't built that way. If I felt that 'Hot Butterfly' [by Chaka Khan], which was 93 beats per minute, was the best record to go next I would just let the record end, play a sound effect or something like that, and just let it end, and bring the record in from the beginning. That's what made people turn and look at me and connect with me at Studio, and that's what Steve didn't like. He wanted Richie's nights to be seamless, and I could do that, but unfortunately I didn't think that was the best way to play records. For me it's about the selection, always!
I would play some stuff other than disco at Studio. When I played the Bianca Jagger birthday party I played a lot of rock n' roll, I played 'Sympathy For The Devil,' and I played a few other Stones things that I had brought with me. After Steve and Ian were in jail, I went back to play at Studio 54 when it was a venue for Mike Stone's parties and Grace Jones was there. I remember playing almost every record off her Warm Leatherette album – all the alternative cuts like 'Pars,' 'Love Is The Drug' and 'Hunter Gets Captured By The Game.' I played all of those records the night she appeared, so yeah, I would go off book a lot.
I love Grace, but with a lot of the performers at Studio… DJs don't like the unexpected, and a lot of those performances were unexpected, like the Michael Jackson thing. Steve comes to the booth and he goes, "Michael Jackson's here and he wants to do 'Off The Wall,' do you have it?" "Of course I have it, but what do you mean? I gotta stop playing?" "Yeah yeah yeah, just stop." It wasn't what we were built for, me or Richie. I remember the night Diana Ross was sitting on the booth, and I walked in there and Richie was pissed because all the records were built into the booth. You'd have to move her around to get to your records, and she would get all like, "Ugh!" I'd be like, "I have to get my record, bitch!" you know? It was really a conflict of interest!
Richie was treated like shit. I wouldn't let that happen. I would just get up in Steve's face about it, but Richie just let it happen. He would tell me how upset he was afterwards, but he wouldn't say anything to Steve, he would just take another Tuinal and look the other way. Richie was a Tuinal addict, the poor baby. It was a bad time for drugs – all of us were doing things that we shouldn't have been doing. We should have been enjoying our success and working on our craft but we were popping drugs and looking the other way a lot of times, because it was a lot about dealing with club owners who had one idea of doing things and us who had another idea of doing things.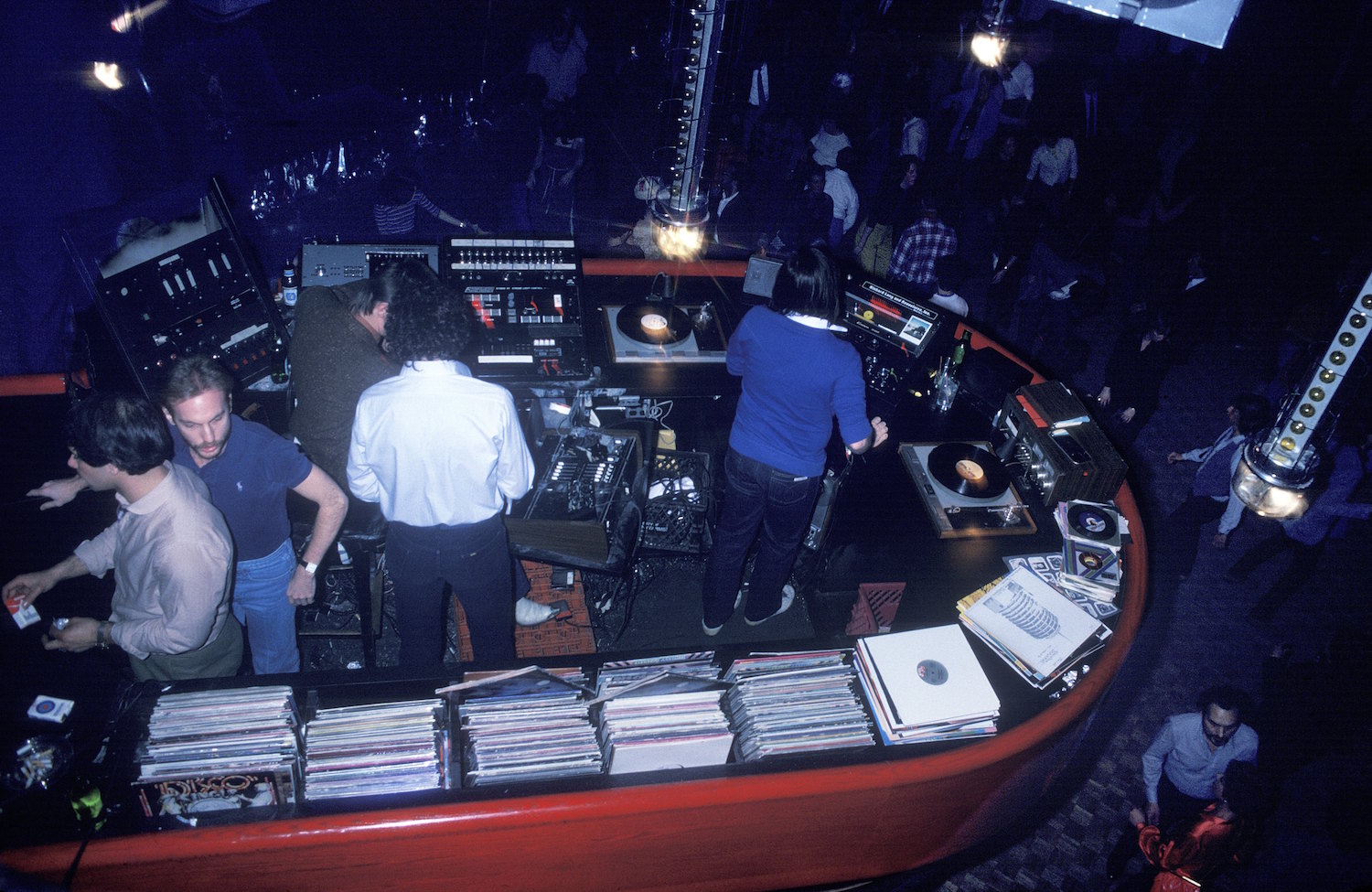 It wasn't like the booth at the [Paradise] Garage where there was a lounge next to the booth. It was a tiny booth, and once Robert was in there working the lights, and Richie was in there and maybe I was in there, that was it. It was too crowded already, and to have Diana Ross and her bodyguard, and Steve and his friends, it was just crazy. It made it very difficult to do the job.
After a while it became like every DJ wanted to play there, but most people didn't work the room. Richie became the master of that room. Most people could not work that room. It just died with other people. That room had a lot of spectacular lights and a lot of spectacular effects, so the songs needed to be big. They needed to have things the lighting could catch on to and be magnificent with. The song that comes to my mind is 'Relight My Fire' [by Dan Hartman]. That was the perfect song for Studio. It had so many crescendos where all the lights would be on. Every 20, 30 minutes you needed a song like that in there, but that goes against my whole credos of what DJing is all about, which is about inspiration.
Once 54 opened everything was compared to that and nothing was as spectacular, in my eyes. There was this place called Xenon that opened three blocks from Studio and everyone was talking about it. I went and I just thought, "This is so bad." Studio had lighting that moved up into the ceiling and disappeared. There was so much up there in the grid that the whole lighting rig would completely change five or six times a night. It was so incredibly techno-savvy, and then you go to Xenon and they have these lighting rigs and they moved six inches back and forth, and I was like, "Oh no. This is just not happening." It was so cheesy.
In terms of the crowd and atmosphere at Studio, it was pretty cool. I can't deny that Steve picked the right mix of people to put in the club. It was just done poorly. I just cannot condone that kind of door policy, anywhere, anyhow, anyway, it's not right. You can give out memberships and say members only, or members and guests. That's what we did at The Gallery, David did invitations, the Paradise Garage did memberships. There was a way to do that without offending everyone who came and making them feel like shit. It was cool if you got in, but it was really fucked up if you were left outside all night.
In the end, it just didn't work out for me at 54. Bring 'Trans Europe Express' back to the frontline. The first time I played that, it was "off the floor," and I was out the door! I saw Steve talking with Richie on the balcony and I was within earshot. I put on 'Trans Europe Express' and half the people walked off the floor. I heard Steve, very clearly, say to Richie, "For instance! What the fuck is this song?!" Later that night it was like, "I don't think we're moving in the same direction." I said, "You're right, we're not."
---
Nicky Siano is playing West End Fiesta 2017 in Glasgow, 9th-11th June, and Hallelujah Disco at XOYO, London, 6th-8th July.
All photos courtesy of Getty Images.