Published on
June 6, 2019
Category
Features
Listen to Errol Anderson's mix, combining sounds from the live show with Yussef Dayes, Obongjayer and others, with British black music heritage from Cymande to Sons of Kemet.
London-based menswear designer Nicholas Daley's work draws a thread between the old and the new, connecting the people he admires, whether musicians, poets, artists or DJs.
When we last caught up with him in early 2018, Daley had just announced Red Clay, a collection inspired by the sartorial legacy of jazz giants like Miles Davis and Freddie Hubbard, showcased live in London by a cast of contemporary musicians led by Shabaka Hutchings.
In that sense, Daley's fashion shows are more like live concerts, and he relishes the opportunity of bringing musicians together for one-off performances and jam sessions. "My main goal is to create an experience and to challenge what a fashion show should be," he says.
Photos by Reuben Bastienne Lewis
While Red Clay drew more explicitly on jazz, his Spring/Summer 19 collection SLYGO taps into the British culture clash legacy of reggae, punk and jazz that has been the hallmark of DJ Don Letts, who hosted the occasion. The formidable line-up this time included Yussef Dayes, Obongjayar, Mansur Brown, Cosmo Pyke, Charlie Stacey, Yahael, Rocco Palladio, Simone Jones, Nabihah Iqbal, and Caya Soundsystem.
For Daley however, this collection is also woven into the fabric of his own story. "My parents ran one of the first reggae clubs in Scotland from '78-'82 playing across different cities such as Edinburgh, Glasgow and Dundee," he explains. "They felt no one was really playing the music they loved in Scotland at that time and they wanted to bring people together".
Photos courtesy of Nicholas Daley
The collection is named after his father's DJ alias IMAN SLYGO SYSTEM, and features a reproduction of "The Reggae Klub" t-shirt made by his parents. Drawing on a '70s aesthetic, classic reggae films Babylon and Rockers, alongside records like Jacob Miller's Tenement Yard, Fabian's 'Prophecy' and Culture's Two Sevens Clash , Daley's designs have a unique ability to work across mediums.
"It's super important for me to try and connect multiple elements within my work," he continues. "It is great to have cultural icons like Don Letts mixing with someone like Mansur Brown at my shows, and to share experiences between different generations. Even my with shows, I always try to have a diverse casting of models, musicians, poets etc and the audience to come from a wide demographic. I guess it's all about mixing things up and taking inspiration from many different view points. I hope to create something new for my audience to see but something which also nods back to the people I admire."
One of the view points integrated into the SLYGO story is that of Touching Bass' Errol Anderson, who Daley invited to mix the live recordings from the session and the sonic influences of the collection, with his own inspirations. The result is a 50-minute trip through British music past and present that captures some of the energy of the one-off show.
"I wanted to tie together the multiple geographical strands that eventually got reggae into SLYGO Reggae Klub, Nicholas' father's spot in Scotland," Errol explains. "As well as being a journey through music, I think that mixes have a unique ability to act as sonic history lessons which transport you from place to place and across time.
"There's an overlapping dialogue between the West African roots of spoken word artist Obongjayar and Yahael Camara-Onono, the Rastafari nyabinghi of Kiddus I and Cymande's 'Zion I' and Sons Of Kemet's raucous Caribbean-influenced jazz, eventually weaving its way through the lovers rock, roots and reggae that the Reggae Klub might have had blaring out of its speakers. The fact that these sounds move between each other so seamlessly is testament to the power of black music to retain its message; a constant vehicle of expression for a culture disregarded by the mainstream.
Hopefully it respectfully pays homage to the work of the Daley family and also reiterates the significance of physical spaces which incubate these sounds and the communities around them."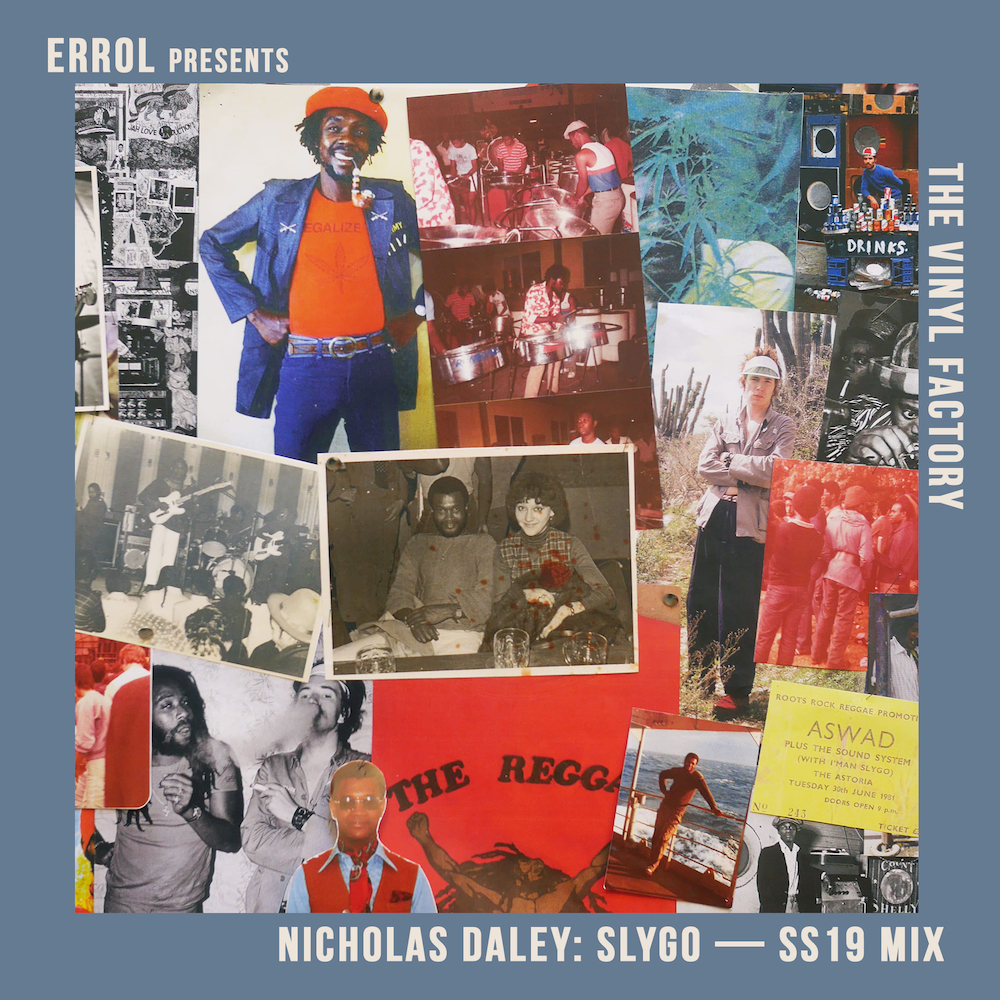 Tracklist:
1. Live — Nicholas Daley SS19 Slygo (Part 1)
2. Kiddus I – Crying Wolf (Nyabinghi Take) (1978)
3. Cymande – Zion I (1973)
4. Negril – Rasta (1975)
5. Motion – No Man Is An Island (1981)
6. Tropical Breeze – So Naive (1980)
7. Delroy Wilson – I'm Still Waiting (1976)
8. Kofi – Black Pride (1989)
9. Live — Nicholas Daley SS19 Slygo (Part 2)
10. Motion – Basshoven (1981)
11. Aswad – Not Guilty (1978)
12. Lifetones – Decide (1983)
13. Sons Of Kemet – The Long Night Of Octavia E Butler (2015)
14. Live — Nicholas Daley SS19 Slygo (Part 3)
Nicholas Daley's SS20 Astro Black show takes place on Saturday 8th June at St Mary-At-Hill Chuch Lovat LN, EC3R 8EE