Published on
December 24, 2018
Category
Features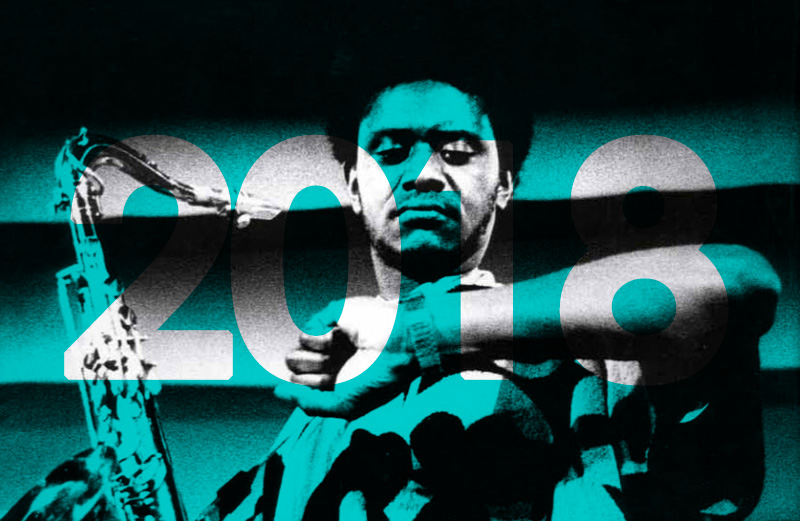 The best VF mixes this year.
While discovering bands and musicians on your own can be one of the most rewarding experiences, there's something particularly exciting about having an artist you admire share their passion for one of their inspirations too.
It's this that we have tried to tap into with the weekly VF Mix series this year, giving DJs, producers, and musicians the opportunity to focus on someone whose work has moved and inspired them both as artists and individuals.
From Japanese pop mavericks to hip-hop legends, Brazilian synth oddities to Polish jazz legends, this collection of mixes showcases not only the breadth of influence, but will hopefully provide hours of discovery for the well-versed and the curious alike.
---
VF Mix 118: Tatsuro Yamashita by Jun Kamoda
Tatsuro Yamashita has been creating genre-spanning music since forming the Sugar Babe band in 1972, before launching his solo career a few years later. Traversing everything from big band and jazz, to electronic, soul and pop, Yamashita has released 17 studio albums, 2 live albums and over 40 singles to date.
To pay fitting tribute to Yamashita's diverse output, we tapped Japanese producer Jun Kamoda. Infusing a similarly playful spirit into releases for the likes of Mister Saturday Night and his recent The Distorted Haunted Ballroom EP on Black Acre – here Kamoda takes you on a 61 minute romp that's sure to move your feet.
---
VF Mix 119: Scientist by Steve Bicknell
Growing up in Kingston, a childhood love of electronics led Hopeton Overton Brown to start building sound system amplifiers. This penchant for sonics attracted the attention of reggae icon King Tubby.
"I told him I wanted to build a console and at that time it was like a real joke to him" shared Brown in an interview with Mike Pawka.
"We joked about making mixing consoles with moving faders and automation… and he said, "Damn, this little boy must be a scientist.""
Brown eventually became Tubby's protege, followed by time as the principal engineer at Channel One and a stint at Tuff Gong. Meanwhile, throughout the 1980s he released forward-thinking dub, reggae and dancehall as Scientist.
To take us through the world of Scientist's music is techno lynchpin Steve Bicknell, who has similarly shaped a scene from the shadows for decades thanks to the legendary 1990s Lost parties he co-ran, which brought DJs like Jeff Mills and Robert Hood to the UK for the first time, as well as his own production work.
---
VF Mix 120: Pharoah Sanders by Tim Garcia
"A student of John Coltrane and Sun Ra, Sanders was described by Ornette Coleman as 'probably the best tenor player in the world'," shares Música Macondo/Jazz FM's Tim Garcia.
"This mix pays tribute to "Little Rock", exploring his creations with both John and Alice Coltrane, his cross-cultural collaborations with the likes of Maleem Mahmoud Gania and Foday Musa Suso, his Impulse! years and beyond."
"I find it hard to put into words the feeling that listening to Pharoah Sanders gives me, but Norman Connors once said of his time with Pharoah. "I can't really describe it. It's just such a beautiful thing. It was almost as if everybody was going to heaven."
---
VF Mix 122: RZA by Mahydar
As shaolin master, founding member, unofficial leader, producer and de-facto creative director overseeing virtually all of Wu-Tang Clan's output, the influence of RZA on rap and hip-hop cannot be overstated.
Though the group disbanded in the late '90s, RZA continued his production work while also moving into the world of film, collaborating with everyone from Jim Jarmusch to Samuel L. Jackson.
Enter the Wu, with Iranian producer Mahydar.
---
VF Mix 124: Charles Stepney by Tony Minvielle
A multi-layered tribute to the legendary producer and arranger behind the psychedelic soul sound of Rotary Connection, and Earth, Wind and Fire.
Broadcaster, DJ and writer Tony Minvielle has been a pillar of the UK jazz scene for almost thirty years. In between holding down a show on Jazz FM, Minvielle has put together this stirring tribute to the influential and under appreciated genius of Charles Stepney, complete with newsreel snippets and iconic speeches that paint a complete picture of the world in which he worked.
---
VF Mix 125: Gilberto Gil by DJ Tahira
One of the titans of contemporary music, Gilberto Gil has done it all. He was a pioneering member of Brazil's politically subversive, musically radical Tropicália movement, for which he was subsequently arrested, he explored the nation's oft-neglected African heritage, and cut some of the country's most enduring, diverse records in the process. In 2003 he became Brazil's Minster of Culture, where he increased state expenditure on the arts by almost 40%, before returning full time to music in 2008.
Paying homage is Sao Paulo's DJ Tahira, something of a musical polymath when it comes to Brazilian groove and whose much sought after remix of Gil's 'Toda Menina Baiana' finally saw the light of day on his fantastic compilation Levanta Poeira: Afro​-​Brazilian music & rhythms from 1976 – 2016.
---
VF Mix 126: De La Soul by Ty
Highly respected elder of UK hip-hop, Ty returned this year with his fifth album A Work Of Heart on Jazz Re:freshed.
To mark the release, Ty dug deep into his archive to knit together a 45-minute tribute to the almighty De La Soul, who featured on his 2006 album Closer.
For this exclusive mix, Ty skips through 13 tracks, from classic Dilla / Marvin Gaye mash-ups and collaborations with DJ Honda to cuts from their 2016 return and the Anonymous Nobody…
---
VF Mix 133: French psychedelia by Lorenzo
Operating on the fringes of jazz and electronic music, Fly By Night has a string of fine releases under its belt, most recently by Strata-Gemma, whose self-titled debut of smoked-out beats and serpentine horn solos dropped earlier this year.
Behind the scenes, its owner Lorenzo has also done more than enough to earn his credentials as a digger, notably on two volume Musica Per L'Immagine, collecting obscure and hard-to-find Italian library music from the late '70s and early '80s.
"As an Italian, I've always been attracted to the music of my French neighbours," he says. "I find it incredibly interesting, especially folk and psychedelic – they're definitely my favourite sounds coming from across the world. Over the years I've been collecting a lot of French producers and musicians, some obvious and accessible like the Cortex LP some other a bit more obscure like Gerard Vincent. This mix shares my favourite ones with all of you."
---
VF Mix 137: Donald Byrd by Jen Ferrer
During the course of his 60-year career, innovative American trumpeter Donald Byrd traversed genres, styles and scenes the way that us ordinary people cross the street.
Byrd first came to fame with Art Blakey's Jazz Messengers in 1954, before performing with John Coltrane, Sonny Rollins, Thelonious Monk and Herbie Hancock (to name a few).
In 1969, with the help of producing duo the Mizell Brothers, Byrd electrified his sound, on seminal albums Stepping Into Tomorrow, Places and Spaces, Street Lady and Black Byrd, sashaying his way through acid jazz, funk, soul and disco charts, into the hearts of mainstream audiences.
Nearly 30 years later, he changed the game once more, collaborating with Guru on Jazzmatazz Volume One and Jazzmatazz Volume Two, seminal albums through which Byrd forever left his mark on hip-hop as well.
To take us through his many spaces and places, we tapped Jen Ferrer. A resident at Los Angeles' Far Away before becoming a full-time member of the crew alongside founder Cooper Saver, Ferrer has also graced the decks at Low End Theory as the in-house DJ.
---
VF Mix 140: Good Looking Records by Tenderlonious
Back when he was at school in the '90s, Ed Cawthorne used to scribble 'LTJ Bukem' and 'Blame' all over his homework. Drawn to the jazzy breaks and sci-fi jungle sound of Good Looking Records, he sent Bukem his first demo recording in 2001, only to be let down gently. "The material you sent in unfortunately wasn't quite right for Good Looking," read the note, "Unfortunately, no one can tell you how to make drum and bass, or any other music for that matter, it's just a matter of practice, practice, practice!"
As influenced by Good Looking and Bukem as he is by Yusef Lateef, Tenderlonious followed the release of his debut album The Shakedown earlier this year by revisiting this early obsession for this personal mix.
---
VF Mix 141: ECM by Arp
American producer and multi-instrumentalist Alexis Georgopoulos aka Arp's album Zebra is deceptively simple. A sumptuous tapestry of Fourth World, Japanese ambience, new age exotica and wiggy cosmic riffs, viewed through jazz-tinted glasses, it's no surprise that the esoteric ECM label is a reference point.
With over 1,500 releases to choose from, putting together a 2-hour introduction to the influential imprint is no mean feat, and this mix spans an incredible breadth of music, from British jazz adventurers Azimuth, to Fourth World pioneer Jon Hassel and avant-garde trumpet player Don Cherry.
---
VF Mix 144: Siouxsie and the Banshees by Veronica Vasicka
Originally founded by Siouxsie Sioux and Steven Severin in London, Siouxsie and the Banshees released 11 albums and 30 singles during the course of their 20 year career.
Led by Sioux's haunting vocals and Severin's futuristic bass stylings, the group pioneered punk music, while also traversing into electronic realms. As such they've influenced artists ranging from Joy Division and PJ Harvey to Radiohead and LCD Soundsystem along the way.
Ahead of her performance at Dekmantel Festival earlier this year, we tapped NYC's Veronica Vasicka to take on their prolific canon. Whether via her website and label Minimal Wave, as a founding member of East Village Radio, or through her DJ sets, Vasicka has spent over a decade sharing obscure and forgotten gems from across the cold wave, post-punk, industrial and synth-pop spectrum.
---
VF Mix 146: Onda de Amor by Millos Kaiser
Some compilations enshrine regional canons, others punch above their weight, making grand claims for wilfully obscure selections. Just occasionally though, a compilation comes along that knows it stands on the fringes of greatness, but just lets the music do the talking.
So it is with Soundway's most recent collection Onda De Amor: Synthesized Brazilian Hits That Never Were (1984-94), compiled by one half of Selvagem Millos Kaiser. Overlooked, cast aside or just never really considered commercially viable, the comp proves that sometimes synths do get better with age, whether on Vania Bastos' silky cover of Sade's 'Sweetest Taboo' or the Casio horn section on chipmunk funk outlier 'Toque Tambor'.
To accompany the compilation, Kaiser has unearthed sixteen more mis-hits and playlist off-cuts for this hour-long mix. Consider this Onda De Amor 2.0, the second part to a story we hope will run and run.
---
VF Mix 147: Street Soul by Ruffy and Randy
Manchester's storied music history has a tendency to coalesce around one particular label and the club it called home. Talk about the city's late '80s – early '90s underground and you'd be forgiven for not reaching beyond the bucket hats and baggy trousers of acid house.
But what if you liked your basslines a little smoother? Manchester's lovers needed somewhere to get down, and on pirate stations, and at clubs across the city, a sound latterly called 'street soul' was gestating – a whole world of downtempo RnB, white label boogie ballads and electronic soul.
---
VF Mix 155: Krzysztof Komeda by EABS
Virtuoso keyboard player and composer Krzysztof Komeda is a dark horse in jazz. Perhaps best known for his soundtrack work with Roman Polanski, scoring 20th century classics like Knife In The Water and Rosemary's Baby, Komeda was instrumental in shaping Polish jazz into a unique force.
Uniting Slavic traditions, the modal freedom of John Coltrane and Ornette Coleman and a distinctly European sensibility, Komeda's music has transcended both nation and genre, and remains an oft overlooked inspiration for a new generation of players.
Not least EABS, the Electro Acoustic Beat Sessions collective, who dedicated their debut album – Repetitions (Letters To Krzysztof Komeda) – to the composer.