Published on
March 7, 2015
Category
Features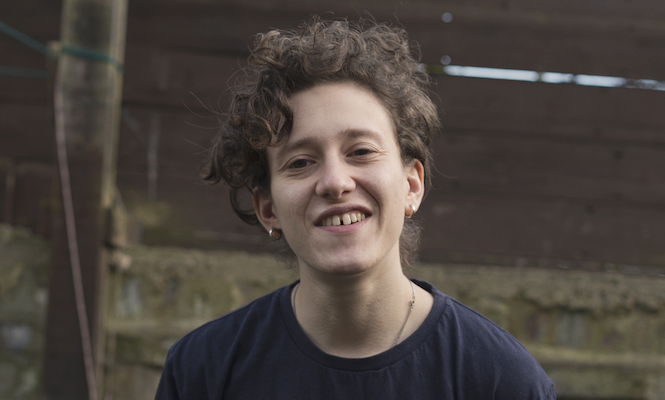 From indie star with Micachu & the Shapes to composing the BAFTA nominated score to Jonathan Glazer's Under The Skin, Mica Levi's journey in music has been marked by her openness to unconventional collaborations. This spring, she was invited by Christian Marclay to compose a piece in response to his solo show at White Cube, which was performed in the gallery last month with London Sinfonietta and cut direct to disc to be pressed by The VF Press. We caught up with Levi after the show to discuss the project and her approach to scoring music in new and bold contexts.
"The thing is with a concert hall, if you're sat down in a seat and you're watching a concert you can just be in your own zone, you don't have to stand and you don't have to distribute your weight". Nestled quietly in the middle of our short interview following the performance of a new composition at White Cube, this deft observation seems to strike at the heart of Mica Levi's skill and sensitivity as a composer.
Half an hour before the performance was due to begin, the White Cube was already fizzing with anticipation. As people crowded around the quartet of music stands in a room encircled by empty beer glasses, the shifting a weight was almost audible. To the left of the stage, cutting engineers were carefully preparing the lathe to cut the performance direct to disc. A large group of people trying to suppress their excitement in an environment that demands silence can create a strange and urgent sense of nervousness. After the success of her acclaimed score to Jonathan Glazer's psychological thriller Under The Skin, the sense of occasion around the performance of a new work by Mica Levi was high.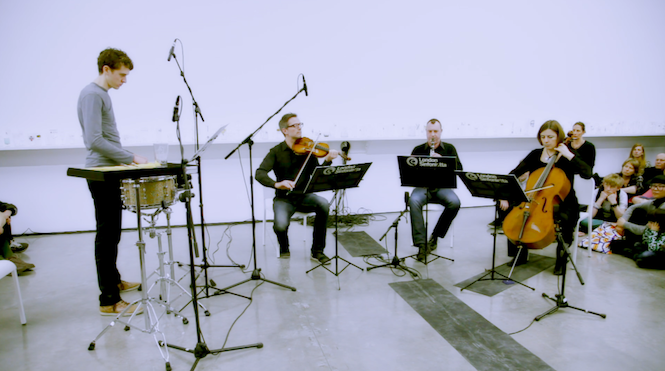 The act of shifting one's weight while watching a performance in a crowded but sterile environment is a subtle and highly personal thing. It also, by its very nature creates a sense of tension in the body. It is the physical manifestation of the microtonal levels of tension and release that have come to define her compositional work, both with Under The Skin and here at White Cube.
"In terms of writing this piece it felt like it was good to just think about the shape of the sound as opposed to thinking about the melodic aspect of it", she explains, unrolling a crumpled piece of paper on which the gestures of the piece have been laid out for the quartet from her long time collaborators at the London Sinfonietta. The piece itself is a series of surges, textural splashes of sound that throb and fade over close to fifteen minutes to slight yet profound tension and release.
For this unique performance, Mica had been invited by multi-media artist Christian Marclay to respond to work in his ongoing solo show at London's White Cube gallery. This performance, as with the full programme of weekend collaborations that have included Thurston Moore, David Toop and Steve Beresford, were cut direct to vinyl, before being pressed and printed in the gallery by The VF Press and Coriander studios.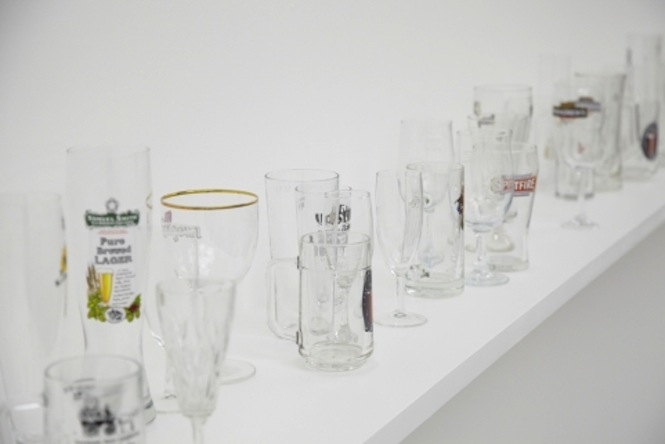 And yet for all the word-play and audio-visual trickery that have grabbed the headlines for Marclay, it was the exhibition's more visceral relationship with alcohol and sound that informed Mica's work. "Basically, I came into the first rehearsal on quite a big hangover", she explains coyly, "and it's just a really bad place to be if you're hungover because it's full of glass and it's bright white." These beer glasses lined up scientifically around the room's perimeter exude a certain brittle, shatteringly disorientating atmosphere. The sound of glass being kicked along the pavement drifting over from the video pieces in the corridor only add to the potential for anxiety. She describes the piece as "surges, when you're heads pounding and you feel sick", or the hungover state of intense vulnerability that can make you aware of even the slightest shift in your surroundings, the slightest change in the distribution of weight.
Like the manufacturing element at the exhibition, the performance of Levi's piece last month was a study in process. Certain things about the composition are fixed and certain things are left to chance, and while cello and violin both play a fifth, "it basically depends on what pitch everyone starts to play". "It can be quite a tonal process of quite an atonal process," she explains, "but you don't find out until it's really loud".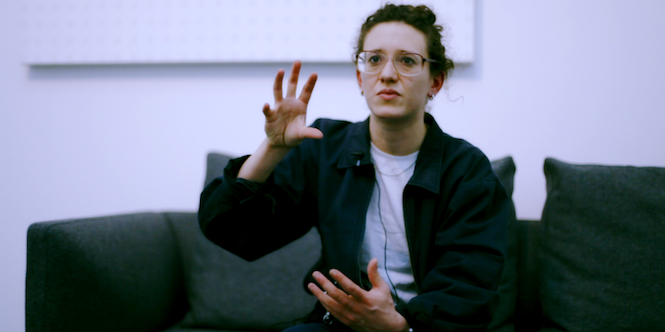 During our short discussion it becomes clear that Levi is given to questioning everything, even her own ideas. Often her answers are qualified with 'I guess' or 'I don't know'; an attractive modesty that also manifests itself as a highly perceptive and interrogative streak. "There's something weird about the idea of chance in an art gallery that makes me feel a bit uncomfortable," she muses. "We're already all here to see something happening by chance, but it really would be more happening by chance if it was happening outside, if you see what I mean? It [the gallery] is already such an organized space…" She breaks off as her phone rings as if proving her point. Interviews can be equally inhibitive to expression.
However, when you're cutting direct to disc, even the slightest chance disturbances have consequences. Mica smiles when I mention the screaming baby for whom the tension proved too much, now cut to record and preserved for ever as the incidental backdrop to the performance. "That's quite an opportunity, I mean it can't happen that much that a kid lands on a vinyl by mistake like that".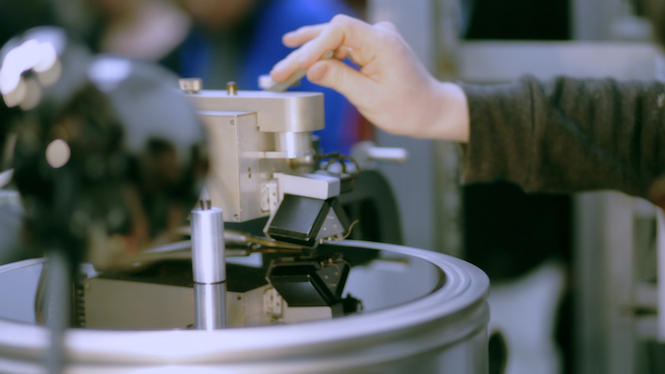 And that's really the point. In a sense Mica Levi is the perfect artist for this project, bringing an appreciation of collective experience and collaboration (whether planned or unplanned) into the solitary realm of the composer and the staged environment of an art gallery. When the performance had drawn to a close and she was on stage begrudgingly accepting the audience's applause – big glasses and backpack on – the tension was finally released, the shifting of weight slackened by this diminutive, smiling figure for whom this was just another part of an ongoing process of experimentation. "When you work with other people and you put two things together… if you work well at your bit and the other person gets into their bit, the stuff that occurs that you can never plan, that's the best stuff".
Mica Levi and the London Sinfonietta will have another opportunity to refine the recording when the piece is performed at White Cube this Sunday. It's free to attend on a first come first served basis and will start at 3pm, but given the popularity of last month's event we recommend you get down there early. Click here to see the full performance schedule and find out about The VF Press.
Portrait by Steven Legere.