Published on
February 19, 2015
Category
Features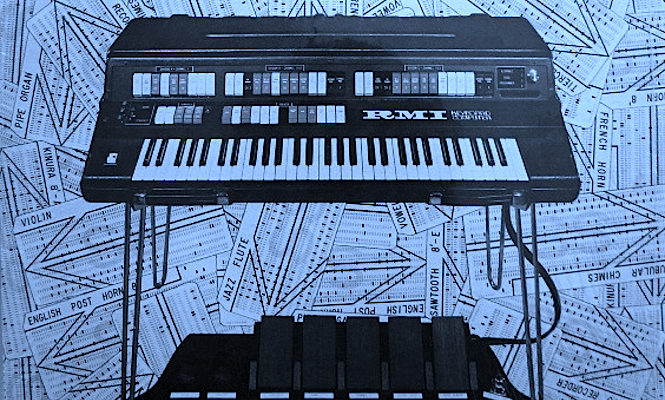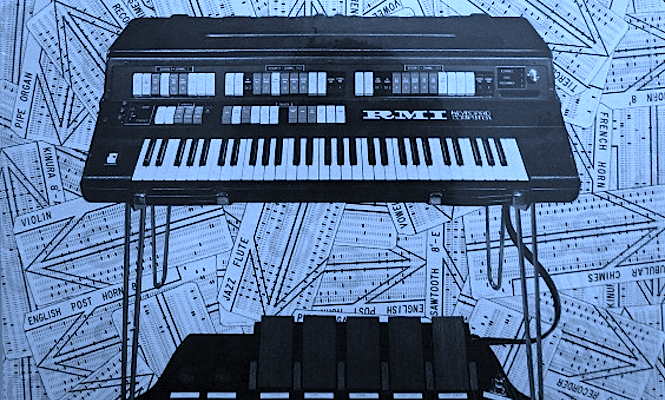 With a new album announced this week, our latest vinyl-only mix sees collector, DJ and Django Django main man Dave Maclean get his hands dirty digging in the library, to unearth a stunning collection of forgotten funk, synth and stock sounds for TV and film.
The library has never been this cool. The bastard child of the venerable film soundtrack, library music has often been tainted with the charge of being both commercial and disposable; mood music for moving images thrown together in double time and discarded just as readily. Hell, most of the records themselves were never even released.
But therein lies the rub. Not only have these items gained a certain collector capital in recent years for being tough to track down, but, far from being anodyne exercises in commercial white noise, their off-market status often allowed library recordings to be among the most experimental, innovative and downright whacky around. You need look no further than the BBC's trail-blazing Radiophonic Workshop, themselves undergoing a renaissance of sorts, for the most striking case in point.
Lumped together as a genre of form rather than content, library records were often written and performed by talented jobbing musicians, with a keen here for funky hooks, atmospheric synth lines and oddball experiments, and packaged by misunderstood design visionaries unshackled by the pressures of creating a saleable image. Under what other conditions could Gareth John's "flying cosmic space hippo car made of synths" have thrived?
Delving into the strange world of library recordings for the latest vinyl-only VF Mix is avid collector, DJ and Django Django frontman Dave Maclean. Having told us all about his geeky vinyl club in Dundee last year, we couldn't wait to hear his selection. Enjoy.
Being a vinyl-only mix, we asked Dave to provide a bit of context to five of the tracks from his selection which you can read below while you listen.
Django Django's new album Born Under Saturn is out on Because Music on May 4th.
---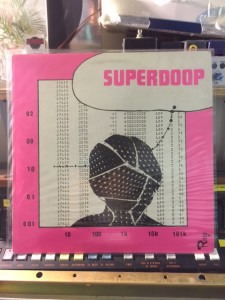 Chameleon
Superdoop
(Rogue Music Ltd., 1981) / Buy
When my older brother John was in a band called The Aliens they were renting a studio near Edinburgh. The owner told John one day that he had loads of old library records in his loft and John ended up taking them back to London to sell for him. I was at the studio visiting and bought this one because I loved the sleeve design. The track I chose from it has a killer sax solo and odd funky synth stabs. It's probably only got one or two good things on there but then that's often the way with these records.
---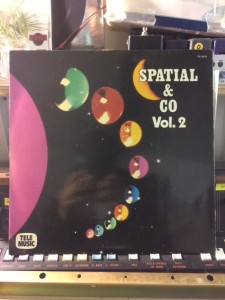 Sauveur Mallia
Spatial and Co. Vol.
(Tele Music, 1979) / Buy
Lovely French disco from Sauver Mallia. I don't know much about this guy but I try to pick things up when I see his name. He did a lot of things for Tele music. He seems to have a Myspace page. Keepin' it naughties. I saw a reissue compilation called Spatial Disco that would be worth picking up.
---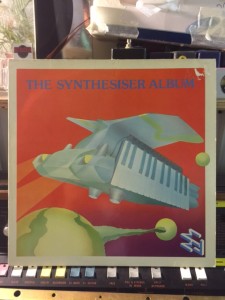 Gareth John
The Synthesiser Album
(MML, 1982) / Buy
Again I bought this for the sleeve. Also it's called The Synthesiser Album so I couldn't resist. I tried to Google it to find out more info but
as you'd imagine searching 'The Synthesiser Album' isn't east. But it's on Monique Music Library and by Gareth John. The sleeve looks a bit like a flying cosmic space hippo car made of synths… trawling the galaxy looking for new sounds. Or just some nice mud to roll in.
---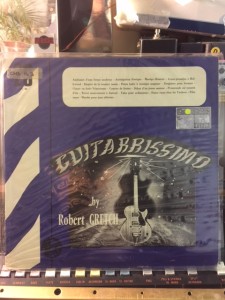 Robert Getch
Guitarrissimo
(Editions Montparnasse) / Buy
This is a real gem and you can pick it up on Discogs for under a tenner. Bizarre little guitar tunes laden with crazy effects. Brilliant and again great cover. When I see a '50s rockabilly guitar floating in space with lightning blasting out from it I'm sold.
---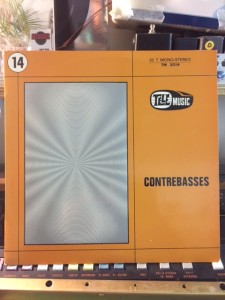 Guy Pederson
Contrebasses
(Tele Music, 1970) / Buy
Another great Tele music record. I first heard 'Kermesse.. ' played by Eleonore Desnos on her great Resonance FM show, L'Alternative and I had to have it. It's a crazy track that seems to go on forever and starts to kind of fall apart around itself. Indian Pop Bass is killer too. Certainly a good 'Guy' to look out for… Sorry.
---
In The Library – Full tracklist:
'Pipe Organ' Clark Ferguson
'In Close Harmony' Darren Baker and Roy Morgan
'Electric Maneges' Spatial and Co.
'Cybernetics' Keith Mansfield
'Galactic Impulses' The Sammy Burdson Group
'Robot Control' Lszlo Bencker'
'Skyscraper' Gareth John
'Hot Day in Pimba' The Soul City Orchestra
'Mood In Motion' Alan Howe
'Peace Waves' Les Hurdle and Frank Ricotti
'Sandstone' Astral Sounds
'Watermarks' John Collins and Mark Harrison
'Vega' Tektron
'Cross Talk' Chameleon
'Filigree Funk' Anthony King
'Hawk Eye' Electric Bird
'Kermesse Non Heroique' Guy Pederson
'Indian Pop Bass' Guy Penderson
'Maag' Robert Gretch
'A Taste of Honey' Irving Martin