Published on
September 23, 2015
Category
Features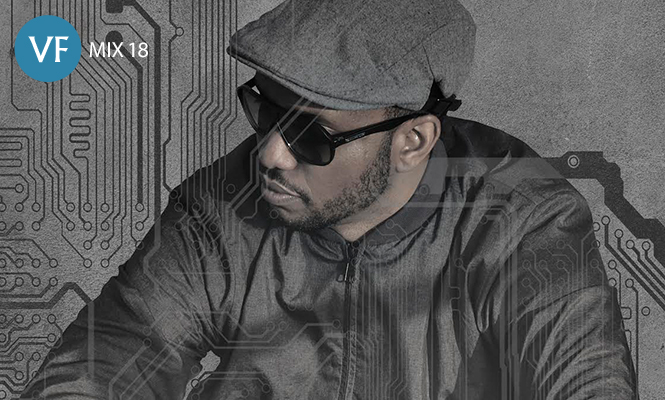 Sound Signature's GE-OLOGY drops 60 minutes of spirit-lifting music for VF Mix 18.
He's produced music for Mos Def, Talib Kweli, Jill Scott, De La Soul, even a young Tupac, and yet GE-OLOGY remains criminally underrated. A mysterious footnote for over two decades, it doesn't help that the man likes to lie low. This year might be the one to change all that though, with an LP on Theo Parrish's Sound Signature and a string of releases on Ron Trent's Prescription label on the way.
Until then, we're happy to be raising his profile as a selector. His VF Mix draws on deep vinyl pockets, ignoring genre lines and concluding with an undiluted and magical gospel piece recorded live from the Revival Temple Holiness Church, NJ.
To put the mix into context we asked GE-OLOGY to pick five key records from the mix and give us an in-depth run-down of why they mean so much to him – see below for that and keep scrolling for the complete tracklist.
---
Words: GE-OLOGY
---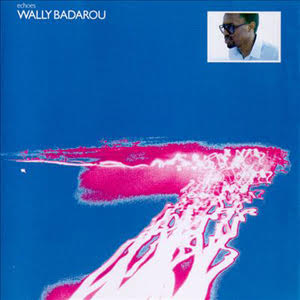 Wally Badarou
'Chief Inspector' from Echoes
(4th & Broadway, 1985) / Buy
Personally, as an artist, I don't like the limitations of labels and genre clarifications, as most creative people draw inspiration from a variety of influences, and have a range of abilities, voices and tools to express themselves through. Such folks are often deemed 'multi-talented'. And for me as a DJ, it's much more important to tell a story through the energy of the music along the journey versus focusing on specific category constraints. Still, the argument remains…some would also say that labels are good for guidance and direction. So on that note, if you're familiar with the earlier, more soulful recordings from the legendary English "pop-rock" and "jazz-funk" band, Level 42, then you may be familiar with Waliou Jacques Daniel Isheola Badarou aka Wally Badarou. From solo projects, to session playing, producing and co-producing, film scoring, etc…Wally's discography reads like a novel (having worked with so many of the greats…from Herbie Hancock to Fela Kuti to Grace Jones and Joe Cocker). Although not an official member of Level 42, the synthesizer specialist was often recognized as the informal fifth member of the quartet…co-writing songs, playing keyboards & synths in the studio and later, co-producing records for the band. 'Chief Inspector' appears on one of his acclaimed solo LPs, Echoes, released in 1984. Remember his name.
---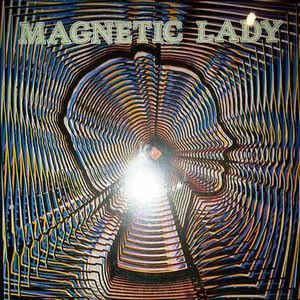 Antonio Arena Ensemble
'Cool Club' from Magnetic Lady
(World Produzioni Discografiche, 1986) / Buy
During a trip to Rome, my brother Maxi turned me onto the Magnetic Lady LP from the Antonio Arena Ensemble, released in 1986. Most of these Italian library albums were produced in small quantities, 300 copies, and weren't sold or distributed to the public. They were often used as a soundtrack for radio and television programs or films…so they are a bit under the radar. But there are some hidden gems on these records in the form of cosmic funk, funk-jazz and synth-pop breaks if you can find them. And I knew once I saw instruments like the Emulator-II, Oberheim OB-8, Oberheim Matrix-6R, Roland JX-8P, Yamaha TX7, the Emulator SP-12, electric guitar, trumpet, alto & tenor sax and percussion all listed on the back of the record, that I would be in for a musical treat.
---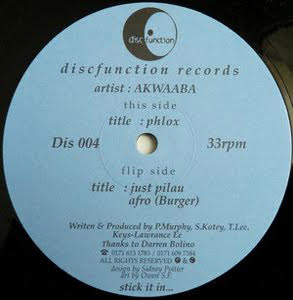 Akwaaba
'Just Pilau' from Phlox
(Discfunction, 1997) / Buy
My introduction to the music of Paul Murphy aka Mudd aka one of the essential former members of the ensemble known as Akwaaba (a popular welcome greeting in Ghana from the Twi dialect portion of the Akan language), was through my brother Ron Trent, who I was in the DJ booth with many years ago during one of his sessions at Cielo in NYC. He played 'Just Pilau' and I was like, "I have to find this record", which I eventually did! Initially it was released in 1997 on The Idjut Boys Disc Function label, then later licensed by François K for his Essential Mix compilation in 2000, and Ron Trent's Musical Reflections CD in 2002. This song reminds me of an early sunrise on the beach… simply beautiful. The 12-inch is still out there, and still one of my favorites.
---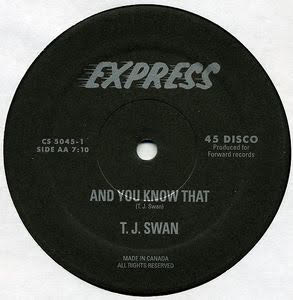 T.J. Swan
'And You Know That' (Instrumental) from 12″
(Express Records, 1979) / Buy
Depending on your age or where you grew up, the name TJ Swan brings to mind either an inexpensive "wine" (terminology used very loosely in this case) from the '70s and '80s that's no longer in production, or the legendary crooner for Marley Marl and Mr. Magic's team of hip-hop artists, the Juice Crew. If you're thinking the latter, then Biz Markie's classics 'Make The Music With Your Mouth, Biz' and 'Nobody Beats The Biz' both come to mind. But if you dig a little deeper, the first time the name TJ Swan appears on a record is 7 to 8 years earlier, back in 1979 when MCs were mainly rappin' over disco tracks. 'And You Know That', released on the Express record label, is a standout classic from those early days, except in this case, there's no singing here…only rappin'. So is this the same TJ Swan? But then, just a couple of years later in 1981, T.J. Swann & Company (notice the extra "N" in this case) released another record on the Express label that has both rappin' and singing in the same song. Hmmm… interesting. Still, whatever the conclusion is, there's clearly two important periods in early hip hip history that the name TJ Swan is attached to, which is already a great legacy in my eyes.
---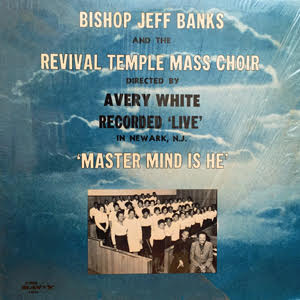 Bishop Jeff Banks and the Revival Temple Mass Choir
"Jerusalem"
Wow… where do I start for this one? Hmmm. Well, I was first introduced to this record through a private record dealer, my man Gene Brown. He knew I was interested in soulful gospel records from the disco era… so he pulled some things together for me that he thought I might like. And yes, he certainly presented some joints that day I couldn't let him leave with… and this was definitely one of them! Recorded "Live" in Newark, NJ in 1977 at the Revival Temple Holiness Church under the direction of Avery White and Bishop Jeff Banks, this song has all the elements to bring out the holy ghost in the church as well as on the dance-floor at the club. It's very clear to see disco's black church roots in this song… especially with the way lead vocalist, sister/minister Chyrlyn Bell emotionally puts it down throughout the final two minutes plus; beautiful yet deadly.
---
Complete Tracklist
Cassiano – 'Onda' (white label)
Wally Badarou – 'Chief Inspector'
Cargo featuring Dave Collins – 'Holding On For Love'
Shot featuring Kim Marsh – 'Main Thing'
Twilight – 'We'll Be Special' (The Twilite Tone Remix Instrumental)
Magnetic Lady – 'Cool Club'
Akwaaba – 'Just Pilau'
Keys & Tronics Ensemble – 'You x Me'
Cuttlefish & Asparagus – 'Drum Song'
Funk Fusion Band – 'Can You Feel It' (Progressive Version)
Kai Alcé – 'Amerika'
Eastbound Expressway – 'Never Let Go'
Family Of Eve – 'I Want To Be Loved By You' (Kenny Dope Mix)
Benny Cummings and The Kings Temple Choir – 'You Reap Just What You Sow'
T.J. Swan – 'And You Know That' (Instrumental)
Gap Band – 'Out Of The Blue (Can You Feel It)'
Bishop Jeff Banks and the Revival Temple Mass Choir – 'Jerusalem'