Published on
November 1, 2016
Category
Features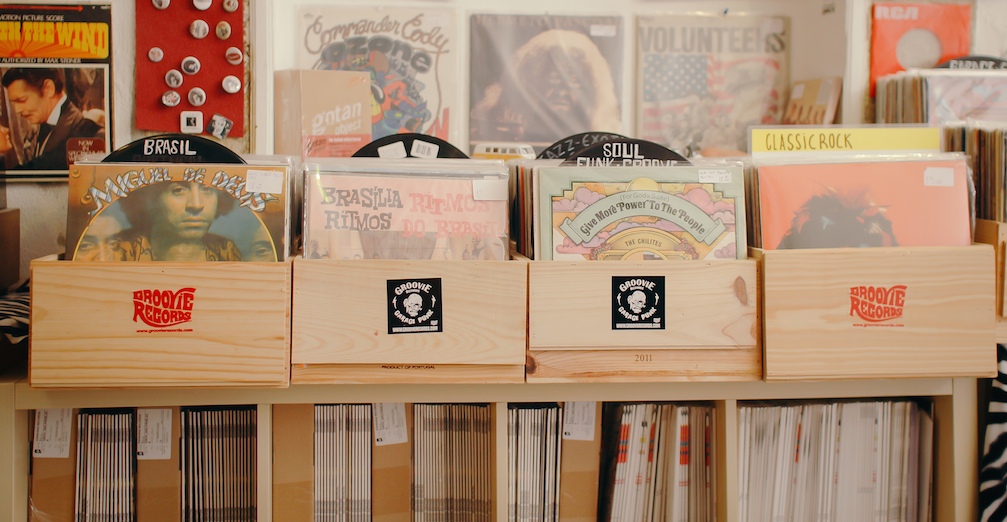 Digging in Lisboa.
---
Words: Rita Maia / Photography: Vasco Viana
---
Lisbon is a city with its own very particular rhythm. As we explored in our Vinyl Culture film series, its rich musical identity can be traced through its long colonial history. Music from Lusophone (Portuguese speaking) countries around the world – Brazil, Mozambique, Angola, more – can be found in every corner of the city's narrow streets and steep hills.
The city is currently undergoing a tough economic period but a new tourism wave is helping to develop areas of town and bring in new customers, which has helped shop owners stay in business. Many record stores have managed to stay afloat and a few more have emerged in the past two to three years. As is often the case in these changing times, creativity is flourishing and there's a lot of new music to absorb.
The best records shops tend to be just outside of the historic and touristy areas. Head downtown for Louie Louie and Magic Bus, explore Carpet & Snares and Sound Club in the architectural paradox that is the Espaço Chiado shopping centre, and stop in Cais do Sodre for shopping at Groovie and a cheeky drink on the strip.
Located a stones throw from the world famous Lux Club in the Santa Apolonia area, Flur is a must-visit spot for expertly chosen electronic and others bits. While you're there, don't forget to try the pizza next door! Another staple in the scene is the long-running institute Crew Hassan, where you can drink beer, play ping-pong and dig at night, away from the chaos of downtown.
The Feira Da Ladra flea market is always worth checking for timeless classics as well as hidden gems. Go for a stroll without many expectations and you'll most likely find something interesting. You'll also find occasional record fairs in places like LX Factory if you have extra time.
When shopping in Lisbon, wear comfortable shoes for the steep roads and lanes ahead of you. If you go downtown be sure to leave your car behind: this is a walking journey. If a shop is closed (sometime the case!) try again later and be warned that many place don't open before noon. Most of all, remember to enjoy your time in one of the most beautiful cities in the world.
---
Flur
Location: Avenida Infante D. Henrique, Armazém B4 Cais da Pedra – Santa Apolónia, 1900 Lisboa, Portugal
Go for: Records, pizza and dancing
What's the story? Perfect for cooling down after a boozy day in the sun, Flur delightfully spills out on to the River Tagus waterfront. The shop was founded in 2001 by Pedro Santos and José Moura, who exhaustively lists "pop, rock, noise, electronica, jazz, drone, experimental, krautrock, house, techno, disco, boogie, italo, hip hop, dub, reggae, funk, soul, library, dubstep, UK funky, country, film music, African and latin styles, ambient, improvised and others I'm sure I'm forgetting right now" among its relatively modest selection.
Tired out from all those records? There's a great pizza joint next door and the shop is just a stones throw from Portugal's premier nightclub Lux Fragil if you fancy a post-digging shakedown.
---
Carbono
Location: R. Telhal 6B, 1150-323 Lisboa, Portugal
Go for: Second hand classics, indie labels and a proper dig.
What's the story? Opened in 1983, Carbono is one of the Lisbon classics. With a clear focus on second hand, this is a large store for a proper dig where you can find a bit of everything although indie and rock styles are particularly well represented. You'll find an enviable wall of sought-after picks and several themed displays as well as posters, memorabilia and other collectors' merchandise. Prices can be steep but you might find some affordable classics and there are enough deep crates to get digging for oddball gems, library and soundtrack as well that fabled African and Brazilian selection. Tip, head down into the basement!
---
Crew Hassan
Location: Rua Andrade, 8A. 1170-016 Lisboa, Portugal
Go for: Records, ping-pong, live music and good bottled beers
What's the story? More than just a record shop, Crew Hassan is a local institution promoting arts and events since 2004. After a recent move, the store is now located in the Intendente area. You're likely to discover bargains here, some classics and plenty of records for your DJ bag. The prices can be top too but the condition is usually excellent. Renas and the rest of the staff are always up for a chat, so it's well worth a visit even if it's just for the bottled beer and ping-pong. You might just end up staying there a little bit longer than you planned…
---
Sound Club
Location: Espaço Chiado Shopping Centre. Rua da Misericórdia, 14. 1200-273 Lisboa, Portugal
Go for: Disco, funk, soul and rock classics
What's the story? Anywhere with piles and piles of records, a rotary mixer and a pair of decks gets our vote.
Run by two music obsessives who have been holding the fort for the last 10 years, this expertly chosen collection of disco, soul, jazz, prog-rock, indie, and more, is really worth a visit. Also come here for crates of classic Portuguese styles (fado, folk and modern), Brazilian, African and outernational titles. You might drop a fair bit of your allowance here but you'll leave fulfilled.
---
Feira Da Ladra Market
Location: Campo de Santa Clara, 1100-472 Lisboa, Portugal
Go for: Anything from a broken 1970s toaster to vintage jewellery, toys and records!
What's the story? The market runs all day on Tuesdays and Saturdays but if you snooze you loose; go early for the real good picks because this is proper digging. Here you'll find old African records amongst suitcases of jewellery and clothes or old Brazilian soap opera soundtracks wedged between paintings. It's one to bring your portable record player to if you're that kind of digger too.
---
Carpet & Snares
Location: Espaço Chiado shopping Centre, Rua da Misericórdia, 14. 1200-273 Lisboa, Portugal
Go for: Beats, beats, beats
What's the story? Carpet & Snares is the other record shop sequestered deep within the Espaço Chiado shopping centre, an architectural paradox that is both gleaming and gloomy. The wall of vinyl behind the counter is stacked with new 12"s from across the globe whilst the floor features used classics, expertly selected by the DJ-owners who also run a record label and party series. Since 2014, the store has played a key role in servicing a DJ scene that seems to be going from strength to strength.
---
Louie Louie
Location: Escadinhas do Sto. Espírito da Pedreira 3, 1200-290 Lisboa, Portugal
Go for: A little bit of everything
What's the story? Open in Lisbon since 2013, Louie Louie's strongest asset is its amazingly warm atmosphere. A welcome haven in the touristy centre, this is your home away from home. As for the music, it's not strictly vinyl but the selection, curated by Jorge Dias, covers all bases with a particularly great choice of jazz, Brazilian, African and Portuguese records and a few crates of bargain singles that are always worth a rummage.
---
Groovie Records
Location: Rua de São Paulo, 252 1200-399 Lisboa, Portugal
Go for: Fuzzy, psychedelic and crude rock
What's the story? Having begun life in 2005 as a label reissuing lost treasures in the realm of garage, fuzz, psych and raw rock, Groovie Records opened its warehouse doors as a shop in 2014. As well as its own releases and those from sister label Monotone Records, the selection here mostly encompasses new records from like-minded labels. Fans of psych, tropicalia, funk and soul get excited: there is also a special emphasis on records from Brazil. Affable founder Edgar Raposo will happily spend time showing you around. Once you're done shopping, the Cais Do Sodre / Sao Paulo area is a great neighbourhood to eat well, drink and go dancing.
---
Magic Bus
Location: Calçada do Duque, 17-A 1200-155 Lisboa, Portugal
Go for: A magic selection
What's the story? With its distinct graffiti-washed entrance, Magic Bus may be small but it is perfectly formed. A reflection of the polymorphous tastes of owner Pedro Correia, its shelves always hide surprises, from Portuguese staples to spacey kraut and post-punk classics. The stock, predominately second-hand, usually arrives in great condition and with a fair price tag.
---
Discoleccao
Location: Calçada do Duque, 53-A. 1200-156 Lisboa
Go for: Old classics
What's the story? Bring your shovel and rake for an afternoon at Discoleccao, where a weighty selection of used vinyl awaits. From SST hardcore original pressings to free-jazz classics, Beatles rarities and Asian prog-rock curiosities, anything is possible here.
---
Trem Azul
Location: Roaming
Go for: Jazz of all stripes
What's the story? A jazz specialist first and foremost, Trem Azul (or Blue Train) carries a curated range of second hand records and reissues, from across the full spectrum, from big band and local fado to ECM and avant garde. Trem Azul used to be nestled beneath street level at the foot of a narrow staircase a stone's throw from Cais Do Sodré, but now operates a nomadic live, moving its killer selection of vinyl and (whisper it) CDs, around gigs, pop-ups and markets. Stay tuned via Facebook.