Published on
May 10, 2018
Category
Features
From beat matching with Studio 1 12″s to tracking down psychedelic grooves in São Paulo, we talk records with Lena Willikens.
There is an intangible difference between a DJ who can play a great set, and a DJ who makes you feel something.
German producer and DJ Lena Willikens is the latter, the kind of individual who loves to discover and share sound – and art – with others, from Japanese influenced audio-visual works to theremin rhythms, from the Brazilian Talking Heads to a desert scene in an Antonioni movie.
There was no grand master plan for Willikens to become a DJ or producer, or even to work in music at all though. But it didn't 'just happen'. Her well deserved rise has been shaped by a lifelong passion that becomes abundantly clear from the moment you speak with her, see her DJ, or listen to her tracks and sets.
On the heels of Willikens' Selectors 005 compilation for Dekmantel, she gives us an intimate view of what has fuelled her along the way.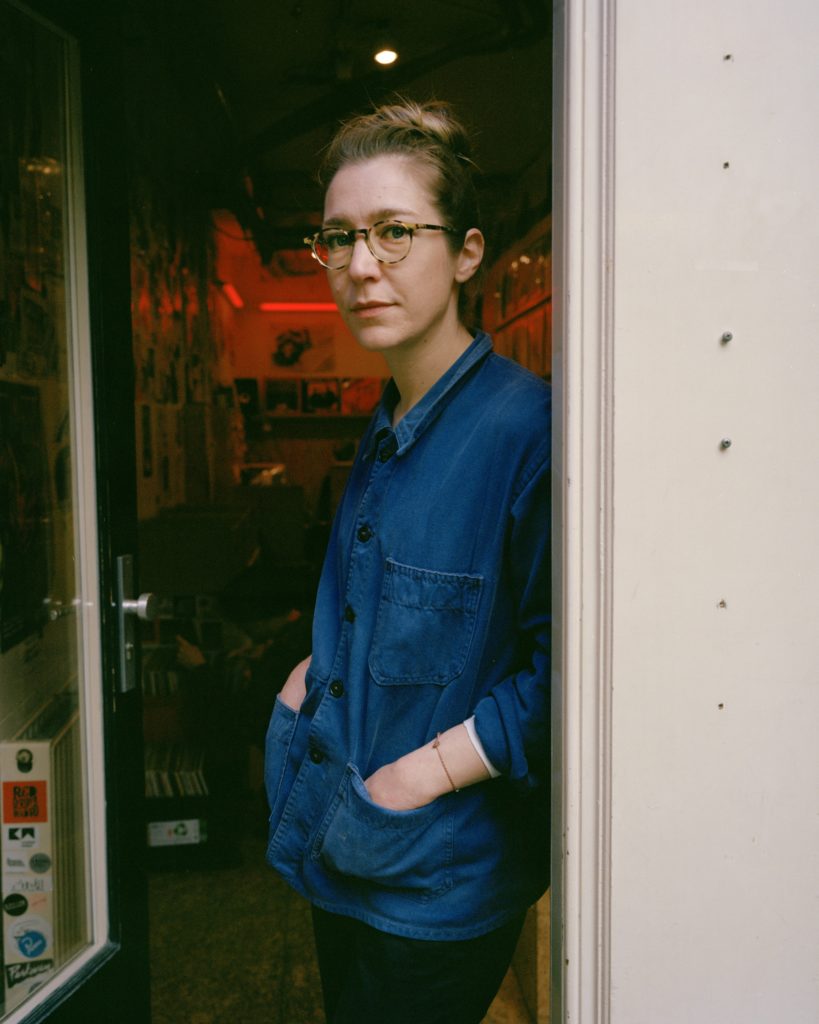 "I grew up with my mother and my little sister. My mother was easy-going with me as a teenager. She's cool, she likes music even though she doesn't have a big collection. So, quite often we ended up dancing all together at home. I could share the music I was into with them.
I wasn't into techno or house music when I was a teenager. For some reason I had an obsession with Jamaican music, mainly dub. But I was also listening to punk and hardcore. Of course I was going to techno parties, but I wasn't really 'raving' back then. I think my first proper rave was when I was 19, going to a kind of Love Parade thing in Zurich.
Then I moved to Düsseldorf to study at the Art Academy. The city has a really rich and interesting musical background, and all of its "hotspots" are somehow related to the Academy.
So I did some research about the musical history of Düsseldorf, not only Kraftwerk but everything around it, like the Ratinger Hof – which back in the 1980s was a hotspot in Germany for punk music. There was also a techno club called EGO, an illegal venue organised by people from the Art Academy, mainly playing pretty abstract and experimental techno and ambient. It was the place where I could, in my early 20s, listen to proper "good" techno for the first time, and get an idea of it.
I became involved with Salon des Amateurs, and kind of naturally started playing my records there, without any intention to become a DJ. It was about sharing music with friends. And at one point, I started having my own nights at Salon on a regular basis. But I played for many years without beat matching. I had no clue how to do it, nor any real interest in it."
The idea that music is a feeling, rather than a formula of how to synchronise bpms, is central to everything Willikens does, as well as the scene she helped to cultivate at Salon des Amateurs, a Düsseldorf club, gallery, and event space. Salon has become known as a venue where a lecture is at home as an 8am set, where DJs are encouraged to play freely, from across the musical spectrum.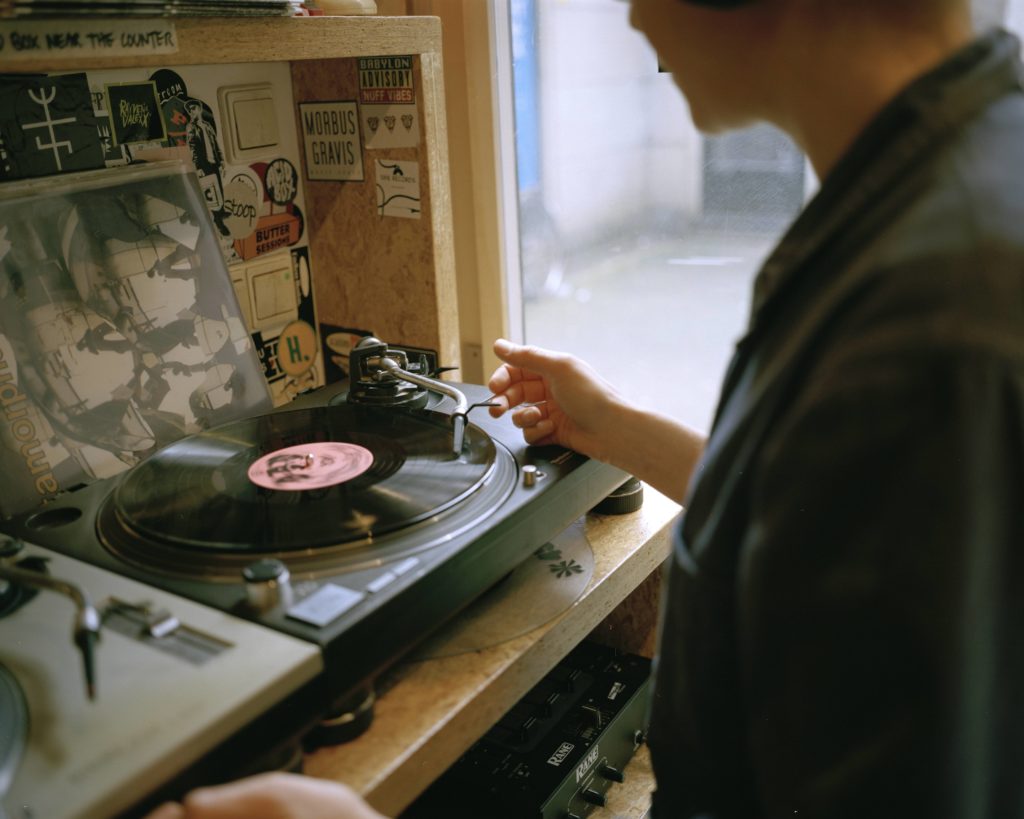 "For me it wasn't about DJ skills, but about creating an atmosphere, which I also was trying to do with my visual work at the Kunstakademie Düsseldorf (the Art Academy Düsseldorf). I was doing installations, which involved projections and sometimes music, in an attempt to create mystical ambiences and spaces.
Therefore it felt quite natural for me to start playing records. But I never thought I could travel – I thought this would be something I'd only do in that particular setting, at Salon des Amateurs.
I was playing in bands, was DJing and working in record stores for quite a while. I started doing a regular radio show, so people got interested somehow, and started to book me. And so, at one point I felt like… maaaaaybe I should try to beat mix. My first attempts to beat match were with tracks by Wolfgang Voigt, some records of the Studio 1 colour series and two Mike Ink records.
The only thing that changed when I started mixing this way was that suddenly I wouldn't dare to do bpm changes anymore. At one point I felt like jumping from 120 to 100 was no longer more such an easy thing to do. But, getting more confident, I started to remember the times when I didn't beat match. Sometimes I have to tell myself, still: Lena, you don't have to always beat mix."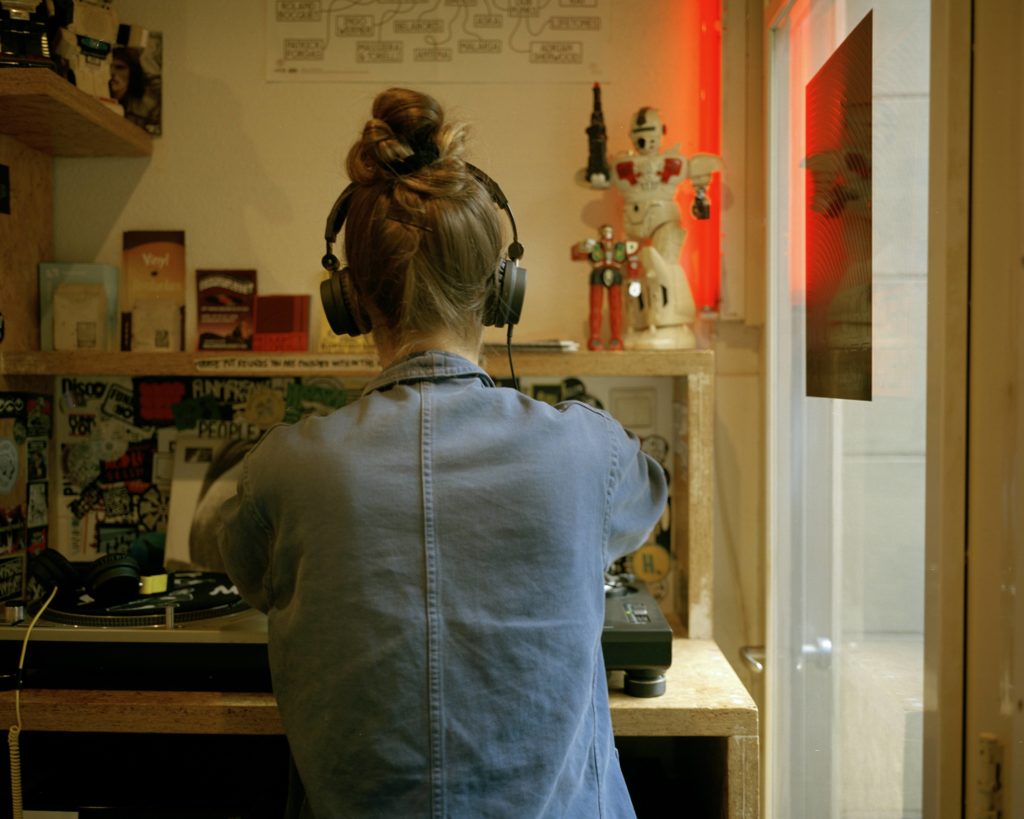 Willikens' residency at Salon lead to her regular Sentimental Flashback show on Radio Cómeme, which saw her delving "into the depths of her record collection to explore the dark side of her musical memories… a trip through rain, thunderstorm, lightning and music, an encounter with primitive machines, unexpected sounds and twisted versions of well-known tracks."
With an eclecticism that has seen Willikens dropping everything from synth visions and Jamaican 7″s to devotional Devo specials and incantatory ambient, what is her collection like?
"I have no clue how big my collection is, I've never counted my records. But compared to some friends it's rather small.
I was working at two record stores in Cologne. Groove Attack, which is a store that mainly focuses on selling new, quite diverse records – from hip-hop to house, but also a lot of reissues of brazil or krautrock, for instance – and A-Musik, which specialises more in experimental music, and sells secondhand records as well.
When I was working there, I was constantly checking my collection and bringing in the stuff that I decided I won't listen to or play anymore. A lot of my records landed at A-Musik; one reason why I don't have a huge collection is because I was regularly clearing my records out.
There are different approaches to how I shop for records. It makes a difference, if I already know the store or if I am going there for the first time. For example in Medellín I went into a tiny record store, which only sold new, but mainly local releases.
I didn't know much about it, so I asked for recommendations. They showed me amazing music of the local scene – music I would never have come across otherwise.
I had the same approach when I went to Osaka for the first time, just asking about local labels, self-pressings, and the local scene in general.
That's, for example, how I found out about Marie Davidson. Her first album was freshly released the week before I played in Melbourne for the first time. I entered a record store, where they were playing Davidson's Un Autre Voyage, and I was just like "what is this? I want to buy it!"
On the other hand – for example at A-Musik – knowing the store and its sections, I would mainly check the new stuff of course.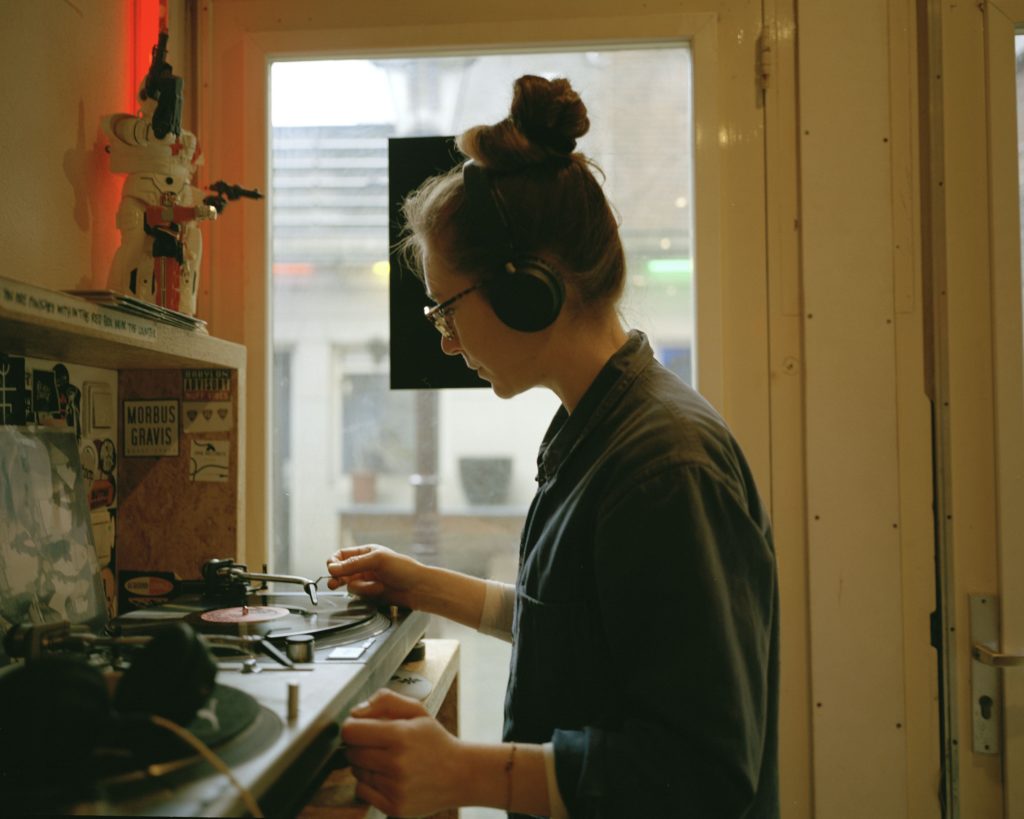 Quite often, I like to prepare in advance if I know that I will only have one or two hours to spend. I dig, and sometimes have a brief listen to records online before I go. I obviously prefer to do it in the store, but therefore you need more time.
On my last tour with Vladimir Ivkovic in South America we went to some record stores in São Paulo and Bogota. São Paulo was really nice because we stumbled across a store where I found a record by Os Mulheres Negras, a band I saw the day before at Dekmantel festival. Prior to it, I didn't know about them – I only heard from locals that they are the "Brazilian Talking Heads".
Their concert was for me one of the best parts of the festival – they were incredible, and I really loved their music. So, I entered the store and thought "OK, this is my goal. I want to find Os Mulheres Negras." And within two minutes I could lay my hand on one of their records.
I went to two record stores in São Paulo, and one in Bogota called Cosmos, which also sells shoes in the basement. They have a big, first floor attic full of records where I could have spent an entire afternoon in.
One of my favourite records of all time is Persona's Som. It's a Brazilian 10″ album, produced and recorded in São Paulo in 1975 as part of an art installation. It's very trippy, a psychedelic journey.
When we were in São Paulo, I wrote to the daughter of one artists involved in this project, and luckily we could meet. Her father passed away some years ago. She showed me pictures and we talked about his work. It was very intense, and so nice to get to know her.
She joined Vladimir and me, and showed me a record by one of the musicians who was also part of Persona – a beautiful, psychedelic, early recording from '72. So I was very happy, with the Os Mulheres Negras LP and what I also discovered thanks to her.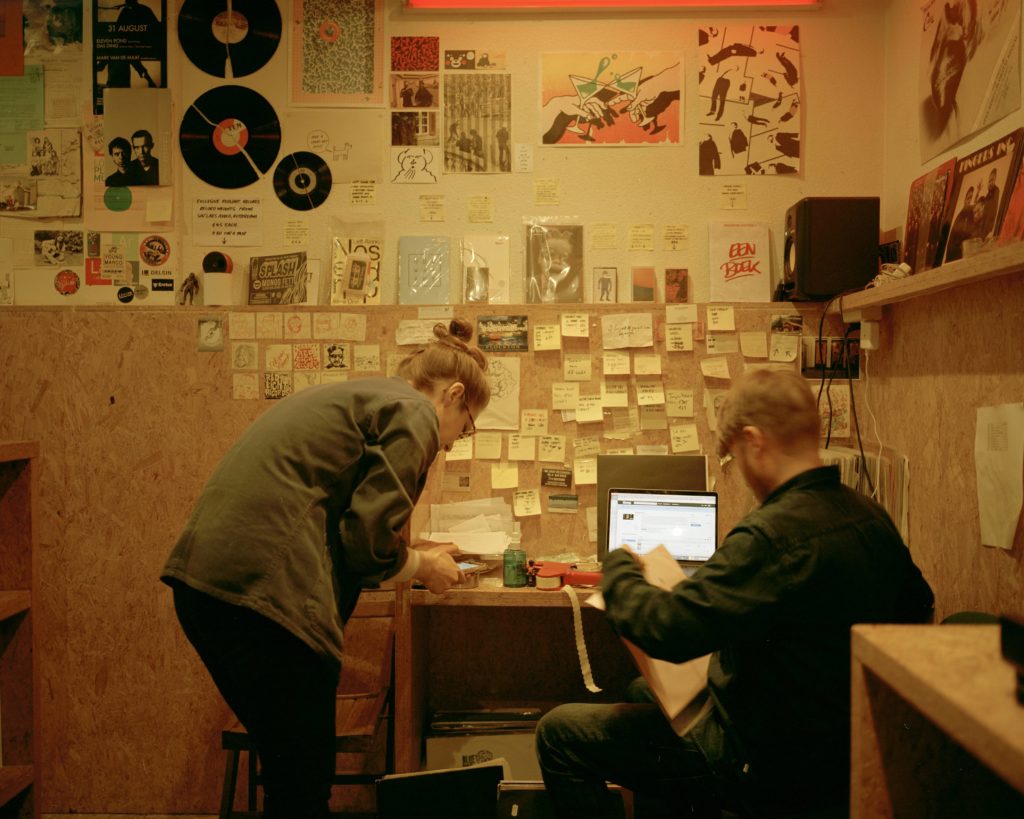 I just moved to Amsterdam, where Red Light Records is located. I would like to go there more often than I can manage to because of my touring schedule. But the place is important to me, not only for the stock itself. I also see it as a meeting point, especially Redlight Radio, where all my friends always drop by when they're in town. The entire complex is actually full of friends: Gilbert from Versatile Records and Olf (Interstellar Funk) have their studios there, and Hugo and Orpheu from Red Light Records work there as well.
The scene in Amsterdam is a very supportive one. It´s about sharing, and people here are working together to make something happen rather than competing. This is quite similar to what I experienced at Salon des Amateurs, and that makes me feel at home."
The serendipitous discovery of sounds both known and unknown is uniquely felt in Willikens' Selectors compilation, a collection of tracks described not by their scarcity as in past instalments, but cohesively as a mood – a "little trip through the dunes", a reference to Zabriskie Point sprawled across the sands of California's Death Valley.
"Dekmantel approached me quite early about the Selectors compilation, I think almost a year ago. With the previous ones they had a lot of work with licensing, clearing rights or finding the masters. This process took almost half a year for some compilations and even then they couldn't clear all the rights.
I didn't do a "gold digger" kind of compilation for them, because I think there are a lot of people doing the job better, digging for obscure cassettes and reissues. I'm not interested in finding the rarest shit anyway.

This was one of the main reasons why I decided to focus more on supporting friends who gave me music over the last few years. More selfishly, I also really wanted some of the tracks mastered…
I could have done a kind of Sentimental Flashback 'best of' which could have been more of a rarities compilation, but I wanted something related to Dekmantel, my sets, and the actual music I play at Dekmantel festivals. For that reason, I tried to structure it like I would do with a proper set: it starts with an atmospheric intro, then gradually becomes more "dance-orientated".
I benefit from my friends and colleagues who constantly send me their unreleased music. Now I want to give something back by sharing these tracks with everybody.
I like to throw myself in situations while I play where I might cause chaos. It's the thrill of trying things when you are not 100% sure if they are going to work or not. Also when I'm the one on the dance floor, I like to hear when someone is experimenting and taking risks.
Even if the mix is not super tight, or some frequencies are too loud, I enjoy these kinds of chaotic moments, where things seem to go out of control. It's more vivid, and you can feel something is happening."
Lena Willikens Selectors 005 is out now on Dekmantel.
(Photos by Zahra Reijs.)