Published on
October 15, 2016
Category
Features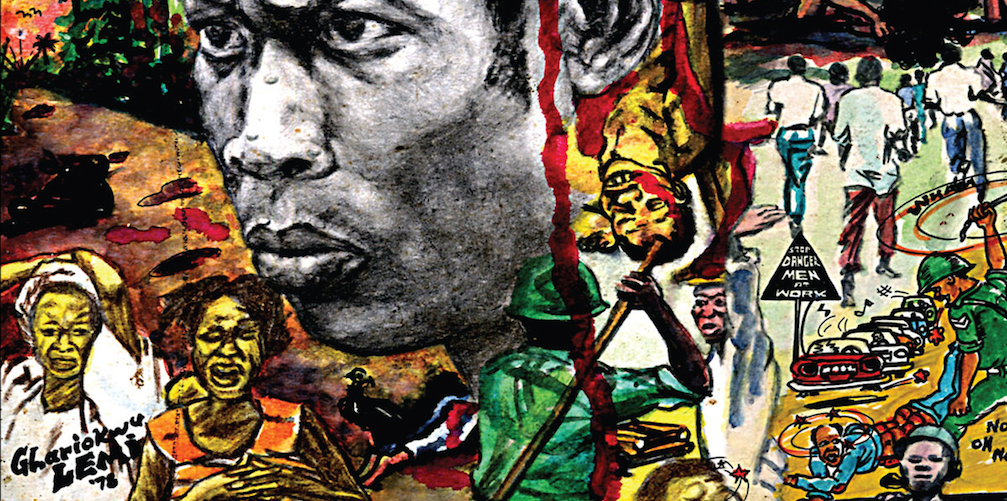 Lemi Ghariokwu is the visionary behind dozens of Fela Kuti's album covers. Like the music, the sleeves are socially conscious, calling out corruption, political oppression, police brutality, skin bleaching and more in an anarchic mix of photography, paint and illustration.
---
Words: Emma Tucker
---
The relationship between Nigerian designer Lemi Ghariokwu and Fela Kuti goes beyond that of creative collaborators. Working with the musician, Ghariokwu has been responsible for almost 30 sleeves of politically and socially motivated illustrations, collages and oil paintings. In turn, he says Kuti encouraged his self-directed artistic education and gave him unparalleled liberty when it came to designing artwork – often approving sleeves with a single trademark phrase: 'wow, goddamn'.
The partnership also launched Ghariokwu's four decade-long career, which has seen the designer create thousands of sleeves for other artists, and invent his own creative movement called Afro Art Beat. Now 60 and contemplating writing his memoirs, Gariokwu still sells portraits, often of Kuti, in his home city of Lagos.
The artist created his first cover for Kuti's Alagbon Close album in 1974, following a meeting with the musician he describes as "a great eye opener". A portrait of Kuti created by Ghariokwu had already attracted the singer's attention, but despite being offered four times the payment he'd typically receive at the time, the artist turned down the offer in favour of a hand-written gig pass.
"I believe in pre-destination," he says. "I met him at 18, but I was prepared for the role I eventually played with him because I already had my African consciousness."
"We became like family immediately," he adds.
18-year-old Ghariokwu was firmly politically engaged, citing the Black Panthers in the US as heroes, alongside civil rights activist and singer Miriam Makeba. His awareness of social issues was already being translated into artistic endeavours, with early work by the designer including an illustrated depiction of Black Panther George Jackson – who was shot by a prison guard while in LA's San Quentin State Prison.
This determination to create social commentary also found its expression in the Alagbon Close cover, which shows a police boat being capsized by a whale and Kuti escaping from the chains of a burning jailhouse. Ghariokwu created the artwork after visiting Kuti in hospital – where he was recovering after being arrested by police in his Kalakuta Republic commune in Lagos.
"This was my first ever chance," says Ghariokwu. "I came up with my cover art and it's instructional in the sense that it signalled what I was going to do eventually on his covers. I actually illustrated it not directly relating to the lyrics – my cover art was totally abstract.
"It was the first time in Nigeria that when the album was released they rave reviewed the music, and they also reviewed the album cover art too," he adds. "That was the beginning of the dynasty of album cover art."This dynasty, as he calls it, spans 26 sleeves, which covers an enormous array of styles that reflect Ghariokwu's own periods of experimentation.
People are often the focus of the designer's work, placed alongside freehand type and an unrestrained palette of colours. Ghariokwu's approach is visually riotous, with photography mixed into painting and illustration, and details packed into the 12 by 12 frame of the album sleeve.
No Bread, the second cover he created for the musician, was created after Ghariokwu's first experience of marijuana – encouraged by Kuti himself. Taking around two weeks to finish, the oil piece features a jumble of painterly faces leering out from the cover, interspersed with small sections of lettering. According to Ghariokwu, the design was an attempt to incorporate the notebook full of ideas he recorded while in a post-marijuana haze into a single square space.
Unafraid to tackle controversial issues, Ghariokwu addressed skin bleaching with his 1971 Yellow Fever cover, which featured an unabashed portrait of a bare breasted African woman, while the 1977 Fear Not Man sleeve saw hand-drawn type and letters made from cut-out faces of Nigerians, pasted over photography.
The artist didn't shy away from depicting the controversy that often surrounded Kuti, illustrating the first police attack on the musician's Kalakuta commune in 1974 for the cover of Kalakuta Show, which features the musician's face looming over the blue shirts of a swarm of officers. The cover is a grim foreshadowing of what would come in 1977, when Kuti's compound was completely destroyed by soldiers.
The artist also showed a willingness to take risks, portraying demonic versions of Margaret Thatcher and Ronald Reagan on the cover of Beasts of No Nation, alongside images of rats dressed in Nigerian army uniform. In an interview with CNN, Ghariokwu noted the hazards that came with this, describing it as "a dangerous cover".
"I've been lucky because the powers that be don't take visual art too seriously; they don't know the power that it has, so that's why I escaped getting arrested," he said.
On occasion, Ghariokwu took a less political and more personal stance, with the designer referring back to some of his favourite reggae album covers with 1975's Everything Scatter with a photomontage of Kuti's youth movement Young African Pioneers.
Completely self taught, his approach is so varied that he says journalists often express disbelief that he's responsible for such a range of artwork.
"My style became very eclectic," he says. "It depended on how I was feeling, or the vibe towards a particular song, and that determined the style I would use for the cover. Sometimes this was photomontage or collage or caricature, sometimes I did oil painting or illustration."
Despite the variety of his approaches, Ghariokwu's work remains united by his belief in art's ability to address social and political issues. Speaking on the phone the designer describes feeling a social responsibility as an artist – a way for him to address the world with the same 'warrior spirit' as Kuti.
The partnership between the two, however productive, hasn't been without its moments of conflict. The 1977 artwork for JJD saw Ghariokwu sneak an initially rejected oil painting of a man in jeans dropping from an airplane onto the back of a double sleeve album – a decision Kuti apparently considered "below the belt".
Despite this, the pair's relationship has been characterised by a remarkable level of understanding, with Ghariokwu given complete creative freedom when it came to dealing with artwork. The designer was able to respond intuitively to albums, either using the lyrics as a source of inspiration or creating artwork that functioned as a 'megaphone' for the wider message Kuti was trying to convey.
The longstanding relationship between the two also allowed the designer to include his own 'designer's comments' column on the backs of covers. Here, Ghariokwu included written pieces that provided a supplement to the music, as well as a commentary on his own work – a rarity considering how frequently designers are lacking even the most basic credit.
"That's one of many things that I will never forget Fela for," says the designer. "I'll always be eternally grateful for the opportunities he gave me. I was like a comrade in arms with him because I shared the ideology in totality."
"When I met him I became an acolyte and he was my master," he adds. "I just imbibed all that."
It's precisely this relationship that makes Ghariokwu's work so compelling. The artist's uncompromising approach is a mouthpiece for Kuti's own militant message, communicated loud and clear in paint and photography. Even decades later, the designer's fiery colours and striking subject matter still sears into the brain, with contemporary cover designers offering little in the way of comparison.