Published on
February 2, 2018
Category
Features
10 searing, fuzzed-up, melancholy tracks from pre-Revolution Iran.
Texan band Khruangbin like uncovering musical treasures almost as much as they enjoy creating their own. The three-piece of Laura Lee (bass), Mark Speer (guitar) and Donald Johnson (drums) draw influences from the funk and soul heritage of the US, the drama of cinema, and lesser-known sounds from around the world. When they tour, record shopping is always on the itinerary.
"We just went record shopping last night," Mark Speer tells me when I meet him and Laura Lee in East London prior to a DJ gig. "Wherever we go, we look on Google Maps and search 'record shop'. If there's one 10 minutes' walk, we're there. Pretty much every city we were on tour, we would try and find some records."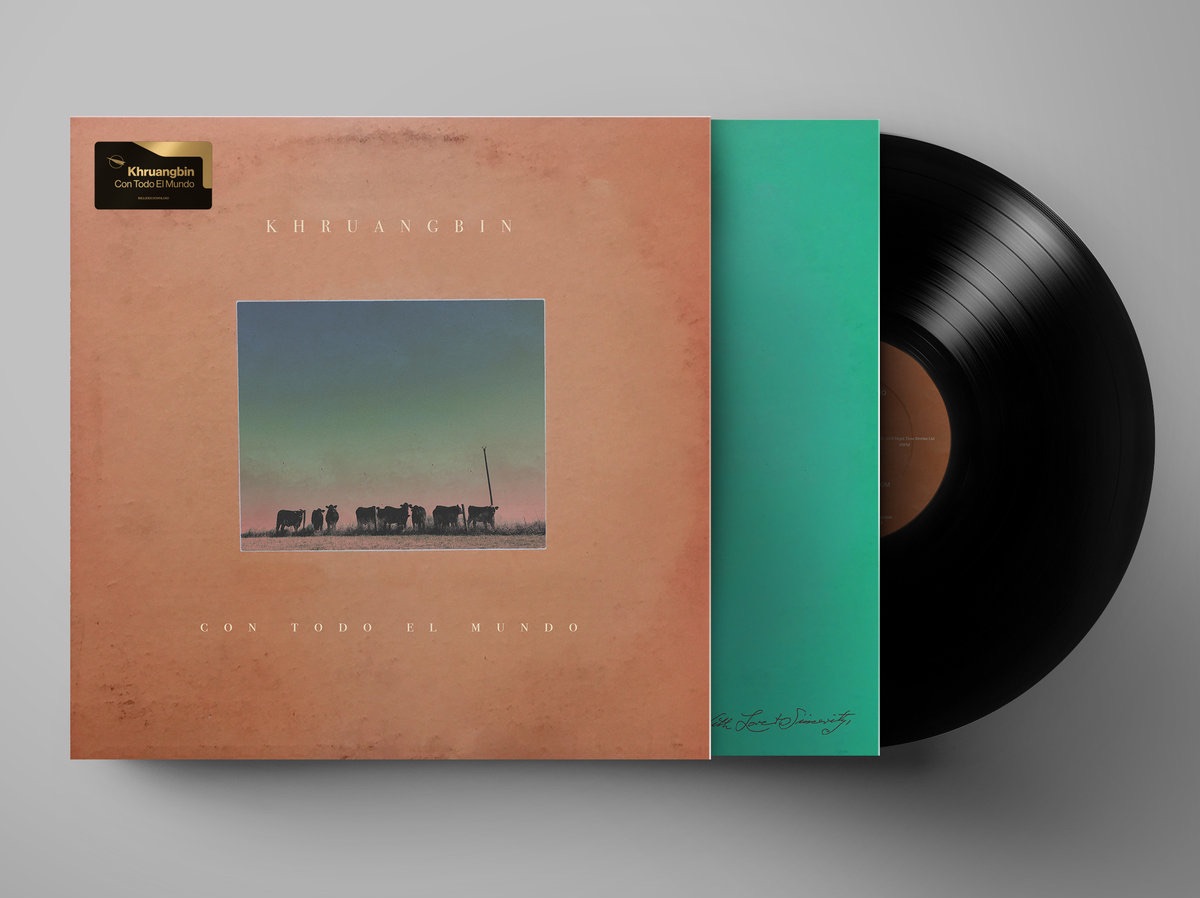 While their wonderful debut album The Universe Smiles Upon You found a muse in the melodies, guitar and obscure funk sound of late '60s/early '70s Thailand, they've thrown the net wider on the new album Con Todo El Mundo, encompassing Middle Eastern and North African influences especially.
In addition to reverberations from Egypt, Lebanon and Turkey, they fell in love with the remarkable music of Iran, made in the 1970s before the Iranian Revolution. At this time, the West had a cultural influence upon its society, reflected in the funk, rock and soundtrack elements present in the music of artists such as Googoosh. This period prior to religious conservatism and anti-Western sentiment is documented with the celebration of Iranian women performers and archive footage of Khruangbin's new single 'Maria También'.
Laura Lee thinks a combination of elements makes the music of this time and place stand out. "I love the toughness of the bass and drums with the really romantic melancholy vocals in Iran's music," she says. "Because we listen to a lot of music in other languages and instrumental stuff, we always assume that we can know what people are trying to get across. You feel it. But when you actually look up the lyrics of these songs, they're so sad. Romantically sad. The Iranians prided themselves on being depressingly romantic. It's super poetic."
We asked Khruangbin to share some of their knowledge and tell us about 10 of their favourite Iranian records…
---
Googoosh
'Ma Be Ham Nemiresim'
Laura: People like Googoosh, they are legends. Googoosh is huge. I asked my friend's mum who is from Iran, 'Is she the Madonna of Iran?' and she's like, 'No, she's the Michael Jackson'.
Mark: The lyrics translate to 'We will never find each other'.
L: 'We will never be together'.
M: 'You are young, I am old, you are beautiful, I am ugly'. It's so over the top, her whole delivery is heartbreaking.
---
Kourosh Yaghmaei
'Gole Yakh'
L: I nearly cried when I saw it on 45 in Thailand. A guy called Maft Sai runs a shop called ZudRangMa records, an amazing record shop in Bangkok. They went to Iran for records and brought this back.
M: When we saw the original pressing in that shop, we were like, we're buying it. He lives in LA I think. It means 'Ice Flower'. That was a big influence on the songs of the record.
L: That record is insane. There's a greatest hits compilation on Now Again Records, and he's mentioned in an indie film that came out a couple of years ago called Nobody Knows About Persian Cats. It's really psychedelic and hypnotic.
---
Sattar
'Sadeh Del'
M: Most of the stuff I hear from him has really beautiful, clear sound quality. It sounds like it was recorded in the kind of studio that would record those big orchestras, Frank Sinatra kind of stuff. Really soaring, epic and big. The drums aren't super thumpy but they're there, you can feel them.
---
Shahram Shabpareh
'Prison Song'
L: It's one of his few songs in English. I love it. It's my perfect sound quality. The warmth of it makes it sound like it's coming out of an old radio antenna.
---
Vigen
'Mahtaab'
L: His first uttering of the word 'Mahtaab', it breaks my heart. It's hugely passionate music. The vocal melody is so stunning. Mark is always saying that I easily memorise vocal melodies, more easily than he does. He can never remember what they are, but I can usually remember them. I learnt that on guitar as soon as I heard it.
---
Habib
'Gheseye Rooze Siah'
M: It has this awesome harmonica. It's like folk rock.
L: I feel like the cliché of going to see a folk singer perform sitting on a stool has become cheesy. But this is the perfect version of that.
M: It's like Bob Dylan, similar to The Band almost.
L: It's that nostalgic thing that you want to hear. Somebody singing over simple guitar and how beautiful that thing is, but it hasn't reached the point of being overplayed.
---
Marjan
'Kavir E-Del'
M: This is definitely one of my favourites. It's got that funky drums and bass thing, but there's also that phaser guitar that's on a lot of music from this era. I can't get enough of that sound. It doesn't hurt that her vocals are totally heartbreaking, and she has a beautiful voice to match.
I don't know what she's singing about but I feel what she's singing about. It's the kind of stuff I want to listen to over and over again. I'm always trying to find a place to put that song, in a mix or something like that.
---
Zia Atabay
'Garajh'
M: I found this one kind of late in the game. This one is super banging. It's soaring. Also, the beat is just so strong. In Iran they didn't shy away from using that open hat, the Shaft hi-hat. It sounds like movie soundtracks had a big hand in what they were listening to in Iran in the 1970s, at least from the West, but there were bossa nova rhythms too, East African sounds, a lot of Indian influence. Afghanistan, India, Iran: I feel like there's a lot of musical cross pollination there.
---
Googoosh
'Shaer'
L: It feels like the cover. She's in a garden with flowers. The other song is a lot more heartbreaking. We like both of those, as they show different sides of Googoosh as a performer. She has many sides to her. You get all sorts of Googoosh songs, she's a pop star.
---
Shahram Shabpareh
'Deyar (Disco Version)'
M: We were doing a live DJ set on Facebook, we do them on Fridays, and I think we meant to play a different one. We were like 'Oh shit, we played the wrong song'. But then it started playing and we were like, 'cool!'
Khruangbin's Con Todo El Mundo is out now via Night Time Stories.
Main photo: Mary Kang