Published on
November 16, 2017
Category
Features
Influencing everyone from Björk to Aphex Twin, controversial composer and classical renegade Karlheinz Stockhausen deserves the title "papa of techno" more than anyone else. Jack Needham tells his story through first-hand accounts from collaborators and admirers alike.
'Klang'. That's the word that describes Karlheinz Stockhausen's unfinished symphony. Orchestrated as 24 separate hours of chamber-music compositions that reflect each hour of the day, Klang reached its finalé with 'Paradies', the 21st hour of the piece created before his passing on 5th December 2007. It's a work that greater uneases as it ebbs and flows, akin to a Shepard tone formed of competing nails on a chalkboard or a humanly audible dog whistle. Nearly a decade after Stockhausen's death, it remains his unsettling crescendo.
Few hold as much of an esteemed role in the evolution of contemporary electronic composition and studio technique than Karlheinz Stockhausen. His birth certificate would trace his origin back to Haus Mödrath, near Cologne. Stockhausen however saw himself as something entirely different, an extra-terrestrial son of the cosmos, more specifically a planet found orbiting the star Sirius. Throughout his lifetime Stockhausen believed himself to be simply a messenger, put on this Earth as a vessel who channelled a cosmic frequency that would change the world. He first discovered Sirius in a book by the mystic visionary Jakob Lorber, who described it as the star around which the Solar System itself orbits. Later, Stockhausen claimed to have seen visions of Sirius in his dreams, determining that Sirius was not only his home, but the place where he completed his musical training.
Stockhausen never explained these dreams in any detail. "It would lead to misunderstanding and false interpretation," he said of those visions in his 1989 book Towards a Cosmic Music. Yet while the listener may not have been able to visualise Sirius like Stockhausen did, they were able to hear it through his work as a composer.
'Sirius' is the most obvious reference to this, his 96-minute work completed between 1975 – 77, and Stockhausen's final electronic piece would also be sourced from his late-night epiphanies. The OKTEG Oktophonic effect generator was a device created specifically for Klang's 13th hour 'Cosmic Pulses', a unit that allowed for real-time panning of eight simultaneous musical layers. In a letter penned to casual collaborator Ingvar Loco Nordin, Stockhausen stated that the OKTEG's "mother lives on Sirius".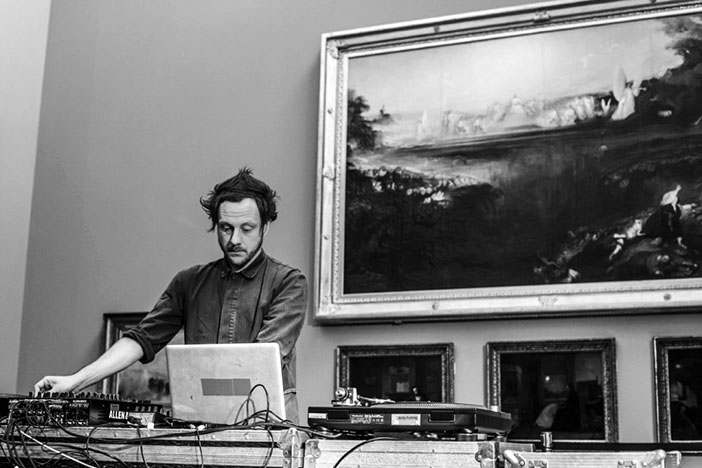 Lee Gamble
"Stockhausen spoke a lot about time, space, stars, distance – he claimed to be from the star Sirius, and 'Cosmic Pulses' was his interstellar swansong," tells Hyperdub artist Lee Gamble of the work's importance. "'Cosmic Pulse''s weight, force and momentum remind me of the gravitational pull of a rotating black hole, like the structural pull of the whole thing is towards the event horizon. It doesn't sound that serious, or perhaps even that finished to me, and there are much better examples of modern electro-acoustic music out there from this period. But after spending his life creating over 350 individual pieces of mad detail and obsessive precision, it seems apt and funny that this last work of his kind of sounds like him and all of these compositions spiralling off into the abyss, the score acting something like his own death map."
"Stockhausen is definitely not my favourite composer from this period of musicians, but he is one of the most intriguing, megalomaniacal, controversial and iconoclastic," adds Gamble, echoing a description that has long associated itself with Stockhausen. Some of his earliest works – 'Gruppen for three orchestras' (1955-57), 'Stimmung' (1968), or 'Momente' (1962-69) as immediate examples – are revered as masterpieces to the present day. But it could be politely put, that in his later years, long-held 'eccentricities' finally overshadowed his work. "Stockhausen: a sage undone by megalomania," said The Telegraph in 2005, albeit in an article that is as close to tabloid sensationalism as you can get when describing avant-garde, reel-to-reel techniques.
"Yes, my father was very demanding, on himself and everybody around him," tells Markus Stockhausen, son of Karlheinz. Karlheinz first nurtured his son's talent on 'Sirius', Markus performing trumpet on the work. "It was during this close collaboration he trained me and started respecting me. The goal was always to do the best that we could, in beauty and craftsmanship, excellent performance, well prepared. It was his belief that only like this do you do justice to God, and to the gift of life that we all receive."
While some of his traits might be described as purely Stockhausian, they resonated. He claimed to have been in direct contact with angels, yet found adulation during The Beatles' avant-pop period, his face appearing on the cover of 'Sgt. Pepper' between W. C. Fields and Lenny Bruce. His influence in modern pop stretches from Björk and Portishead to The Grateful Dead, but under the endearing nickname as the 'Papa of Techno' his work rippled beyond the mainstream.
Some of Stockhausen's greatest achievements lie within his teachings. As a lecturer, Stockhausen was a key figure in the Darmstadt School, a collective name coined for the collective of composers who attended the Darmstadt International Summer Courses for New Music from the early '50s to the early '60s. It grew from the ashes of post-War Darmstadt through its founder Wolfgang Steinecke in 1946 and key composers Luigi Nono, Pierre Boulez, Bruno Maderna and of course, Stockhausen, who began writing music after the war. Some, like Stockhausen himself, had experienced brutal frontline combat, a horror that deeply affected the then sensitive composer. Others had their works co-adopted by the Nazi regime. In that, the Darmstadt School was uncompromising in its surrealistic creations.
Founded in 1951, the WDR Studio für elektronische Musik (Studio for Electronic Music) in Cologne housed many of Europe's greatest post-War, avant-garde experimentalists of the time. However, it's when Stockhausen began managing the studio in 1963 that the works created within its walls began to reach international acclaim, most notably Stockhausen's 'Gesang der Jünglinge', realised in 1956. In his honour, the studio remains a relic formed of modular synthesisers and effects units to this day.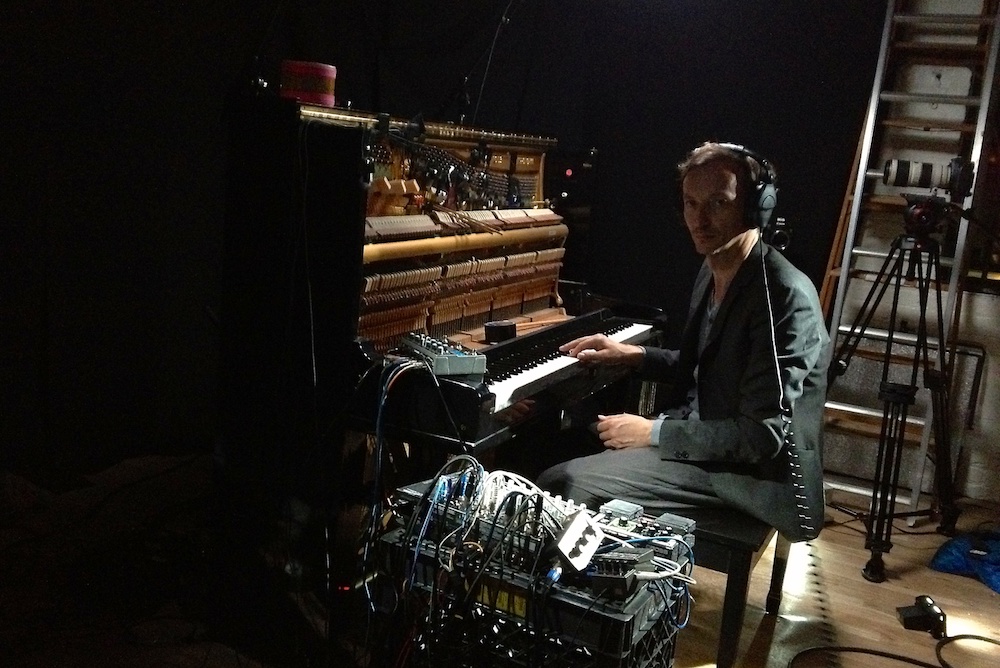 Hauschka
"When I was 22 I was working for the WDR Symphony Orchestra in Cologne, and a couple of times as a student intern I was sent to a studio to put cables away and reset everything," says Volker Bertelmann, aka Hauschka, of his experiences working around Stockhausen. "There would always be a lot of weird set ups in this studio, and I remember always being surprised by the amount of equipment. Then somebody told me it was the studio of Stockhausen. However, at that time Stockhausen didn't mean anything to me. I was more into hip-hop at the time, but later I found out who he was and I liked his approach, and his ideas. It became quite funny that I used to clean his studio…"
"Stockhausen changed my life…yes, that statement is the truth on so many levels," says his former student and collaborator Kathinka Pasveer. Since 1982 until Stockhausen's death in 2007, Pasveer worked, and at times lived with the composer. Today, she continues Stockhausen's work posthumously. 'Mittwoch aus Licht' (Wednesday from Light) was the sixth of seven works composed for the operatic series 'Licht' and the only opera to require a helicopter string quartet. Penned from 1995 to 1997, the piece was thought of as unstageable, but in 2012 under Pasveer's direction, and a £1 million budget, 'Mittwoch aus Licht' was realised.
"I first met Stockhausen in November 1982 when he came with his ensemble to give a one month masterclass of concerts and lectures," Pasveer explains. "I was a flute student at the conservatory in The Hague. I will never forget the first concert when I heard his music coming from many loudspeakers around the audience, with moving instrumentalists and singers on the stage. That was the moment when I thought: yes, this is what I want to play too."
Jean-Michel Jarre was also a student of the school of Stockhausen, studying under the composer for two years. He sometimes remained almost at odds with the often cold, intrinsically challenging tones of Stockhausen's studio works, however. "When I was studying with Stockhausen for a few months I remember him saying, 'All that is close to emotion in music is suspect.' Which is absolutely crazy," Jarre claimed in a 2010 interview.
It's true that emotion was never truly an inspiration for Stockhausen. Meticulous audio crafting trumped depicting his own happiness or sorrow, spending years, if not decades on his machine experiments over channelling his inner feelings. What rare flutters of emotion Stockhausen expressed however showed an appreciation under his intimidating presence. "To be part of the electronic age is already something superior," he said as part of the BBC's Music Masters series, placing his palm to his heart as he speaks about his continued relevance. "They [contemporary artists] love the unusual sounds. […]. The noisy sounds, crashing sounds, shooting sounds, they like that in my music, but they don't ask what they're made for or what the function of them is in my music. They just like the effect."
These moments of admiration sometimes didn't last long, though. Prior to an interview with BBC Radio 3 in 1995 Stockhausen was sent a selection of tapes from the then new wave of electronic talent of Plastikman, Scanner, Daniel Pemberton and Aphex Twin. "I wish those musicians would not allow themselves any repetitions, and would go faster in developing their ideas or their findings, because I don't appreciate at all this permanent repetitive language," he said at the time.
He often only recommended his own works for others to find influence in, not those of his contemporaries. Always the teacher, never the taught. "Mr. Richard James. I think it would be very helpful if he listens to my work 'Song of the Youth', […], then he would stop with all these post-African repetitions and would look for changing tempi and changing rhythms," he said after first hearing Aphex Twin. "I thought he should listen to a track of mine: 'Didgeridoo', then he'd stop making abstract, random patterns you can't dance to," replied Richard D. James.
James echoed what many thought of Stockhausen. Some thought that his own self-written mythology detached him from reality and his peers, his works sometimes seen as a form of musical elitism that bordered at best on patronisation, and at worst egotism. But what is Stockhausen if not complex and contradictory? His mind echoed the Cosmic Pulses of his music. "I'm an adventurer. I like invention, I like discovery," he once said, and ten years after his death, we're still exploring.
---
'Stockhausen: Stimmung & Cosmic Pulses', takes place at Barbican, London on 20th November 2017. More info here.