Published on
February 19, 2019
Category
Features
A tiny bar where generations meet to sing city pop classics side by side, Kankodori is a charming relic of Showa period Japan, where 7" records are hand-selected by its enigmatic, elderly proprietor OTU chan.
The birth of karaoke dates back to 1960s Japan, when a style of café or "Kissa" emerged where live bands would play sets for the audience to sing along to. These "Kissa" were known as "Utagoe Kissa" – a name coined to combine both singing voice and café in Japanese. It quickly caught on, with restaurants and hotels inspired to offer the same service, as drinking and karaoke rapidly became an integral part of Japanese nightlife. By the 1980s, smaller venues that specialised only in karaoke started to appear, laying the foundations for the form of karaoke most familiar today. From high-quality sound systems to comfortable rooms for groups and dazzling lights, karaoke now takes diverse, often polished, forms. In some places, you can even rent cosplay costumes to liven up the party. But Kankodori Bar is different.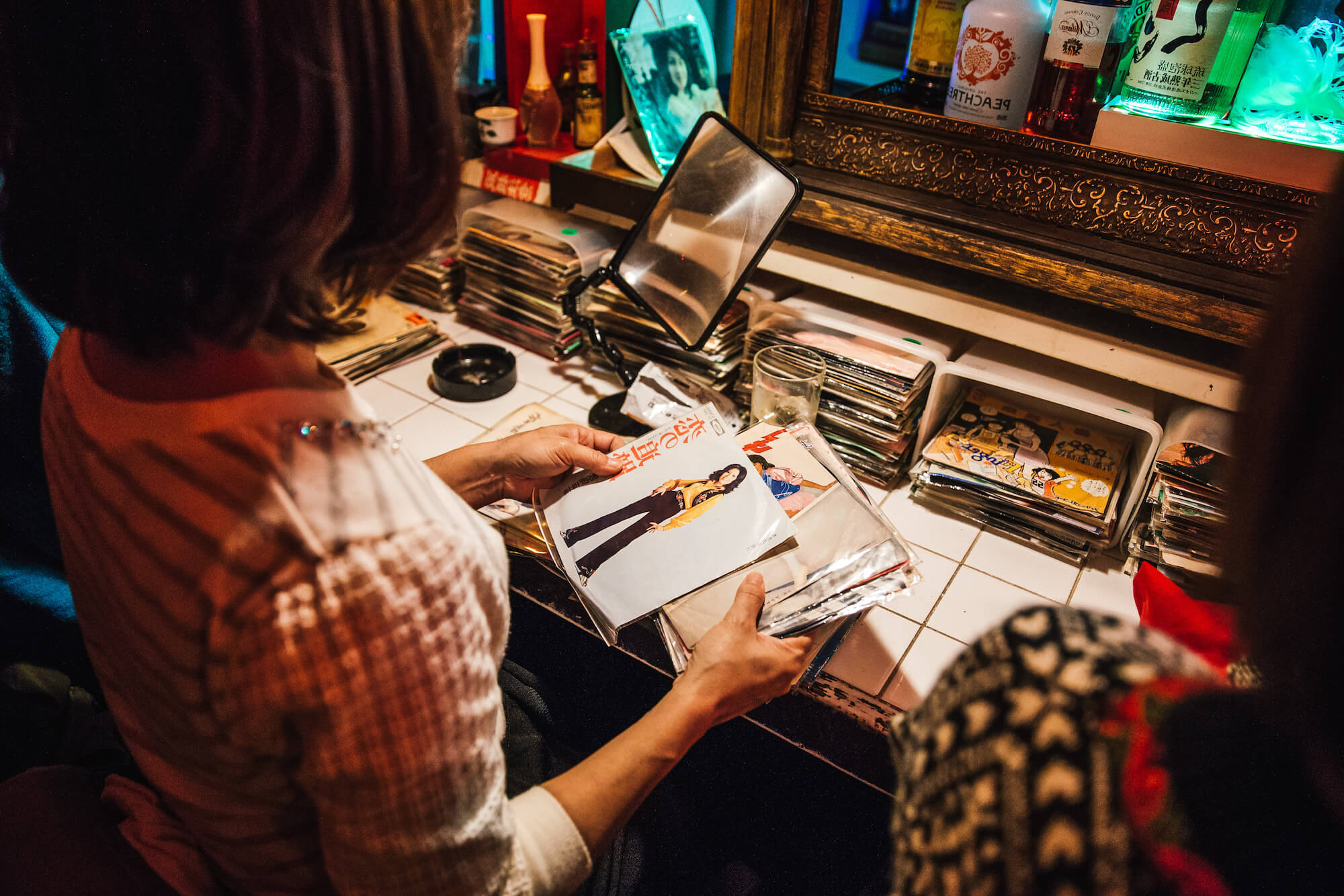 I first met the owner of Kankodori in a club on a Sunday evening. An elderly gentleman, he was wearing round-rimmed glasses, and sat at the bar in a manner that suggested it was his regular spot. Considering the club's reputation as the best Detroit house and techno venue in Osaka, his open attitude towards the music caught my eye and I couldn't help but talk to him. To introduce himself, he first showed me some of his business cards. One read "Handyman of Osaka", another "Frame Artist", a third, "DJ" and finally "Owner of Kankodori Karaoke Bar". But despite all his job titles, everyone there called him OTU chan. Seeing how well they treated him, it was clear he was a popular character, but no one actually knew what he did.
Conversation flowed, but before long, he stood up and said, "well then, it's time to go back to the care home," and left the club.
Kankodori Karaoke Bar is on the 2nd floor of a building in Honmachi, Osaka. While usually open at some point every day except Sundays, its actual hours are irregular and depend more on whether OTU chan feels like it. On my first visit, I was met by a sign stuck to the blue metal door which just read: "Gone fishing". Given Japan's reputation as a country known for its hospitality, this is something of a rare occurrence.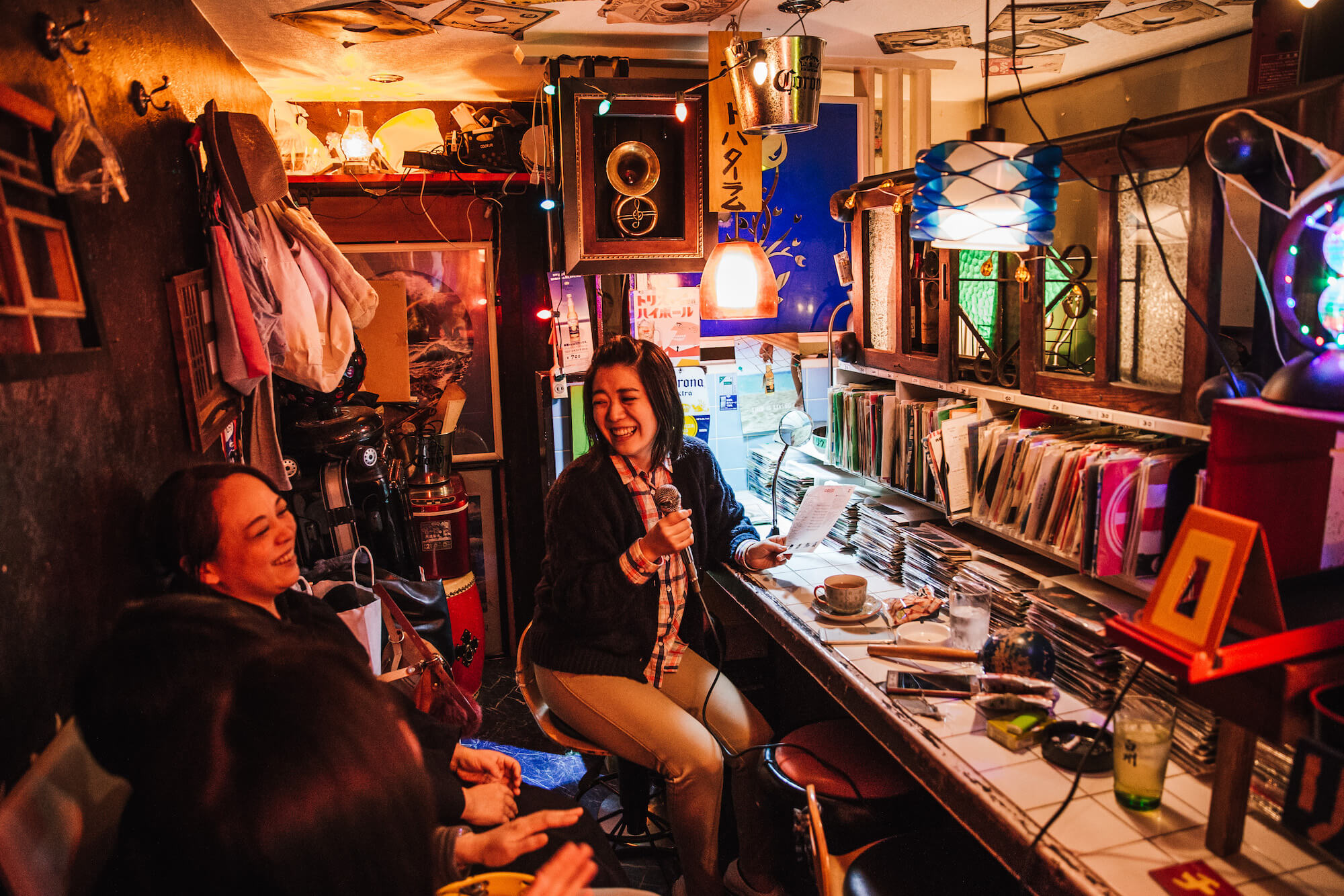 Those lucky enough to time their visit successfully will be welcomed by countless Japanese city pop 7"s – all squeezed into a tiny room that can fit no more than 10 people. The space is decorated with red lights and mirror balls, empty picture frames fill the walls from floor to ceiling, and a magnifying glass is on hand for older customers, to help them read the lyrics. In the middle of the counter is a tray with a handwritten "REQUEST" sign. Instead of typing the title of a song or the name of the artist into a karaoke machine, here records are chosen by hand from the collection and given to OTU chan to put on the record player.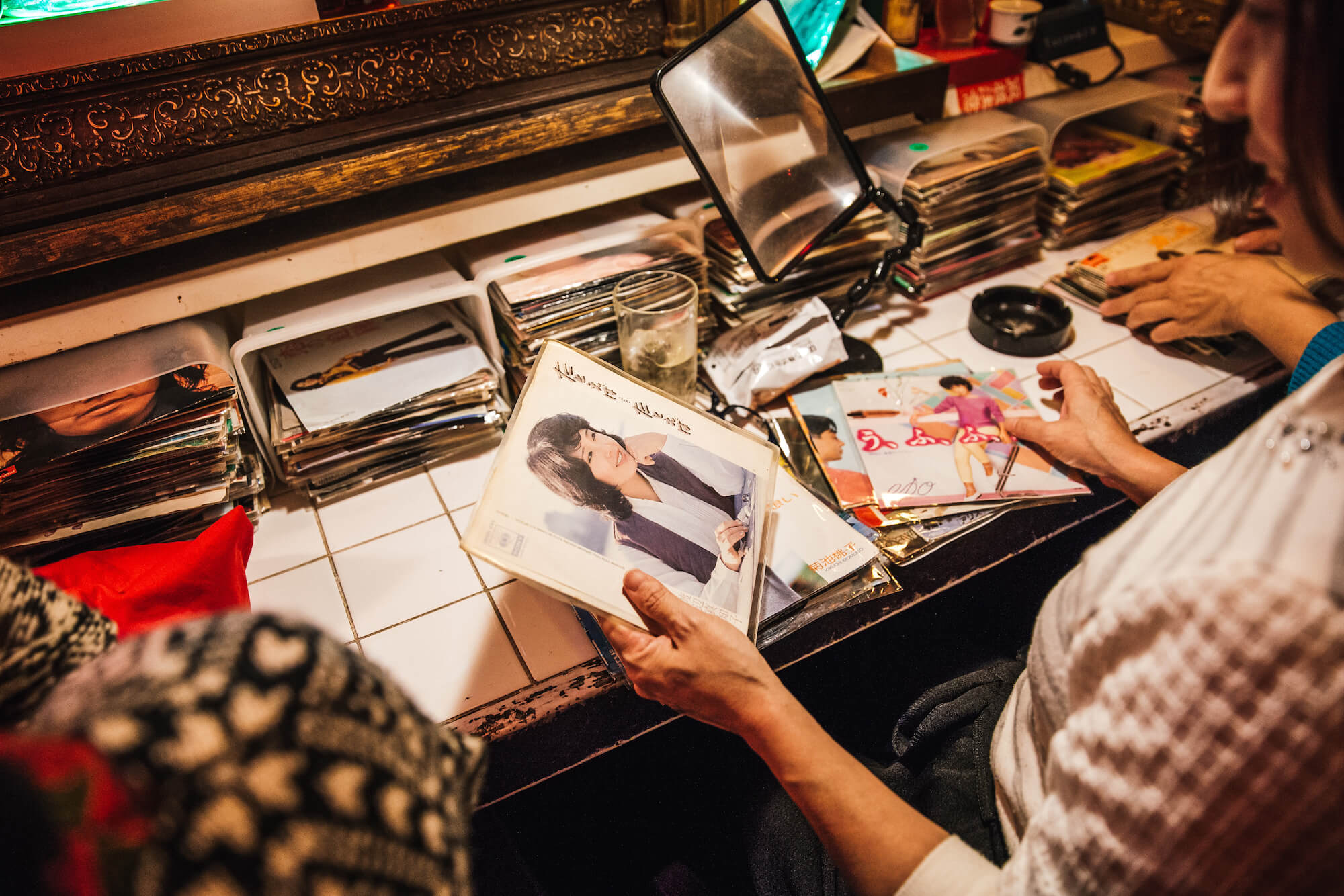 The records in Kankodori Bar are mainly from a genre called "Showa Kayō". Kayō is a style of Japanese pop music prominent during the latter period of the Showa era, from the mid-1950s to the late 1980s. The genre takes influences from both Japanese and Western music, and is characterised by slow-to-mid tempo jazz, which sometimes leans towards easy listening. With an increasing emphasis on bass, the latter years saw the tempo increase slightly, influenced by more danceable forms of disco and soul. Artists like Pink Lady and Momoe Yamaguchi made their debuts during this era, and their songs are still familiar to a younger generation. As a result, the ages of Kankodori's customers vary hugely, and you'll often find young people singing along to the same song with strangers twice their age. There is also a rumour that Japanese artists and TV personalities come to the bar in disguise.
Despite the increasing automation of our daily lives, and the algorithms that define our listening habits, everyone who visits this karaoke bar agrees that it is a place that defies standardisation. Instead, it has an ineffable atmosphere that has absorbed all the hopes, dreams and sorrows of its guests. Something about Kankodori cannot be explained rationally, and it is this energy that draws people to it like a magnet.
"By the way, where did you get all these records?" I asked the owner. "I got them all from the bin," he replied.
Believe him or not, OTU chan's Kankodori Karaoke Bar is a timeless treasure, hidden in the heart of modern Japan.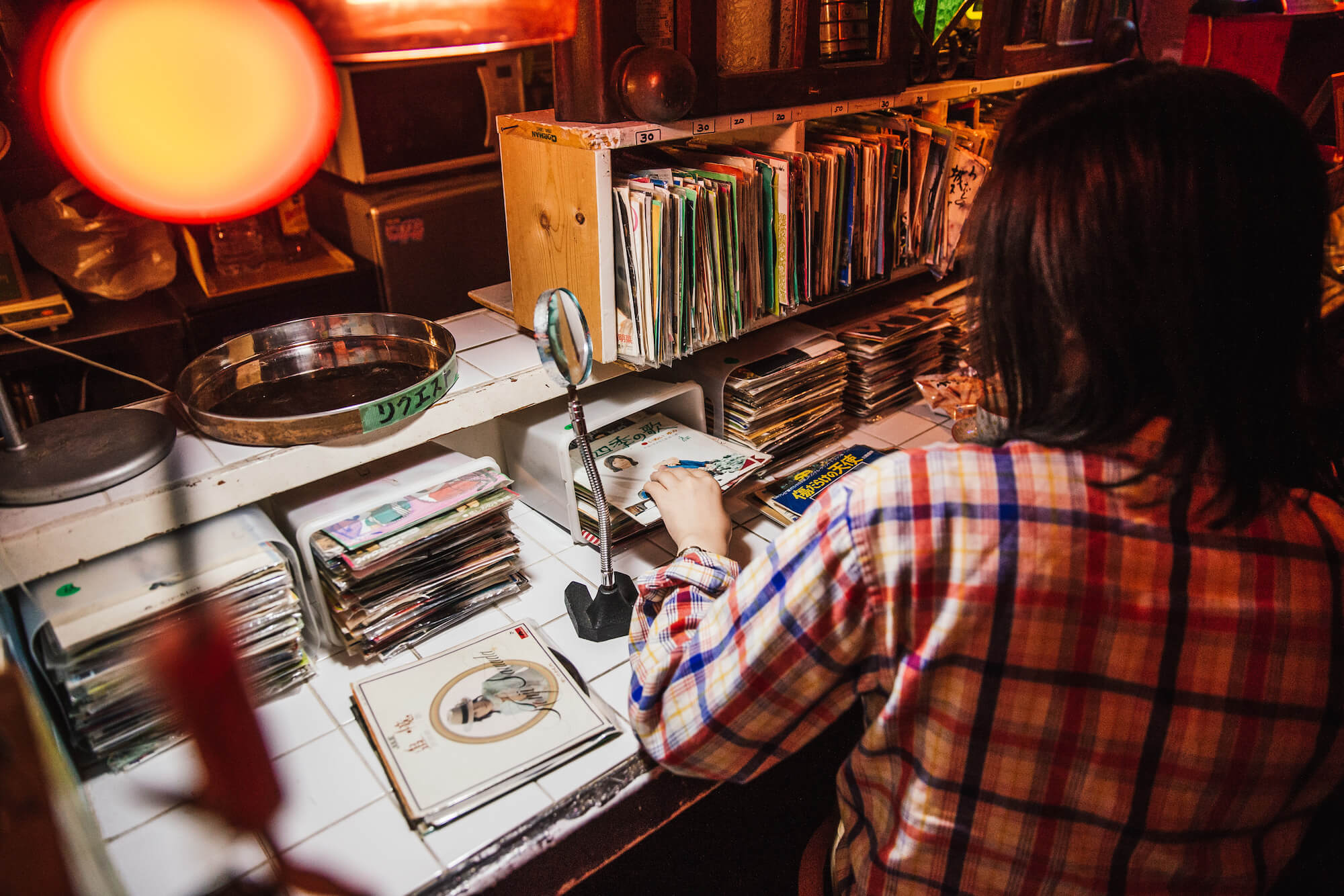 Photos by Samantha Milligan.