Published on
November 6, 2018
Category
Features
A sideways glance at the month's most striking vinyl visuals.
Each month we will be hailing the joys of music packaging as we celebrate innovative and awe-inspiring sleeve design. Walking with you will be designer and author John Foster as he discusses imagery, typography, layout and finishing techniques of the finest artistic talents in the music industry. Occasional forays into classic albums and general pop culture nonsense come at no additional charge. Now, get those eyeballs at the ready as we cue up the opening number…
---
Bruce Broughton
The Monster Squad – Original Motion Picture Soundtrack
(Mondo)
Artwork: Gary Pullin
This was my first Halloween writing this column and I think we all know I could have filled every slot here with the various classics that have been reinvigorated on vinyl by the fine folks over at Death Waltz and Mondo. Mondo has pulled no punches in celebrating the holiday. While we have to wait until January to celebrate Alan Hynes' work on the Halloween 3 soundtrack, we do have a chance to embrace the lighter side of these films courtesy of the '80s cult classic The Monster Squad. An early Shane Black script about a group of suburban kids tangling with a who's who of monsters, it served as an over the top update on the old Sunday matinee, entry-level horror film.
A parallel is the pulp comic books and monster movie magazines of the '60s, right down to the inky advertising pages that filled out the back matter with enticing offers for kits to "build your own monster". Who better to bring this vinyl beast to life than "ghoulish" Gary Pullin? His modern take on that campy illustration style perfectly straddles the line between scary and just plain fun. Pullin always incorporates a strong sense of design to compliment his heavy line work, and here he also has a pile of witty copy to sink his teeth into.
---
Makaya McCraven
Universal Beings
(International Anthem Recording Company)
Artwork: Damon Locks
Insert Design: Craig Hansen
Photography: Michael Handler, Sean Owens, Fabrice Bourgelle, Mark Pallman, Joe Mault
Working from several live recordings in a fashion that only he can, Makaya McCraven has produced what is probably my favourite jazz record of the year, both musically and visually. While it was recorded in four different cities, everything about the packaging for the album is soaked in Chicago, where McCraven and International Anthem reside. Illustrator Damon Locks is also a local and his work is intensely informed by his urban surroundings.
McCraven has shown his skills in "post-producing and re-composing" his music from improvised tapes, and Locks draws on photography, ink, pencil, Xerox, printmaking to get his message across. Also stepping behind the mic, Locks has frequently collaborated with other artists and organisations in tackling social issues, and it is the full force of all of those experiences that inform his work.
Applying his mixed media style to the huddled masses, as apartment buildings lurk in the background and the trains run alongside them, Locks captures an intense humanity in the forms and faces. The slightly slumped shoulders as someone sits down on the edge of the group, or the arched brow looking back as the crowd pushes forward – Locks captures it beautifully. Surrounding it all with hand-rendered typography, smudges and paint drips brings everything together in an imperfect perfection.
---
Gaika
Basic Volume
(Warp)
Design: 12:01- Office of Hassan Rahim
Photography: Joshua Gordon
Gaika has emerged as a startling voice, straddling genres where claustrophobic mixes haunt his unique vocals. Covering his visuals in a little haze and noise feels like the perfect touch. Upon closer inspection, nothing seems to be what it originally presented itself to be. Inverted portraits from Joshua Gordon are paired with heavy sans serif type, anchoring blocks of razor thin serifs. They all run along an OBI strip that somehow manages to feel like a history of v23 designs for 4AD, buzzsawed by trip-hop heads and stacked vertically for your viewing pleasure. 12:01 always delivers on this front, and the evolution of both Gaika and the packaging the studio is delivering leaves me excited to see how this pairing grows.
---
Matthew Dear
Bunny
(Ghostly International)
Artwork, Design: Michael Cina
Photography: Brett Carlson
"I'm calling this one Bunny," Matthew Dear explains. Why Bunny? "Fundamentally, I love the way the word looks and sounds." Continuing his run of jaw-dropping work for the Detroit-based producer, designer Michael Cina takes that mode of thinking directly to heart. "The design process was very long and changed courses many times," Cina admits. "We explored so many routes, it would be hard to list them all, but the main thing was to keep our focus."
That focus was ultimately on the word itself and getting the most impact out of that one simple thing. "I drew out the letters and we had no technical issues. I draw type for a living (22 years now!) so that is the least of my worries!" he laughs. "Just making sure it was true to the form and lined up as planned," provided the effect desired. Cina makes it all sound like a breeze, but the truth is something like this is incredibly difficult to pull off. Only with such an assured and trusted hand can it be accomplished with such brilliance.
---
Sonnenzimmer
Puddles
(Self released)
Artwork and Design: Nick Butcher and Nadine Nakanishi

Few studios are as inspiring as the Chicago duo known as Sonnenzimmer. In this instance, Nick Butcher and Nadine Nakanishi 
manage to make something brilliant and unique out of discarded music. These LPs are one of a kind, yet produced from mass manufactured old LPs.
As Butcher and Nakanishi explain: "our Puddles series of unique, playable record objects was initially conceived for a 2018 exhibit at the Gelbes Haus in Lucerne, Switzerland. The original exhibition showcased 12 casted records of original music embedded with fragments of found LPs. (We call them puddles). Each record is housed in a mono-printed gatefold sleeve." They are quick to add: "yes, these records play and they sound very weird." The combination of the playable objects and the wonderfully loose, one-off gatefold sleeves leaves you with the feeling that you just acquired two distinct pieces of art, all thanks to the duo's obsession with recorded material, ink and sound.
---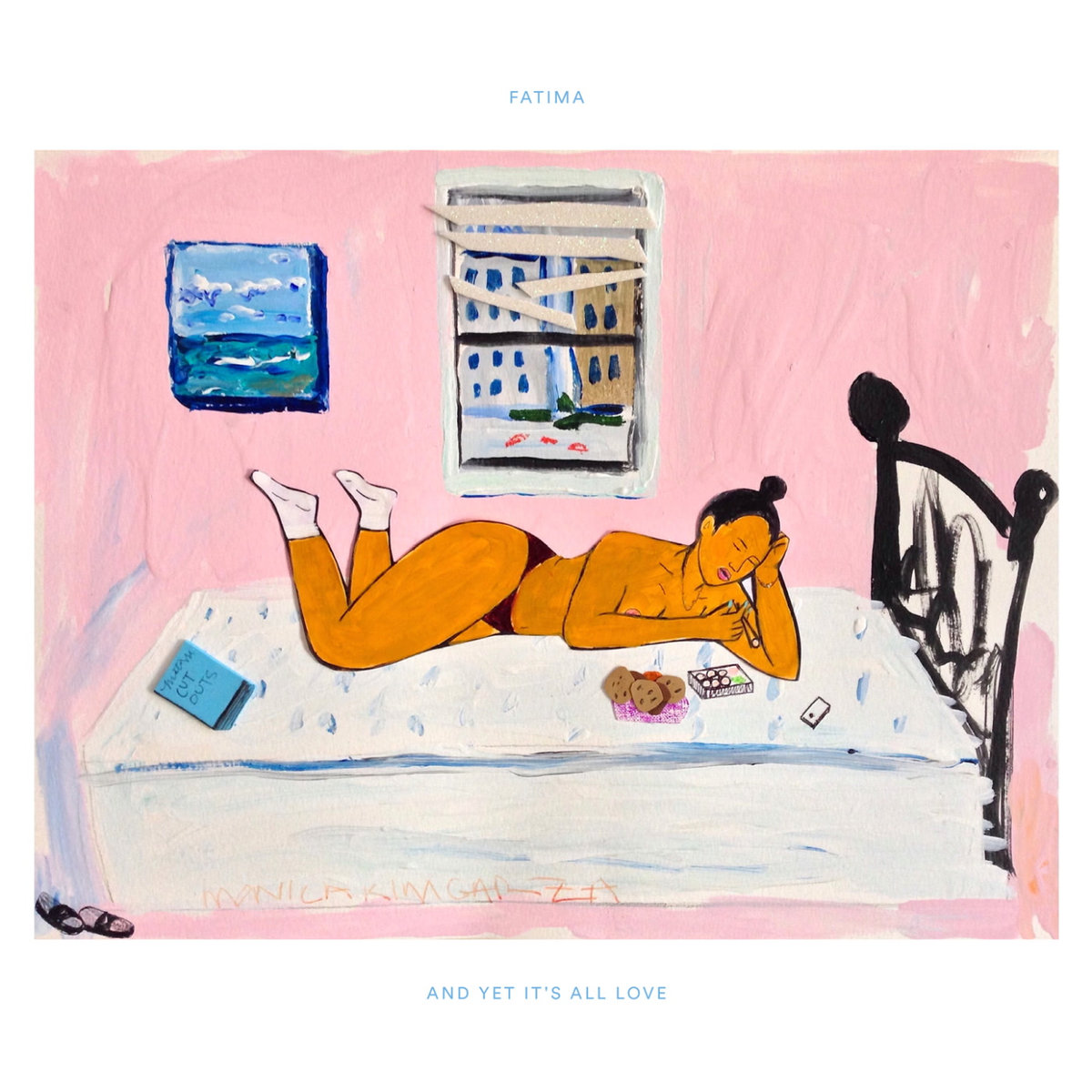 Fatima
And Yet It's All Love
(Eglo Records)
Artwork: Monica Kim Garza
I want to give a special mention to Monica Kim Garza's painting that adorns Fatima's And Yet It's All Love LP. Garza's paintings never cease to delight, and her nude studies manage to enthral on multiple levels, mixing intimacy with very public display, not unlike Fatima's music.
Similarly, the artwork is at once both a throwback to paintings like the classic studies of women by Matisse, and something that is absolutely hyper modern, much in the same way that Fatima references old soul and R&B, but does so with a cutting edge.
---
John Foster is the author of Album Art: New Music Graphics (Thames & Hudson), New Masters of Poster Design (Rockport) and numerous other books. As principal of his design firm Bad People Good Things he has designed hundreds of record sleeves for everyone from Teenbeat to Warner Bros.