Published on
November 20, 2015
Category
Features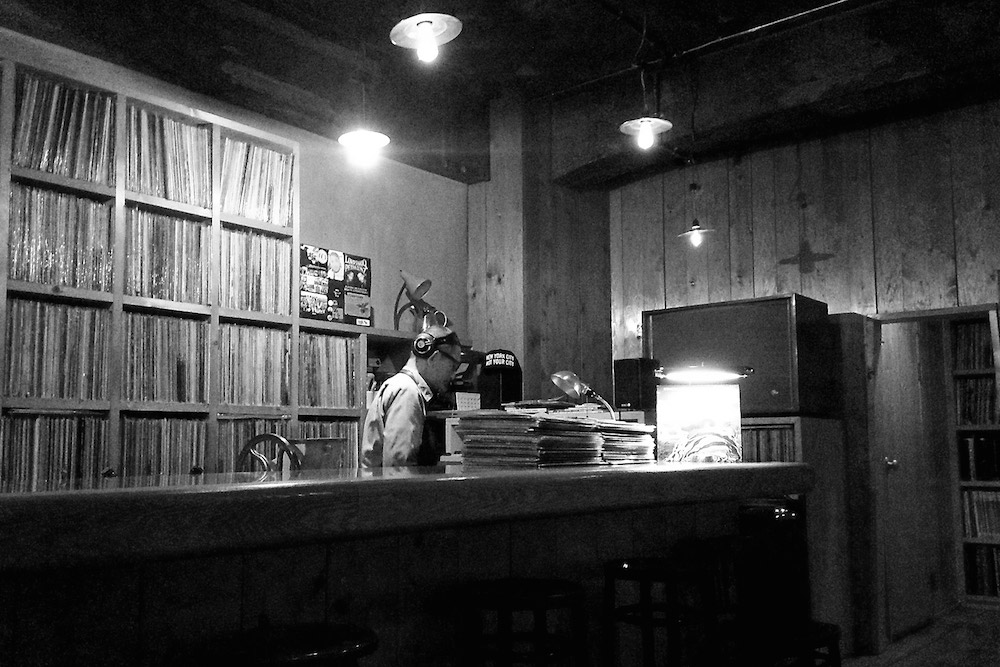 With over 10,000 records, warm sound and plenty of fine whisky, JBS is a vinyl sanctuary in the midst of dense city life. A must-visit when in Toyko, Cedric Bardawil dropped by to spend an evening with owner Kobayashi.
---
Words & photography: Cedric Bardawil
---
Nestled away in the Shibuya district of Tokyo is a small bar named JBS. A modern take on the jazz kissaten or jazz café, it's a refuge of sorts – a place to drink, smoke and most importantly listen to jazz. A concept popularised in Japan after the Second World War, there was a code of silence in many of these establishments, chairs were arranged in a semi-circle facing the speakers with seats located for optimal listening (the sweet spot) taken first.
Music was at the centre of the experience, the volume was high as opposed to bars where jazz was played as background music. Drinks and often food were served, although they were secondary to the music, the menu was limited with an emphasis on quality and local produce. It's well documented that Japanese poets, writers and artists would spend time at their local kissaten for inspiration. For jazz enthusiasts they were a means of discovering new music, an information point for imported records as well as a place to relax.
There was a ritual to the experience, which was taken seriously by regulars who would visit almost daily, their devotion likened to monks seeking enlightenment. The music was listened to through recordings rather than live performances, usually vinyl played on a high fidelity sound system.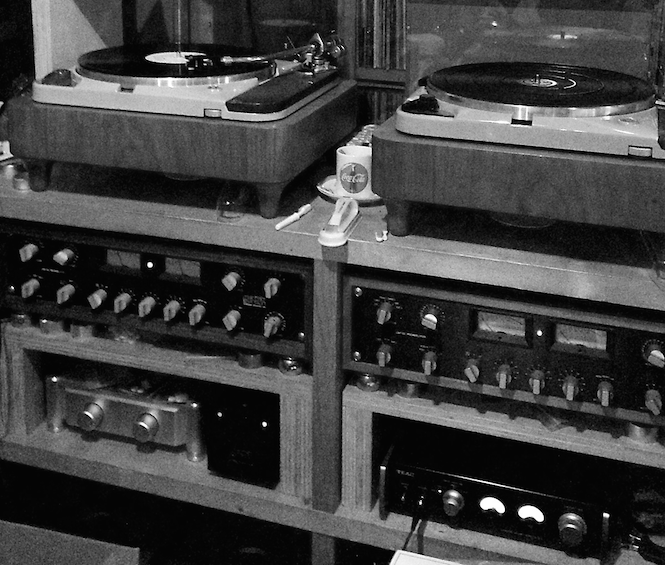 The jazz kissaten reached its heyday in the 1960s, a period when a vinyl LP cost close to an average workers monthly wage and even if people could afford such a setup in their own home, playing free jazz at high volume would have disturbed neighbours. Their popularity continued until the 1980s when chains of bars and coffee shops exploded, offering a cheaper service. Combined with the rising cost of rent, many of the traditional kissaten were driven out of business. Fortunately several still exist in Japan, independently run by passionate owners, the rules have now loosened up and these bars attract a diverse range of customers.
At JBS the focus is on music, it's unpretentious, a sanctuary in the midst of one of the busiest neighbourhoods in Tokyo. Known to locals and sought out by visitors, there's something distinct about this bar. I'd seen photos online and heard recommendations, which prompted a curiosity. It was on my shortlist of must-see places in Tokyo.
Finding it wasn't obvious, addresses in Japan can be unclear even for locals who often rely on street signs to find location; this was no exception. Signposted by a small, dimly lit plaque, at first I thought the bar was closed. Once you enter the humble building and follow the stairwell to the second floor there's little indication of activity: no loud noise or flashing lights. Push past the wooden door and you'll see wood clad walls neatly filled with thousands of vinyl records, a long bar with a steel worktop and stools, several tables neatly laid out. The main room is softly lit with records playing at a moderate volume. A Japanese man in his '60s wearing an apron stands behind the bar stirring a drink.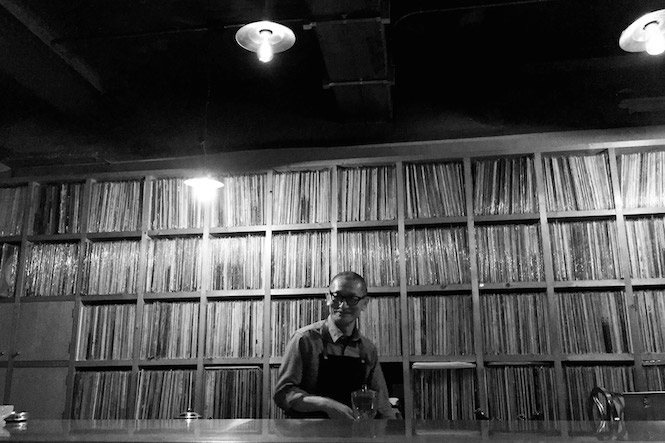 It's 9.00pm on a Sunday evening, the room is almost empty aside from a couple sitting down having a drink. I introduce myself to the man behind the bar and order a whisky. He smiles, presents himself as Kobayashi and invites us to take a seat. Through conversation, Kobayashi Kazuhiro explains he opened JBS – which stands for 'Jazz, Blues and Soul' – 13 years ago as an extension of his home and personal record collection.
An enthusiastic collector and connoisseur, he estimates the bar has over 10,000 vinyl records, sleeved and alphabetised by instrument. Unlike other vinyl bars in Tokyo there's no cover charge at JBS. His dedication is remarkable, he opens 7 days a week from 2pm to 11pm. During the day he serves tea and coffee, in the evening beer and spirits. Kobayashi runs the entire operation: from welcoming guests, to serving their orders and playing records.
Drinks are a very reasonable 500 Yen, this includes Japanese whiskies such as Suntory and Nikka single malts. When I ask him about his favourite record, he pulls out the 1972 jazz LP Cherry by Stanley Turrentine and Milt Jackson. His setup comprises of a pair of Thorens TD-124 turntables, a Mark Levinson preamplifier and a custom tube amplifier powering Altec Lansing speakers. There's wonderful clarity and warmth to the sound, although I felt the volume could have been pushed a bit for optimal listening.
He serves us another drink, and once the record is playing he places the LP sleeve on display under a lamp in the corner of the bar. Aware that it's almost 11pm, we ask what time he usually closes on a Sunday, his face lights up and he explains that today is a special day. He plans to stay open late to listen to records that he hasn't played in a long time.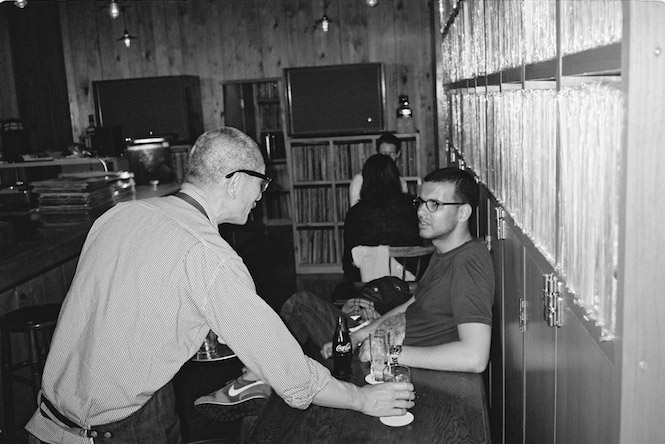 By this point we'd heard a variety of records beyond classic jazz LPs, these included Average White Band's 1976 soul/AOR album Soul Searching and Lonnie Liston Smith's 1975 jazz fusion LP Expansions. No gaps or silences between the records, the music carefully programmed to tell a story.
We'd listened to a record Kobayashi never tires of, but I was curious to know what he's most passionate about. "Hip-hop" he says and pulls out No More Mr Nice Guy (1989) by Gang Starr. He plays 'Jazz Music', then the track it sampled: 'Les Fleur' from Maiden Voyage (1968) by Ramsey Lewis. As I take another sip of whisky, Kobayashi turns and continues going through his collection, carefully pulling out records he's chosen for this Sunday late night session.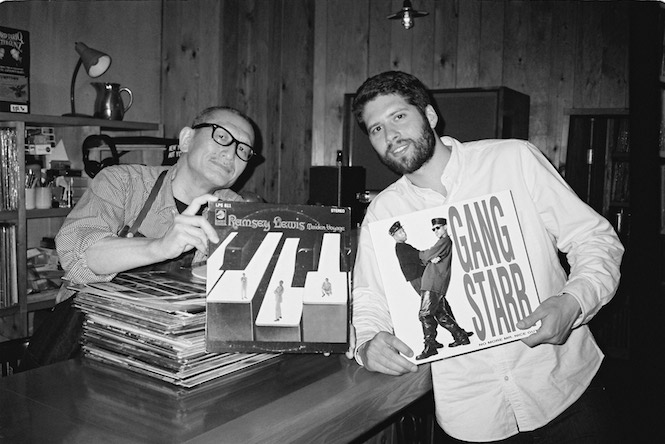 JBS is open 7 days a week, (usually) from 2pm till 11pm
Address: 1-17-10 Dogenzaka, Shibuya-Ku, Tokyo, Japan
Read next: Digging in Japan – a journey through the record shops of Tokyo and Osaka