Published on
March 22, 2016
Category
Features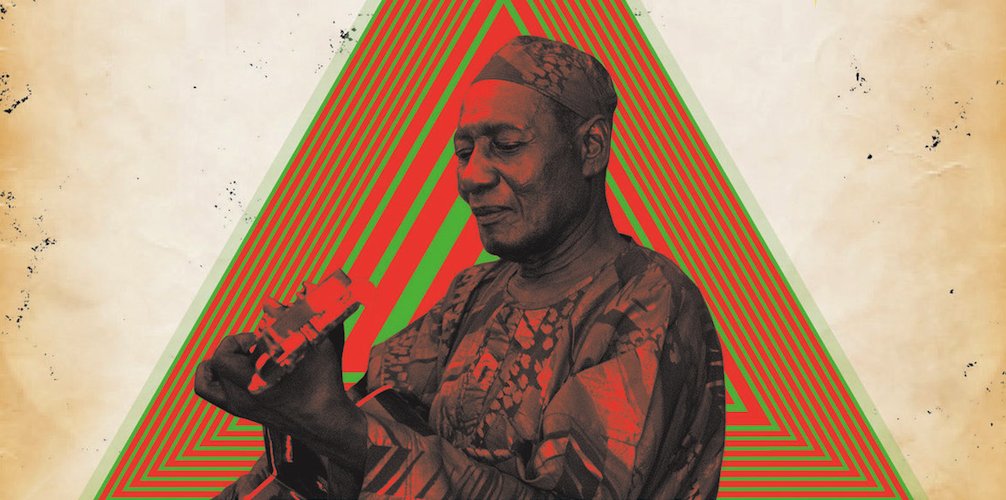 Merging highlife with jazz and funk to create his own brand of Ghanaian afrobeat, Ebo Taylor is a giant of contemporary West African music.
An integral part of the Ghanaian music scene for over fifty years and now recognised globally alongside the likes of Nigerian trail-blazers Fela Kuti and Orlando Julius for his electric brand of afrobeat, Ebo Taylor is finally getting the exposure he deserves.
Between founding his own Black Star Highlife Band way back in 1962 and recording an album of new music for Strut records as recently as 2012, Taylor amassed a formidable reputation in the first instance as a guitarist and bandleader and subsequently as producer for major acts like Pat Thomas and C.K. Mann. More recently, he has become a touchstone for hip hop producers and adventurous DJs, with an unlikely sample from his 1977 track 'Heaven' making it into Usher & Ludacris' 'She Don't Know'.
To mark his 80th birthday year, Mr Bongo are reissuing a pair of long-out-of-print Ebo Taylor records, his 1976 debut solo album My Love And Music and the spiritual up-tempo groove of 1978's Twer Nyame. Putting them in the infectious and varied context of Taylor's discography, the label have selected seven essential Ebo Taylor recordings for your collection.
---
Words: Dave "Mr Bongo" Buttle
---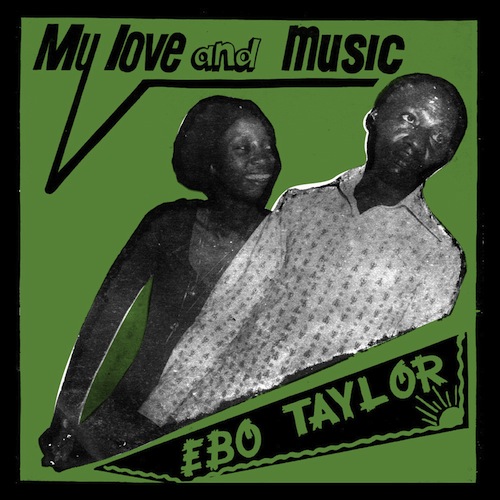 Ebo Taylor
My Love And Music
(Gapophone Records, 1975)
Originally released in 1975 on Gapophone Records, George Prah's label, hailing from Ghana. Only available in very limited quantity (reportedly 500 copies) due to the musical vacuum imposed by the military dictatorship in the country at the time. Laid back, lush, highlife vibrations from start to finish, with noticeable reggae influences throughout.
This was an album that Ebo actually forgot that he wrote. We contacted him and managed to make the re-release happen. We obtained an original copy from our good friends Hans Phillips – so a big thanks to him!
---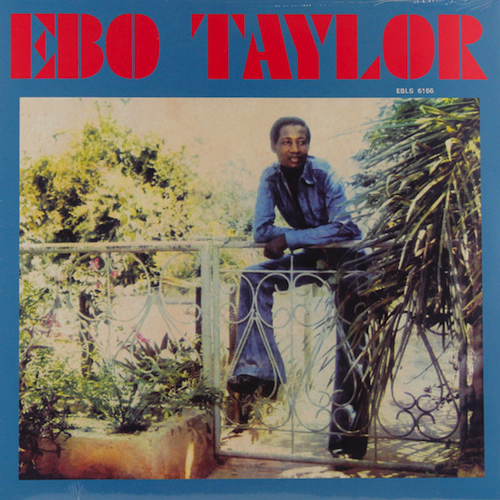 Ebo Taylor
Ebo Taylor
(Essiebons, 1977)
His self-titled album is a rarity in its original form and is a record that truly exposes his genius. Having spent most of the 1970s involved in Ghana's afro-funk output, working with different bands and musicians alike, Taylor put forward his own unique blend of Ghanaian highlife and afrobeat with this record.
---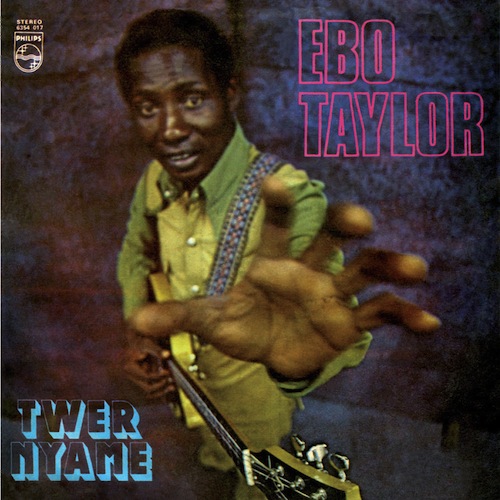 Ebo Taylor
Twer Nyame
(Philips-West African-Records, 1978)
'Twer Nyame' means 'Trust In God', but we know very little else about this LP, other than that! Originally released in 1978 on Philips-West African-Records it is classic highlife; uptempo grooves, vocals, tons of percussion, guitar, horns and organ lines. Vintage Ebo Taylor.
---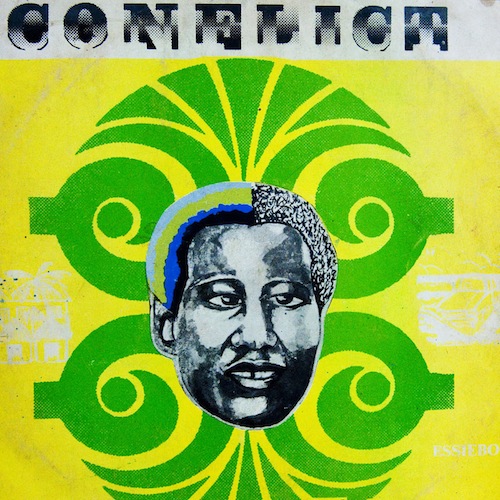 Ebo Taylor & Uhuru Yenzu
Conflict Nkru!
(Essiebons, 1980)
'Love & Death' is a favourite of many and opened Ebo up to a wider audience. The track was re-recored for the album he released on Strut. The original is very rare; we were lucky enough to be able to reissue it in 2014.
---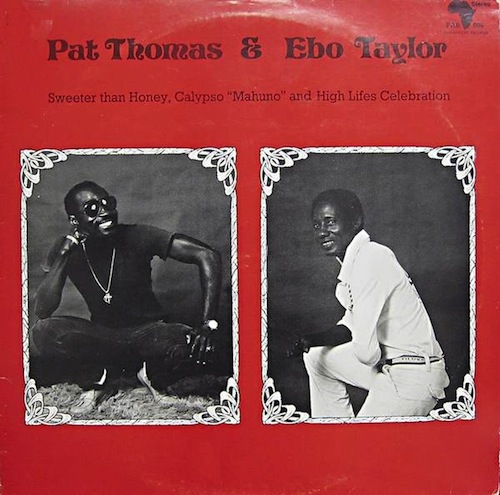 Pat Thomas & Ebo Taylor
Sweeter Than Honey Calypso 'Mahuno" And High Lifes Celebration
(Pan African Records, 1980)
Ebo produced a lot of the legendary Pat Thomas' records. This LP was arranged and composed by Taylor; a mix of highlife, calypso, funk, jazz, soul and pop. Originally released on Pan African Records. Strut released a Henrik Schwartz re-record/remix of 'Ene Nyame 'A' Mensuro' in 2015.
---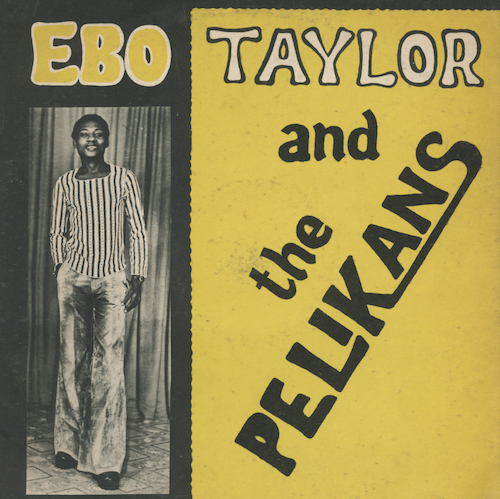 Ebo Taylor
Ebo Taylor & The Pelikans
(Abookyi Records)
Recently reissued by Superfly. A real beauty, which comes highly recommended, but we know very little about it.
---
Ebo Taylor
Appia Kwa Bridge
(Strut, 2012)
Released by Strut this album features new compositions, recorded in between his ever-busy touring schedule… Not bad for a man who is now over 80 years old. The album features special guests including Tony Allen, Oghene Colombo and Kwame Yeboah.
---
Ebo Taylor's My Love And Music and Twer Nyame will be released on 1st April by Mr Bongo. Click here to pre-order.