Published on
January 26, 2018
Category
Features
Ahead of their debut album release Fable Electric on VF, London quartet Marine (aka Ruby, Cara, Kaja, Beth) open up about their musical influences, ideal studio and weaving fairy tales into ethereal yarns.
---
Name: Marine
Location: London
Musical influences:
Patti Smith, Jeff Buckley, PJ Harvey, Ella Fitzgerald, The Beatles, Tom Waits, Howlin' Wolf, Meshell Ndgeocello, Ani DiFranco, Tycho, Joni Mitchell, Annie Lennox, Shabazz Palaces, Radiohead, Michael Jackson, Curtis Mayfield, Nirvana, Cibo Matto, Philip Glass, The Breeders, Janet Jackson, ESG, Van Morrison, Joanna Newsom, Linda Perhacs, Fleetwood Mac, Shannon & The Clams, Jimi Hendrix, The Beach Boys, Khruangbin, Red Hot Chilli Peppers.
Desert Island Discs:
Jeff Buckley – Grace
Fleetwood Mac – Rumours
Joni Mitchell – Blue
Van Morisson – Astral Weeks
Most inspirational record artwork:
PJ Harvey – Rid of Me
Portugal. The Man – The Satanic Satanist
Tycho – Dive
Bastien Keb – 22 – 02 – 85
Books that shaped you:
Just Kids by Patti Smith
Cosmicomics by Italo Calvino
The Unbearable Lightness of Being by Milan Kundera
Kafka on The Shore by Haruki Murakami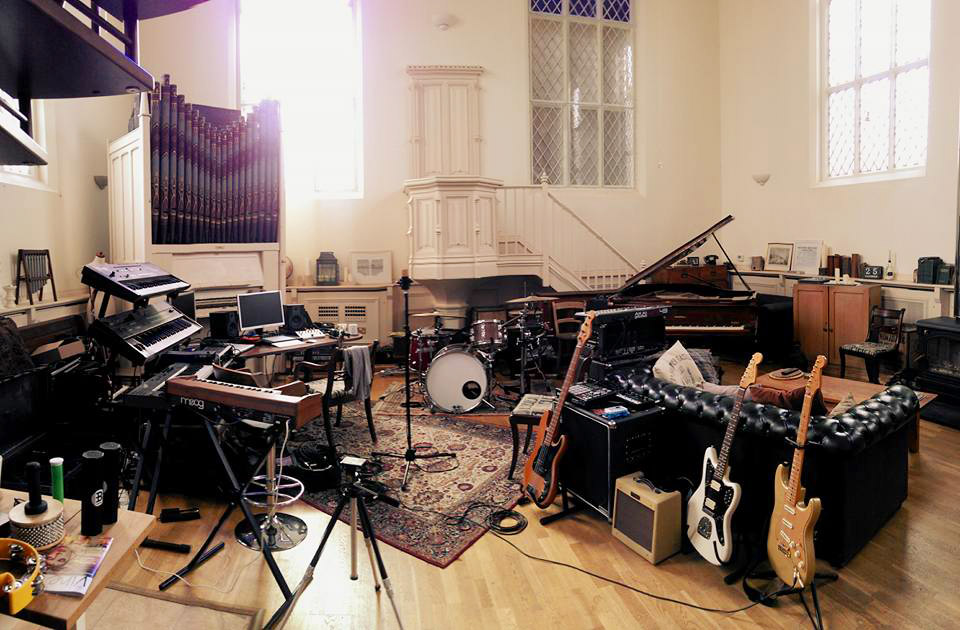 Describe your ideal studio environment:
B: We are so lucky to have actually recorded in the perfect place.
C & R: I agree! It is our ideal habitat, I think. A building that gets so much light and has a tonne of character (not too new and shiny), room to have instruments always out and ready to play, and room to pace around like an agitated animal when you don't get a take! We sung in a huge converted chapel so it really helps to imbue you with a certain drama, not to mention natural reverb. Bonus features of the place included great company, two handsome dogs, and countryside all around if you go a bit mad and need to walk yourself out of your head. The only icing I can imagine on that cake would be if it was on the coast. I feel ideas come more easily when I'm by the sea.
K: My ideal studio environment is to be able to fall out of bed straight into a recording session (with a cup of coffee), so Grand Chapel Studios really is a dream scenario!
Tell us about the fables behind your tracks and how you create songs from these stories.
C & R: When we started to write together, we had only ever written songs by ourselves. Sharing our creativity was a little daunting so first there was wine and then there was really fun wine conversation! Mostly about the theory of seven roots that all the stories in the world can be traced back to. This sparked off many geeky recon sessions together or solo, getting totally drawn in by myths and legends, and beasts. (oh how we love beasts!)
C: At times we have changed the stories, for example in 'Big Dog' which is based on Red Riding Hood – at the end Red gets eaten by the wolf as she does in one of the originals – but in our version she overpowers him from within his belly, becomes the wolf and looks out through his eyes. I wrote this about a time that nearly defeated me but in the end made me stronger – It became a bit of a fable to me! But really its to be enjoyed and interpreted in whatever way the listener feels!
We find characters or concepts that feel close to us, mixed with our own feelings. Writing like this means you get to use all sorts of interesting language and abstraction, I love singing about real experiences and feelings through monsters, towers, crystals, and curses! Through more surreal lyrics, it sometimes comes a lot closer to the feelings I'm trying to express than just saying it outright. Then it's open to interpretation to listeners. In the practice room I really love that the story and the music often affect each other without trying too hard.
B: While the lyrics are written by Cara and Ruby, the band has a very unique way of shaping the music around the themes… We are a passionate rhythm section, driven by pulse, while allowing the weaving guitar and vocal melodies to tell the story. 'Kitsune' and 'Mount Olympus' are good examples of that driving rhythm..
K: I really enjoy colouring in the song ideas that Cara and Ruby come up with on the drums, as well as bringing in ideas that started just with drums and bass. I love the fact that in most of our songs there are weird time signature changes going on which to me never feel mathematical but rather an expression of the energy and feeling of the message of the song.
Cara, what inspired the artwork and tell us about the mediums and processes you used for it.
C: I love abstract expressionism, so for the album cover I made the painting quite big so I could move my limbs a lot, using layers of acrylic, oil, watercolour, pastels and inks. I tried to paint what we sound like! So busy fluid brushstrokes with quiet areas, lots of movement and contrast, and some dark undertones. I wanted it to have that swampy psychedelic quality. Anyway, after photographing it I realised the 'electric' element was missing! I flipped the colours and added filters to add a luminosity. We are making music with those long chiming electric tones so it seemed right for it to have that slight glow.
What was it like working with Rob Ellis for the production of your debut album? Please give us an insight on how the album came together.
B: Rob exuded an air of calm throughout the process; his creative ideas and input were invaluable. He had very clear ideas for our already formed songs, which took them to another level, put as much importance to the gaps between the sound.
C & R: Rob was top of our dream producer list so we were very uncool throughout. We had lots of fun but he worked to understand what was important to us and how to make those things shine. And he really rolled up his sleeves in every aspect of the song. Until this recording my experience was; you play for however long with limited gear because its what you can afford and therefore that's how all your songs sound. But having really listened to us play together, Rob strove to find the perfect tone and space for each instrument, partlyi using different mics and amps, and we found that gave each song its own more defined personality.
K: He had a very good sense for creating the right mood for the recording process, appropriate to each song's individual character. He also seemed to know if a run through the beautiful countryside was needed to get into the right headspace to record a song, or a round of tequila shots!