Published on
July 6, 2017
Category
Features
How Steve Reich and nautical poetry inspired the ebb and flow of Pep Llopis' unsung opus Poiemusia.
Gentle waves lap against a weathered dock. The sky is a cloudless Mediterranean blue. A ship waits to guide you through the dazzling seascape. Or so it seems in the illusory world invoked by the music of Valencia's Pep Llopis. Poiemusia La Nau Dels Argonautes is his rare masterpiece, an album like no other, uniting fragments of minimalism, new age synth and poetry.
Originally released in 1987 on Madrid's Grabaciones Accidentales, Poiemusia is set to be reissued on Freedom to Spend, the sister label to New York's RVNG Intl., run by Peter Swanson and Jed Bindeman. This record richly deserves to be heard by a new audience; influenced by contemporary classical/minimal composers, it also bears the accessibility of an artist raised on rock and pop, and has a character all its own.
"Poiemusia La Nau Dels Argonautes is this fascinating moment in minimalist music that hasn't really been canonised, even in Llopis' native Spain," says Matt Werth of RVNG Intl. "I love the poetic quality of the entire effort."
Dreamlike, hypnotic, Poiemusia evokes ocean drifts and currents. Partly, the record's sound is inspired by a period of reflection for Pep Llopis. After the dissolution of his prog rock band Cotó-en-Pèl, he felt compelled to take stock. In the early 1980s he went to sea and travelled between islands, from Menorca in the Balearics as far as the Greek islands of Crete and Santorini, in tribute to the journeys of sea voyagers such as Odysseus or Jason and the Argonauts, who lend the record its name. In the process, he absorbed the sensation of being cast away from land, and sought to transmute this experience into music.
"I have always felt in direct contact with nature," Pep Llopis says. "I took a trip between the islands, and this let me know many states of the sea at different times and intensities. The sea moves according to its whims and is very variable. So is the music of Poiemusia. It has been drunk in the flows of the sea, has been contaminated by its swings and movements. It is imbued with these flows."
With his command of organic instrumentation, including the piano, flute, cello, clarinet and marimba played by an array of guest musicians, and heavenly synths that sweep from passages of orchestral drama to tranquil reflection, Pep seeks to literally reproduce the unpredictability of the waves.
"The sounds generated by synthesisers, in a sequence reproduced at very slow speed, create a loop like the repetitive movements of the waves of the sea," Pep says. "The sea is life and music is also life. Music must be a free and suggestive language, and the sea is free by nature, sometimes too free."
The record ranges from gorgeous classical piano piece 'Nits De Cristall' to the somnambulant Balearic pads, unspooling clarinets and looping marimbas of 'El Vell Rei De La Serp'. Parts of it chime with the current appreciation for new age and also neo classical sounds, thanks to Pep's sophisticated and multi-layered use of synths, which included the Korg Poly-800II and Roland JX-8P.
"I have always considered that applied electronics is a very important complement to the timbre of conventional instruments," Pep says. "The sound spectrum that can be achieved by means of synthesis is an open field, almost without limits. I am very interested [in synths] because their sonorities have been used in both pop music and contemporary music. They are very versatile."
Poiemusia was originally conceived as a suite of music to be performed especially for February 1986's Poiemusia festival, a three-day celebration of spoken word and classical performance at Valencia's Teatro Princesa venue. The record was partly inspired by the words of local poet Salvador Jàfer, author of the sea-inspired poetry collection Navegant Obscur, who performed at the event with Pep and appears on the record. "The poems of Salvador Jàfer were certainly the inspirers of music," Pep says. "In fact the idea of this concert came from the combination of poetry and music, a proposal launched by Josep Pérez Montaner. From the first moment, the structure of the concert and the contents were born of the poems of Salvador, that I read and reread one and a thousand times."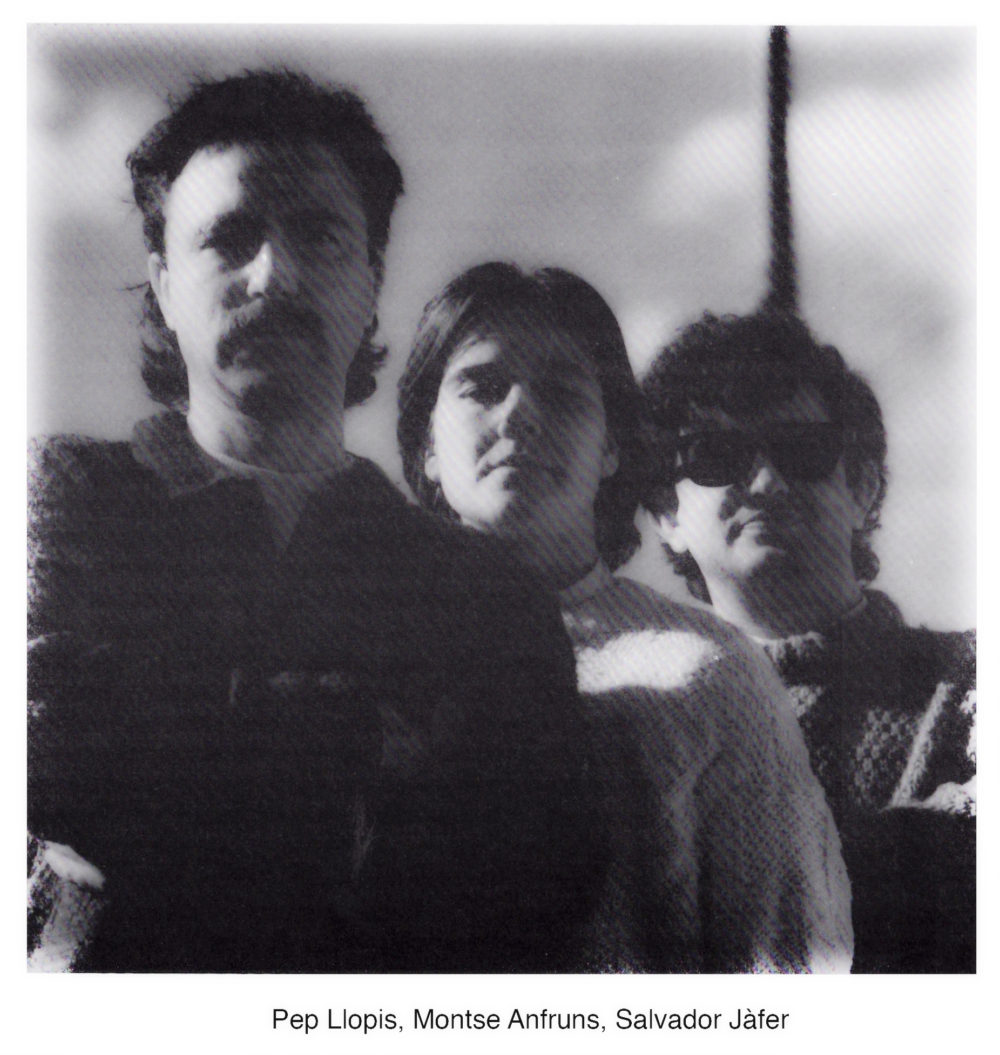 The performance itself remains a vivid memory for Pep. Everything fell into place. "The concert had raised a great expectation in the city, and the Teatro Princesa, of enormous dimensions, was full," he remembers. "Everything went like a dream. There were no problems; the voices, the music, everything worked perfectly. We seemed endowed with a magic touch. When we approached 'Nits de Cristall' and I was going to the grand piano, my body trembled with emotion. At the end of the concert, I remember in an indelible way the long parade of friends, musicians and the public by the dressing rooms waiting to congratulate us. It was an unforgettable night."
Salvador, whose Catalan poems from Navegant Obscur adorn Poiemusia, creates a human, narrative quality, an additional flow that is matched by the female voice of the late Montse Anfruns. "They are two opposing voices," Pep explains. "Their contributions are different and, for me, complementary. Salvador, author of the poems, gives them an absolutely tangible interiority. His voice exudes emotion: every word, every phrase.
"The Montse voice is much more vehement. Every time I hear the recording, and I have done countless times, I still feel it's as fresh and evocative as when we did the concert."
Pep Llopis grew up in the town of Lliria in the province of Valencia. He was fascinated by music as a child, and listened to local bands that would adapt classical pieces. With the advent of The Beatles in the 1960s, he came to love pop and rock 'n' roll, and with the classical knowledge he'd acquired studying piano at the Valencia Conservatory, he began to play in bands himself.
"I played in groups making versions of the successes of the moment, until I needed to compose. It was a creative necessity," Pep says. "I commenced to compose my own music for the scene and for my concerts. Those first sound references took body in my compositions. I think that from the mix of classical and pop was born my inclination towards a music that had no barriers, and could combine the richest of both."
He formed the band Cotó-en-Pèl in 1976. They would draw inspiration from the most ambitious progressive rock of the era, from King Crimson to Yes. In Pep's solo compositions, though, can be heard echoes of ambient and minimalist masters.
"I was very interested in classical musicians like Karlheinz Stockhausen who approached the modes and sounds of pop and Oriental traditional music, and also others like Brian Eno that broke with the strict molds of pop to create new sound fields."
Steve Reich (and other American minimalists) looms large as an influence upon Poiemusia. "At the time I drank as much as I could of the minimalist American stream, from La Monte Young, Steve Reich and Philip Glass. It is clear that the central part of 'El Vell Rei de la Serp' is a tribute to Steve Reich," he says.
That Poiemusia La Nau Dels Argonautes will now reach more listeners than ever is a source of delight for Pep. He views the increased sophistication of reissue culture (when carried out by impassioned individuals and independent labels) as a positive development.
"I think it is commendable work by all those people and record labels that have the courage to undertake these reissues," he says. "The works are born again, come back to life and are revalued. I am not referring to the economic aspect, but to the cultural aspect. At this point the broadcast channels are infinitely superior to those we had in the past, and this offers the possibility that many more people have access to the works."
Music is still Pep's great love. He's currently working on two film soundtracks and a stage production, and recently won a Premio MAX award for Best Musical Composition For a Stage Show, after collaborating with dance company Ananda Dansa (with whom he has enjoyed a relationship since 1984). Poiemusia will be in more homes and minds than ever before, and seems to have helped fuel Pep's fire. "Although I have composed many works, I do not think I will stop doing it. I hope to continue winding up my mind and my instruments for a long time."