Published on
July 24, 2014
Category
Features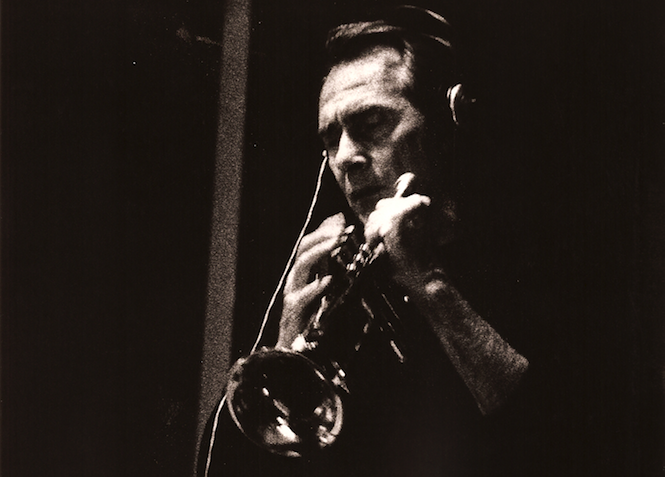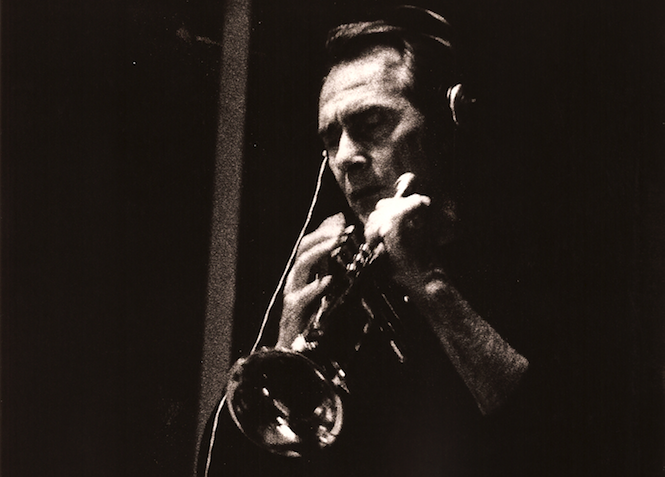 He's worked with Brian Eno, David Byrne and Karl Heinz Stockhausen, been remixed by 808 State, and samples everything from Massai hunting calls to Public Enemy. It's safe to say that trumpet player and composer Jon Hassell is not your average ambient musician. Now, his seminal 1990 LP City: Works oF Fiction is getting the full on reissue treatment via All Saints Records, in a package that not only includes the original 808 State remix but more recent contributions from patten, No UFO's and Bass Clef. Vinyl Factory's James Hammond spoke to Jon from his home in LA to get to grips with this hugely important body of work.
---
Jon Hassell
City: Works of Fiction
(All Saints / Opal Records, 2014 / 1990)
"I'm always listening for a thrilling sonic picture" writes Jon Hassell from his Los Angeles home, "this with that in the same frame equals a suggestion of some time and place I've experienced or that I hope to experience." 1990's City: Works of Fiction is one such picture- recently reissued and expanded by All Saints records- it's a sonic space to inhabit, a melding of the imagined cities of Italo Calvino and Ridley Scott's Blade Runner, with sounds ranging from Massai hunting calls to Public Enemy samples, and of course, Hassell's distinct voicings on the trumpet.
Such an eclectic pool of inspiration and material is the standard with Hassell, who has been reconciling the disparate, and terraforming culture into new shapes and musics since the early 70s, under the banner of what he coined 'Fourth World' music. A concept of cross pollinating East and West, North and South to a point of abstraction, Fourth World sounds are envisioned as a blend which is both cerebral and corporeal, and extrapolated in vision through an embrace, or indeed, the copulation of different technologies. A plundering of culture in the vein of musical imperialism it is not, Hassell's embodiment of the concept has been one of innovation – casting inspirations anew with an awareness of such dubious terms as 'cultural purity'.
Born in Memphis, Tennessee, it was this city that first expanded the horizons of Hassell's curious ear, "My sister worked for the local distributor for Capitol Records and would bring home lots of vinyl that was certainly influential. How did she know to put Miles [Davis] and Gerry Mulligan and Stan Kenton on my plate? Or what was it that attracted me there, with Johnny Cash's tour station wagon parked outside, smack-dab in the middle of gritty blues on the first black radio station WDIA? (Be assured Elvis was listening.)"
From Memphis outwards, via extensive travels, studies in Berlin and New York, and a long list of teachers and collaborators including Stockhausen, Pandit Pran Nath, Terry Riley, Mati Klarwein, Brian Eno and David Byrne (the latter two paraphrasing his ideas for My Life in The Bush of Ghosts) Hassell settled in LA, his home for the past 30 or so years and where he recorded City: Works of Fiction. Still as active and prolific at 77 (outside of touring and recording he's currently finishing up a book entitled The North and South of You), he's also at a stage that invites retrospective releases and expanded works- a prospect which can result in an overindulgence, which thankfully, is avoided with City.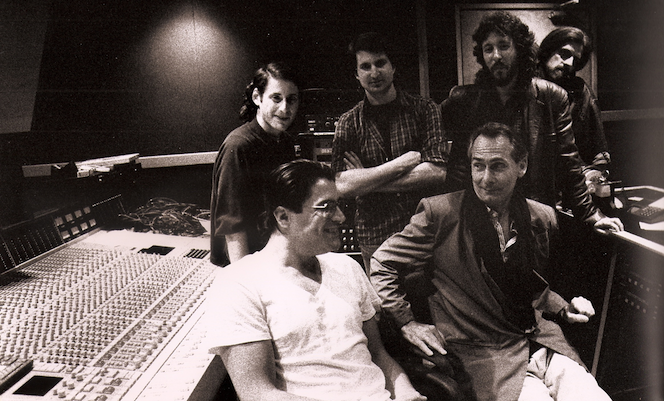 In the studio
A 2 LP set, with 2 discs of downloadable material- live recordings of the City group at New York's Winter Garden atrium, and various out-takes and reworkings, all involved an extensive trawl through the Hassell vaults: "The search through the many hours of DATs recorded at my house in West Hollywood and various studios was a powerful experience – made more poignant by the passing of the amazing musician-guitarist (Greg Arreguin) a few years ago. And remember, this is my listening as if in an audience – a luxury I never have when I'm playing." Such processes inevitably require more than one set of ears as Hasssell informs me: "Matthew [Jones at Warp/ All Saints] was a fantastic collaborator – in double-checking my tinted impressions – assessing how this or that would play to today's ears" and "not to mention his knowledgeable curating of the contemporary reworks interleaved on disc 3."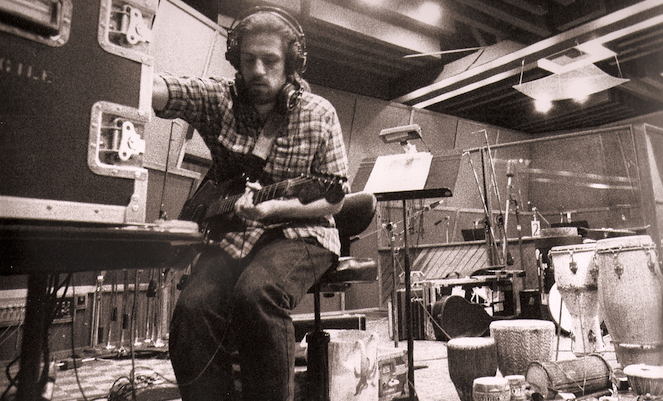 In the studio
The question of how City sounds to today's ears is indeed a curious one when considering the concept associated with the record – the modern city, and its "imagined folkloric music", sensory overloads and constant cultural flux. Given this theme in 1990 and the pre-internet age, I was curious about what struck him as incongruous to a present reality:
"The title came after the music – as pretty much always with me although I do have a notebook full of titles waiting for a music to fit. After enough years a title melds with the music and vice-versa. But that view seems quaintly sci-fi compared with the one or two billion more population since 1990, heated up on the griddle of corporate media saturation, and Guy Debord's "Society of the Spectacle" pronouncements manifesting. My motto now is: Duck! Find yourself an oasis and get out!"
Debord and the Situationists have been a fairly constant reference point for Hassell's work, which is always not far from a source of literary inspiration- and Debord's concept of 'psychogeography'- mapping through "zones of feeling", rather than through geographical features- gives title and inspiration to the outtakes/reworkings chapter of the City package. Look no further than Mati Klarwein's cover for Aka Dabari Java for a sublime realization of the "geographically promiscuous".
The final part of the set – the recordings from the Winter Garden concerts – are also of particular note. With Brian Eno's "Stockhausen-like graph" of rainforest field recordings playing during the day the City group then took over for the evening performance, and with all tracks carefully selected from the 3 nights by Jon. They show the original City to be far from reliant on studio magic, as the group traverses a then and now, composition/improvisation trajectory, with some divine ambience on 'Nightsky' and Arreguin's guitar work shining through on 'Alchemistry' (think On the Corner- Miles Davis/ John McLaughlin). From the simulated exotica of the Winter gardens, to extraordinary pygmy field recordings by Louis Sarno, and the potent blend of sounds from the City group, the concert and indeed the recording take the audience from the forests of the Central African Republic, to an extraordinary musical zone within New York's World Financial Center. Fourth World indeed.
City itself has left an indelible imprint on contemporary music and technique, and having long been due a revisit this re-release embellishes its legacy. It may be of it's time, with the ensuing developments in sampling technology, but the mysterious brew of sounds within and interplay of the group, still pricks the ears up and weaves a distinct, outernational musical fabric. Time lag, zeitgeist shifts and "zones of feeling" included, it still sounds fitting to a Hassell adage he shared when considering fidelity and medium: "If the music is good it'll play anywhere…"