Published on
October 11, 2016
Category
Features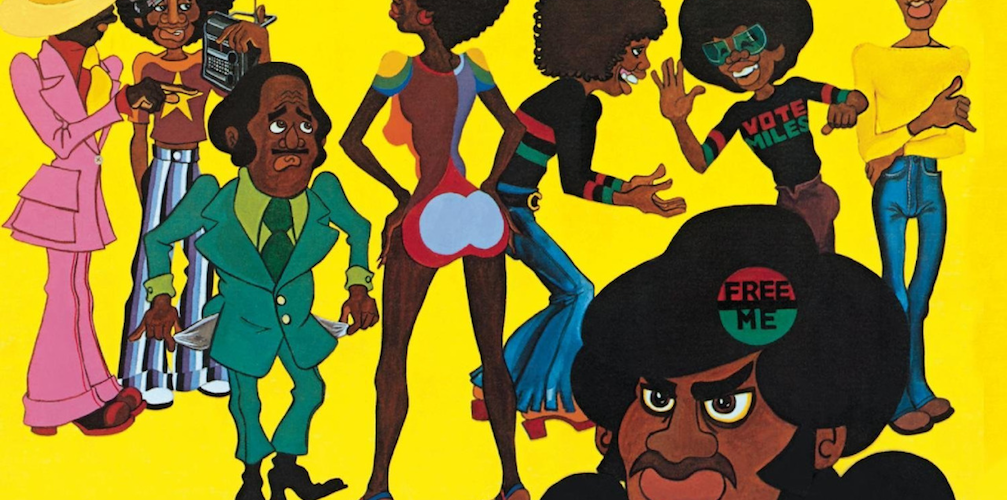 Artist Stan Douglas takes Miles Davis' studio craft to the next level.
"Music is usually a metaphor or a model for the way people can enjoy time together, and this sounds like utopia to me."
It's at this moment, towards the end of my interview with Mr. Douglas that I'm no longer sure whether he's talking about Miles Davis' much-disputed 1972 album On The Corner or Luanda-Kinshasa, the 6-hour A/V jazz-jam that Miles' record has influenced.
Because, for Stan Douglas, On the Corner just didn't go on long enough. With a crack team of contemporary musicians led by pianist and artist Jason Moran, Douglas created his own utopia born out of Miles' vision for the future of jazz. In two days, he recorded and filmed ten minute segments of improvisation that swerve imperceptibly between jazz, rock, fusion and afro-beat, editing the result together over three months to create a seamless 6-hour session. Displayed at The Infinite Mix, it's a homage to both the sentiment and studio craft of a record that was both timely and too far ahead of its time.
Equally indebted to Manu Dibango's O Boso – the record which contains the infectious 'Soul Makossa' – Douglas' Luanda-Kinshasa is born of that potential collaboration. As Douglas speculates: "Given Miles' desire to connect with youth culture, you would think that, had he continued doing studio work, the next logical from the work with synthesizers on On The Corner would be to look at afro-beat."
As it was, Miles was in no shape to continue doing studio work. Heavily addicted and in constant pain, he withdrew from the studio for much of the decade, favouring instead wild and unpredictable live recordings. His attempt to engage restless young Americans turning their backs on jazz in favour of the funk and soul of James Brown and Sly & the Family Stone only went so far.
And as has been well-documented, if there was ever a Miles Davis record that the jazz establishment simply couldn't dig, it was On The Corner. "It means nothing; there is no form, no content, and it barely swings," grumbled Stan Getz, as if that final clause were the ultimate slight.
But if, as Gil Evans says "jazz has always used the rhythm of the times", then On The Corner should never have swung. Instead it grooved, hard. In part because Miles and producer Teo Macero were using some of the most revolutionary studio techniques available to them.
From In A Silent Way onwards, "most of Miles' electric records were finished with the razor blade," Douglas explains. "It was all improvised in the studio and then later on he would go back and finish the composition by doing an edit."
It was a process that revealed one of Miles' least likely inspirations, the experimental classical composer Karlheinz Stockhausen, recognised as part of an electronic music lineage through krautrock, house and techno, rather than in jazz. "I had always written in a circular way," Miles wrote in his autobiography. "And through Stockhausen I could see that I didn't want to ever play again from eight bars to eight bars, because I never end songs: they just keep going on. Through Stockhausen I understood music as a process of elimination and addition."
In real terms this meant applying Macero's "cut-and-paste" editing technique to explore the possibility of multi-tracking, overdubs and synthetic effects to the hours and hours of jams. Recorded with a rotating cast of musicians, they were unified by the motorik drum and bass groove that underpinned the record's one-chord modal approach. All this, a good seven years before Brian Eno's "The Recording Studio as a Compositional Tool" lecture.
"Teo and Miles didn't talk about it, they just did it," Douglas explains. "They didn't need to brag about it." Had they been more vocal, it might not have taken quite as long for On The Corner to be recognised as the formative influence on dance music, post-punk and hip hop it is today.
For Douglas, working forty years later, the challenge of editing Luanda / Kinshasa was similarly great. "This [film] takes what was happening in a musical form and applies it to the visual form," he explains. "Because we're seeing the musicians at play, we have to see them playing what you're actually hearing. So the piece couldn't be edited before it was arranged and it couldn't be arranged before it was edited."
With rhythm section recorded on day one and lead instruments on day two, Douglas could create a panning effect with his camera to give the sense of circular movement to the piece – "a geiser of music" as he calls it – where the viewer is invited into the fluid world of each musician for a brief moment before cycling on to the next.
The studio, dressed to re-create Columbia's legendary NYC studio The Church was painstakingly recreated, down to the last ashtray.
Subverting Jean-Luc Goddard's 1968 film One Plus One, which captures the Rolling Stones' painstakingly recording Symphony For The Devil, Douglas instead creates something slick, something utopian. "In the Goddard movie, we see a sort of stifled creativity, where they seem to struggle writing that song, they just can't get it out. And he sees them over days, they change their clothes, their beards grow a bit."
In Luanda-Kinshasa though, the band's individual identities are largely symbolic, the artifice of the studio almost too perfect, creating a jarring sense that this world may indeed be just a fantasy. As the film's title already implies, there's a broader collective identity at work here, rooted in the emerging profile of Africa in North American music in the '70s.
Spanning gender, race and age, Douglas' band are assembled in "the spirit of collaboration and egalitarianism." While Miles' characters on the cover sleeve, badged with Pan-African colours, appear to represent the gritty reality of 'corner' life in the black urban experience, Douglas's cast portray "a synthetic cultural condition where all these different cultures can come together and make something new out of their differences." His is an imagined utopia at a time of struggle and division, where music is the metaphor at its core.
---
Stan Douglas' Luanda-Kinshasa has been released on double vinyl and is available to buy online from The Vinyl Factory online shop.