Published on
January 12, 2016
Category
Features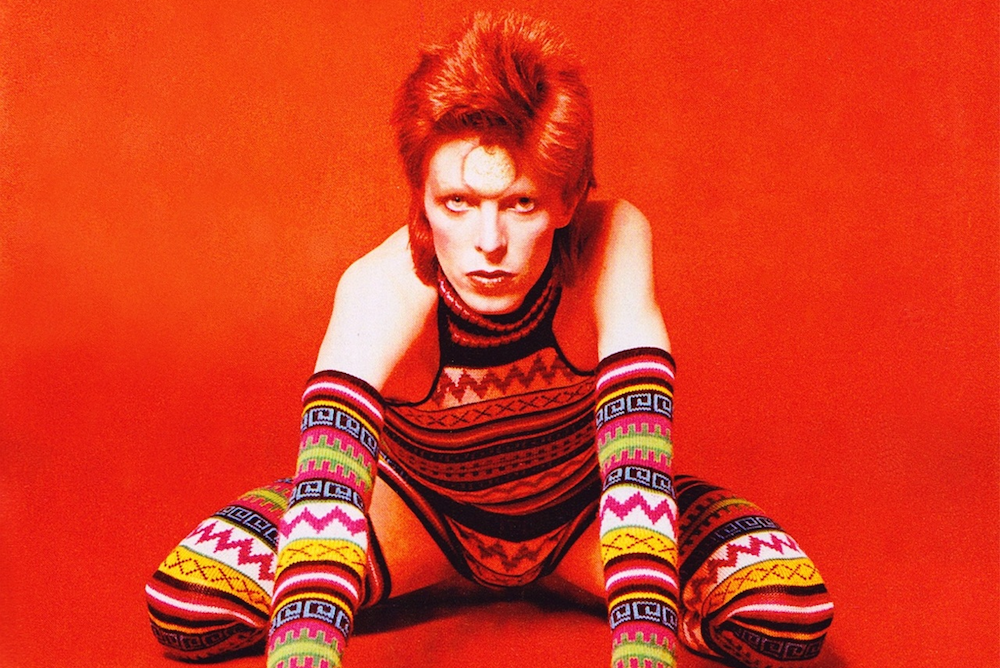 Now we have LGBT, back then we had Bowie. The patron saint of the outsider, David Bowie shot to fame with his bixsexual alien alter-ego Ziggy Stardust. Amongst the many boys and girls to fall under his spell was Martin Aston.
---
Words: Martin Aston
---
"David Bowie has died many deaths yet he is still with us. He is popular music's ultimate Lazarus," ran the opening lines of Pitchfork's review of David Bowie's 25th album ★, alluding to the man that Jesus raised from the dead in the Gospel of John, and the way that Bowie has given birth to a succession of aliases, both musical and theatrical, all of them killed off in the search for the new.
No musician before, or since, has imbued their work with that level of bravery, but knowing that Bowie has died, the bravest move of them has been the video to 'Lazarus', released just last Friday (January 8th, his 69th birthday) alongside the track's parent album ★.
Bowie is alone in a hospital bed, blindfolded, looking older and gaunter than at any moment in his life, mouthing, Look up here, I'm in heaven / I've got scars that can't be seen… Look up here, man, I'm in danger / I've got nothing left to lose – then he's levitating above the bed, and as if he's dreaming, or projecting, Bowie's out of bed and looking like a ravaged version of the alluring androgyne of his youth, pulling some very Bowie-esque body swerves before sitting at his desk, pen in hand, desperately trying to write down one more lyric, before the final shot: Bowie slowly walks back into a wardrobe and closed the door. The last Bowie, shut away for eternity. No more Lazarus.
All the symbolism is there. Likewise those lyrics in 'Lazarus' (Oh, I'll be free / Just like that bluebird / Oh, I'll be free / Ain't that just like me) and the likes of 'Dollar Days' on ★ Blackstar, where Bowie sings I'm dying to push their backs against the grain and fool them all again and again and then shortens the phrase to leave I'm dying too). It's obvious now, increasing so with each retrospective viewing of the 'Lazarus' video, a harrowing and staggering task as I try to process the news, on which there was no advance warning.
In the 30 years I've been writing about music, I only ever interviewed Bowie the once, in 1997, when he was celebrating his less-celebrated – but still bravely assimilated – drum & bass venture at an intimate show at London's Hanover Grand. We met during the show's dress rehearsals, and for the first time with an interviewee, I took along posters and album covers for Bowie to sign.
As I pushed them in his direction, I told Bowie (or gabbled at him) how I'd seen him at Earl's Court in May 1973, my second ever live show, when his first alter ego, Ziggy Stardust was peaking: "You do go back a long way, don't you?" Bowie replied, putting me at my ease. I could have gone further, into the realms of, "You know you changed my life, don't you, DON'T YOU?"; a watershed moment that had taken place while watching Top Of The Pops in June 1972.
My initial connection with Bowie had been 1969, hearing 'Space Oddity' in my cousin Jennie's bedroom. I already loved astronomy and Bowie's outer-space saga and haunting song (and I'm sure too, his curly-haired beauty) transfixed me. Three years later, he was singing 'Starman' on Top Of The Pops. For those who'd seen some glimmer of change in Marc Bolan and T. Rex's own Top Of The Pops appearances, Bowie that evening was a lightning bolt, the door blown open.
I was 14, unable to articulate what I'd felt about my young gay self, staring at this face looking straight back at me while pointing and waggling his finger: I had to phone someone so I picked on you-hoo-hoo. A before-'Starman' and after-'Starman' line was drawn in the sand. How I went from sharing Deep Purple and Black Sabbath albums at school, and my unshared fondness for the wounded-hippychick music of Melanie, to Bowie, Roxy Music, Lou Reed, The Velvet Underground, and Iggy & The Stooges; and to understanding that gender and sexuality could be liberating rather than suffocating.
Still the core of that understanding was Bowie's breakthrough album The Rise And Fall Of Ziggy Stardust And The Spiders From Mars, which I bought right after hearing/seeing 'Starman'. When I heard the news yesterday morning of Bowie's death, my immediate earworm was the album's intro 'Five Years': News guy wept and told us/ earth (substitute Bowie in there) was really dying. 'Five Years' was the porthole into the album's extraordinary cacophony of images, especially for a 14 year-old, A soldier with a broken arm, fixed his stare to the wheel of a Cadillac / A cop knelt and kissed the feet of a priest / and a queer threw up at the sight of that.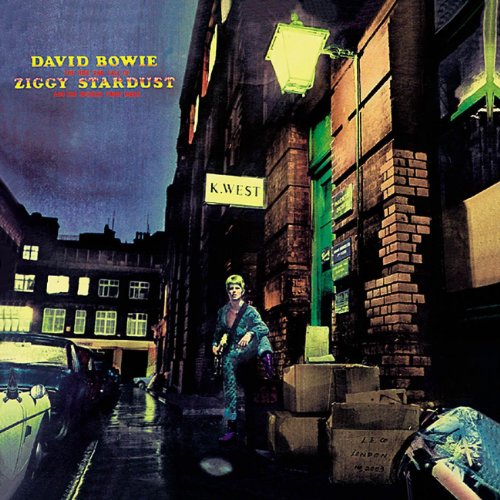 Moving on through the album was like hearing a new language: what was a moon-age daydream, a suffragette city, a leper messiah well hung with snow-white tan? The melodies and arrangements were equally charismatic; what The Guardian's music editor Michael Hann called, "heavily compressed, thuggish glam, with incredibly sophisticated lyrics over the top." A concept that was amorphous, just out of grasp, rather than didactic or childishly simple.
The cover was equally mysterious and inviting: a rainy London street, empty except for cars and rubbish and a mystery figure, in blonde rinse and a turquoise jumpsuit open to the chest – like he'd been beamed down to "let the children boogie". Five months before Top Of The Pops, Bowie had launched Ziggy with a Melody Maker interview, in which he announced, "I'm gay, and always have been," which – wife and child notwithstanding – was another insanely brave venture given the political and social climate around homosexuality at the time. But implicit in Ziggy's androgynous revolution was the notion that gay boys and girls would be free. Bowie later muddied the waters (he was bi, he wasn't bi, it was part of Ziggy's character, he was again bi, but non-practising, etc) but the seed had been sown. Without Bowie, it's impossible to imagine how gay rights, and freedoms, would have accelerated as quickly as it did.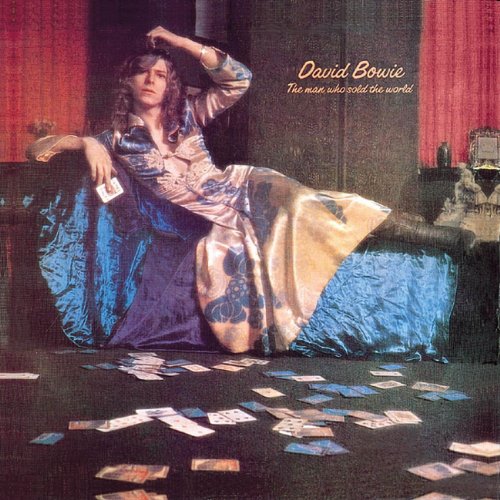 It wasn't only Ziggy Stardust that bowled people over. Interviewing Tom Robinson for my forthcoming book on the story of gay rock'n'roll, he talked about Bowie's coming out, but didn't relate to the Ziggy persona, 'freakishly dressed, the painted nails, all that stuff,' though Bowie's preceding album had done the trick. At his first London GLF disco, Robinson had been taken home by a British Rail guard. 'The next morning, he brought in breakfast – he had a log fire going – and put Hunky Dory on. "Put another log on the fire for me / I made some breakfast and coffee, it was really happening to me!" Robinson recalled. "Song after song resonated with my life – I was one of these pretty things, 'Queen Bitch' was explicit, and 'The Bewlay Brothers' was this dark, mysterious, romantic story of two boys roaming through London at night. Connecting my secret queer life with world-class music – which had all been boy-and-girl before – blew my fucking mind."
For those who chose to delve back to Bowie's past, 1970's The Man Who Sold The World album became the first of his mind-blowers, with Bowie on the cover in a dress – a man's dress, he insisted, but still a man in a dress; and then Hunky Dory's exquisite songcraft, with Bowie styled on the cover like Hollywood glamour girl Lauren Bacall. Then Hunky Dory's exquisite song craft, and then after Ziggy, the most defining Bowie image of them all, the facial lightning of Aladdin Sane. Diamond Dogs was the apocalyptic aftermath, as if we had just one of Five Years' lives left; at which point Bowie sidestepped his sci-fi oddities for other dimensions. Young Americans' 'plastic soul' – though his version of soul was actually warm and convincingly funky – and then through the half-way house of Station To Station to the fully-fledged 'cold wave' of Low, "Heroes" and Lodger and 1980's Scary Monsters, which seemed to sum up all Bowie's travels through the Seventies.
That Bowie never felt as epochal again was largely due to being older and more settled, especially in the '80s, when he was thinking more of being a good dad than feeding his creative spirit with drugs and dissolution. After an inglorious decade, he had the nous to keep advancing, such as the cut-up experiments of 1. Outside and Earthling's fizzy drum & bass. But he had forfeited such an intimate relationship with the zeitgeist, which is what makes ★ such a shock. Its harsh, dizzy, jazzy timbres, starting with the ten-minute title track, felt intrinsically now: a world ravaged by terrorism and uncertainty. That it's now a eulogy for its creator only underlines its emotional wreckage.
It would be devastating to lose Bowie at the best of times, but without any advance warning, and with a new album and a press photo that suggested a rejuvenated Bowie, it has been particularly shocking and brutal. He wasn't family but his impact feels as profound, and important. More so, in fact. As a teenager, you try and escape your parents' clutches, to define your own future: Bowie was the conduit for more people at any one time than any other artist this century. Using author David Laurie's words about Bowie's gift, "It's an attitude. An openness, a fearlessness and above all, the ability to see beyond what's in front of you. That's what David Bowie means to me: worlds of possibility, flights of fancy and the magic of Art."
So, Starman, now stardust. Patron saint of the outsider. The Man Who Changed My World. On behalf of the boys and girls, and all those clever enough to have transcended gender, who Ziggy spoke to both eloquently and mysteriously, and for everyone else who've fallen under his spell since, I'll let actor Simon Pegg have the last word: "If you're sad today, just remember the world is over four billion years old and you somehow managed to exist at the same time as David Bowie."