Published on
November 14, 2022
Category
Features
Paul Au is an increasingly rare relic in Hong Kong's cultural landscape. Nestled up in the working-class district of Sham Shui Po, the 65-year-old lives in a 5th floor 300-square-foot room that mostly serves a music store – filled to the brim with thousands of records (he possesses some 400,000, a quarter of which is Au's personal collection). Peter Yeung explores Au's collection and finds out what put him on the path to becoming a self-proclaimed 'vinyl hero'. 
In the middle of one of Hong Kong's hot, languid afternoons, the seductive samba beats and woozy guitar licks of Santana's 1970 classic Oye Como Va ring out from Paul Au's apartment – as they do almost every day.
That was one of the very first records in the 65-year-old's mammoth collection, which has now completely taken over his 300-square-foot room: tens of thousands are piled in towers of cardboard boxes that nearly touch the ceiling, mirroring the city's famed spiky skyline, but, less pleasingly, also blocking out almost all natural light."This is an orphanage," says Au, a pocket-sized yet muscular figure, while burrowing through the mass of vinyl in search of some rare 1960s Cantopop. "These records aren't my possessions. I just find them. I want people to adopt them."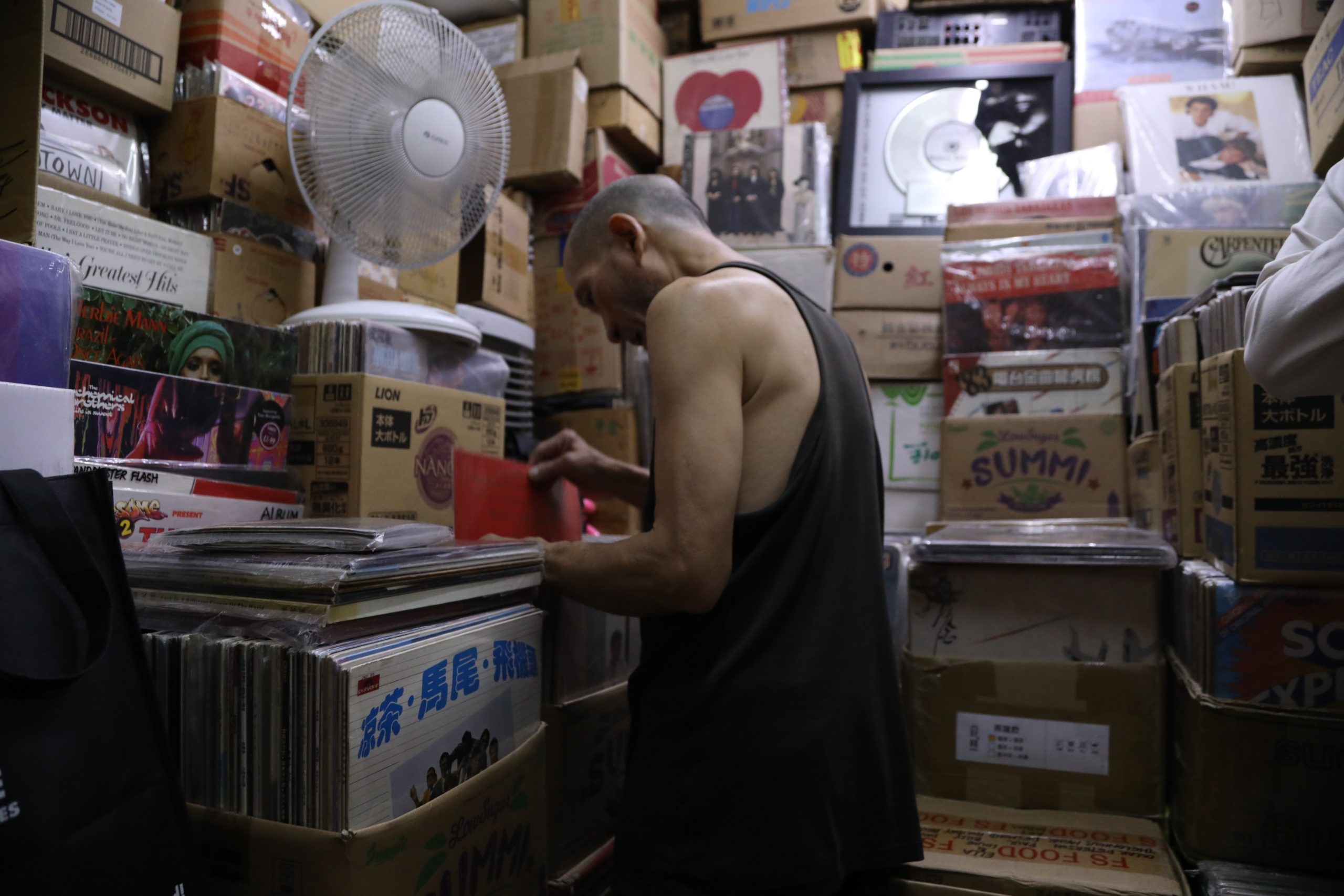 Born to Chinese parents in Saigon in 1957, Au grew up listening to the hits played on the American Forces Vietnam Network, which was ostensibly a radio station for the troops, as well as Vietnamese bands who covered the likes of Jimi Hendrix, or simply locals like Phuong Tâm, who made their own brand of raucous US-influenced pop. "We would always listen to what was in the America Top 40," says Au, giving nods to other favourites, Deep Purple, The Carpenters and Carole King. "We listened to them every day and we learned English through it. It was an education away from school."
The first record Au ever collected was Creedence Clearwater Revival's 1970 album Cosmo's Factory, and from then he began hoovering up everything from originals left by American GIs to bootlegs imported from Taiwan. He embraced the rocker lifestyle too, playing the drums for his own trashy garage band and partying the nights away. "We would hang out with hippies," Au says of his teenage years. "We would party a lot."
But Au's freewheeling fever dream came to an abrupt end as the Vietnam War, which resulted in the deaths of an estimated two million, loomed large. Just before his 18th birthday, Au's mother smuggled him onto a cargo ship bound for Hong Kong so that he could escape the draft. "The big boys next door got sent away to die," he recalls.
Yet far from ending his musical odyssey, the former British colony provided a fresh new music scene for Au to delve into. He arrived in February 1975, amid the Golden Age of Cantonese pop, and quickly settled in a squat on the island full of like-minded layabouts to while the neon-lit nights away. "The local culture was different," he says. "It was so new to me. But there were a lot of musical similarities too."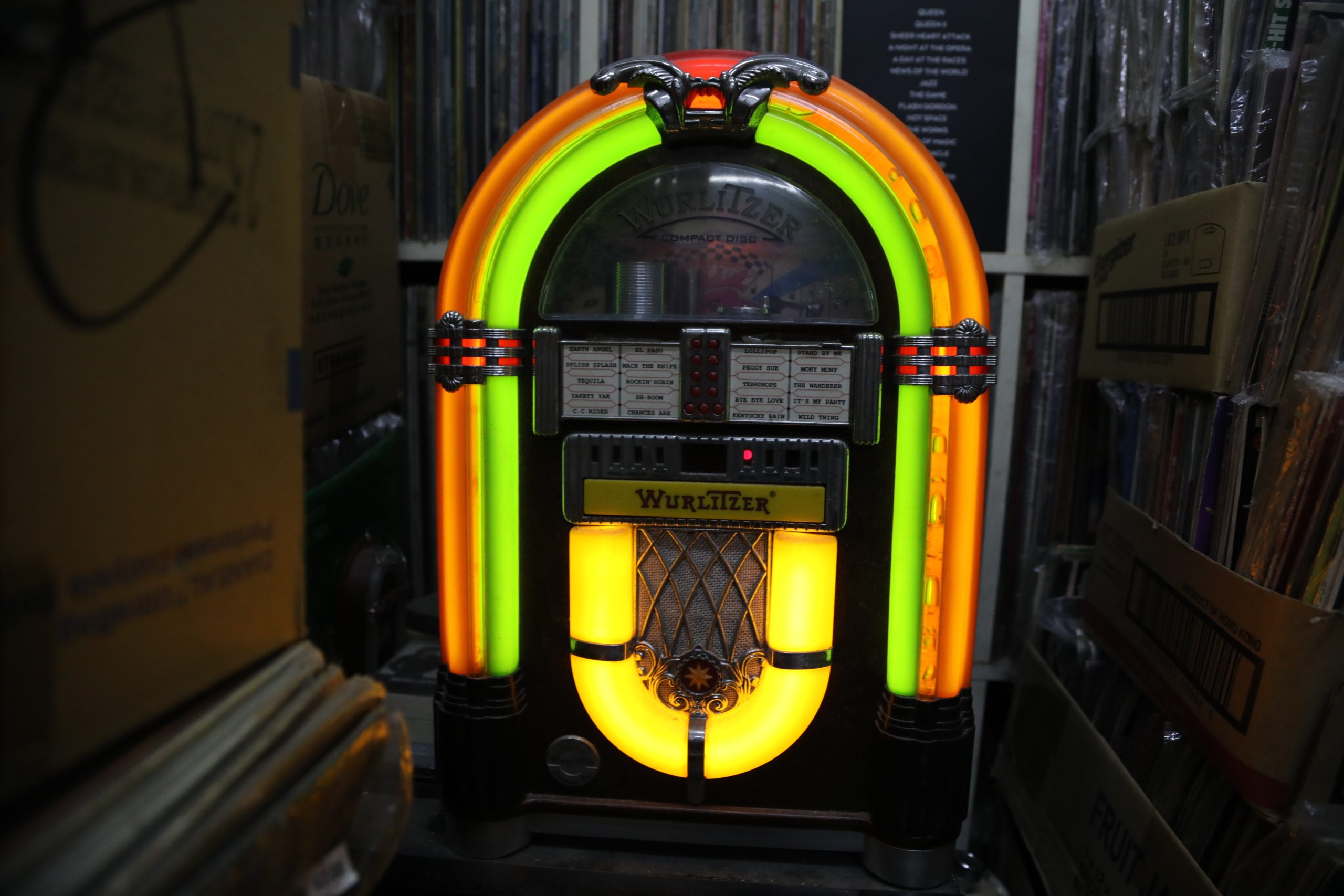 By the third day, Au was already marching all across the bustling city in search of records, digging through crates and building up his collection once again. Ever the character, when he earned enough working in hotels, restaurants and supermarkets, Au invested in Harley Davidson to cruise about the city. He happily stuck in the area around for years but eventually, his squat was demolished in 1983, and so he moved to his current neighbourhood of Sham Shui Po, a working-class area on Hong Kong's Kowloon side. At first, he began selling records at a street stall, but in 2003, with the onset of the deadly SARs epidemic across Asia, he was forced to move off the curb and up to the fifth-floor space where he now lives and sleeps (on the floor between the stacks of vinyl, or indeed, sometimes atop a bed of records).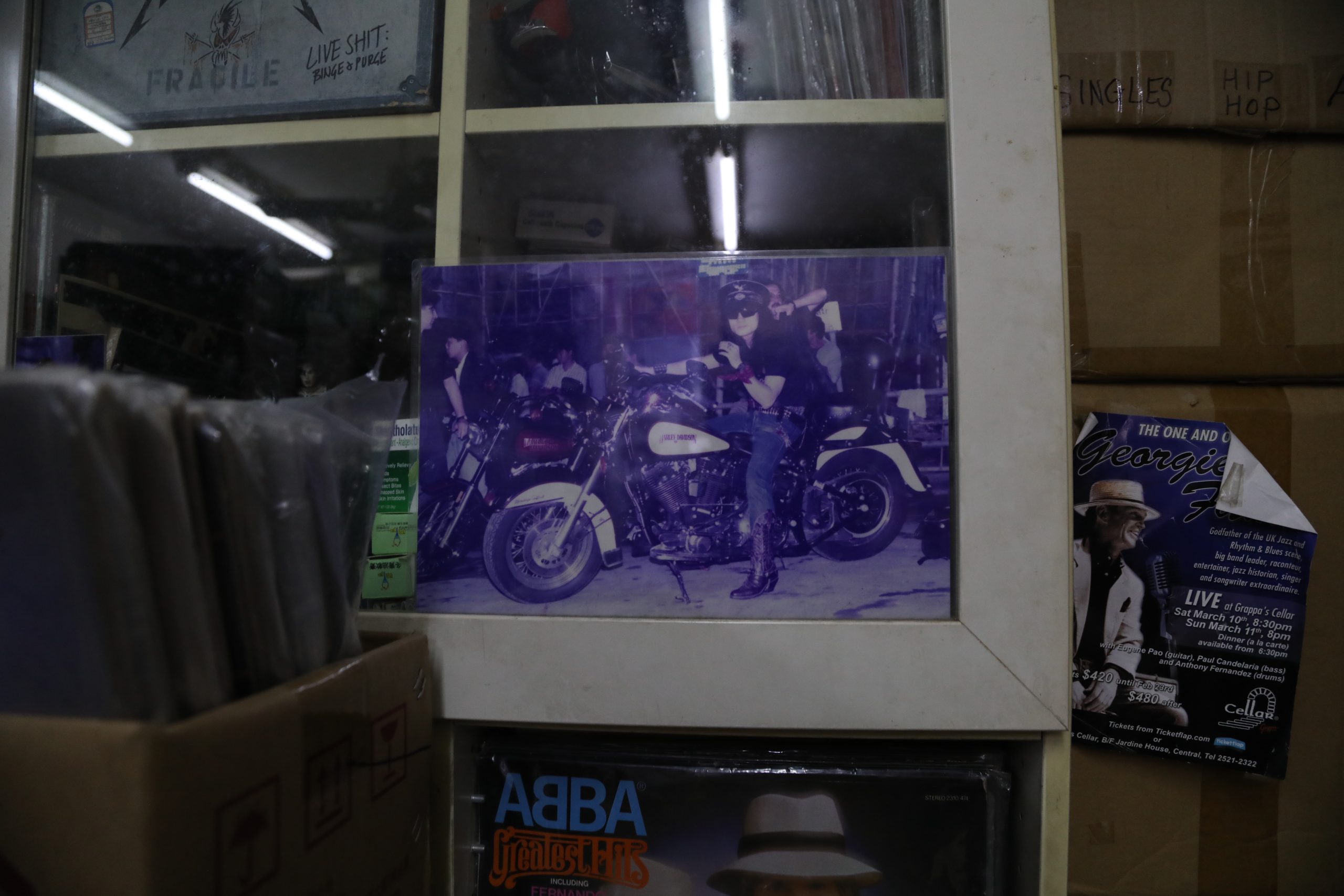 In total, Au, who usually can be found lounging in slippers and a loose vest, has some 400,000 records, most of which is in storage since his tiny apartment can't fit any more. Locals have taken to nicknaming him the "Vinyl Hero" (which is now the name of his shop) because of Au's herculean efforts over four decades saving records from being thrown away when radio stations and discos have closed down. "I was called a hero because I saved them," he says. "They would be in a dumpsite without me."
For Au, the appreciation of vinyl and laid-back music listening closely ties in with his self-proclaimed hippy-style philosophy towards life. "Vinyl is food for the mind," he says. "CDs and electronics, these are for busy people. They are like spacemen who eat nutritious captions. Vinyl is having a good home-cooked meal with rice." That mindset extends beyond mindfulness to sustainable living – which, he believes, in these turbulent times is more important than ever before. As well as records, Au preaches three other Rs: reduce, recycle, reuse. "I love music. But I also want to save the world," he says. "I support Greenpeace. We don't need to keep producing more things. We should use what we already have."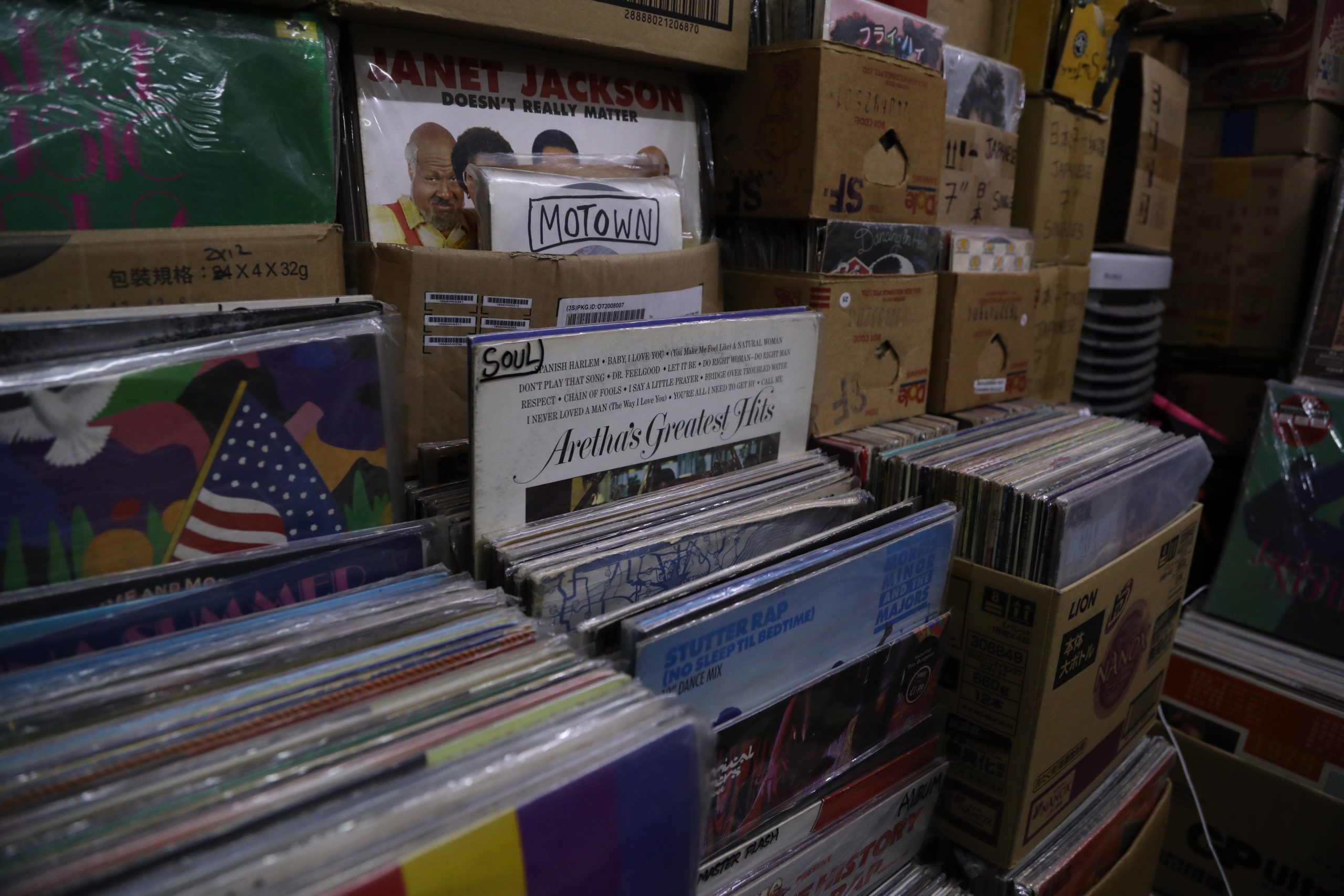 But the picture has changed drastically over the years. After the heady days of the 1970s, vinyl declined in popularity and earning a living was tougher in Hong Kong. In recent years, however, the format has come back in vogue and visitors come from far and wide, including New York City and Tokyo, and a number of stores have opened up in the gentrifying neighbourhood. While largely positive, that too has come with its own challenges. "The rent is getting higher and higher," Au says.
As much as the more niche demand for 1960s Taiwanese disco and Mandarin pop like Teresa Tang, Au says global big hitters such as Madonna and Michael Jackson are extremely popular even now among his largely youthful customer base. The shop contains a wildly eclectic selection, with the Pet Shop Boys and Aretha Franklin cheek-by-jowl with Cantonese stars such as Leslie Cheung and Roman Tam.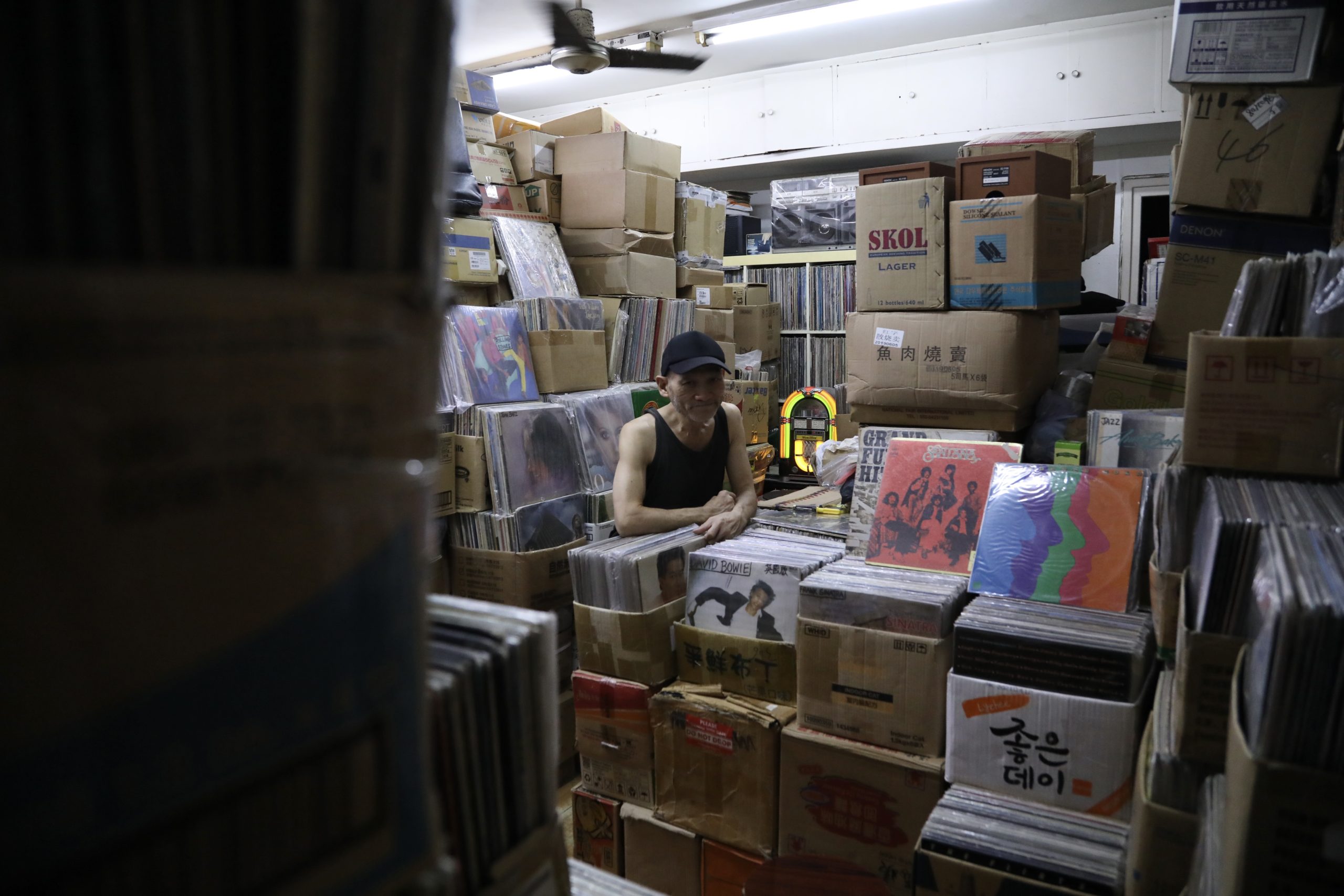 For now, Au is continuing as a one-man band to spread the word of vinyl and his way of life from the wonderfully throwback Hong Kong emporium. But it's not clear yet for how long; succession plans are tentatively underfoot. "I'm tired already. I want to give it up," says Au, as the needle of his record player rustles at the end of a track. "I don't know who or when yet, but I will get people to continue this for me."
Words and photos: Peter Yeung