Published on
September 23, 2018
Category
Features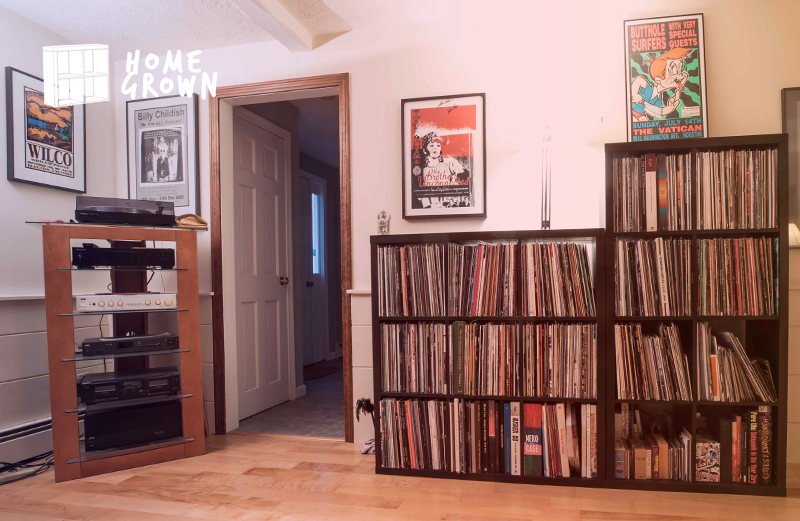 Because every record collection has a story.
Home Grown is our series profiling you lot and your excellent record collections. Taking our cue from the brilliant submissions to the #VFRecordCollections thread on Instagram, we want to share a little of your hard-earned love for vinyl with the world.
Each week, we'll be profiling a different collector from around the world and finding out what makes them tick. Want in? Send us a photo and a few words about your collection to social@thevinylfactory.com
---
Name: Tim Bugbee
Location: North Andover, Massachusetts, USA
Instagram: @tinnitus_photo
# of records (approx.): 4,800 LPs and 10″s, 1,000 singles.
How long have you been collecting for?
43 years. I bought my first LP when I was 9 – Blue Öyster Cult's Secret Treaties, which I still have. Though I don't have the coloured inner sleeves anymore… I cut them apart and put both sides up on my wall early on.
What part of your set-up are you most proud of?
The room dimensions worked so well with the, now discontinued, Expedit shelving units from IKEA; there is about an inch of spare room between the units, the walls and the fireplace. They look like they are custom built. My speakers are also placed for a really good listening experience when sitting in the chairs, though there are no hard doors to close off the room to the rest of the house. So if I want to play Sonic Youth, Motõrhead or Boris at earsplitting levels, it's better if everyone else is gone.
What record(s) are you most proud of?
First, I was lucky enough to get one of the original copies of Propeller, the fifth Guided By Voices record that came in an edition of 500, all with unique, hand-made sleeves. My copy was obtained via Forced Exposure's mail order, and I was supremely lucky to get number 4 out of 500. That's a pretty good $10 investment!
The other one I want to mention is A Beard of Bees by This Kind Of Punishment. Around 1990, I became aware of the New Zealand label Flying Nun via the In Love With These Times compilation, and then spent a fair amount of time and energy researching the various bands and offshoots, which wasn't the easiest thing in the pre-internet era. I managed to find some sellers and stores in NZ, and often communicated via fax. That's how I scored an original of this record, as there is no way in hell I would have chanced across a copy in a shop. I've never seen another original, though Superior Viaduct just reissued the LP, so it's available once again.
What does your record collection mean to you?
It means a lot things… The power of a strong song can never be understated, and there are thousands that can conjure up specific memories for me. Records are a way to connect with people, and I've made loads of friends along the way – from record store employees to musicians, nascent label heads, fanzine editors, promoters, and fellow fans. It's been a hell of a ride, and there is always new material waiting to blow your mind.