Published on
November 19, 2017
Category
Features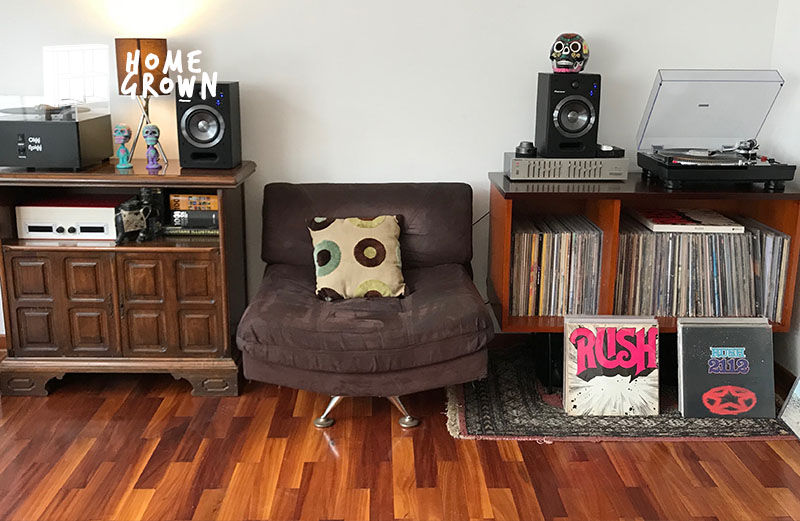 Because every record collection has a story.
Home Grown is our series profiling you lot and your excellent record collections. Taking our cue from the brilliant submissions to the #VFRecordCollections thread on Instagram, we want to share a little of your hard-earned love for vinyl with the world.
Each week, we'll be profiling a different collector from around the world and finding out what makes them tick. Want in? Send us a pic and a few words about your collection to social@thevinylfactory.com
---
Name: Rodrigo de la Puente
Instagram: @chatodp
Location: Lima, Peru
# of records (approx.): 350
How long have you been collecting for?
Two years.
What part of your set-up are you most proud of?
I have a combination of old and new stuff that, after a fair amount of trial and error, works well for me. I've reached this sweet spot through an Audio-Technica LP 120 turntable, a Technics SH-8025 equalizer, a pair of Pioneer S-DJ05 active speakers and a Rega Fono Mini A2D. The combination of them is what works so well.
What record(s) are you most proud of?
My Rush collection. Rush has been my favourite band since high school, and being able to obtain almost everything they have released on vinyl (either through originals or reissues) is something I am proud of.
I am also proud of three original pressings that define Peruvian rock from the seventies through today: Traffic Sound's Virgin (a fantastic psychedelic rock LP), Zulu's Zulu, and We All Together's We All Together 2. These albums are a cornerstone of Peruvian rock, and they're hard to find out there in the crates.
What does your record collection mean to you?
It represents a passion for music, dedication, learning… and some frustration as well (my wish list never stops growing). Being able to set a couple of hour aside on a Friday night exclusively to listen to music through a physical format that involves so many rituals – from listening to crate digging – is such a satisfying experience.