Published on
August 19, 2018
Category
Features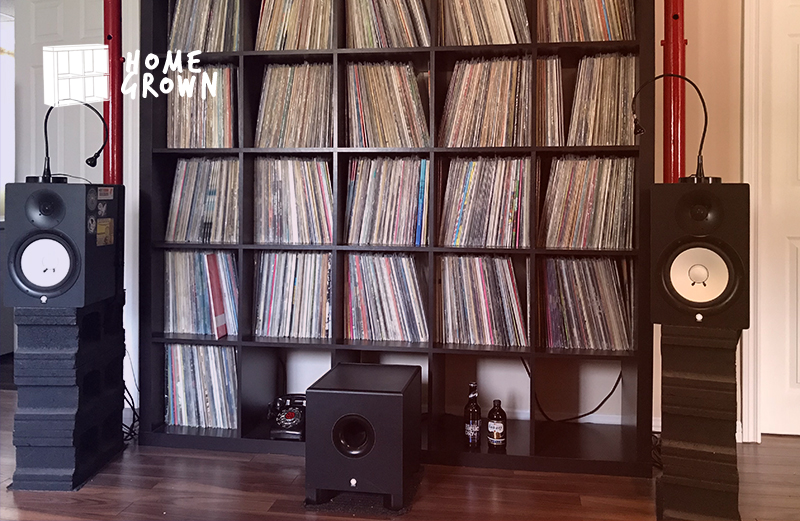 Because every record collection has a story.
Home Grown is our series profiling you lot and your excellent record collections. Taking our cue from the brilliant submissions to the #VFRecordCollections thread on Instagram, we want to share a little of your hard-earned love for vinyl with the world.
Each week, we'll be profiling a different collector from around the world and finding out what makes them tick. Want in? Send us a photo and a few words about your collection to [email protected]
---
Name: Nathalie Thibault
Location: Montréal, Canada
Instagram: @vinyl.geek
# of records (approx.): 1,500
How long have you been collecting for?
18 years. 

What part of your set-up are you most proud of?
The speakers, they're a pair of powered Yamaha HS 80M's with matching subwoofer. Definitely not what a lot of people would consider a "hi-fi system", but it can take a beating! It was the best that my boyfriend and I could afford when we bought it 10 years ago.
The turntable goes in a good pre-amp, then through a Yamaha mixing board, and straight to the speakers. It still sounds killer after all these years. Lots of power!
What record(s) are you most proud of? x
A signed copy of my favourite french artist: Renaud, and my first pressing of Coral Fang by the Distillers, with the original banned cover.
What does your record collection mean to you?
The first records I ever listened to were in my parents' collection, and that's what definitely sparked my love of music. I remember looking at the record sleeves, reading the lyrics, having a tangible contact with the object.
I still have this same feeling every time I listen to my own records, even today. My collection really allows me to shut everything else off and just immerse myself in the music. Plus, I'm lucky enough to share this passion with my boyfriend, who basically sees the whole record experience just like I do.