Published on
April 1, 2018
Category
Features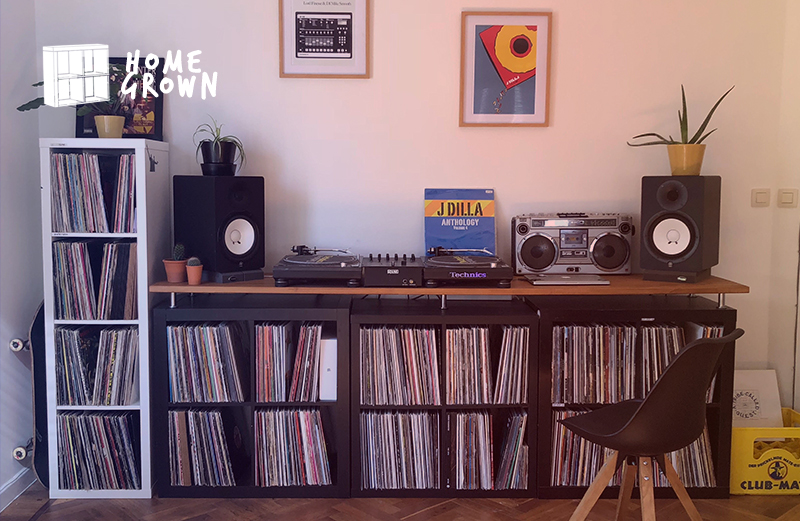 Because every record collection has a story.
Home Grown is our series profiling you lot and your excellent record collections. Taking our cue from the brilliant submissions to the #VFRecordCollections thread on Instagram, we want to share a little of your hard-earned love for vinyl with the world.
Each week, we'll be profiling a different collector from around the world and finding out what makes them tick. Want in? Send us a photo and a few words about your collection to social@thevinylfactory.com
---
Name: Florian Beillevaire
Location: Brussels
Instagram: @flo_beligraite
# of records (approx.): 1400, ordered by genre
How long have you been collecting for? 9 years
What part of your set-up are you most proud of?
My MK2 Technics. The reference. I love my Rane too, it's perfect for scratching.
What record(s) are you most proud of?
The Beastie Boys' To The 5 Boroughs. This is the first album I ever bought in my life, on CD in 2004. Then I found it 10 years later on vinyl – it's symbolic. Also Centre of Attention by Pete Rock and Inl, this is my favourite hip-hop album. I love the musical diversity of my collection too.
The record that has the most importance to me now is the third release with our label Rose and Rosée, Message d'EP by Sandro Ceyte. This label is a true family story with all members, Nico and Francis (the creators), Pierre (Pit Spector), Baptiste (BA TO), Him and Sandro.
What does your record collection mean to you?
It's been a huge part of my life for nearly 10 years now. I've met most of my friends thanks to music. I love sharing records with others, and it created a real connection between my father and me that is still continuing today. I will never stop listening to music or buying new vinyl.